Weekly Newsletter
Hello TCS families. Welcome back and Happy New Year to everyone. We look forward to an exciting 2020. Here are a few news items that we wanted to share with you. Have a great weekend!
Re-Enrollment:
Re-enrollment for the 2019-20 school year is scheduled to begin on February 10th. We look forward to the opportunity of continuing to minister to your family in the upcoming school year. Thank you for choosing Temple for your children. We consider it a blessing to partner with you in your child's education.
EdChoice Scholarship Renewal:
Renewals for EdChoice Scholarships begin on February 1st. This includes the EdChoice Traditional and EdChoice Expansion Programs. Renewal applications have not yet been released by the Ohio Department of Education, but they should be available soon. Please see Amy Link in the elementary office for information about renewing your EdChoice Scholarship. The deadline this year is April 15th.
K5 Classroom Activity:
This week, the K5 did a gingerbread man theme. After we read the story, we tracked down where our gingerbread men went, iced them, and ate them. It was lots of fun! Next week is a pajama party on Friday, complete with a winter movie, hot chocolate and doughnuts. We like to keep January fun.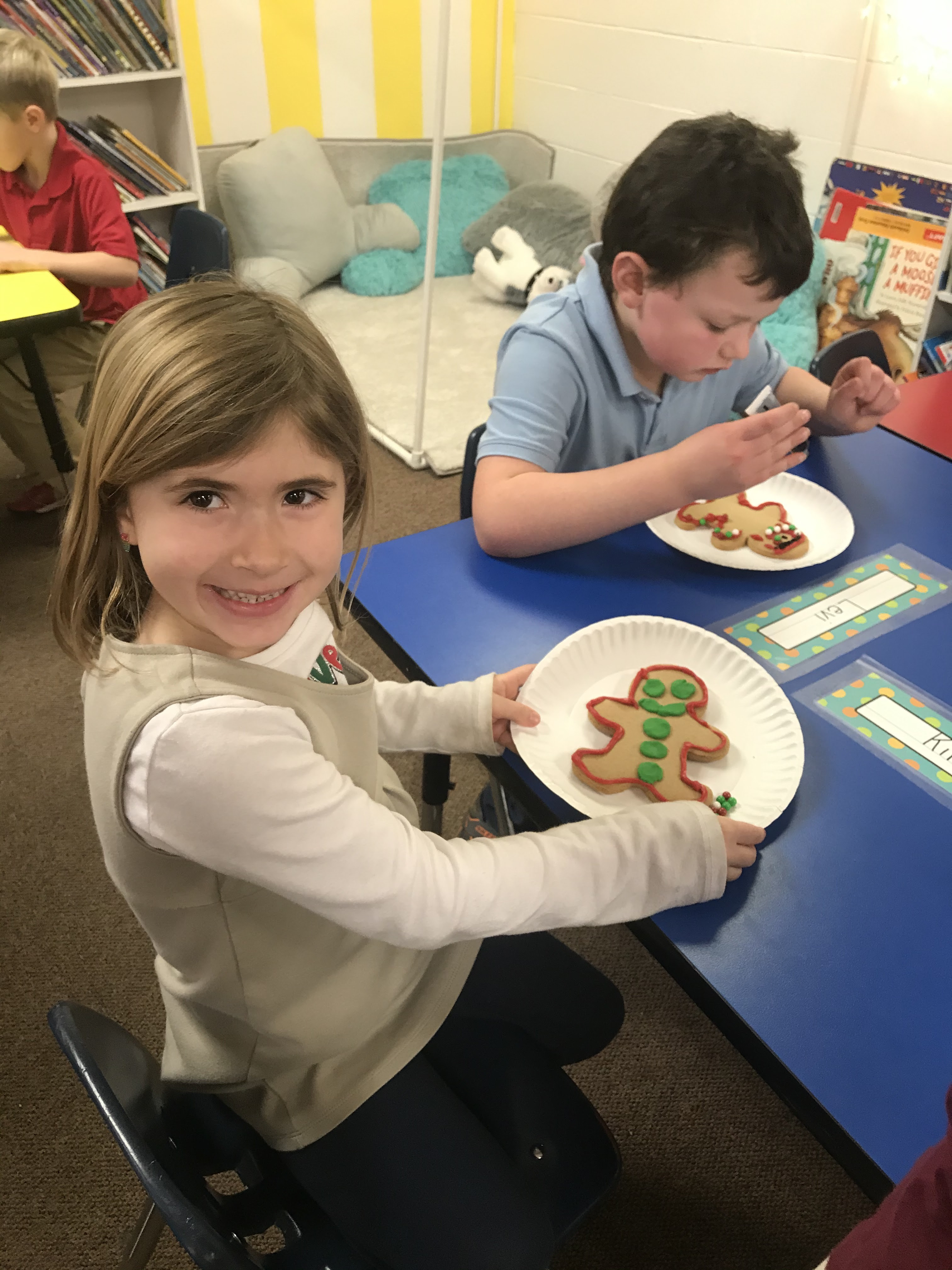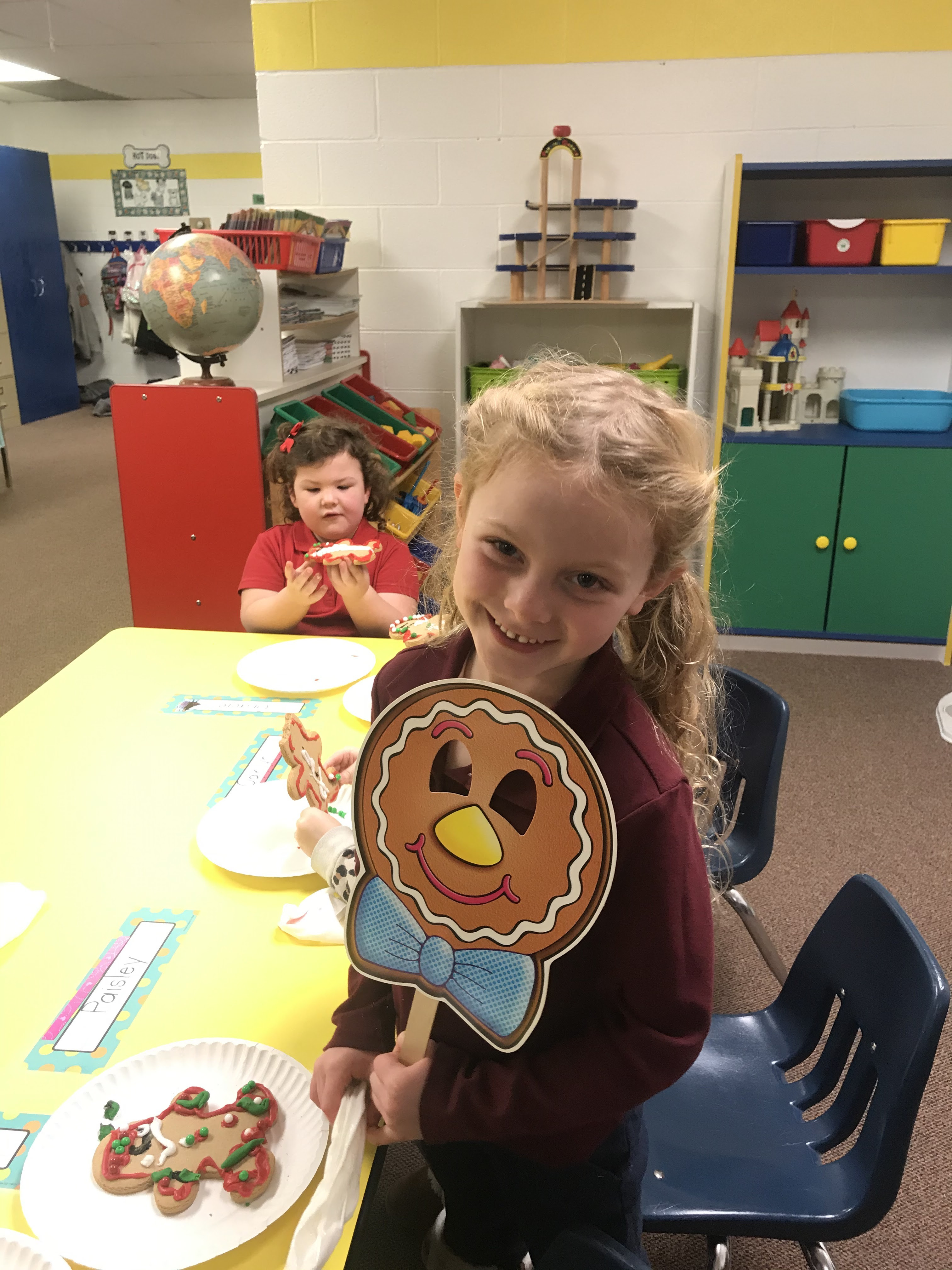 1st Grade Classroom Activity:
The first grade class is learning about how substances move. On Thursday, the students enjoyed feeling the differences between three substances: syrup, molasses, and oil. The students made a hypothesis about which substance would move the slowest and which would move the fastest when poured into a cylinder. The class timed and recorded their results. This was a fun (and sticky) experiment!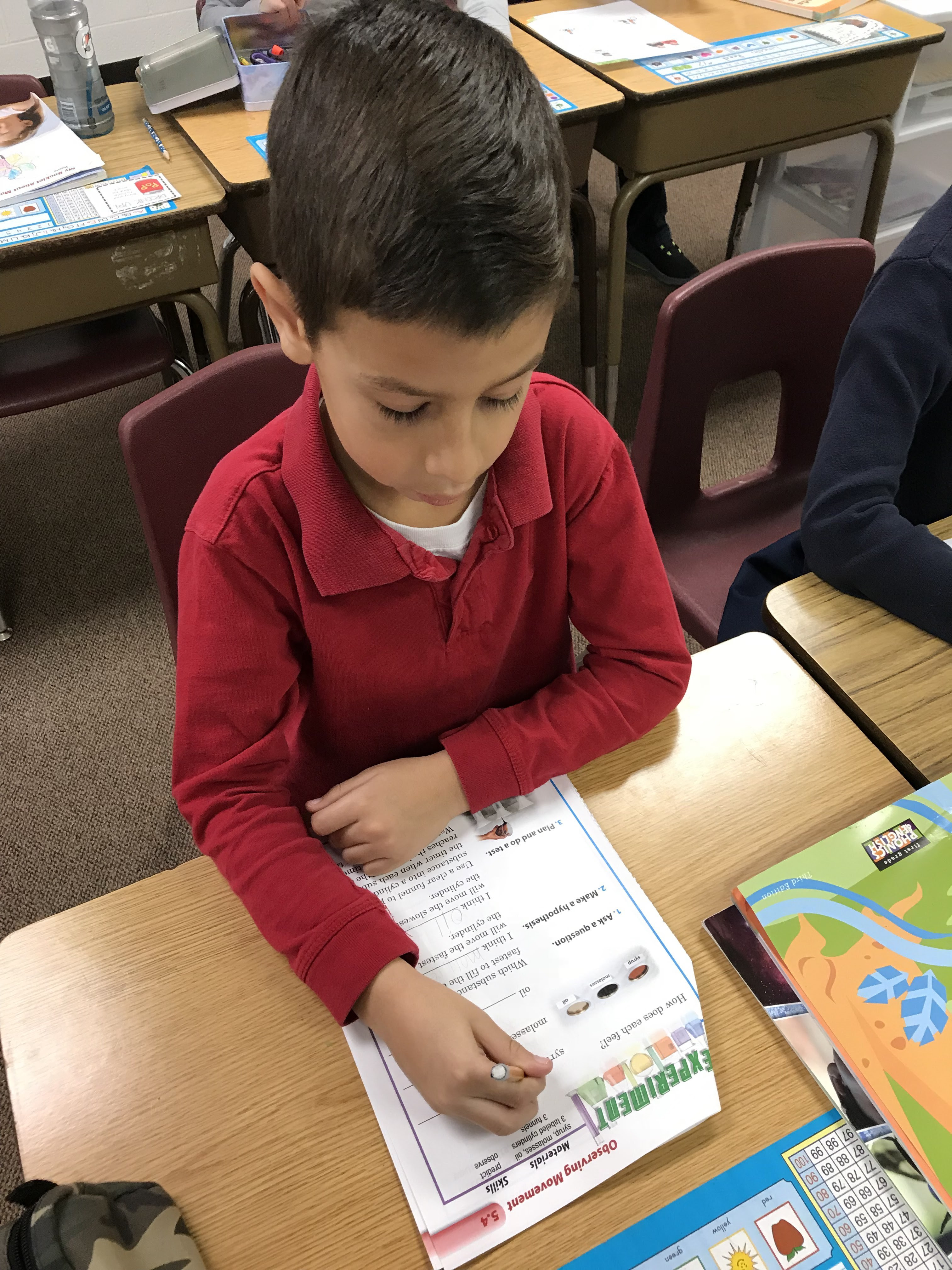 College Credit Plus Courses:
Several TCS students are taking advantage of the state's CCP Program, which allows students to take college courses for dual college/high school credit at no expense to the students. Examples of courses being taken by Temple students this year are as follows: Composition I, Composition II, Composition and Literature, Classical Literature, Technical Writing, Public Speaking, Microeconomics, Macroeconomics, Calculus, Chemistry, Medical Terminology, American History, Cultural Anthropology, Music Appreciation, Music History, General Psychology, Sociology, Spreadsheets Software, Computer Applications in the Workplace, Illustrator, and Photoshop. Students are taking courses through OSU Lima, UNOH, Rhodes State, and Cedarville. An informational meeting regarding the College Credit Plus Program for the 2020-21 school year will be held on January 30th at 6:30 P.M. in the high school lunchroom.
HS/MS Christmas Music Concert:
Congratulations to Mrs. Brokaw and all of her Band and Choir students for the excellent band and choir Christmas program that took place before our break.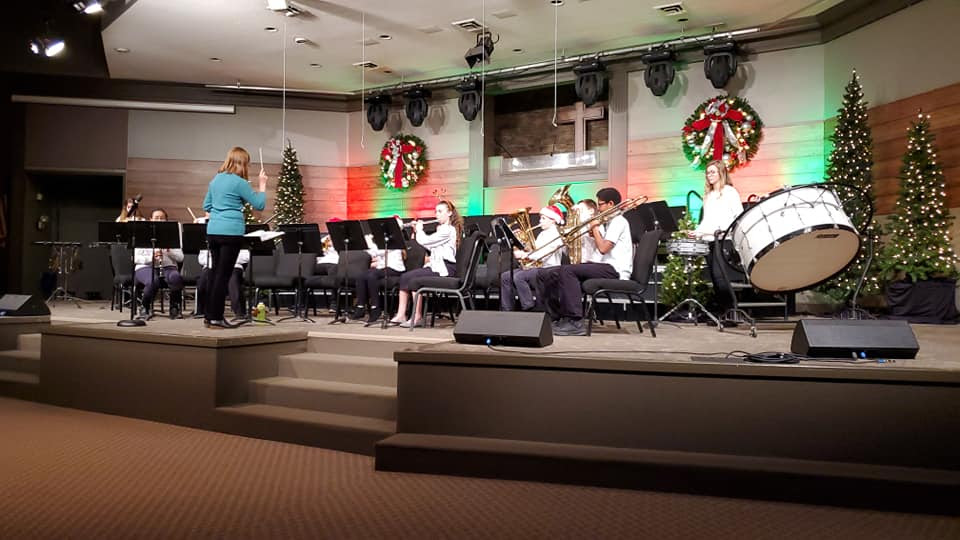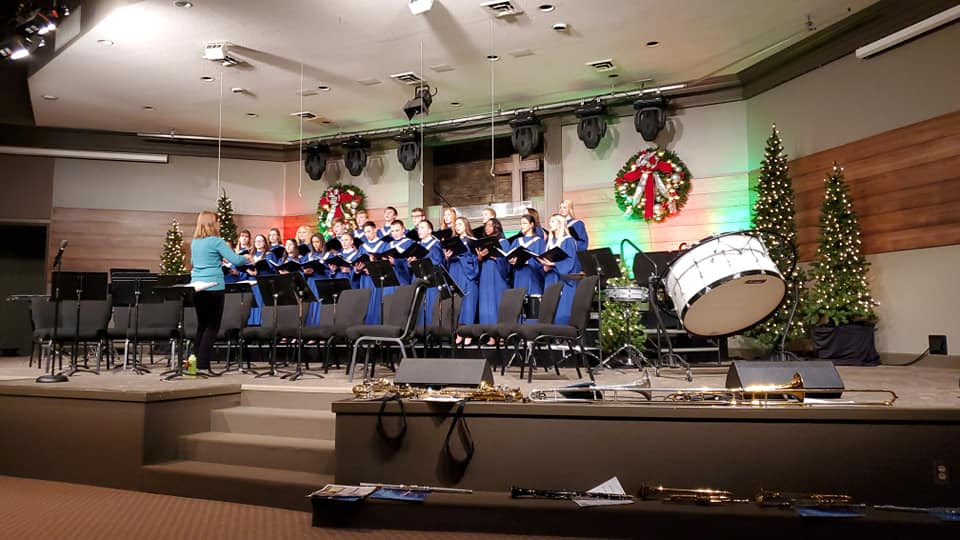 Yearbook Opportunity:
Did you and/or your spouse go to Temple and now you have children who attend TCS? If so, the yearbook staff would like to include a photo of your family on this year's special Legacy page! Please email Mrs. Searcy at searcys@tcspioneers.org to get your family added to the list. The yearbook staff will be in touch with you regarding pictures. Thank you!
Athletic Events:
Fri. Jan. 10 Varsity/JV Boys Basketball at Home vs. Riverside @ 6:00 P.M.
Sat. Jan. 10 High School Girls Basketball at Home vs. Calvary Christian at 5:00 P.M.
Sat. Jan. 10 JV (3:30) & Varsity (6:30) Boys Basketball at Home vs. Calvary Christian at 3:30 P.M./6:30 P.M.
Mon. Jan. 13 J.H. Boys Basketball at USV at 5:00 P.M.
Thurs. Jan. 16 J.H. Boys Basketball at Home vs. Findlay St. Michael @ 5:00 P.M.
Fri. Jan. 17 Varsity/JV Boys Basketball at USV @ 6:00 P.M.
Sat. Jan. 18 H.S. Bowling Home vs LCC @ 8:30 A.M.
Sat. Jan. 18 J.H. Boys Basketball at Monclova Christian @ 11:00 A.M.
Sat. Jan. 18 High School Girls Basketball at Monclova Christian @ 12:00 P.M.
Sat. Jan. 18 Varsity/JV Boys Basketball at Home vs. Miller City at 6:00 P.M.
Important Dates:
Jan. 17 End of 2nd Quarter
Jan. 20 No School – MLK Junior Day
Jan. 22 Witness Wear Day
Jan. 23 Early Dismissal @ 1:00 P.M. – Faculty Development
Jan. 24 Grade cards sent home
Jan. 30 MS/HS College Credit Plus Meeting @ 6:30 P.M. in High School Lunchroom
Lunch Menu for the Week of January 13
Monday           Grilled chicken, Macaroni cheese bites, Veggies w/ ranch
Tuesday           Pizza $1.00/Slice
Wednesday     BBQ Riblet sandwich, Cookie, Veggies w/ranch
Thursday         Breakfast sandwich, Hash brown, Fruit
Friday               Pizza $1.00/Slice
Read Related Article :