Weekly Newsletter
Hello TCS families. Here are a few news items that we wanted to share with you. Have a great weekend!
Re-Enrollment:
Re-enrollment for the 2020-21 school year is scheduled to begin on February 10th. We look forward to the opportunity of continuing to minister to your family in the upcoming school year. Thank you for choosing Temple for your children. We consider it a blessing to partner with you in your child's education.
EdChoice Scholarship Renewal:
Renewals for EdChoice Scholarships begin on February 1st. This includes the EdChoice Traditional and EdChoice Expansion Programs. Renewal applications have not yet been released by the Ohio Department of Education, but they should be available Jan. 27, 2020. Please see Amy Link in the elementary office for information about renewing your EdChoice Scholarship. The deadline this year is April 15th.
Student Accomplishment:
Austin Hill, TCS Junior student, recently auditioned for and was selected to participate in the 2020 Ohio Music Education Association District 3 HS Honors Festival Choir. The District Honors Choir and Band, representing schools from all over our 8-county OMEA district, have rehearsed at Van Wert High School on several Saturdays. The Festival will culminate with a concert at the Niswonger Performing Arts Center in Van Wert this Sunday, January 19, at 3:00 PM. Tickets are available at the door for $5 (children 5 and under are free). Congratulations, Austin!
Art Accomplishment:
Congratulations to Lydia Bassett! Lydia's artwork was selected to be featured in the Dyer, Garofalo, Mann & Shultz 2020 Tiger Safety Calendar! Along with her illustration being published in the calendar, Lydia received a $250 prize and earned $1,000 for the TCS art program. Free calendars are available in both offices. Great job, Lydia!
First Grade Voting Activity:
Mrs. Rager's first grade class is learning about the voting process. Today, they held an election to see which candidate would be President of the Reading Corner. Lucy Lamb and Tommy Turtle both gave convincing speeches about the changes they would make to the classroom library. In the end, Tommy Turtle had the most votes!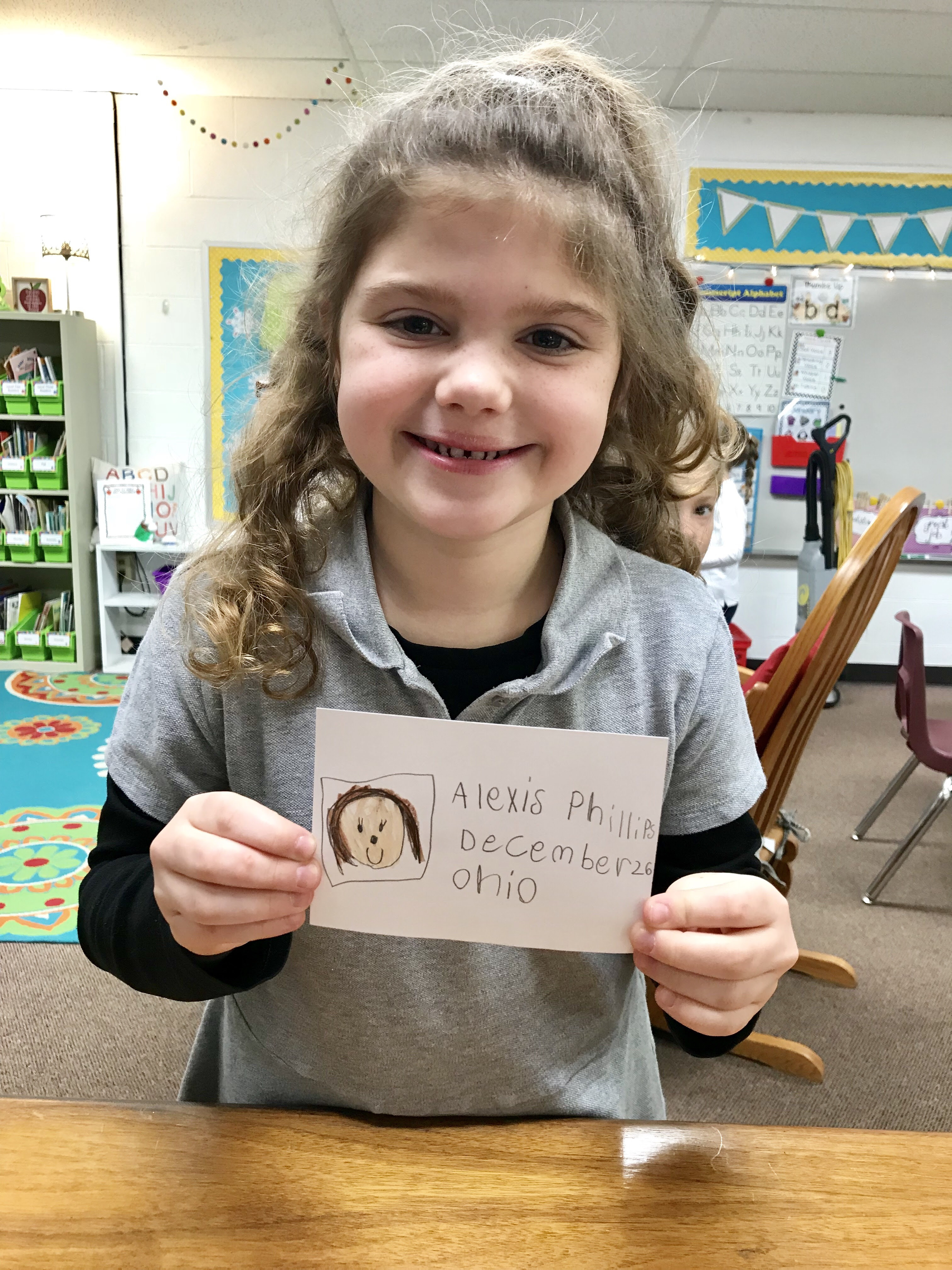 Lego Mindstorms Robotics:
What a great semester for Temple Christian School's new Lego Mindstorms EV3 Robotics class! Students were able to participate in the building and block programming of Lego robots. They participated in several design challenge competitions within their class, including racing robotic cars and creating robotic catapults, among other competitions. The class ended their semester with a field trip to UNOH to tour their robotics program.
Cheer Camp:
The high school cheerleaders are excited to host cheer camp again this year! Camp will take place February 3rd, 4th, and 6th, with the girls performing at the basketball game on Friday, February 7th. Registration needs to be turned in by THIS coming Wednesday, January 22. We look forward to an exciting week of camp!
Elementary Girls Cheer Camp Form

Senior Honey Gram Fundraiser:
Valentine's Day is fast approaching, and the seniors are getting ready for their Honey Gram Fundraiser! They will be raising money for their senior class trip to Washington D.C. in May. Be on the lookout for order forms! Seniors will be selling carnations, plush toys, candy, singing grams, and t-shirts that can be worn on Witness Wear days throughout the remainder of the school year! Mr. Bowman is going to be a good sport again this year and wear the "Bee Mine" t-shirt on Valentine's Day if we sell 50 of them. Last year, he didn't have to wear the "Olive You" shirt, so let's see if we can get him to wear the "Bee Mine" shirt this year! Of course, we have another t-shirt design available if you are not interested in this design. We can't wait to help you say "Happy Valentine's Day" to someone you care about!
Save the Date:
Please mark your calendars now! The annual TCS Book Fair will be bigger and better than ever! We will be open for business March 4-6 and our online book fair will be open Feb. 26 – March 11. In addition to Grandparent's Day, we hope to make it even easier to build your family library and to bless our classrooms with more books. Watch for more details coming soon!
College Credit Plus Courses:
Several TCS students are taking advantage of the state's CCP Program, which allows students to take college courses for dual college/high school credit at the state's expense. Students are taking courses through OSU Lima, UNOH, Rhodes State, and Cedarville. An informational meeting regarding the College Credit Plus Program for the 2020-21 school year will be held on January 30th at 6:30 P.M. in the high school lunchroom.
Yearbook Opportunity:
Did you and/or your spouse go to Temple and now you have children who attend TCS? If so, the yearbook staff would like to include a photo of your family on this year's special Legacy page! Please email Mrs. Searcy at searcys@tcspioneers.org to get your family added to the list. The yearbook staff will be in touch with you regarding pictures. Thank you!
Athletic Events:
Fri. Jan. 17 Varsity/JV Boys Basketball at USV @ 6:00 P.M.
Sat. Jan. 18 H.S. Bowling at 20th Century Lanes vs LCC @ 8:30 A.M.
Sat. Jan. 18 J.H. Boys Basketball at Monclova Christian @ 11:00 A.M. **CANCELED**
Sat. Jan. 18 High School Girls Basketball at Monclova Christian @ 12:00 P.M. **CANCELED**
Sat. Jan. 18 Varsity/JV Boys Basketball at Home vs. Miller City at 6:00 P.M.
Mon. Jan. 20 Pioneer Bowling Classic at 20th Century Lanes (Girls) & Westgate (Boys) @ 10:00 a.m.
Tues. Jan. 21 J.H. Boys & H.S. Girls Basketball at Home @ 5:00 P.M./6:00 P.M.
Fri. Jan. 24 Varsity/JV Boys Basketball at Home vs. Hardin Northern @ 6:00 P.M.
Sat. Jan. 25 Varsity/JV Boys Basketball at Vanlue @ 6:00 P.M.
Important Dates:
Jan. 17 End of 2nd Quarter
Jan. 20 No School – MLK Junior Day
Jan. 22 Witness Wear Day
Jan. 23 Early Dismissal @ 1:00 P.M. – Faculty Development
Jan. 24 Grade cards sent home
Jan. 30 MS/HS College Credit Plus Meeting @ 6:30 P.M. in High School Lunchroom
Lunch Menu for the Week of January 20
Monday               No School
Tuesday               Pizza $1.00/Slice
Wednesday         Cheeseburger, Fries, Fruit
Thursday             Chicken Quesadilla, Yogurt fruit parfait
Friday                   Pizza $1.00/Slice
Read Related Article :