Weekly Newsletter
Hello TCS families. I trust you have had a good week. Let's take some time this month to thank the Lord for His blessings in our lives. Psalm 100:4-5 says, "Enter into His gates with thanksgiving, and into His courts with praise: be thankful unto Him, and bless His name. For the LORD is good; His mercy is everlasting; and His Truth endureth to all generations". Have a great weekend!
Parent/Teacher Conferences:
TCS will be holding Parent/Teacher Conferences on Monday Nov. 25th from 1:30 – 7:00 P.M. and Tuesday Nov. 26th from 9:00 a.m. – 12:00 p.m.
Pioneer Rewards Activities:
Pioneer Rewards activities were held this past week for middle school and high school students who received one lunch detention or less during the first grading period. High school students enjoyed lunch at Five Guys and Chipotle, while middle school students enjoyed a free period of games and candy! Congratulations students!
Elementary Field Trip:
The 3rd, 4th, and 5th grades enjoyed going to the Civic Center to hear the Lima Symphony today. The symphony took us on a journey to California to search for gold. Along the way, we learned about rhythm, different music notes, and dynamics, as well as listened to different songs performed by the symphony. We would like to thank Mrs. Smith for organizing this field trip for us!
Elementary Field Trip:
Grades K5-2nd enjoyed going to the play "The Three Spinners" at OSU Lima this week. The students laughed, clapped, and enjoyed this theatre production put on by OSU Lima students.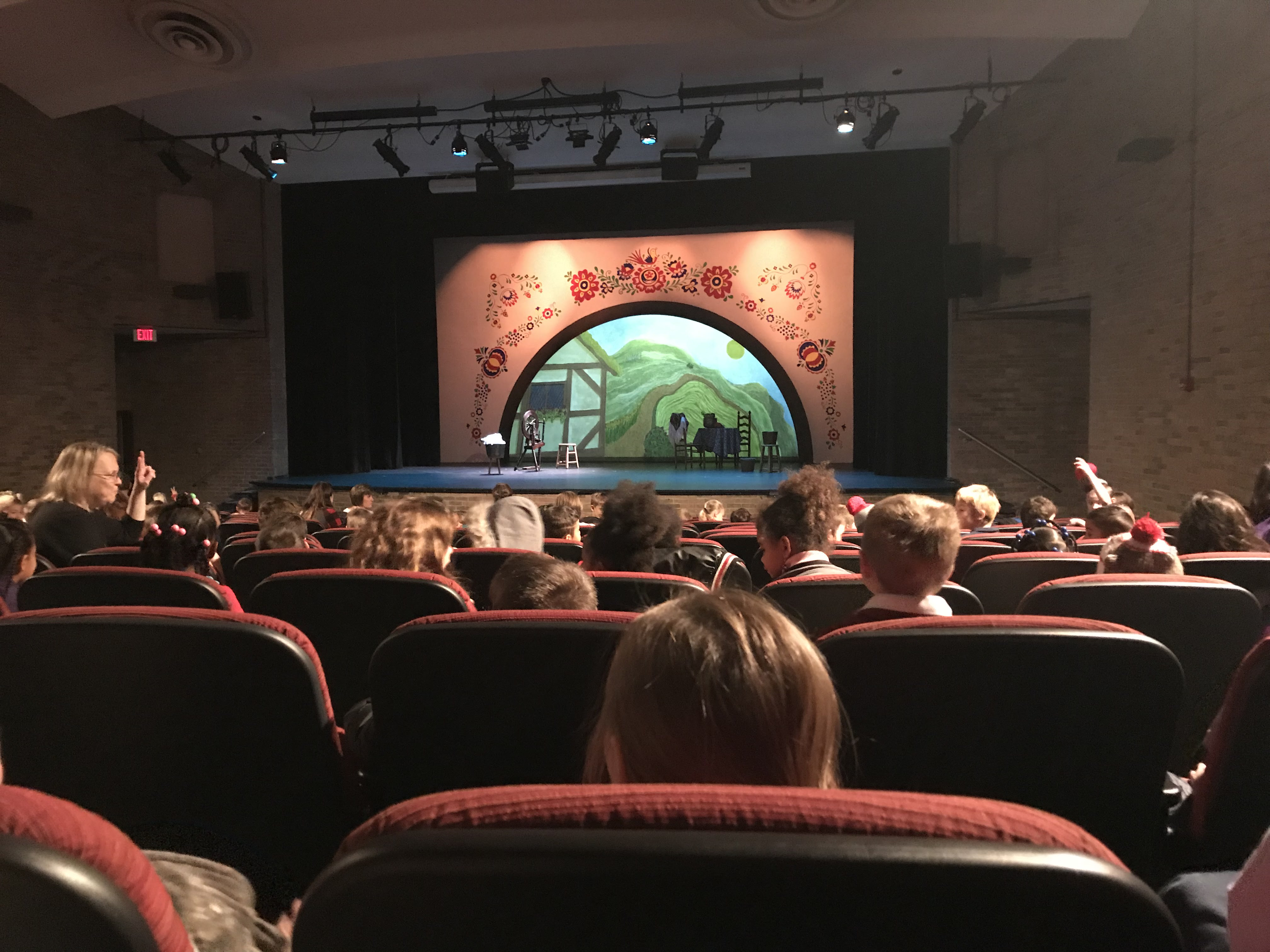 Student Government / NHS Service Project:
Students from TCS Student Government and National Honor Society had the privilege to serve in the community on Thursday at the St. Marks/Forest Park UMC Food Pantry. Fifteen students joined with these churches to serve over 100 people in Lima as they picked up groceries for the week. The food pantry serves produce, bread, desserts, meats, milk, and other items. Our students really enjoyed this project, and it was a great opportunity for them to join others in serving our community!
Elementary Thanksgiving Feast Dates:
The K4-5th grade Thanksgiving Feasts will take place on Friday November 22nd.
Veterans Day Program:
The annual TCS Veterans Day Program took place on Monday, Nov. 11. Mrs. Smith and Mrs. Brokaw led the program with beautiful songs honoring our brave men and women who have fought for our country. All of the elementary students, middle school and high school choirs, as well as the high school band performed songs. U.S. Marine Sgt. Jalen Jolly presented the United States colors. Veteran and Lima Chief of Police Kevin Martin was the guest speaker who spoke about the sacrifices all of our military branches and their families have made for our freedoms. Many TCS families and community members attended the program. Veterans and their families in attendance were honored with gifts presented by TCS students.
TCS Harvest Market and Craft Fair:
On Saturday, Nov. 9, Temple Christian School hosted its first craft fair fundraiser. Hundreds attended the event and purchased merchandise from a variety of local vendors. Vendors contributed more than 30 door prizes for attendees to win by purchasing raffle tickets. Proceeds from this event went to the junior and senior class funds, which support events such as the spring banquet and the senior class trip. Bubba C BBQ also served chicken dinners, which supported the juniors, seniors and all cheerleaders. One of the cheerleaders even dressed up in a chicken suit to help promote sales! The whole event was not only a lot of fun, but raised a lot of money for TCS students. Thank you to all who helped and supported this event!
Yearbook Sale:
Order your 2019-2020 Temple Christian School yearbook for $40 and add name personalization on the cover for $5 to receive four free icons! Return the order form with cash or check payable to Temple Christian School (memo: yearbook) to Mrs. Searcy or either office, by 11/22/19. Order online at jostens.com. Orders can be submitted after that date; however, the free icon offer will expire. Contact Mrs. Searcy at searcys@tcspioneers.org if you have questions.
Important Dates:
Nov. 20         Witness Wear
Nov. 22          Second Quarter Midterm
Nov. 25          Second Quarter Midterms Sent Home
Nov. 25          Early Dismissal 1:00 P.M. (Parent-Teacher Conferences 1:30 P.M. – 7:00 P.M.)
Nov. 26          No School (Parent-Teacher Conferences 9:00 A.M. – Noon)
Nov. 27-29    No School (Thanksgiving Break)
Dec. 2             School Resumes
Lunch Menu for the Week of November 18
Monday             Mini Corn Dogs, Ice Cream Sandwich, Fruit
Tuesday             Pizza $1.00/Slice
Wednesday       Cheeseburger, Sweet Potato Fries, Fruit
Thursday           Chicken Quesadilla, Yogurt Fruit Parfait
Friday                 Pizza $1.00/Slice
Read Related Article :