Weekly Newsletter
Hello TCS families. I trust you have had a good week. Let's take some time this month to thank the Lord for His blessings in our lives.  1 Chronicles 16:34 says, "O give thanks unto the Lord; for He is good; for His mercy endureth forever". Have a great weekend!
Elementary Pioneer Store Day:
K-5 through 5th grade students enjoyed spending their hard-earned Pioneer Bucks Friday at the Pioneer store. Students receive Pioneer Bucks for going above and beyond in the classroom or by being great leaders in the school. Students were able to purchase fun items such as: hot chocolate, slime, candy, and toys. If your child shares with you that they have earned a Pioneer Buck, it's something to be proud of! The Pioneer store will be open each quarter to reward students for their positive behavior.
Art Recognition:
Congratulations to TCS Senior Lydia Bassett for being selected as one of the winners for the DGMS/Hometown Stations Annual Safety Calendar Contest. Lydia submitted a piece of art that will be used in the calendar.  Lydia will receive $250.00 and the TCS art department will receive $1,000.00.  We would also like to thank our new art teacher, Mrs. Kerri Motter, for her leadership of our art department and for providing TCS art students the opportunity of participating in the contest.
Parent/Teacher Conferences:
TCS will be holding Parent/Teacher Conferences on Monday Nov. 25th from 1:30 – 7:00 P.M. and Tuesday Nov. 26th from 9:00 a.m. – 12:00 p.m.
Basketball Season Tickets on Sale:
Season tickets for high school and junior high basketball are on sale in the HS office until Nov. 15th.
Water Line Replacement:
Thank you for your patience as we worked through the process of replacing the old water line in the back parking lot. The church and school have had several issues with the old water line over the past several years, so it is good to have a new one in place.
Yearbook Sale:
Order your 2019-2020 Temple Christian School yearbook for $40 and add name personalization on the cover for $5 to receive four free icons! Return the order form with cash or check payable to Temple Christian School (memo: yearbook) to Mrs. Searcy or either office, by 11/22/19. Order online at jostens.com. Orders can be submitted after 11/22/19; however, the free icon offer will expire. Contact Mrs. Searcy at searcys@tcspioneers.org if you have questions.
TCS Harvest Market & Craft Fair:
Join us on Saturday, Nov. 9th, from 9:00 a.m. – 3:00 p.m. for our "TCS Harvest Market & Craft Fair." The event will be held in the Temple Christian School gymnasium. We will have a wide variety of vendors selling things like baked goods, handmade crafts, home decor and more. There will also be many raffle items and door prizes. The event is a fundraiser for the junior and senior classes. Chicken dinners were sold in advance by high school cheerleaders and members of the junior and senior classes. The dinners may be picked up that day to take home or you may dine at TCS. In addition, we will offer concessions, kids' meals and a kids' craft/activity zone.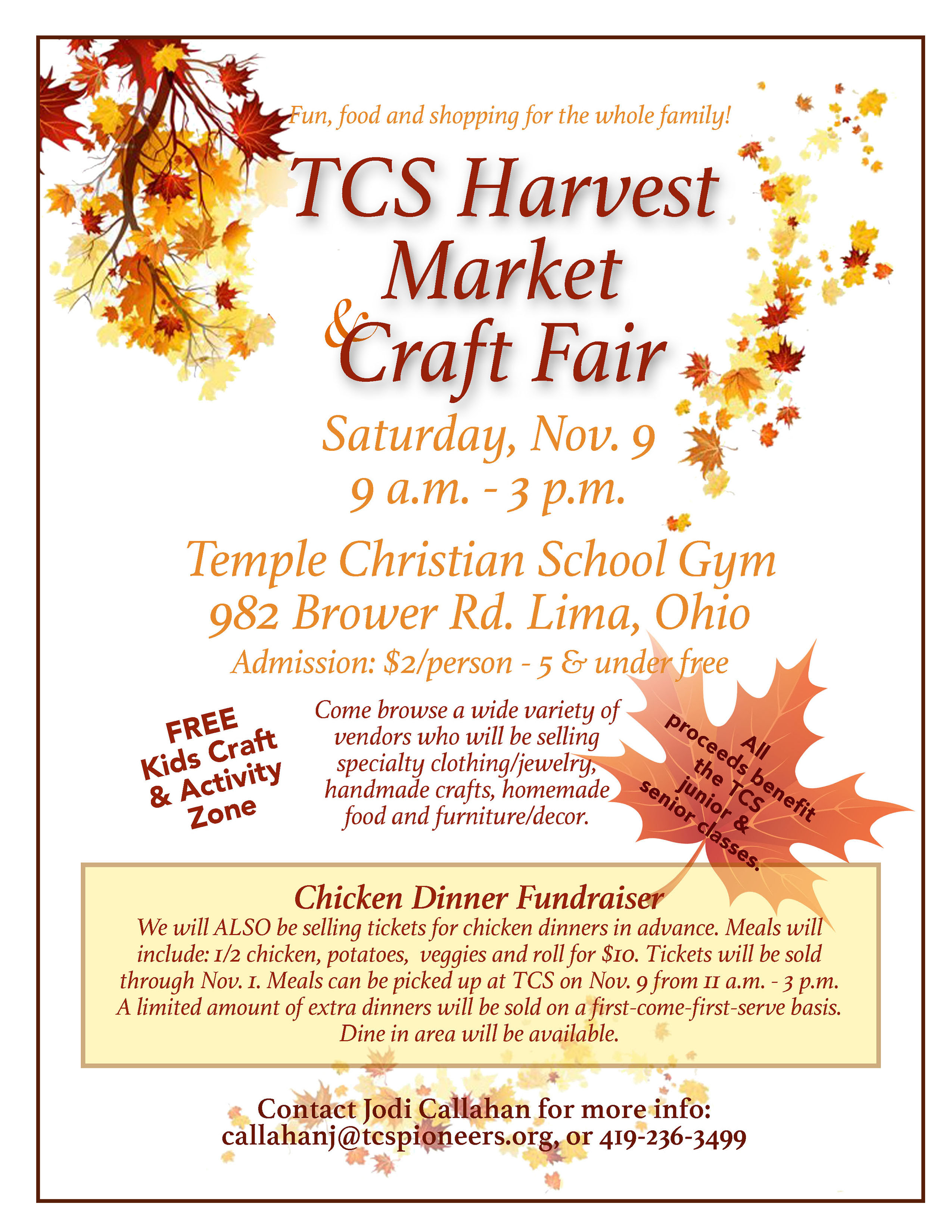 Veterans Day:
We would like to invite you to our annual Veterans Day Program on Monday Nov. 11th, at 2:00 P.M. Our guest speaker will be Lima City Police Chief Kevin Martin. Elementary students participating in the program must wear khaki colored pants that day along with a red, white, or navy blue uniform shirt.
Toys for Tots Box: 
Toys for Tots is sponsored by the Salvation Army and the US Marine Corps every Christmas.  This program helps approximately 750 families in Allen county.  If you would like to help out, please bring in new, unwrapped toys that are appropriate for children 12 years old or under.  We will have donation boxes in both buildings until Friday, Dec. 6, 2019.  Donation boxes will be picked up by the Salvation Army the week of Dec. 9, 2019.  Thanks!
National Honor Society November Collection: 
The National Honor Society continues to do a collection for the SAFY Drop-In Center through November 22nd.  The Drop-In Center is a safe haven where kids 12-17 can go to just hang out, have therapy sessions, tutoring, and also learn important life skills. SAFY supplied a large list of items that would help them so we have divided the list into three groups:  K-4 through 2nd grade will be collecting paper products and small items; 3rd-5th will be collecting dry goods and small items; and junior high and high school will be collecting hygiene and household cleaning items.  Thank you for helping us minister to children in need. There is a drop box in the elementary and high school for these items.
Warm Clothing for Recess:
Please don't forget to send warm clothes (coats, hats, and gloves) for recess now that fall has arrived and temperatures are cooler.  The kids still enjoy going outside, but we want them to be warm. Thanks.
Important Dates:
Nov. 11         Veteran's Day Program  2:00 (LBT Auditorium)
Nov. 14         Early Dismissal  1:00 P.M. (Faculty Development)
Nov. 20         Witness Wear
Nov. 22         Second Quarter Midterm
Nov. 25         Second Quarter Midterms Sent Home
Nov. 25         Early Dismissal  1:00 P.M. (Parent-Teacher Conferences 1:30 P.M. – 7:00 P.M.)
Nov. 26         No School (Parent-Teacher Conferences 9:00 A.M. – Noon)
Nov. 27-29   No School (Thanksgiving Break)
Dec. 2            School Resumes
Lunch Menu for the Week of November 11
Monday          Pancake Wrapped Sausage, Hash Brown, Fruit
Tuesday          Pizza  $1.00/Slice
Wednesday    Shredded Chicken Sandwich, Pudding, Veggies w/ ranch
Thursday        Chicken Strips, Hot Pretzel, Fruit
Friday              Pizza  $1.00/Slice
Read Related Article :