Weekly Newsletter
Hello Temple families.  Please take a few minutes to read some TCS news and have a great weekend!
Homecoming:
The 2019 TCS Homecoming begins tonight, Friday, September 27th!  Please plan to join us tonight and Saturday as we enjoy another year of Homecoming events. Below is a basic schedule of events for the weekend.
Friday October September 27th
@ TCS Soccer Complex
5:30 – 7:00 Dinner     Hot Dog Meal $4.00     Pulled Pork Meal $6.00
(A limited amount of meals may be available for purchase at the event)
5:30 Face Painting
5:45 Corn hole Tournament $10 per team
6:00 – 7:00 Hayrides
7:15 Fall Sports Pep Rally and Homecoming Court Introductions
8:00 TCS Gymnasium Volleyball Games
TCS Varsity Soccer vs. TCS Varsity Volleyball
TCS Volleyball Alumni vs. TCS Varsity Volleyball
Saturday September 28th
@ TCS Soccer Complex
10:00 Breakfast (Doughnuts)
10:30 Kids vs. Parents Soccer Games (U6 – JH)
11:30 Candy Launcher
11:45 Homecoming Parade
12:00 Crowning of the 2019 Homecoming King and Queen
1:00 Varsity Soccer game vs. Bath
Elementary Chapel:
Our elementary students have been learning about the Christian character trait of "Discipline-I will do the things God wants me to do every day" during the month of September.  We have been challenging students to put God's Word into practice in their classrooms. In today's chapel, two students from each class were recognized for showing the godly trait of discipline. Congratulations to: Ryker White, Londyn Hutchison, Lillian Buzhardt, Karson Haines, Sophie Ellerbrock, Kyler McDonald, Brayson Unruh, James Anderson, Adam Kiser, Alexis Shade, Emi Nishimoto, A.J. Heister, Mason Lesko and Mikaya Linhart. And a special thanks to Jenna Beougher, Children's Director at Lima Baptist Temple, for teaching our students about putting on the Armor Of God!
Elementary Field Trip:
The first and second grades had a beautiful morning Tuesday for their field trip to Suter's! The students enjoyed a hayride, lessons about woodland creatures, picking a pumpkin from the pumpkin patch, and learning about the life cycle of a pumpkin. The students also learned how apple cider is made and got to taste test some of the delicious cider at the end of the field trip. It was a wonderful day enjoying the beautiful fall weather!
K5 Field Trip:
Our K5 class recently went to the Furry Tail Farm for a Fall field trip. The students enjoyed a hayride, played in field corn, crawled through tunnels in the ground, rode the zip lines, and so much more. It was a fun day for everyone!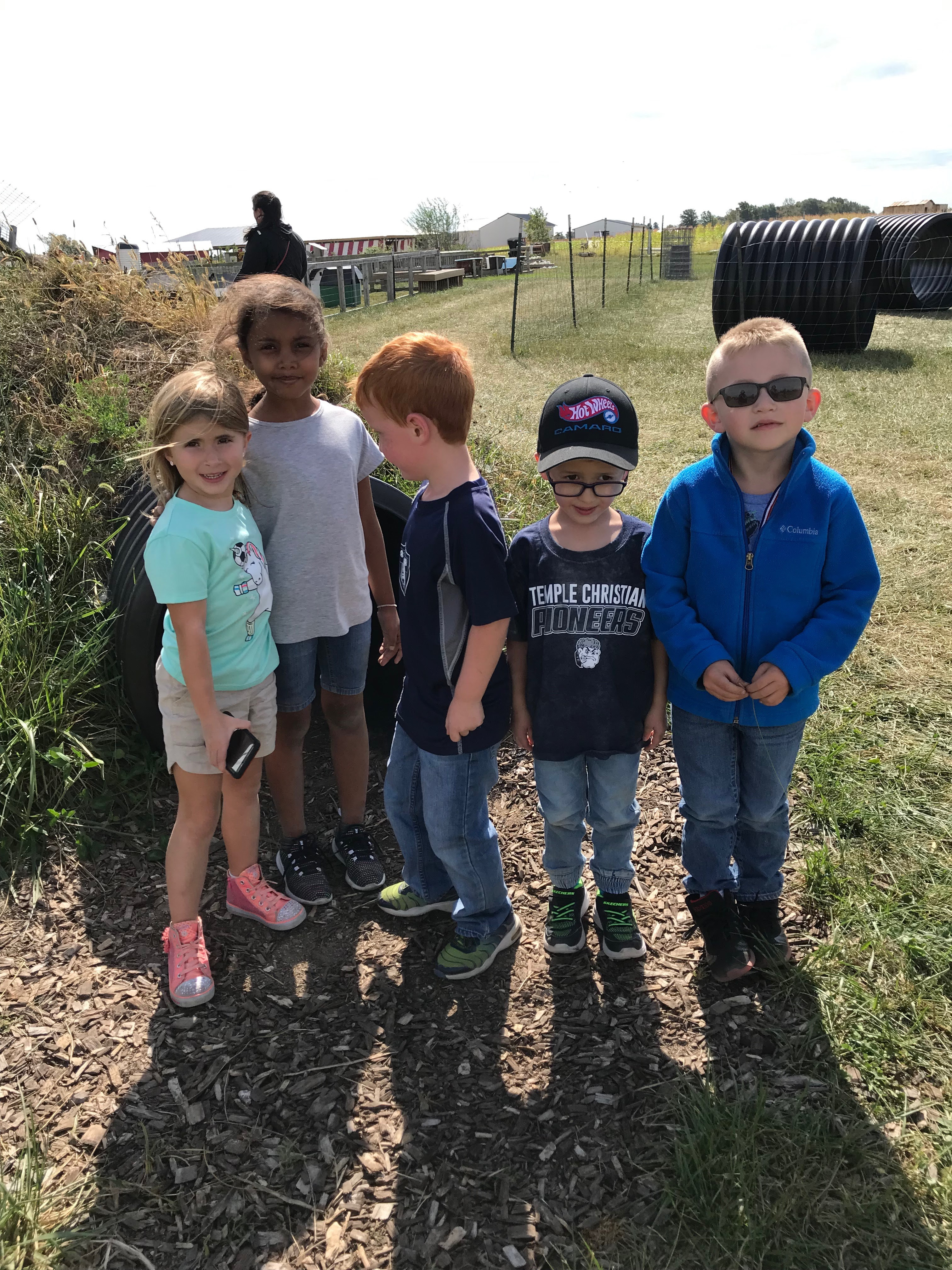 K5 Learning Activity:  
Our K5 class recently enjoyed visits from Lima firefighter/medic Erick Hayes, who is the father of K5 student Oaklyn Hayes and Lima police officer/detective Matt Boss, who is the father of K5 student Cameron Boss. The class had a great time learning many interesting things about being a firefighter, police officer, and a good citizen. Thank you Mr. Hayes and Mr. Boss for visiting our class.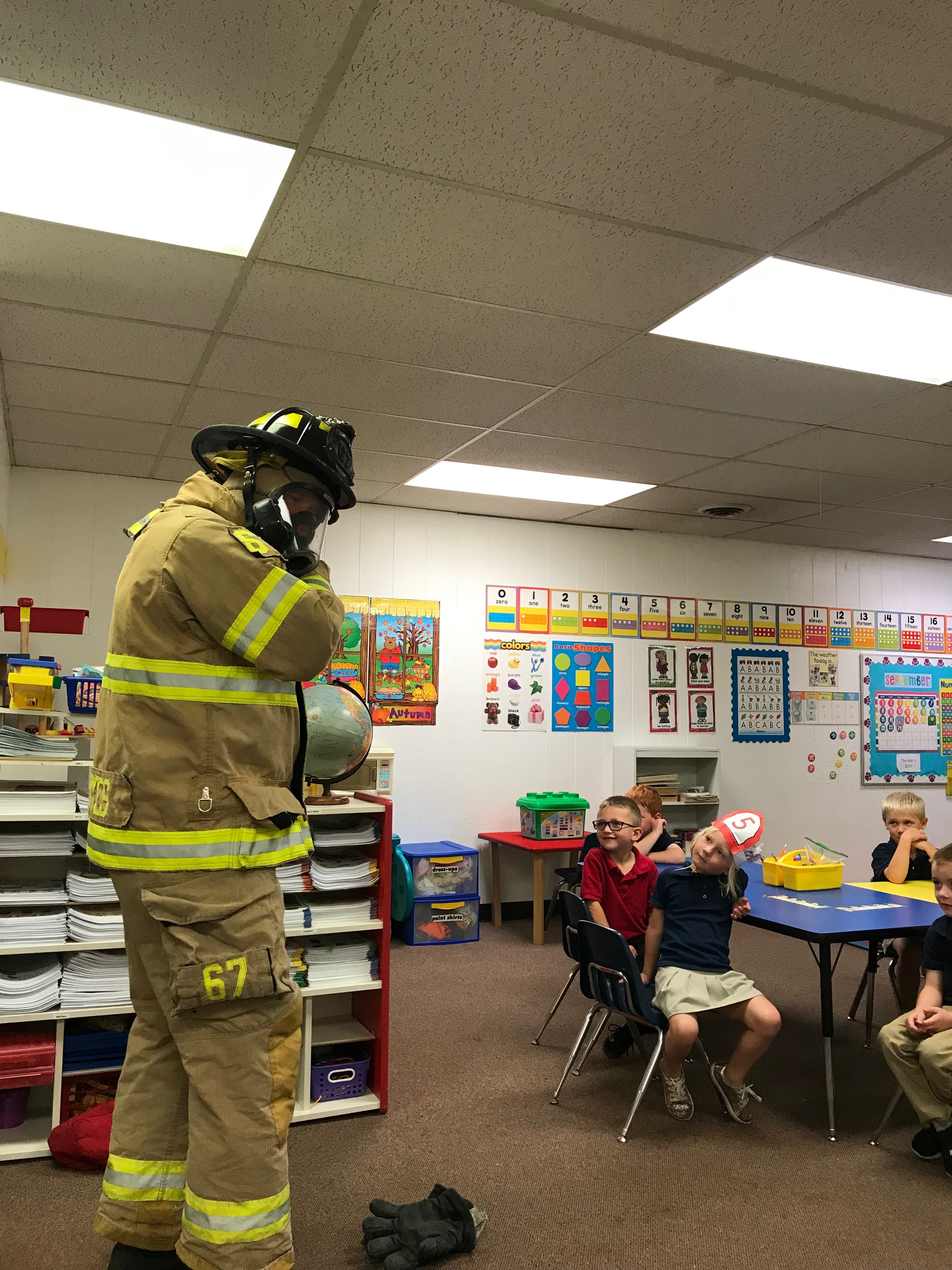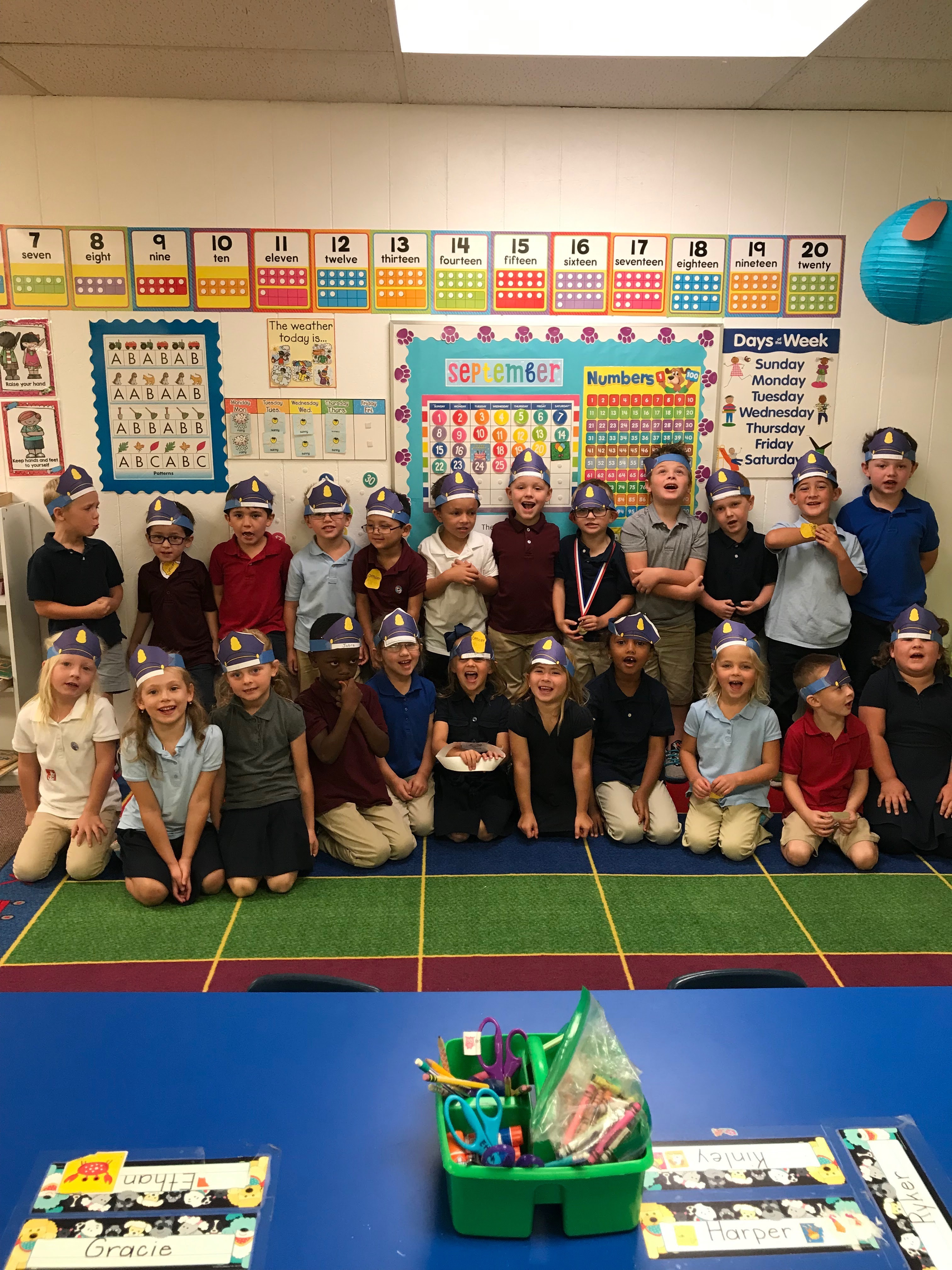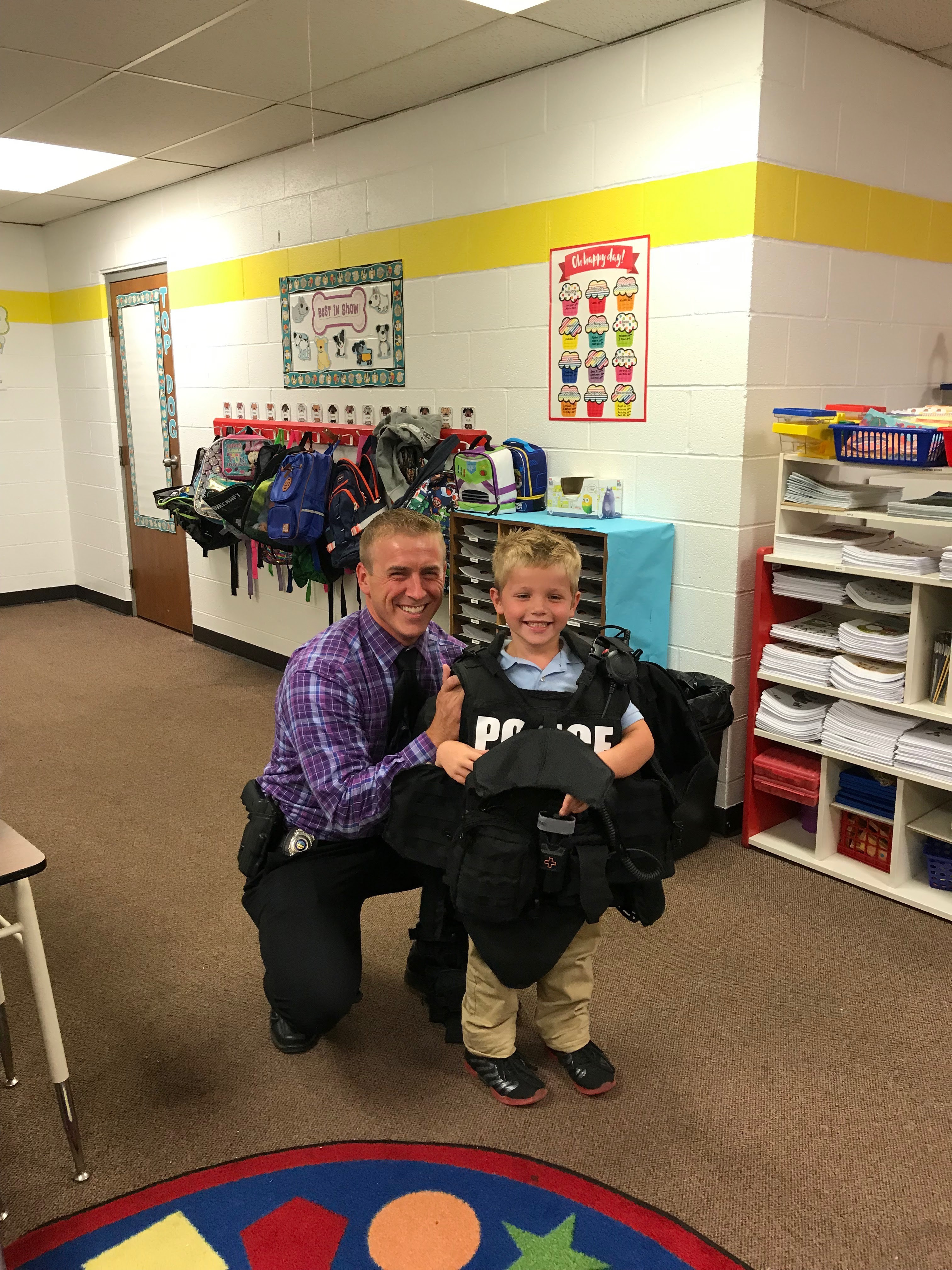 H.S. Band Students Attend Leadership Workshop: 
On September 9th, four Temple High School Band members had the opportunity to attend a student leadership workshop at ONU, hosted by District 3 of the Ohio Music Education Association. Austin Hill, Brady Peterson, Brandon Campbell, and Caleb Kiser joined 100 other students from all over our 8-county district to participate in a session given by Mr. Fran Kick. Kick is a nationally recognized motivational speaker for students and teachers who encouraged the students to "Kick It In" and "Take the Lead." This kind of training can help young people to develop a strong sense of servant leadership–a worthwhile goal for Temple students.
TCS Golf: 
Congratulations to Senior Lincoln Waters. On Thursday, he competed in the Division III Sectional Golf Tournament at Colonial Golf Club. Lincoln qualified to move on to the District Golf Tournament by shooting an 84. Lincoln will now compete in the District Tournament on Thursday, October 3rd, at Stone Ridge Golf Club in Bowling Green, Ohio with a chance to qualify for the state golf tournament. Congratulations and Good Luck Lincoln!
Box Top:
Thank you to everyone who has brought in Box Tops this school year.  We use the Box Top rewards to help purchase playground supplies for our students to use during recess.
New to us this school year is the Box Tops for Education app located on your smartphone. Once you download the app and create an account, you can start shopping for participating products.  Simply scan your store receipt within 14 days of purchase and the app will instantly add Box Tops to our school's earnings online. When using the app, there is no need to clip Box Tops. The clipped Box Tops will still be accepted throughout this school year as well. If you would like additional information on the Box Tops for Education app, you can download the app and learn step by step how it works. Thank you for all that you do to help our students enjoy their recess!  Please see attachments for collections sheets.
Junior/Senior Class Fundraiser:
Join TCS as we host a fundraiser with crafts and food! Join us on Saturday, Nov. 9th from 9:00 a.m. – 3:00 p.m. for our "TCS Harvest Market & Craft Fair." The event will be held in the Temple Christian School gymnasium. We will have a wide variety of vendors that will be selling things like baked goods, handmade crafts, home decor and more. There will be many raffle items and door prizes as well. Chicken dinners will be sold in advance. The dinners may be picked up that day to take home or you may dine at TCS. In addition, we will offer concessions, kids meals and a kids' craft/activity zone.
We are currently accepting applications for vendors. Rent a 10'x10′ space for $30 or a 10'x20′ space for $55. Space is limited. Contact Jodi Callahan at callahanj@tcspioneers.org for more information or to rent a space. All applications and fees must be submitted by Friday, Oct. 11.
TCS Harvest Market and Craft Fair Flyer
Lost and Found: 
If your child is missing a jacket, lunch box, etc., please check the lost and found in the elementary office by Oct 4th.   Unclaimed items will be donated to a local thrift store.
Next Week's Sports Events:
Sept. 28         Var. Soccer at Home vs. Bath @ 1:00 P.M.  (Homecoming Game)
Sept. 30         JV/Var. VB at Spencerville @ 5:30 P.M.
Sept. 30         J.H. VB Home vs. Ridgemont @ 5:00 P.M.
Oct. 1             Var. Soccer at Home vs. Fort Jennings @ 5:00 P.M.
Oct. 3             Var. Soccer at Home vs. Jackson Center @ 5:00 P.M.
Oct. 3             JV/Var. VB at Home vs. Lehman Catholic @ 5:30 P.M.
Important Dates:
Sept. 27-28   TCS Homecoming Weekend
Oct. 2            Witness Wear Day
Oct. 10          School Picture Day
Oct. 11          Elementary Grandparents at Lunch
Oct. 14          No School – Columbus Day
Lunch Menu for the Week of September 30th
Monday         Mini Corn Dogs, Ice Cream Sandwich, Fruit
Tuesday         Pizza  $1.00/Slice
Wednesday  Meatball Sub, Pudding, Veggies w/ Ranch
Thursday        Breakfast Sandwich, Hash brown, Fruit
Friday            Pizza  $1.00/Slice
Read Related Article :