Weekly Newsletter
Hello TCS families. We trust that you have had a great week.  Here are a few news items that we wanted to share with you. Have a great weekend!
Spring Picture Day:
Spring Picture Day is April 1. Order forms and flyers will be distributed this week. Those who are getting spring pictures taken may wear appropriate dress clothes rather than their regular school uniforms. Remember, all clothing must be modest and appropriate according to TCS standards.  Boys: Dress pants and dress shirts (polos or button-up shirts) Girls: Dress pants and dress shirts/blouses, dresses, skirts and blouses.
Reading Month Craft Day:
Today the elementary students continued with their "Wild About Reading African Safari" reading month theme with a craft activity.  The students were able to choose from four different crafts to make. The older students were paired with younger students to make their craft.  The younger students love getting to work with someone they can look up to and it is great to see the older students take on a leadership role.  Students made Safari animal masks, African necklaces, jeeps, and binoculars for their adventures.
Reading Month Author Visit:
Characters, conflict, research.  What else is necessary to become a published author?  On Wednesday Mrs. Rosanne Bowman challenged the students of grades 3-5 to be creative as she shared the process of writing her book called HOOK'S DAUGHTER: THE UNTOLD TALE OF A PIRATE PRINCESS.  The 5th graders were given opportunity to develop their own characters by answering questions like "What does your character look like? What do they want more than anything?  What is her biggest strength?"  Thank you, Mrs. Bowman, for sharing your time and expertise with our elementary students.
Physics Class Project:
The Physics class is learning about circuits and schematic diagrams.  In this photo, Dakota Clay and Jonathan Acklin have wired an arduino to light a series of LEDs. Great job guys!
Spring Musical and Art Show:
The TCS spring musical and art show will take place on April 11-13 in the LBT main auditorium. The students will be presenting Seven Brides for Seven Brothers.  Tickets will go on sale to cast family members on April 1st, TCS families on April 2nd, and the general public on April 3rd. Tickets are $8 and will be sold in the high school office. In addition, Mrs. Phillips and the TCS art students will be presenting their annual art show. Please make sure to mark your calendar for this exciting event.
NHS Food Drive:
The TCS National Honor Society sponsored a Canned Food Drive.  TCS students won their competition against Apollo by collecting 2,296 cans that will be donated to Our Daily Bread, a local non-profit organization. Temple had a friendly competition between classes to encourage students and families to donate.  Each class was assigned a teacher to represent the class in the competition. The winning teachers will be get to pie the losing teachers at an elementary assembly on March 22nd and a high school assembly on March 29th. Here are the final results:
K4 (Mrs. Williams)    152 cans       vs.   K5  (Mrs. Wierwille)      231 cans
1st (Mrs. Rager)           222 cans      vs.  2nd  (Mrs. Linhart)           281 cans
3rd (Mrs. Marshall)    107 cans     vs.  4th     (Mrs. Draper)            193 cans
5th (Mrs. Brokaw)       204 cans     vs.  6th   (Mrs. Kinnear)           69 cans
7th (Mrs. Helser)         158 cans     vs.  8th    (Mrs. Motter)            195 cans
9th (Mr. Bowman)      106 cans     vs. 10th   (McPheron)                 67 cans
11th (Mrs. Smith)        100 cans     vs.  12th  (Mrs. Finch)               91 cans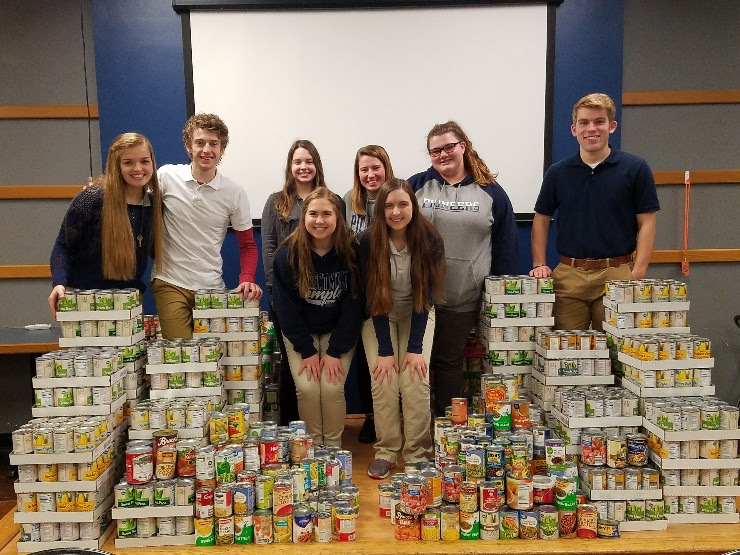 Converge:
The Converge Youth Conference will be taking place on April 5 and 6 at Elida High School and the Elida Fieldhouse. TCS students in grades 8-12 who register for the Conference will be able to enjoy an early release on Friday April 5th at 12:50 P.M.  In order to leave school early, students must have a permission slip and proof of Converge attendance.
All-State Honors:
Congratulations to Brody Bowman for being named 3rd Team All-State in boys basketball!  Brody will also be playing in the District 8 Senior All Star Game this coming Tuesday March 26th at approximately 7:30 P.M. at the Elida Fieldhouse. Congratulations Brody!
Re-Enrollment:
Please return all re-enrollment materials as soon as possible to help us prepare for the upcoming year. You can save $50 per student if you re-enroll before March 31!
New Family Recruitment:
Please assist us with the recruitment of new potential families. There is a $300 discount for referring a family that is accepted and stays at least half of the 2019-20 school year. See the elementary office for more information.
EdChoice Scholarship Renewal:
We are currently renewing EdChoice Traditional and Expansion scholarships.  Please contact Amy Link in the elementary office at 419-227-1644, ext. 1 for copies of the required forms.  Please note that the ODE deadline is April 30.  However, our deadline is April 19 to allow time for processing.  All re-enrollment materials and fees MUST be turned in and paid before scholarships can be renewed.
Important Dates:
Mar. 22        3rd Quarter Grade Cards Sent Home
Mar. 25        ODE State Testing Window Begins
Mar. 29        Reading Month Finale
Apr. 1           Spring Picture Day
Apr. 3           Witness Wear Day
Apr. 11-13    Spring Musical and Art Show
Apr. 16         4th Quarter Midterm
Lunch Menu for the Week of March 25
Monday          French toast sticks, Sausage, Fruit
Tuesday          Pizza  $1.00/Slice
Wednesday     BBQ Riblet, Pudding, Veggies w/ranch
Thursday        Chicken Quesadilla, Yogurt parfait
Friday             Pizza  $1.00/Slice
Read Related Article :