Weekly Newsletter
Hello TCS families. We trust that you have had a great week.  Here are a few news items that we wanted to share with you. Have a great weekend!
Spring Picture Day:
Spring Picture Day is April 1. Those who are getting spring pictures taken may wear appropriate dress clothes rather than their regular school uniforms. Remember, all clothing must be modest and appropriate according to TCS standards.  Boys: Dress pants and dress shirts (polos or button-up shirts) Girls: Dress pants and dress shirts/blouses, dresses, skirts and blouses.
Mrs. Phillips Retirement:
Please join Temple Christian School in extending best wishes to Mrs. Beverly Phillips, who will be retiring from Temple at the end of the current school year. Mrs. Phillips has taught at Temple for 17 years. She will long be appreciated for the incredible art program she has poured her heart into here at TCS. We would like to thank Mrs. Phillips for being such an inspiration and blessing to the many students who have taken her class, along with the staff members who had the privilege of working alongside her. Mrs. Phillips' testimony, strength, passion, love for her students, and teaching ability will be remembered at TCS. We wish her well in her retirement, and we continue to pray for the Lord's blessing on her life.
Mom's Prayer Group:
Our Mom's prayer group is still meeting on the 1st and 3rd Wednesday of every month at 8:10 a.m. in the library across from the women's restroom in the church. All moms are invited to join us as we cover our students, staff, teachers, and administration in prayer! If school delays or cancels, we cancel.
Reading Month Finale:
Elementary students were wild about reading this month! TCS students read thousands of minutes and enjoyed fun-filled activities each week. We had a blast today during our big reading month finale. Students participated in a variety of activities including face painting, obstacle courses, and Lego challenges. They also enjoyed yummy jungle themed snacks. We are incredibly proud of our students' hard work in meeting their reading goals. We want to send a huge thank you to our parent volunteers who donated their time and many snacks to make it all happen!
National Honor Society Teachers' Breakfast:
A big thanks to Mrs. Cooper and NHS students for providing a hot breakfast for TCS teachers this morning before school.  Teachers enjoyed pancakes, eggs, fruit, milk, juice, and coffee. It was a great way to start our Friday morning!
Science Lab Activities:
Mrs. Cooper's 7th Grade Science and Mrs. Stoodt's 10th Grade Biology classes dissected frogs in an interesting and educational lab experience on Thursday. They were able to identify various internal organs, see frog eggs, and even spot insects inside a few of them. It was a memorable science lab experience!
Spring Musical and Art Show:
The TCS spring musical and art show will take place on April 11-13 in the LBT main auditorium. The students will be presenting Seven Brides for Seven Brothers.  Tickets will go on sale to cast family members on April 1st, TCS families on April 2nd, and the general public on April 3rd. Tickets are $8 and will be sold in the high school office. In addition, Mrs. Phillips and the TCS art students will be presenting their annual art show. Please make sure to mark your calendar for this exciting event.
Converge:
The Converge Youth Conference will be taking place on April 5 & 6 at Elida High School and the Elida Fieldhouse. TCS students in grades 8-12 who register for the Conference will be able to enjoy an early release on Friday April 5th at 12:50 P.M.  In order to leave school early, students must have a permission slip and proof of Converge attendance both of which are due Thursday, April 4th.
Box Tops:
Our Box Top winner for the months of February/March was the 4th grade with a total of 243 Box Tops! They were treated to a special spring treat during the day on Wednesday! We appreciate their willingness to contribute to this special project. The money that we receive from the Box Tops goes towards new playground equipment for our students.
Art Class Visitor:
The K4 and K5 art classes had a guest speaker this week in class. They welcomed an artist from the Columbus area who specializes in animal silhouette paintings and sculptures. She explained to the classes how she starts from just a printed picture of a pet and transforms it through many steps until she gets her desired product. Next week the students will be bringing in pictures of their own pets and we will be doing a painting project similar to the one our visiting artist demonstrated.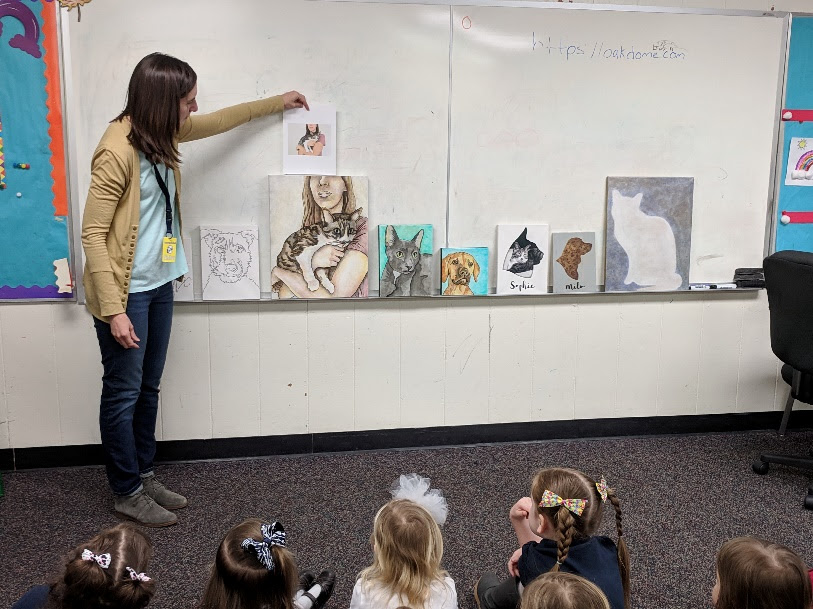 Re-Enrollment:
Please return all re-enrollment materials as soon as possible to help us prepare for the upcoming year.  You can save $50 per student if you re-enroll before March 31!   You may use the drop box outside the elementary office until 5:30 P.M. today or mail it and have it postmarked by March 31st in order to make the early deadline.
New Family Recruitment:
Please assist us with the recruitment of new potential families. There is a $300 discount for referring a family that is accepted and stays at least half of the 2019-20 school year. See the elementary office for more information.
EdChoice Scholarship Renewal:
We are currently renewing EdChoice Traditional and Expansion scholarships.  Please see Amy Link in the elementary office or call 419-227-1644, ext. 1 for copies of the required forms.  Please note that the ODE deadline is April 30.  However, our deadline is April 19 to allow time for processing.  All re-enrollment materials and fees MUST be turned in and paid before scholarships can be renewed.
Athletic Events:
Apr. 1          J.H. Track and Field at Continental @ 4:30 P.M.
Apr. 2          H.S. Track and Field at Allen East @ 4:30 P.M.
Apr. 9          H.S. Track and Field at Hardin Northern @ 4:30 P.M.
Important Dates: 
Mar. 29         Reading Month Finale
Apr. 1            Spring Picture Day
Apr. 3            Witness Wear Day
Apr. 11-13     Spring Musical and Art Show
Apr. 16          4th Quarter Midterm
Apr. 16          Early Dismissal at 1:00 P.M. (Easter Break Begins)
Apr.17-22     Easter Break
Apr. 23          School Resumes
Apr. 23-26    K-8 Terra Nova Achievement Testing Week
Lunch Menu for the Week of April 1
Monday          Mashed potato bowl, Fruit
Tuesday          Pizza  $1.00/Slice
Wednesday   Hot dog, Tater tots, Fruit
Thursday        Chicken patty sandwich, Ice cream sandwich, Fruit
Friday             Pizza   $1.00/Slice
Read Related Article :