Weekly Newsletter
Hello TCS families. I hope everyone has had a good week. Here are a few news items that we wanted to share with you.
Hermon Woodlands Field Trip:
The first and second grade classes had a beautiful day for their end of the year field trip! Students were able to explore a log cabin, play on a rope swing, dig in a giant sand box, build a wooden teepee structure, and walk the storybook trail. The afternoon ended with a free trip to the ice cream truck, thanks to a generous family!
First Grade STEM Project:
The first grade students completed a STEM activity today involving plants. The students read about different types of leaves and which ones are designed to hold water best in arid climates. The students made their hypothesis in the morning and discovered the outcome in the afternoon. They enjoyed this hands-on opportunity for learning!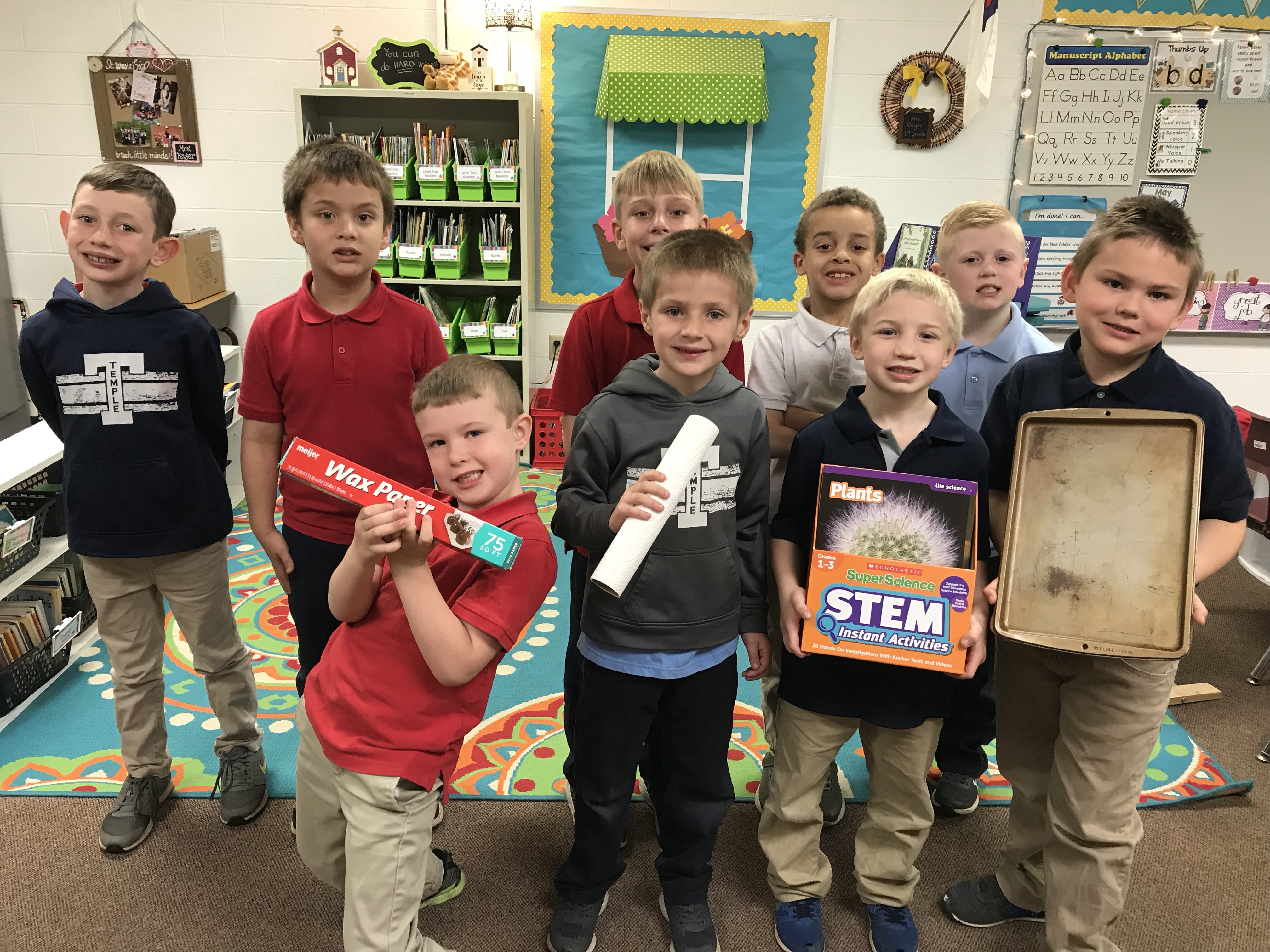 Middle School Field Trip:
On Tuesday, the 7th and 8th grade students visited Greenfield Village and the Ford Rouge Factory in Dearborn, Michigan. They experienced a multisensory exploration of the vehicle manufacturing process filled with jaw-dropping special effects, and traveled the elevated walkway above the truck plant and watched as the workers assembled the F-150.
Sixth Grade Field Trip:
On Monday, the 6th grade students enjoyed a wonderful day at Johnston Farm and Indian Agency in Piqua. Students learned what life was like on the early frontier in Ohio, as well as the relationships that the Native Americans had with their agent John Johnston as he worked on their behalf with the United States government. Students discovered how the Johnston Family lived and worked in their household with their 15 children! A highlight of the trip was the canal boat ride, which was pulled by a mule along a portion of the Miami & Erie Canal. Everyone appreciated learning outside the classroom in the beautiful weather!
Narnia Play:
The annual 4th Grade Narnia Play is next week!  The parent performance is Wednesday, May 15 at 1:00 P.M.  The Middle / High School performance is Thursday, May 16 at 1:00 P.M.  The elementary performance will be Friday, May 17 at 9:00 A.M. for Chapel. The students are very excited! They love the sets, the costumes, the music, the props, the face painting, and being knighted at the end of the play.  They have done a great job memorizing their lines and acting out their parts.  We also love the beautiful meaning of the story. We invite you to attend the play and support our 4th graders!
Student Government Game Day:
On Thursday, the TCS Student Government hosted its annual 9-12 Game Day.  Students in 9-12th grade competed in dodgeball and volleyball tournaments and enjoyed pizza, pop, and prize drawings. Thank you to this year's student government representatives for all of your hard work throughout the school year and on this event.
Allen County Fair, August 16 – 24, 2019:
Your help is needed at the Allen County Fair! Before you know it, the Allen County Fair will be here and Temple Christian School will once again have an information booth in the merchants building. Volunteers are needed at the booth to hand out TCS brochures and to speak with people about TCS. Would you be willing to help? Contact Richard Jueckstock, Director of Development, at 567-224-8846 or jueckstock68@gmail.com.
TCS Golf Scramble:
The TCS Golf Scramble will be held on Saturday May 25th at 9:00 a.m. at the Hidden Creek Golf Club.  To register online, go to: https://tcsgolfouting.eventbrite.com. Contact the Athletic Director, BJ McPheron at mcpheronbj@tcspioneers.org for more information.
Spring Sports Physicals for current 6th – 11th graders:
The Sports Physicals Packet contains crucial documents for the 2019-2020 Athletic Seasons. All documents are required to be signed. The physicians' physical must be completed in order for any student to participate in a practice, scrimmage, or game after August 1, 2019. The packet includes information about the Free Sports Physical given at O.I.O on May 13th.  Families are encouraged to complete all paperwork before the end of this school year so that everything is in place for next school year.
Booster Mulch Sale:
The Booster Club Mulch Sale is under way. Order forms are available in both offices. If you have any questions email Peter White at peterwhite002@gmail.com or stop by either office to get more information! The sale will continue throughout the summer. Summer orders must be emailed to Peter White at peterwhite002@gmail.com.
2019 TCS Mulch Sale Order Form
Lost and Found:
We have several items, including coats, sweatshirts, and a pair of black prescription eyeglasses in the elementary office.  These items will be available to be claimed until the last day of school.
New Family Recruitment:
Please assist us with the recruitment of new potential families. There is a $300 discount for referring a family that is accepted and stays at least half of the 2019-20 school year. See the elementary office for more information.
Athletic Events:
May 11      J.H. & H.S. Track and Field NWCC Championships at Waynesfield Goshen @ 10:00 A.M.
May 16      H.S. Track and Field District Meet at Spencerville @ 4:30 P.M.
May 18      H.S. Track and Field District Meet at Spencerville @ 10:00 A.M.
Important Dates:
May 13-17     Senior Exams
May 15          Witness Wear
May 19-22    Senior Trip
May 21           Kindergarten Graduation
May 22           K4 – 5th Grade Field Day
May 22           Middle School Awards Assembly 2:15pm *by invitation
May 23           High School Awards Assembly 1:30 pm *by invitation
May 23&24    MS/HS Final Exams 1:00 Dismissal
May 24           Elementary Awards Ceremony – K4 – 5th grade – 12:00pm (LBT Sanctuary)
May 24           End of 4th Quarter – Last Day of School 1:00 Dismissal
May 24          H.S. Graduation – 7:00pm (LBT Sanctuary)
May 25          TCS 6th Annual Golf Outing – Hidden Creek Golf Club – 9:00am
May 27          Memorial Day – School Closed
May 28          Faculty In-Service (H.S. Cafeteria)
Lunch Menu for the Week of May 13th
Monday          Cheeseburger, Tater tots, Fruit
Tuesday          Pizza  $1.00/Slice
Wednesday   Grilled cheese, Frosted sugar cookie, Yogurt
Thursday        Chicken patty sandwich, Ice cream sandwich, Fruit
Friday              Pizza  $1.00/Slice
Read Related Article :