Hello TCS families. As I Peter 1:3 says, "Praise be to the God and Father of our Lord Jesus Christ! In His great mercy He has given us new birth into a living hope through the resurrection of Jesus Christ from the dead".  
He is not here; He has risen! Remember how He told you, while He was still with you in Galilee: 'The Son of Man must be delivered over to the hands of sinners, be crucified and on the third day be raised again.'  -Luke 24:6-7
Here are a few news items that we wanted to share with you. Have a great Easter weekend!
Elementary Chapel: Mrs. Szuch led our elementary students in a special Easter chapel today. Students held a rock symbolizing their sin and laid it at the foot of the cross. Our students and staff were reminded that Jesus loves them and died for each and every one of them. We pray that all of our friends and family know the love of Jesus this Easter season!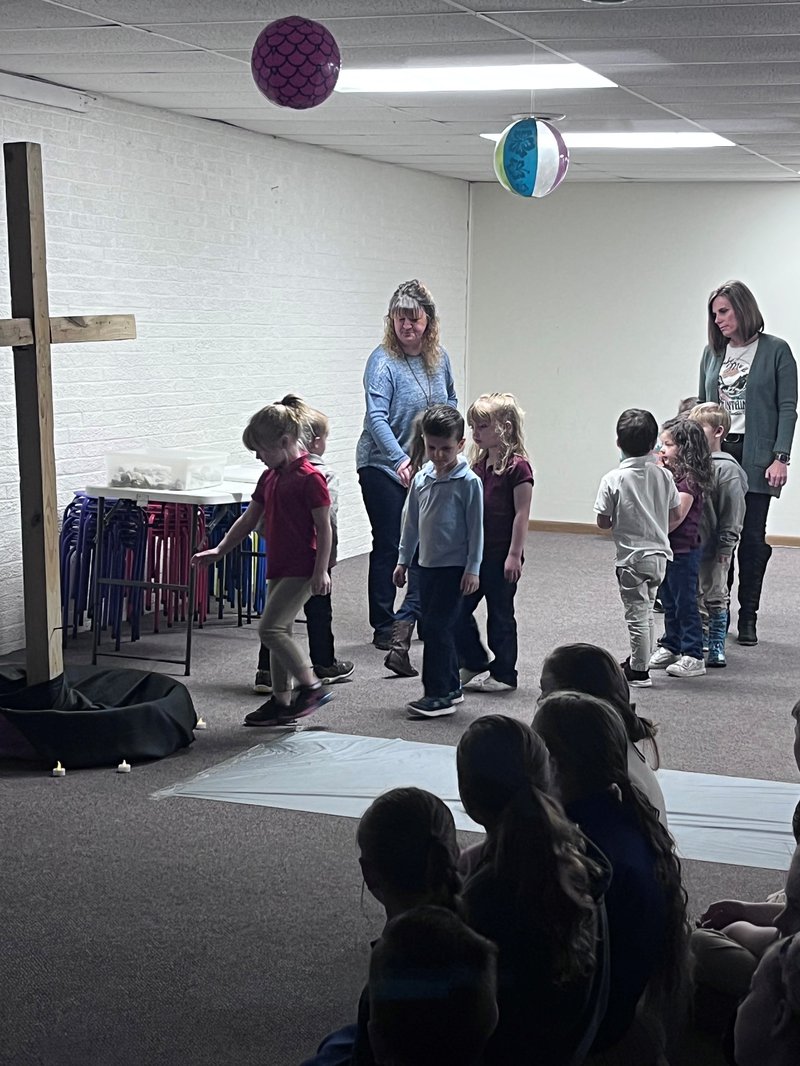 K4 Learning: The K4 class enjoyed some hands on learning, all while having fun with the new K4 matching games!  One game was with letters, and they had to match each beginning sound to the correct letter. Another game was with numbers, and they had to count the number of items on each card and then match to the correct square on the board. They also had fun matching thirty six different kinds of bugs!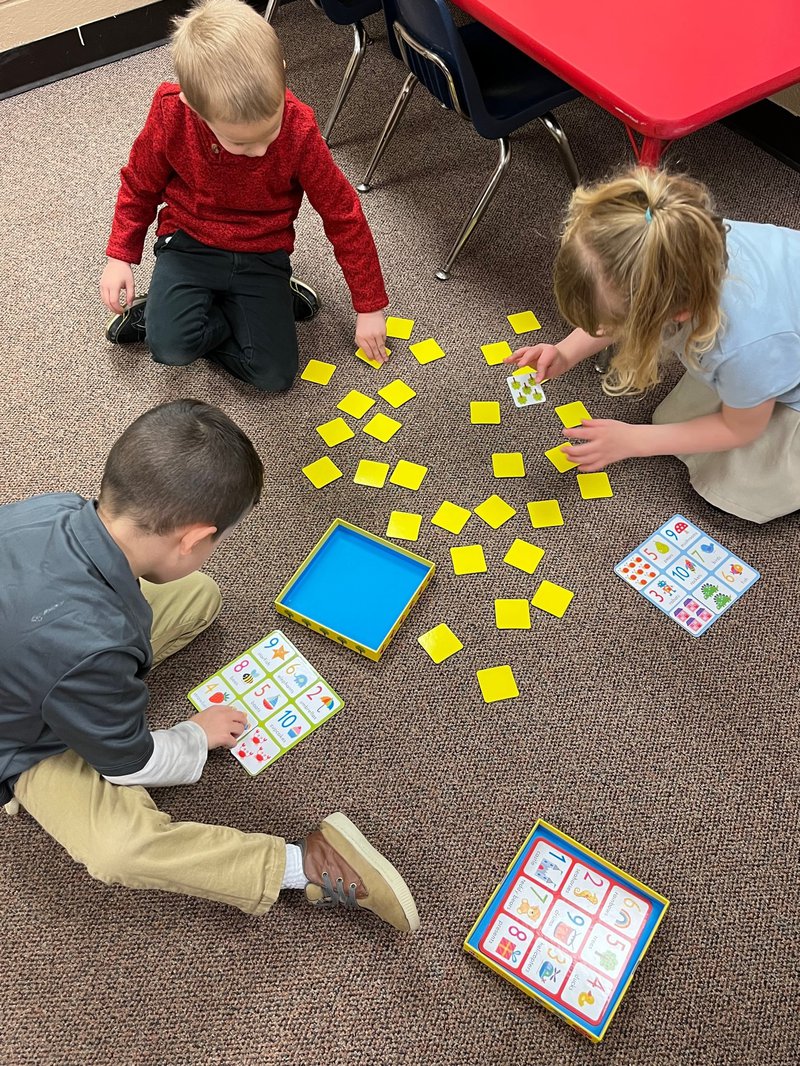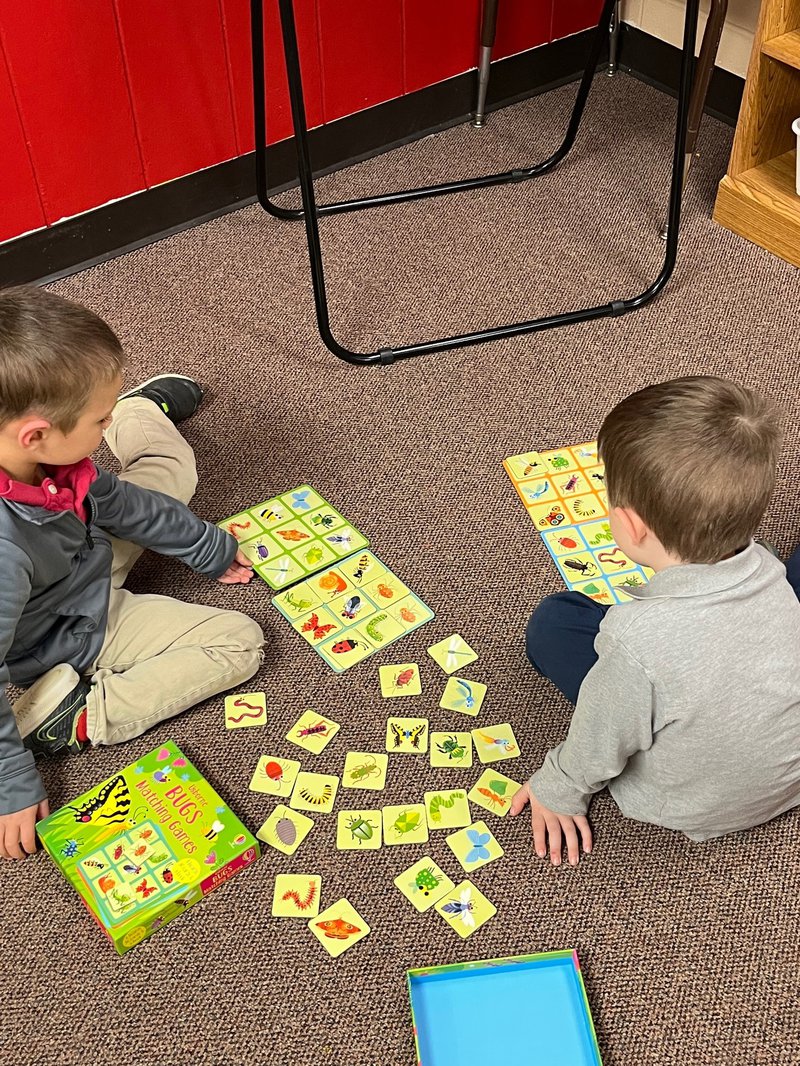 First Grade Activity: Last week, Miss Kirkendall's first grade class got a visit from the Very Hungry Caterpillar. Throughout the day, the caterpillar wrote them notes and also brought them a special book to read about his great adventure. The students loved the caterpillar so much that they wrote him thank you notes and hope he visits again!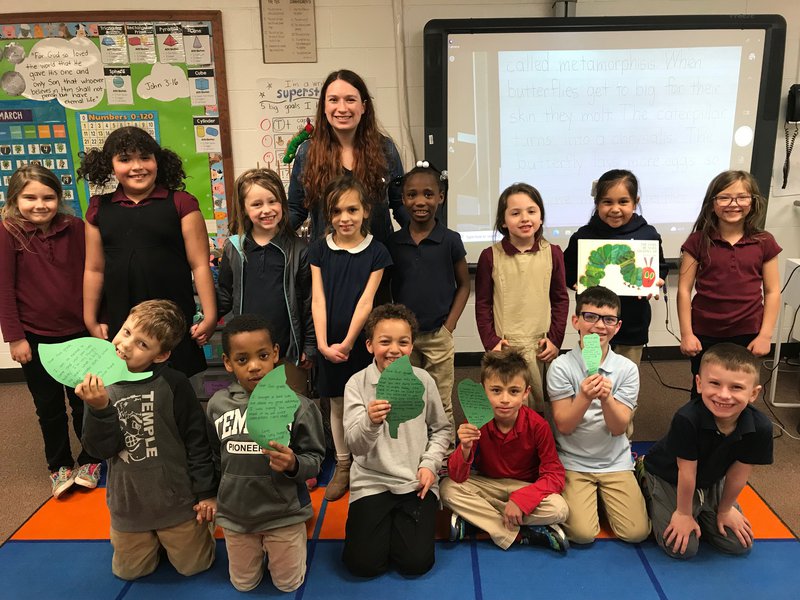 Sophomore Bible Activity: The sophomore Bible class has begun studying the Old Testament prophets. This week, the students wrote and acted out skits depicting events in the lives of Elijah and Elisha.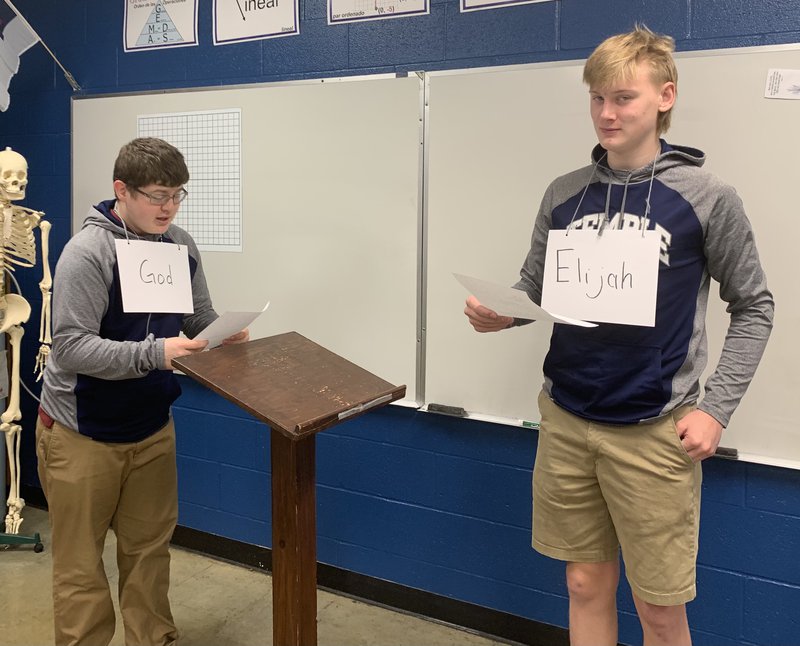 Sibling Day: Mrs. Cooper has an unprecedented three sets of siblings in Algebra 1 this year so she celebrated them!  Happy Sibling Day! 
Eighth Grade Reading Activity: As an extension activity while reading My Side of the Mountain, 8th grade students worked on projects to demonstrate outdoor survival skills. The class members created videos or did in-class presentations about various topics such as whittling a fish hook, starting a fire using flint and steel, identifying edible plants, making salt out of hickory, and creating a shelter, to name a few! It was a great way for students to get creative and to get outside to enjoy the outdoors!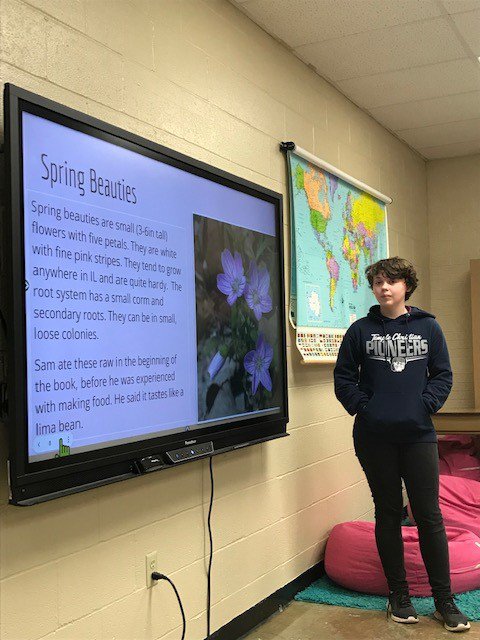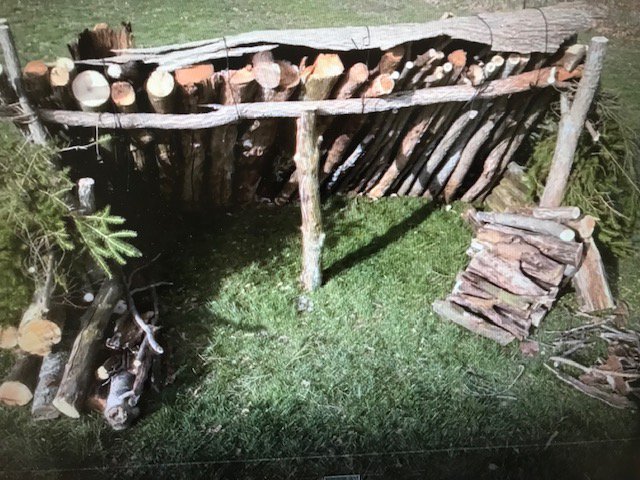 TCS Presents "Fiddler on the Roof": TCS is proud to present the musical production "Fiddler on the Roof" with performances on April 8th (7pm) and April 9th (4pm). General Admission Tickets ($10) are on sale in the High School Office during normal school hours. Come Enjoy The Tradition!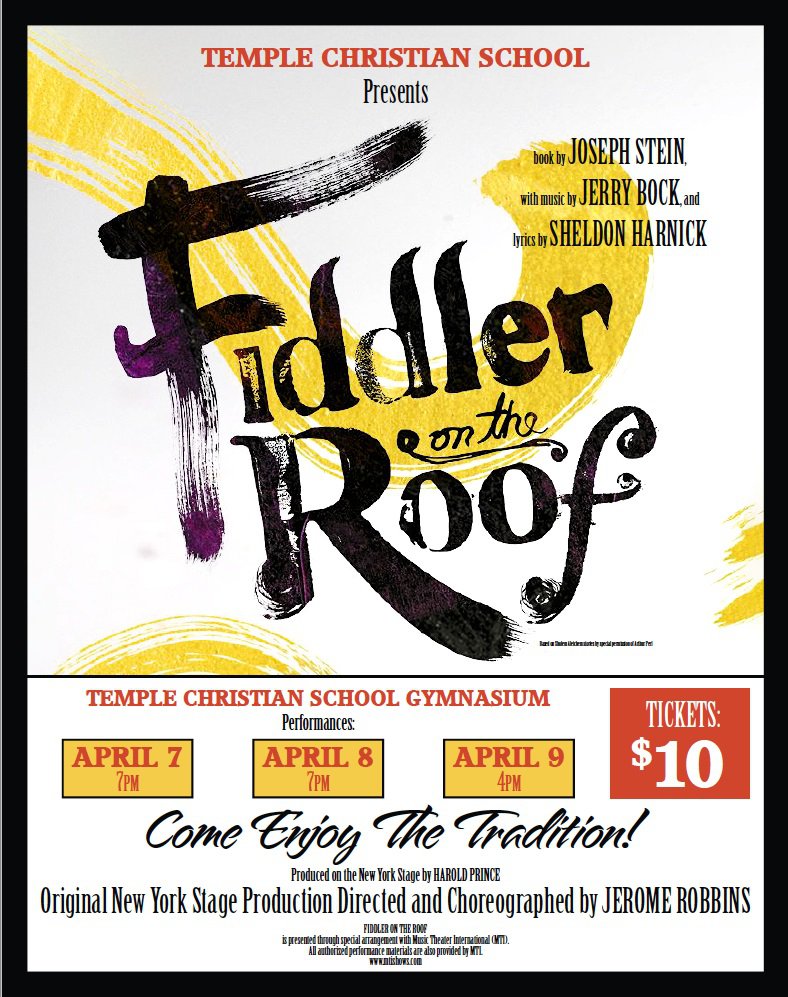 TCS Booster Mulch Sale:  If you are interested in purchasing mulch or other products from Resource Mulch this spring, please contact TCS Booster Club representative Natasha Graham at Grahamn@tcspioneers.org.  You may purchase $30 gift cards to use at Resource Mulch. TCS Boosters receive $9 back for every $30 card sold.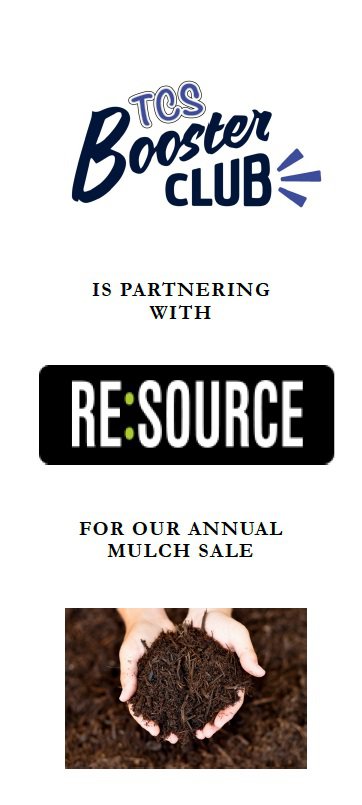 Lost and Found: Please check the lost and found in the elementary lobby for any items you may have lost. Please pick up any lost items before Easter break.  

Yearbook Early Bird Contest Winner: Congratulations to Dawson Clay, the winner of the 2022 TCS Yearbook Early Bird Contest! Dawson has won a free yearbook of his choice from any previous year! If you haven't ordered your yearbook yet, fill out an order form in the office, email Mrs. Searcy, or order online at www.jostens.com/yearbook.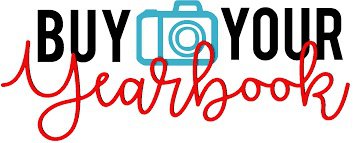 Spring Youth Indoor Soccer Registration & Information for Boys in grades 4th through 7th: https://drive.google.com/file/d/1iD9TC4peb10hPyUPkYkcvi9dsjhplWdt/view?usp=sharing
Sports Calendar:
Apr. 11      JH Track and Field @ Spencerville 4:30pm
Apr. 11      HS Track and Field @ Elida 4:30pm
Apr. 12      HS Track and Field @ Hardin Northern 4:30pm 
Apr. 18      JH Track and Field @ Botkins 4:30pm 
Apr. 19      HS Track and Field @ Spencerville 4:30pm
Apr. 21      HS Track and Field @ Upper Scioto Valley 4:30pm     
Important Dates:
Apr. 12       Early Dismissal 1:00 P.M.   Easter Break Begins
Apr. 13-18  Easter Break
Apr. 19       School Resumes
Apr. 20       Witness Wear Day
Apr. 22       Early Dismissal  1:00 P.M.   Faculty Development
Apr. 22       Junior/Senior Banquet
Apr. 25-29  K-8 Achievement Testing Week
Apr. 29       4th Quarter Midterm
Lunch Menu for the Week of April 11, 2022
Monday        Hot Ham & Cheese Sandwich, Scalloped Potatoes, Fruit
Tuesday        Pizza  $1.00/Slice
Lunch Menu for the Week of April 18, 2022
Monday         Easter Break - No School 
Tuesday        Pizza   $1.00/Slice
Wednesday Mini Corn Dogs, Ice Cream Sandwich, Veggies w/ Ranch
Thursday   Breakfast Sandwich, Hash Brown, Fruit
Friday  Pizza   $1.00/Slice