Hello TCS families. Philippians 4:8 says, "Finally, brothers, whatever is true, whatever is noble, whatever is right, whatever is pure, whatever is lovely, whatever is admirable—if anything is excellent or praiseworthy—think about such things".  Have a great weekend! Here are a few news items we wanted to share with you.  
Student Achievement: 
TCS senior Lindsey Stump was awarded the John Philip Sousa Band Award at the Lima Kiwanis Club 60th annual meeting on Tuesday.  The Sousa Award is distributed nationwide and is the top award given for band music.  The award recognizes those high school musicians displaying superior musicianship, leadership, dependability, loyalty, cooperation and other qualities of conduct which school instrumental programs strive to impart.  Congratulations Lindsey!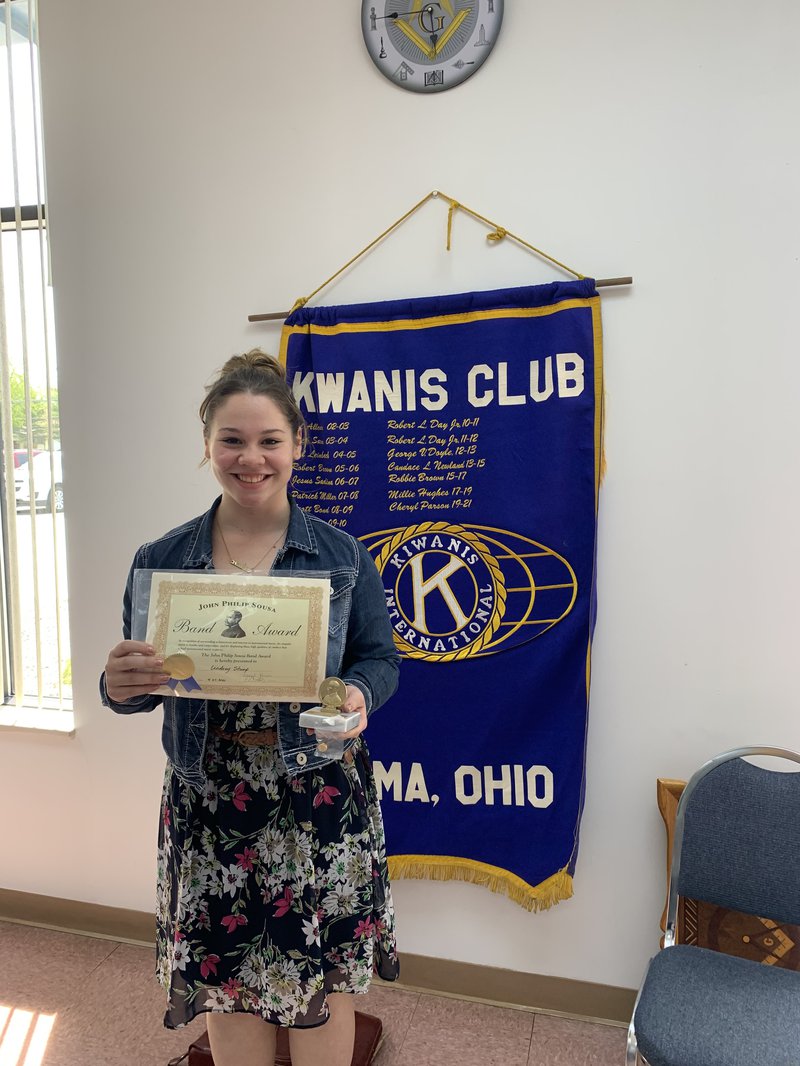 Student Achievement: 
TCS senior Aubree Linhart was honored Wednesday at the Lima Noon Optimist Club Youth Appreciation Luncheon.  This event honors local youth who deserve recognition for their efforts in the areas of leadership, good citizenship, volunteerism, and being a positive role model to others.  Aubree was presented with letters from Rep. Robert Cupp, Rep. Jim Jordan, and Sen. Matt Huffman, as well as a gift card and certificate.  Congratulations Aubree!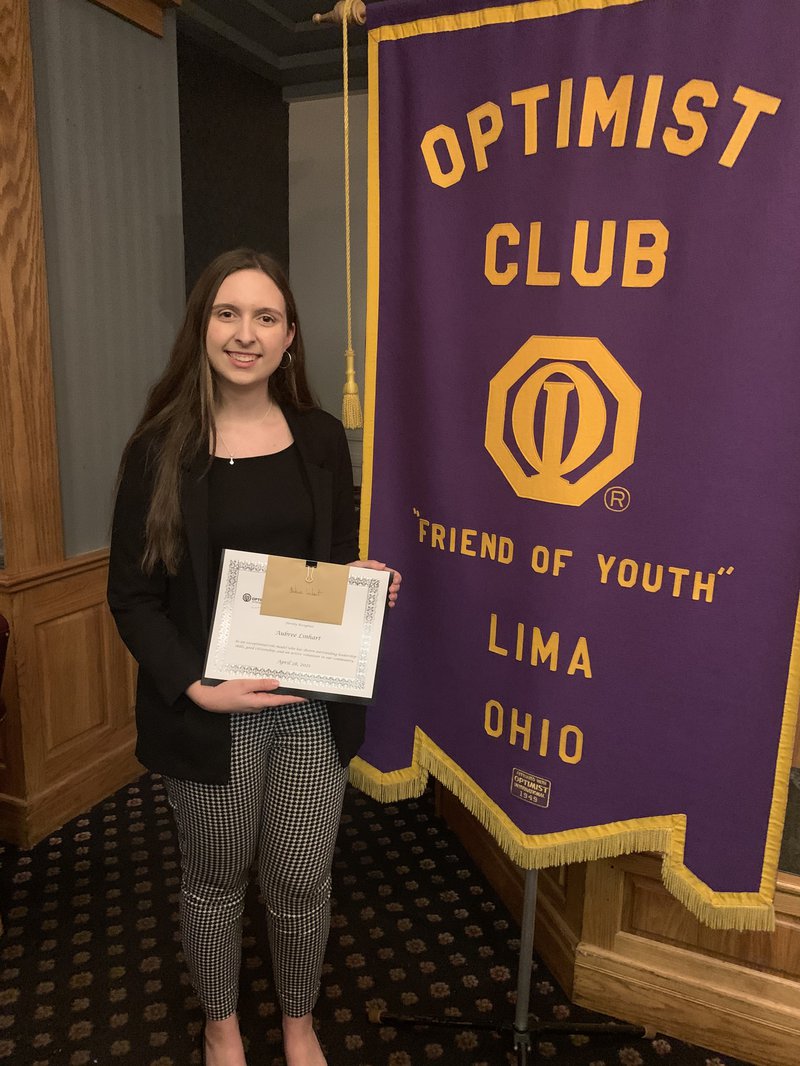 8th Grade Reading Activity: 
The eighth grade reading class recently completed the novel My Side of the Mountain about a boy who trains a falcon and learns to live off of the land while on his own. The students created projects to show what they had learned while reading the book. The projects included reports on woodland flora and fauna, instruction on how to clean a fish, and even how to make a fishing pole and a trap, just to name a few! The class also enjoyed dissecting owl pellets to observe the undigested fur and bones from the prey that a long-eared owl had eaten!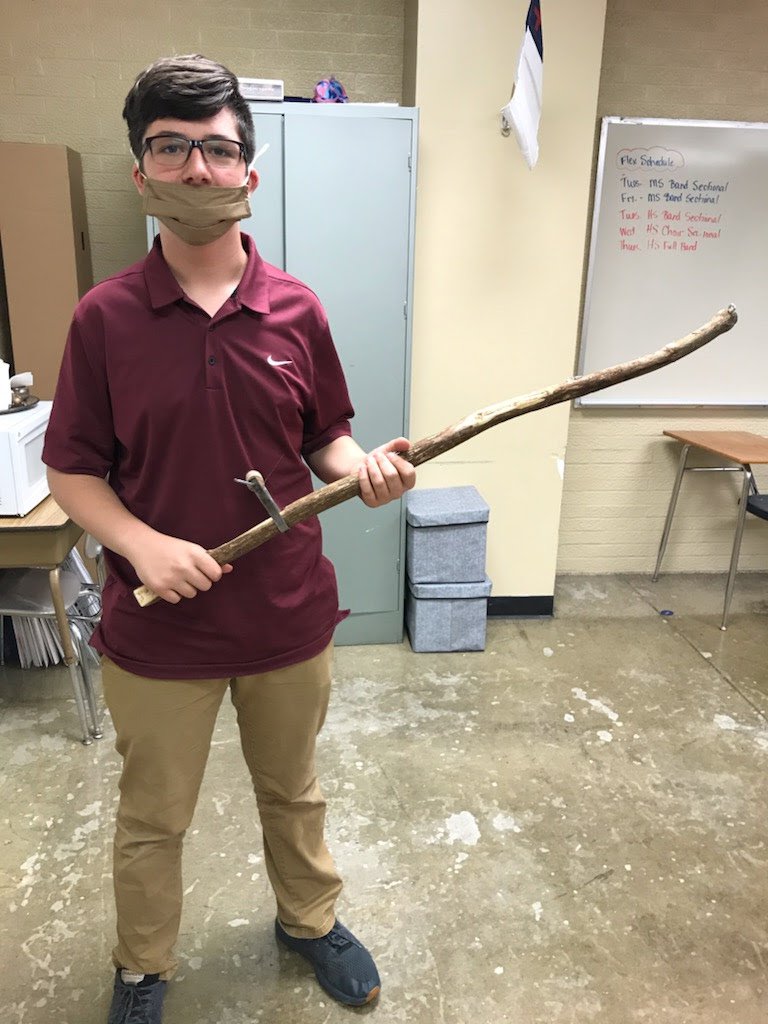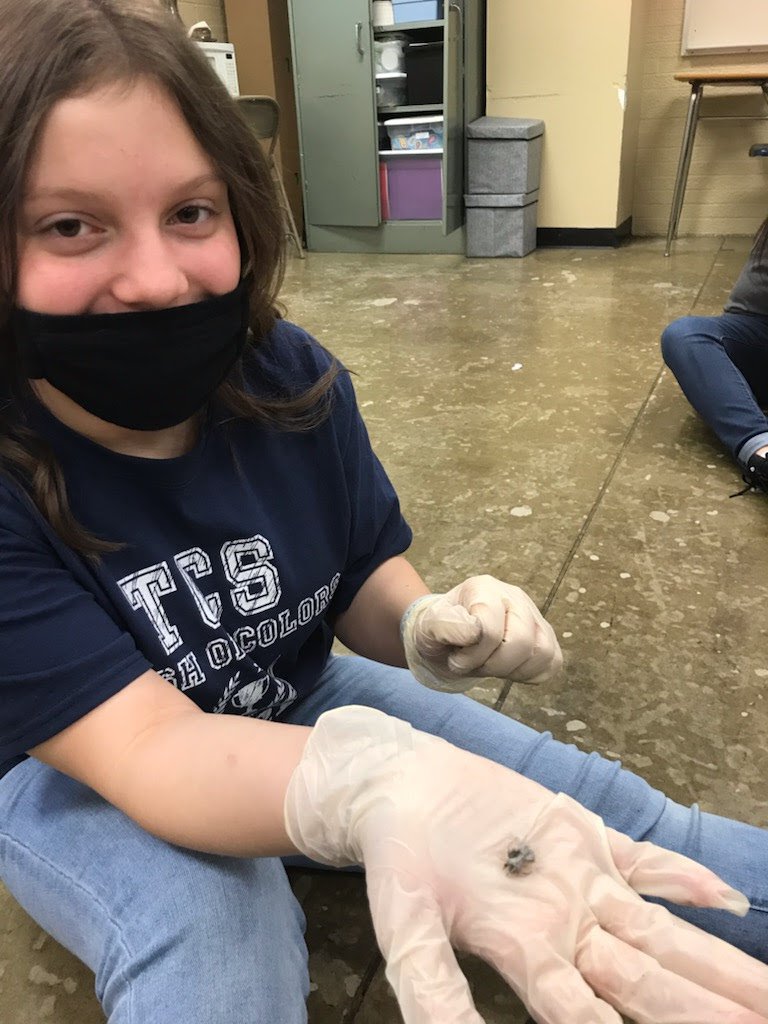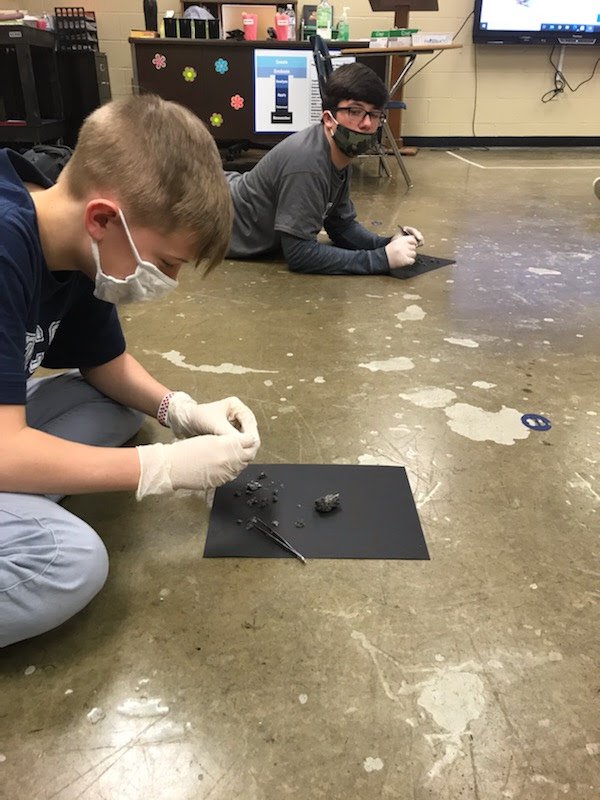 6th Grade History Project: 
Have you ever wanted to be a teacher? The sixth grade history students experienced a taste of what it's like to be a teacher as they prepared material to instruct their classmates. Students were grouped into teams and taught about the Maya, Aztec, and Olmec civilizations. After lesson preparation in their groups, these young teachers used slides, skits, videos, and games to communicate the information to the class.  Students even sculpted figurines and drank hot chocolate as they learned about these American civilizations of long ago!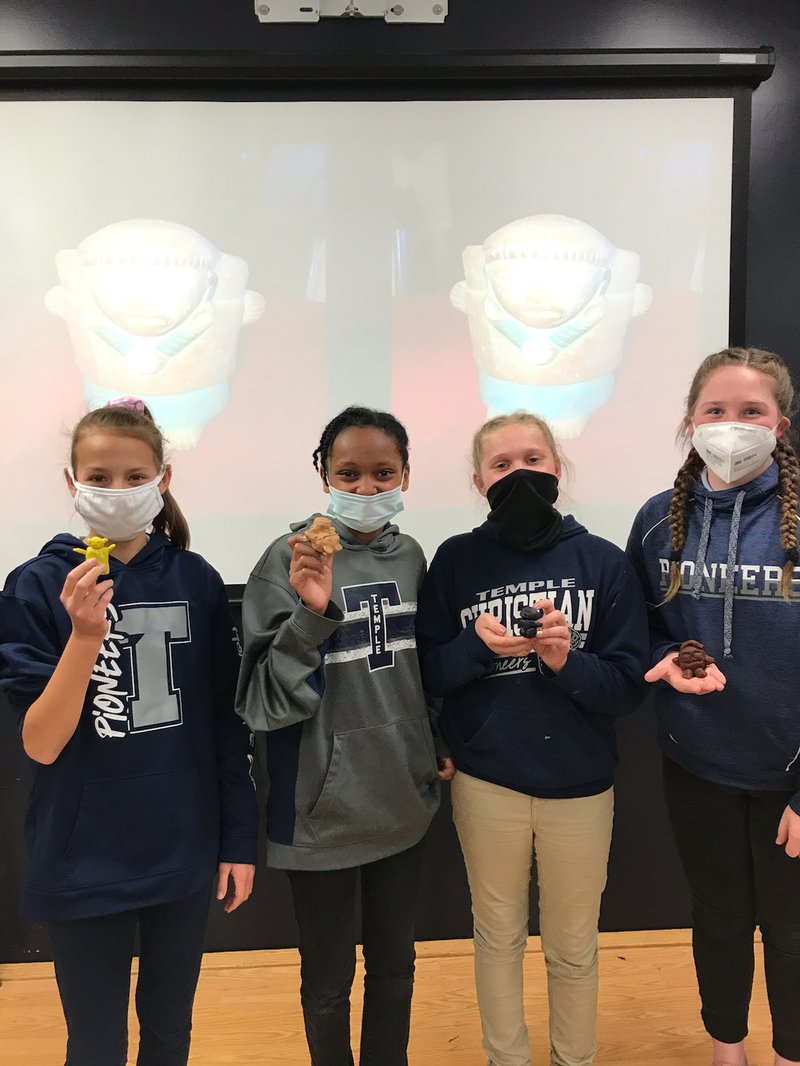 MS Special Assembly:
 Mr. Joe Dorrian, director of the Ohio School of Falconry in Columbus, was at TCS on Thursday to give the middle school students a chance to learn about and interact with birds of prey. He brought five birds with him (Eurasian eagle owl, African Augur buzzard, European common buzzard, peregrine falcon, and Harris' hawk) and spoke about the unique characteristics and feeding habits of the birds and how they help with the design of aircraft.  As a reward for a recent AR reading competition, three students from each middle school grade were able to be a "falconer" and handle the red tail hawk. It was a great presentation, and the students learned a lot about the marvelous birds God created.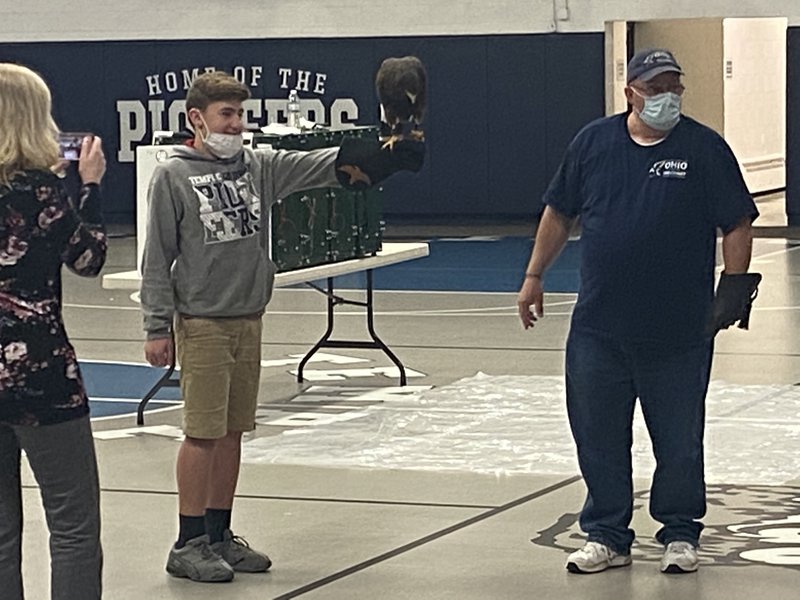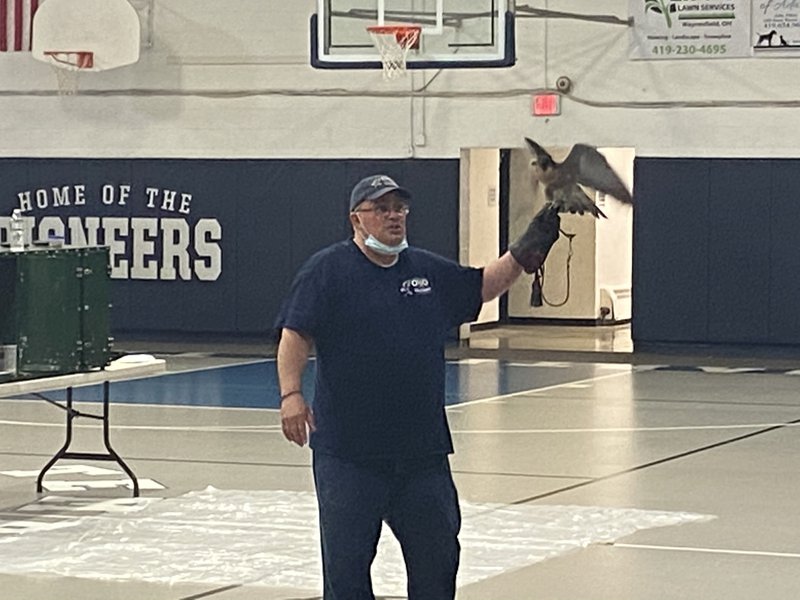 Spring Band/Choir Concert:
 We invite you to join us for our spring band/choir concert for grades 5-12.  We will be hosting a live, in-person concert on Tuesday night May 4th at 7:00 P.M. in the LBT sanctuary.
Yearbook:
There's less than one month left to order your 2021 Temple Christian Yearbook! Orders are due Friday, May 14th. Cost is $40.00. Name personalization is $5.00. Order online at www.jostens.com or email Mrs. Searcy at searcys@tcspioneers.org. Order forms are also available in both offices. Don't miss out!
Elementary Ice Cream Celebration:
TCS elementary students enjoyed an ice cream party on Thursday. Thank you to Shelley Zwiebel (School Nurse) for allowing us to borrow her soft serve ice cream machine, and Sharon Dairy King for donating the soft serve ice cream and cones!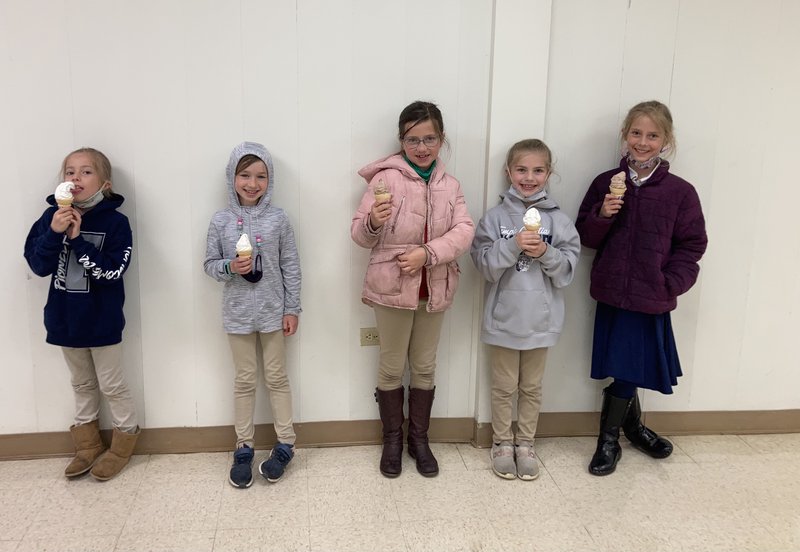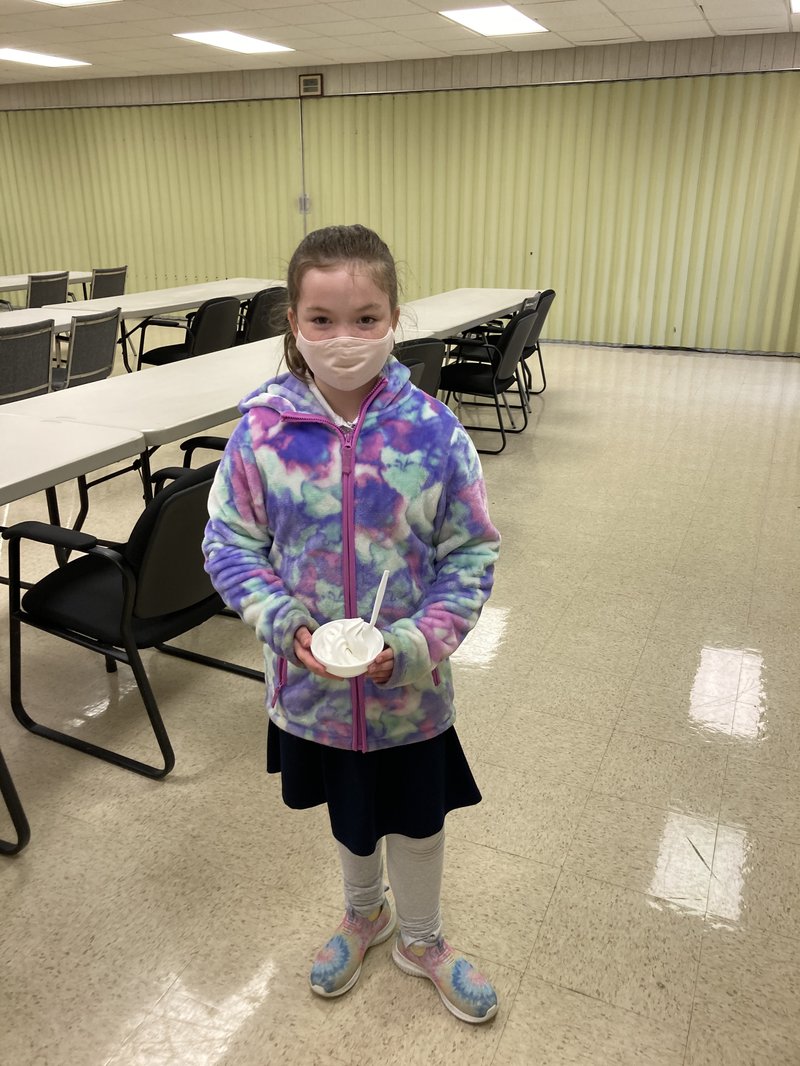 The Week in Sports:
Sat. May 1           J.H. Track at Ridgemont Invitational @ 10:00 A.M.
Thurs. May 6      H.S. Track at Lincolnview @ 4:30 P.M.
Fri. May 7           J.H. Track at Hardin Northern @ 4:30 P.M.
Sat. May 8           H.S. Track at Ada Invitational @ 9:00 A.M.
Important Dates:
Apr. 30   4th Quarter Midterm
May 4     4th Quarter Midterms Sent Home
May 4     Grades 5-12 Spring Band/Choir Concert @ 7:00 P.M. (Live in-person concert)
May 5     Witness Wear Day
May 6     National Day of Prayer
May 7     Teachers' Appreciation Breakfast @ 8:00 A.M. (School begins at 10:00 A.M.)
May 13   Early Dismissal @ 1:00 P.M. (Faculty Development)
Lunch Menu for the Week of May 3
Monday          Chicken Parmesan Sandwich, Pudding, Veggies W/Ranch
Tuesday         Pizza by the Slice  $1.00
Wednesday    Cheeseburger, Fries, Fruit
Thursday        Chicken Quesadilla, Yogurt Fruit Parfait
 Friday           Pizza by the Slice  $1.00