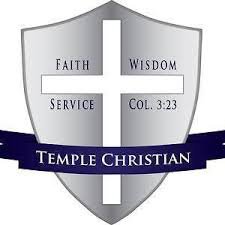 Welcome to Temple Christian School. Established in 1976, Temple is a PreK-12 Educational Community offering a Christ-centered education marked by excellence and grounded in Biblical Truth.
Temple is chartered by the Ohio Department of Education. We offer a strong academic program, which is reflected by our students' strong performance on state and standardized testing. Our students have attended dozens of Christian, private, and public colleges and universities and have gone on to work in many professions and ministries including business, education, medicine, law, missions, church ministry, law enforcement, accounting, technology, and many more. We partner with Rhodes State College and UNOH many other colleges and universities by participating in the College Credit Plus Program, which allows our students to earn college credit by taking courses on our campus or on the college campus itself.
Temple Christian is a leader in the area of educational technology. We have a wireless campus, and each of our classrooms utilize the latest in smart board technology. In 2007 we were the first area school to implement a "one to one" program providing a laptop computer to all of our high school students.  We have now expanded our program to include our middle school and Elementary.  Our elementary students have access to an excellent computer lab, along with Chromebooks or iPads in each classroom.
We offer a variety of outstanding extra-curricular opportunities for your child. Some of these include drama productions, vocal and instrumental music, competitive athletic teams for all ages, leadership development, National Honor Society, student government, community service, and so much more.
Our children's safety is of the utmost importance. Our staff is trained for emergency response situations, and our facilities utilize cameras and magnetic door locks to insure the security of our campus. We have a zero tolerance policy for bullying, and we work closely with our student body to promote a welcoming environment for each of our students.
For further information about our school, please feel free to explore our website. If you have any questions or would like to speak with us further about any aspect of our school, please do not hesitate to contact us. We would appreciate the opportunity to speak with you. Please call us at 419-227-1644 or email us at linka@tcspioneers.org to arrange a visit or a tour of the school.
Sincerely,
Bruce Bowman
Superintendent
Temple Christian School