Our Mission: To glorify God by providing families with quality care and a Christ-centered education marked by excellence and grounded biblical truth. Our program focuses on providing our families with the highest quality childcare and educational programs that encourage development in the areas of language, social skills, motor coordination, Christian character formation and self-confidence.
---
Our Goals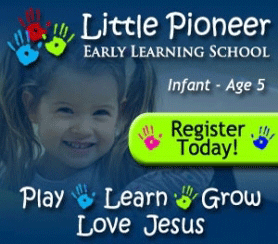 To communicate to each child that they are uniquely made and loved by God.
To encourage expression through art, movement, language, music, and prayer.
To provide opportunities for small and large motor development.
To provide opportunities for children to develop positive social relationships.
To give children quality experiences that encourages them to use higher order thinking and to ask questions, solve problems, and make good choices.
To stimulate language development and the five senses.
To provide basic academic experiences, based on individual needs to set a foundation for future learning.
To build a working relationship between home and school through communicating with parents on a daily basis.
Infant Program: Ages 6 weeks-18mo. We provide quality child care to infants in a loving and nurturing environment. We provide care based on the individual needs of every child.
Toddler Program: Ages 18mo.-36mo. Children are provided with excellent childcare and are encouraged to participate in age-appropriate educational activities that promote academic, social, and motor development.
Early Preschool Program: Ages 2 1/2-3 1/2. 
Preschool Program: Ages 3's and 4's. Our qualified, loving, and nurturing teachers provide our students with hands-on lessons that integrate music, art, Spanish, physical education, and technology into our weekly curriculum.
S.A.C.C. available for 5-11 Years Old:
• Before and After School     •  School Delays     • School Closings
Summer Enrichment Program Available for Full Time or Part Time for 5-11 Year Olds.