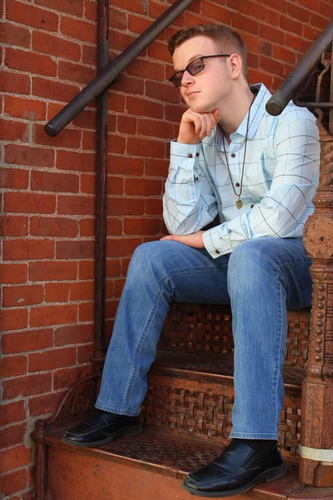 Austin Matthew Hill was born in Lima on April 7, 2003, to Wendell and Ann Hill. Austin has one brother and one sister, Andrew and Amanda Hill.
Austin has attended Temple since the fifth grade. His favorite memory at Temple was singing in front of people for the Valentine's honey grams fundraiser. Austin's favorite class at Temple was history class with Mr. Green. His extracurricular activities were basketball and soccer.
Some of Austin's achievements were receiving his four-year varsity awards in both soccer and basketball. Aside from Austin's school activities, he loves writing and playing music, playing basketball, and working out.
If Austin could choose any superpower he would choose super-speed. His favorite song is "Green Lights" by NF, and his favorite food is ramen noodles. If he could go anywhere in the world he would travel to Phoenix, Arizona.
Someone that has inspired Austin would be the rapper NF because of his music and Christian faith.
His favorite verse is "Come to me, all of you who are weary and carry heavy burdens, and I will give you rest. Take my yoke upon you. Let me teach you, because I am humble and gentle at heart, and you will find rest for your souls. For my yoke is easy to bear, and the burden I give you is light" (Matthew 11:28-30, New Living Translation).
Austin plans to attend Bluffton University and get his degree in music education. His advice to underclassmen is "Always keep being you and don't let anyone stop you from being who you want to be. Push yourself through your problems and achieve your dreams and goals."
Good luck with your career and in life, Austin.