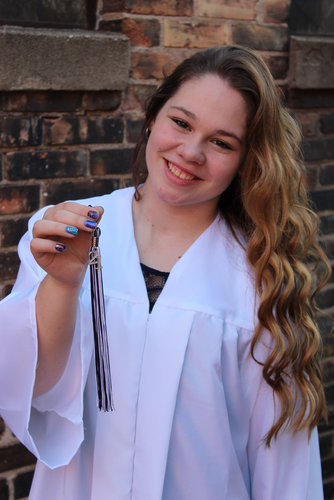 Lindsey Jane Stump was born on April 26, 2004, to her parents Shawn and Hayley Stump, and has two sisters. Lindsey has attended Temple for three years.
Lindsey plans to attend Liberty University in the fall of 2021, majoring in biometric science, minoring in music. Her youth pastor and his wife have had a big impact on Lindsey because of their godly lifestyle.
Some of Lindsey's past extracurricular activities are volleyball, basketball, track and field, band, choir, honors choir, and solo ensemble. Outside of school, she enjoys reading, crocheting, going on bike rides, and playing the piano. Her favorite memory at Temple was playing games at the beginning of chapel.
If Lindsey could have one superpower, she would choose to be able to teleport so she would never be late again. Her favorite book is "My Fair Lady" by Alan Jay Lerner. Her favorite food is steak and mashed potatoes. Her favorite song "No Doubt About It" by We the Kingdom.
Congratulations Lindsey. Best wishes to you!