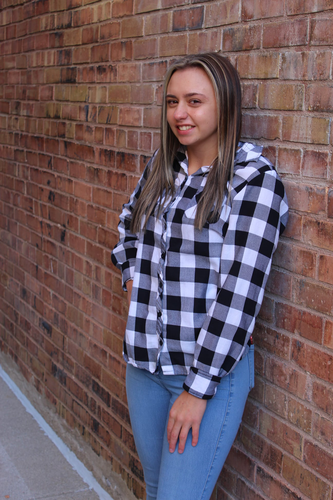 Mackenzie Elizabeth Rapp was born on May 5, 2003, in Lima, Ohio, to Joseph and Heather Rapp. She has three siblings: Kyle, Joseph (Jr.), and Brayden.
Mackenzie has attended Temple for six years. Mackenzie's favorite memories are the home basketball games. For her extracurricular activities, Mackenzie was involved in cheerleading.
In her spare time, Mackenzie likes to travel, camp, hike, swim, and decorate. Her favorite food is pizza. If she could travel anywhere, she would go to the Bahamas. Mackenzie says if she could have any superpower, it would be invisibility. Her favorite song is "You Say" by Lauren Daigle, and her favorite book is "Girl, Stop Apologizing" by Rachel Hollis.
Mackenzie's favorite Bible verse is "Whether therefore ye eat, or drink, or whatsoever ye do, do all to the glory of God" (1 Corinthians 10:31, New King James).
After high school, Mackenzie plans to go into real estate. Mackenzie's advice to the underclassmen is "Don't take anything for granted and always do everything to the glory of God."
Congratulations, Mackenzie! Best of wishes, wherever God leads you!