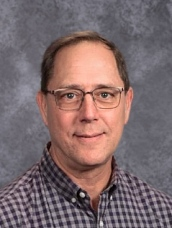 Temple staff and students are thrilled to welcome the new high school biology and chemistry teacher, Dr. Daniel Hite. He is married to Nancy, who is a substitute teacher at Temple. The couple has three adult children.
Dr. Hite recently moved to Ohio from northeastern Missouri to be the part-time pastor at Woodlawn Baptist Church. While visiting Ohio before they moved here, he and his wife spoke with Mr. Bowman about the possibility of Mrs. Hite subbing. At that meeting, Mr. Bowman learned that Dr. Hite was previously a science professor, and told him about the part-time science teacher job opening at Temple. The schedule fits well with his pastoral commitments, and so Dr. Hite decided to accept the teaching position.
Prior to becoming a pastor, Dr. Hite said he knew he wanted to be an educator during graduate school. However, after about six years of teaching varying sciences as a college professor, he realized God was also calling him into Christian ministry. He then pastored at a church in northeast Missouri for 18 years before he and Mrs. Hite made their move to Ohio in September.
His first experience teaching at a high school "has been a good experience so far," Dr. Hite said. He added that he also appreciates the attentiveness of his students and that he loves teaching science because "It's an opportunity to learn more about God's creation."