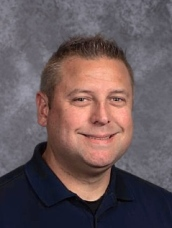 Jerod Kiser joined the Temple staff this year as the new business manager. Before coming here, he worked for 18 years in the finance department as an accounts payable clerk at Setex, Inc. His wife Linda also works at Temple. They have six sons: Caleb, Isaiah, Adam, Ezekiel, Levi and Seth.
As much as Mr. Kiser said he really enjoyed working at his last job, he also likes working for a Christian school that has a ministry focus. He enjoys being able to help Temple grow in any way he can. He added, "The people are so nice and welcoming."
When he was 6 years old, Mr. Kiser started pursuing Christ. He made the decision to accept Christ in his life when he was in children's church and refocused his faith the summer before his junior year of high school.
Mr. Kiser earned an Associate Degree in Business Administration from Rhodes State College. He is currently working toward his bachelor's degree online from Colorado Christian University because he said he "felt as if the Holy Spirit was leading him to pursue this career path."
Mr. Kiser enjoys coaching youth sports at Temple, playing with his kids, fishing and golfing. He also likes that he is able to see his kids in school on a regular basis.
His favorite foods are desserts like apple pie, ice cream and chocolate chip cookies. Besides desserts, he really enjoys meat like steak, burgers, pork chops, and hotdogs, and loves potatoes as well.
In high school, Mr. Kiser played football and a little bit of baseball. His favorite subject when he was in school was history.
Mr. Kiser has lived in Ohio his whole life, but he has had the thought of moving to either Oklahoma or Tennessee in the past. He said he likes "the southern weather and all the extra land you can get down south."
His favorite Bible verse is John 15:5, "I am the vine; you are the branches. If you remain in me and I in you, you will bear much fruit; apart from me, you can do nothing." He added, "I like this verse because it reminds me to pursue Christ every day."