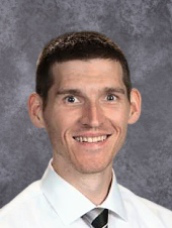 Chris Hartman is our new third grade teacher. This is his second year doing full-time teaching. Before joining the TCS staff, Mr. Hartman helped with some substitute teaching at Temple last year. He also taught second grade at Toledo Christian.
Mr. Hartman and his wife of three years, Kara, just moved to Lima this year. They had their first child, Chandler, just a few months ago.
Mr. Hartman was born and raised in Toledo where he grew up in a Christian family with three brothers. He attended Toledo University, where he earned his bachelor's degree in early childhood education.
Now that he and his family live in Lima, they attend Harvest Baptist Temple in Wapakoneta.
Mr. Hartman is a self-declared sports fanatic. His favorite teams include the Detroit Redwings, the Ohio State Buckeyes and the Cleveland Indians. He also enjoys bowling, tennis and golf.
Since childhood, Mr. Hartman has always had a heart for youth. He developed a passion for teaching, and during college felt called into the amazing ministry.
Mr. Hartman said, "The most rewarding part of being a teacher is seeing kids understand something new for the first time." He added, "I love witnessing the 'a-ha moments' of students."
At Temple, he likes the fact that he can be a male role model to the elementary, as most of the teachers are female. He said he looks forward to an amazing year with his twenty-three third graders.