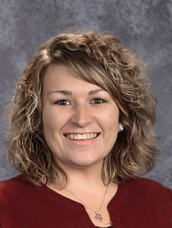 Morgan Miller joined us this year to teach fifth grade. She has a passion for life, and for developing young minds and seeing spiritual growth.
Mrs. Miller lives in Dunkirk, Ohio, and is married to her husband of three years, André. She explained that Mr. Miller has helped her become more involved in outdoor activities, and she now enjoys camping in the summer, snowmobiling in the winter, and playing with their 2-year-old yellow lab, Ruger.
"I love spending time in God's nature and everything that he's created," said Mrs. Miller.
The couple attends Bridgeport Church in Dunkirk, where Mrs. Miller helps with Bible school and Sunday school.
Although she is certain that God directed her path to her current occupation, Mrs. Miller was not always interested in becoming a teacher. She tried to go down other paths, but God always led her back to education.
Before pursuing education, she received an associate's degree in agricultural business. However, Mrs. Miller wholeheartedly recommends becoming a teacher to anyone considering it.
"It is one of the best careers you could ever do. Getting to impact students' lives and see them grow, and just getting to develop a relationship with them is amazing," she said.
Mrs. Miller explained that her favorite part of teaching fifth graders is seeing them grow every day. She loves seeing what God wants them to learn and being able to incorporate His message into everyday life. The opportunity to make God's Word an important part of education is part of what drew Mrs. Miller to Temple. She said she wanted to be in a place where she could teach children not only about academics, but also about God and His love for them.