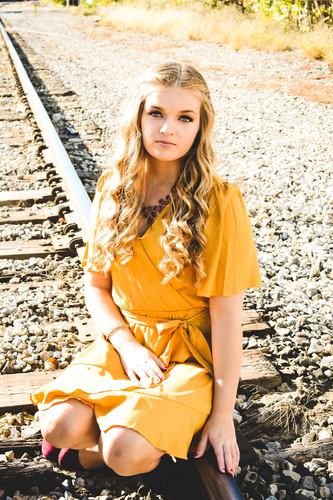 Anna Marie Acklin was born on September 30, 2000. She is the daughter of Tim and Cindy Acklin, and has two siblings, Rachael and Jonathan.
She has attended Temple Christian School since K4. While at Temple, Anna has participated in the musical Fiorello! and the musical Hello, Dolly! in which she played the role of Ermengarde. She also participated in the plays Little Women, with the role of Amy, and The Trouble with Being Tucker Dowt, with the role of Minnie Blooms. Anna also plays volleyball, sings in the choir, is the president of National Honors Society, serves as a student government representative, the senior class president, plays clarinet in the school band, and is on the chapel praise team. Outside of school, she is a member of the Teens for Christ Ministry Team, and has danced at Lyn's Academy of Dance for fifteen years. Anna says that her favorite part of high school is "being involved in plays and musicals at Temple as well as playing volleyball and being a cheerleader."
Anna currently attends Lima Baptist Temple, where she participates in youth group, sings in her church choir, and is a part of the youth worship team. Her favorite Bible verse is 2 Corinthians 3:17, which says, "Now the Lord is the Spirit, and where the Spirit of the Lord is, there is freedom."
After high school, Anna hopes to attend Lee University with a double major in psychology and theater. Her ultimate goal is to open "a boarding school and safe place of healing for girls and women who have been through traumatic, life threatening experiences."
When asked which famous person she would spend the day with if she could, Anna said that it would be Sadie Robertson because "she's a positive female influence for girls."
Anna's advice to underclassmen is, "Be the hardest worker in your classes and set your goals high, but at the end of the day, the things that matters most are the people around you. Be intentional to love like Jesus, and sprint after the Father as fast as you can. Grades are important now, but who you are in Christ affects you forever." Anna says that the part about Temple that has affected her life the most is the godly atmosphere of grace, growth, and positivity. She says that she's been given every opportunity she could possibly desire, all while being pushed spiritually, and is thankful for "a school that encourages faith," and has been "blessed to be surrounded by such high quality people."
Congratulations, Anna! We are so excited to see what God has planned for your life!