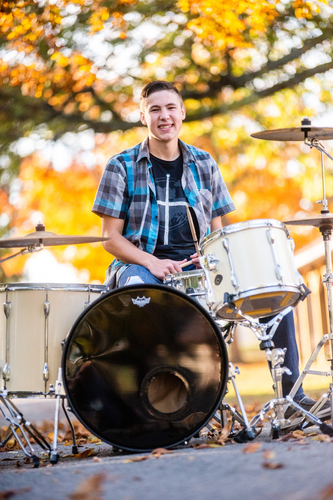 Caleb Alan Kiser was born in Lima, Ohio on September 25, 2004, to Jerod and Linda Kiser. He has six brothers, Isaiah, Adam, Ezekiel, Levi, Seth, and Jeremiah.
Caleb has attended Temple since Kindergarten. During his high school career, Caleb has received multiple accolades for sports including Second Team WOSL two years in a row for soccer, and one Honorable Mention NWCC for basketball during his senior year. Caleb also participates in baseball, band, choir, art, drama, elementary chapel team, and praise team. He is the student body president, treasurer of the National Honor Society (NHS), and a huddle leader for the Fellowship of Christian Athletes (FCA). He also received the Youth of the Month Award from the Lima Exchange Club.
Outside of school, Caleb enjoys playing the drums and the piano, watching sports, reading, and hanging out with family and friends. His favorite animal is a dog and his favorite book is "Monster" by Frank Peretti.
Caleb's favorite Bible verse is Matthew 6:33, "But seek first his kingdom and his righteousness, and all these things will be given to you as well."
Caleb's favorite high school memory is when the power went out during the spring play "You Can't Take It With You." He says one person who has inspired him is his dad because of his work ethic and perseverance, among many other things.
After high school, Caleb plans on attending Colorado Christian University to study Computer Information and Technology.