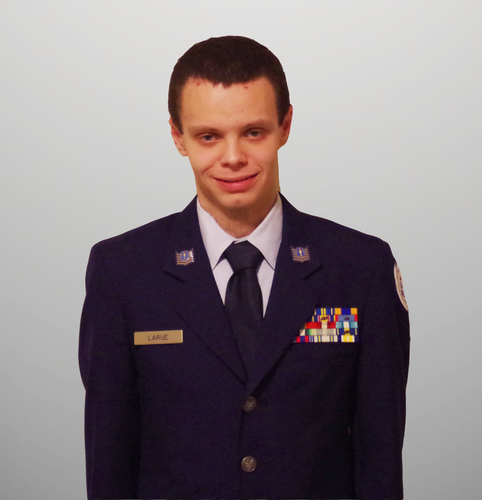 Caleb Arlon LaRue was born in Lima on November 6, 2001, to April and Shawn LaRue. He has two siblings, Layne and Kasey.
Caleb first started attending Temple in sixth grade but moved away after seventh grade. He later moved back and returned to Temple halfway through his senior year. His other high school years had been spent at Effingham County High School in Springfield, Georgia. Caleb has maintained a 4.0 GPA his entire high school career.
At his former school, Caleb's extracurriculars included AFJROTC, Beta Club and National Honor Society.
Prior to returning to Temple, Caleb's favorite class at his former school was Junior Reserve Officers' Training Corps (JROTC) – a military-style class. "I spent one year in Army JROTC and two-and-a-half years in Air Force JROTC in high school," he explained.
His favorite memory at Temple is seeing old friends after such a long time. Caleb said, "After nearly five years, I reunited with previous friends and even met some along the way. It felt very heart-warming and welcoming when I arrived!"
Someone who inspires Caleb is U.S. Senator Rand Paul. "He has really inspired me to be less hostile and more cooperative. I feel that his message really relates to who I am as an individual, a more peaceful person," Caleb said.
If Caleb could choose a superpower, it would be the ability to fly. "I have always dreamed about being able to soar the skies," he said. One place he would choose to travel is Japan to see the cherry blossom trees.
Some of Caleb's favorites in life include the song "Don't Stop Believin'" by Journey, and his favorite book is "Harry Potter and the Goblet of Fire" by J.K. Rowling. His favorite food is pizza, and some of his favorite hobbies are drawing, reading and gaming.
Caleb said of his time at Temple, "I will always remember the people I met, the many hardships, and the great memories." His advice to underclassmen is "Be obedient, hard-working, and righteous because it will all pay off in the end. Do your homework and other assignments as well as avoid procrastination."
Caleb's favorite verse is "Finally, brothers, rejoice. Aim for restoration, comfort one another, agree with one another, live in peace; and the God of love and peace will be with you," 2 Corinthians 13:11, English Standard Version).
Caleb plans to attend the University of Toledo to obtain a bachelor's degree in pre-law.
Best wishes and blessings to you, Caleb! We will miss you!