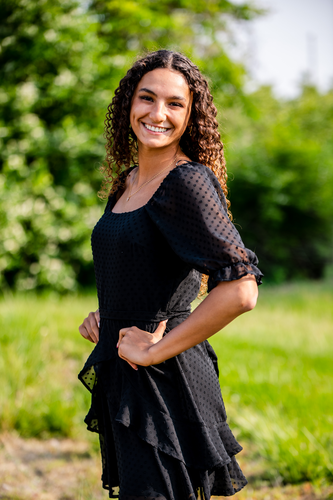 Cecelia (Cece) Grace Worsham was born in June 2005 in Lima, Ohio. Her parents are Eric and Angel Worsham and she has one brother, Cameron.
Cece has attended Temple since K4. She is an accomplished athlete, earning 2nd Team All NWCC in 2019 and 1st Team All NWCC in 2020, 2021, and 2022 for volleyball. She was also named NWCC Volleyball Player of The Year in 2021 and 2022. She was named 1st Team All-District in 2021 and 2022, as well as All-Ohio Honorable Mention in 2022. Also in the spring of 2022, she was named the NWCC Meet MVP for track, was a regional qualifier in the 200m dash, and a state qualifier in 100m hurdles and long jump, where she made the state finals in long jump. This track season, she is still competing and will have her regional meet this week. She also played basketball for Temple during her freshman and sophomore years. Then, due to Temple not having enough girls for a team her junior year, she played for the team in her home district of Shawnee, where she was named WBL 3rd Team. She has taken several of Temple's track records including her most recent record in the 100m hurdles with a time of 14.5 seconds. She is also a Huddle Leader for Fellowship of Christian Athletes.
Art was Cece's favorite class at Temple. Outside of school, Cece enjoys watching movies, working out, hanging out with friends, and reading on occasion. Her favorite animal is a jaguar, and her favorite food is chicken.
Cece's favorite memory from high school is winning the NWCC Championship for volleyball and all the games that led up to it.
After high school, Cece plans to play volleyball at Gulf Coast State College in Florida.