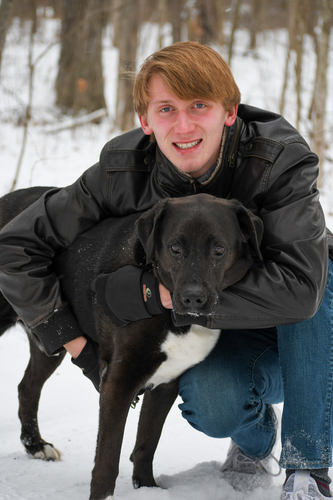 Darrick Michael Clay is the son of Darrell and Michelle Clay. His siblings are Lynnea, DJ, Dakota, and Dawson. He was born on January 30, 2003, in Lima, Ohio.
Darrick has attended Temple Christian for 14 years and has participated in soccer, basketball, and student government throughout high school. In 2021, Darrick achieved the recognition of "1st Team All-West Ohio Soccer League (WOSL)."
Outside of school, Darrick's hobbies consist of tending to his horse and dog for 4H, gaming, sleeping, and procrastinating. If he could have any superpower it would be speed. His favorite animal is a wolf. His favorite book is "Lord of the Rings" by J. R. R. Tolkien, and his favorite food is steak. His favorite class at Temple is Illustrator.
Romans 15:13 is Darrick's favorite verse: "May the God of hope fill you with all joy and peace as you trust in him, so that you may overflow with hope by the power of the Holy Spirit."
Darrick said he will always remember "My class having obnoxious fun." He jovially described his senior year as "waggish, flabbergasted, and memorable." Darrick's advice to the underclassmen is to "always look for the good even if you're having a bad day."
Darrick said he is inspired by his brother Dakota because he is "steadfast in his faith and strong and bold in the word of God, and a great companion."
After high school, Darrick plans to attend Grace college to pursue a career in criminal justice.