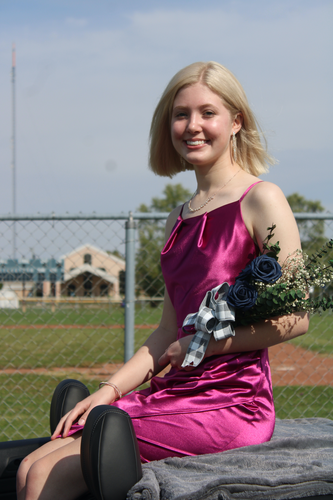 Elaina Kate Helser is the daughter of Jeff and Katie Helser and has two older siblings who graduated from Temple: Jacob and Lizzie. Elaina was born in Winchester, Virginia in 2004 and moved to Ohio as a young child.
Elaina has attended Temple for the past 10 years, and during her more recent years has participated in varying sports teams such as cheerleading for boys' basketball and playing volleyball as a hitter. Her favorite subject in school is art.
Outside of school Elaina's hobbies are drawing, photography, and baking. One day, Elaina would like to travel to the Netherlands. Her favorite food is pasta, and her favorite animal is a squirrel. Elaina said her favorite book is the Bible, and her favorite verse is Romans 12:12, "Be joyful in hope, patient in affliction, and faithful in prayer."
Elaina said her sister Lizzie has always been an inspiration by constantly striving to be a better person, which has given Elaina the desire to do the same.
While reflecting on her time at Temple, Elaina described her senior year as "spontaneous." Something she will never forget is the choir class vocal warmups imitating ambulance sirens. Elaina considers her favorite memory to be the time she played Just Dance at a friend's house during a class get-together.
After graduation, Elaina plans on attending OSU Lima, where she will major in business and minor in psychology. Her parting advice to the underclassmen of Temple is "Be nice to everyone. You never know what other people are going through."