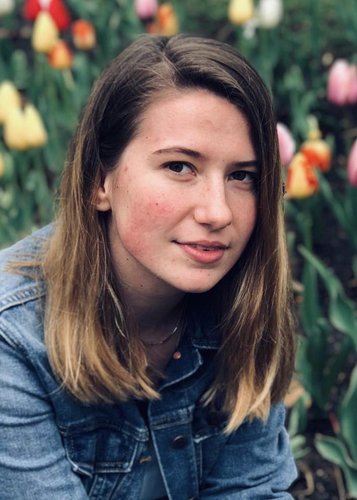 Grace Madeline Smith was born on November 20, 2001, in Clarksburg, West Virginia. She is the daughter of David and Pamela Smith. She has three older siblings – Hannah, Emily and Ben.
Grace has attended Temple Christian School for four years, starting her freshman year. Her favorite class at Temple is choir or senior Bible. While attending Temple, Grace participated in bowling, art, band, pep band, choir, and performed in the musical "Seven Brides for Seven Brothers" last spring. Grace has been a part of the National Honor Society (NHS) for two years and held the position of president this year. She has been on the honor roll all four years of high school.
She attends Hillsdale Baptist Church along with her family and her favorite Bible verse is "And I heard the voice of the Lord saying, 'Whom shall I send, and who will go for us?' Then I said, 'Here I am! Send me" (Isaiah 6:8, English Standard Version).
Someone who inspires Grace is Mrs. Brokaw, the middle and high school choir and band teacher. She said, "Mrs. Brokaw definitely inspires me. She is so caring, selfless, and hard-working. She is really someone for me to look up to."
She enjoys reading, writing, thrifting, tie-dyeing, listening to music, longboarding with Lydia, adventuring with her best friend, Carol, and just spending time with friends!
Grace's favorite school/class memory was decorating for the junior/senior banquet in her junior year of high school. Grace's favorite songs are "Highs & Lows" by Hillsong Young and Free and "Yesterday" by the Beatles. Her favorite book is "Crazy Love" by Francis Chan, and her favorite food is mac and cheese or anything Chinese.
If Grace could have any superpower, she said she would want to have the power of mind-reading. If she could travel anywhere in the world, she'd go to Iceland or Chile.
Grace describes her senior year as "fast, crazy and exciting." Grace said she will always remember, "screaming along to music in the car with all of my class."
Grace's advice to the underclassmen is to "Be nice to everyone, show love, and stick close to the Father. "
After high school, Grace plans on attending Moody Bible Institute and majoring in Victims of Sexual Exploitation and either minoring or double majoring in English as a Second Language (ESL). She eventually wants to become a missionary, be a teacher, and work with endangered women and girls.
Congratulations, Grace! We wish you the best of luck for your future!