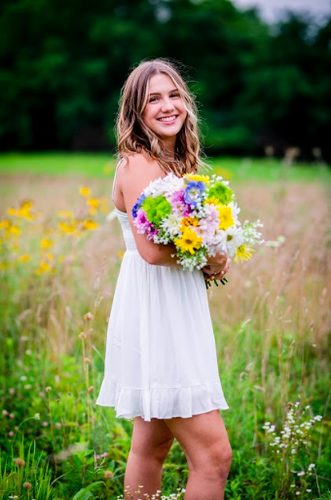 Jessica Mary Jean Holloway was born on June 14, 2005 in Lima Ohio. Her parents are Tom and Melissa Holloway and she has three siblings, Crissy, Paul, and Jacob.
Jessica has attended Temple since K4. While at Temple she received numerous awards for volleyball, including Honorable Mention NWCC (2019), Second Team NWCC (2020), and First Team NWCC (2021 and 2022). Jessica also participated in cheerleading, basketball, track and art at TCS and she is a member of the National Honor Society. Her favorite class is anatomy.
Outside of school Jessica enjoys playing club volleyball, working, helping her mom, and hanging out with friends. Her favorite animal is a sloth and her favorite food is macaroni and cheese. If she could travel anywhere in the world Jessica would choose to travel to Iceland.
Jessica's favorite passage from the Bible is Proverbs 31:10-31. She said one person who has inspired her is her dad. She said, "He showed me hard work pays off and don't take the easy way."
After high school Jessica plans on attending Rhodes State College to become a physical therapy assistant.