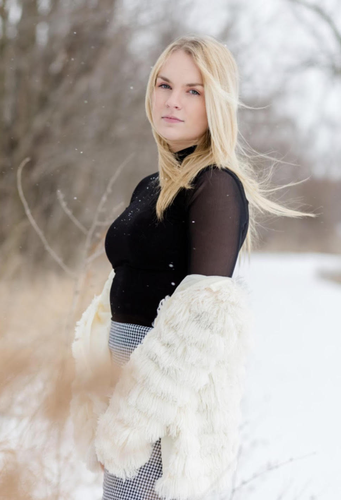 Jordyn Mikay Hayes was born to Erick and Jessica Hayes on Dec. 16, 2002, in Lima, Ohio. She has three siblings that go to Temple as well. She has attended Temple since kindergarten. Her favorite memory from Temple is the homecoming afterparty her junior year.
Jordyn will attend Wright State University, where she plans to study medicine and specialize in pediatrics. If Jordyn could have one superpower she would want to be like Frozone from "The Incredibles."
Some of Jordyn's extracurricular activities are volleyball, cheer, theater, yearbook, and elementary chapel. Outside of school she enjoys playing with her dog and crocheting. Jordyn was also the sole yearbook editor this year and was a co-editor last year. She is also in student government and the National Honor Society.
Jordyn's favorite book is "Turtles All the Way Down" by John Green. Her favorite song is "Even If" by Mercy Me. Her favorite class is art with Mrs. Motter. Jordyn also loves Chinese food.
Congratulations, Jordyn. We hope you have lots of success!