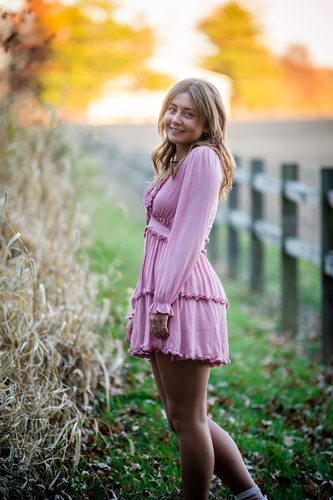 Juliette Anese Kinnear is the daughter of Chad and Megan Kinnear. She has two younger sisters, Elizabeth and Isabelle. She was born in Lima in August 2005. Throughout high school, she played basketball, volleyball, track and field, and was a leader in FCA. In her junior season of track, she set the school's record in the 1600m run. During her senior season of volleyball, she was also awarded First Team in the NWCC. Her favorite subject in school was public relations, and some of her favorite memories were made during school field trips.
If she had to choose a superpower, Juliette would choose the ability to fly. Her favorite animals are deer, and her favorite food is Padrone's breadsticks. If she could travel anywhere in the world, she would go to Amalfi, Italy. In her free time, Juliette enjoys going to the gym, journaling, and taking naps. Juliette's favorite Bible verse is Matthew 6:26-27, which reads, "Look at the birds of the air; they do not sow or reap or store away in barns, and yet your heavenly Father feeds them. Are you not much more valuable than they? Can any one of you by worrying add a single hour to your life?"
When Juliette described her senior year, she said it was "laidback, overwhelming, and quick." Someone in Juliette's life that has inspired her has been her grandma, because "She is the most loving and supportive person I know and wants nothing but the best for me, so I always want to make her proud." Juliette said she will always remember Mr. Green and the genuine care he has for his students.
When asked to give advice to the younger classmen, Juliette said, "Just be kind and considerate. The impact you have on others is greater than you realize."
After graduating, Juliette will be attending Rhodes State College to study nursing.