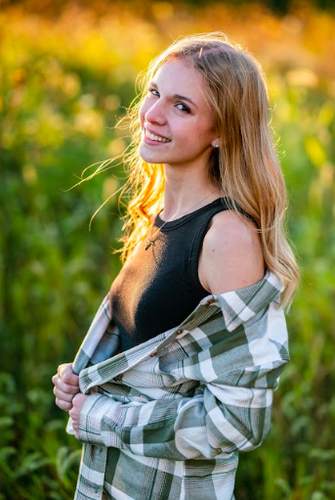 Kaylee Elizabeth Linhart is the daughter of Brent and Tina Linhart. She has an older sister, Aubree, and five younger siblings, Mikaya, Addia, Kamiya, Jabre, and Timothy. She was born in Lima in August 2005, and has attended Temple since fifth grade.
During high school, Kaylee played volleyball for all four years, and basketball for two. She participated in both elementary and high school chapel, and sang on the worship team for the high school. Kaylee also was in Temple's band and choir, student government, and NHS. She was awarded the John Phillip Sousa award in band, and made 2nd team in the NWCC both her junior and senior seasons of volleyball.
Kaylee's favorite subject in school was anatomy. Kaylee's favorite food is fettuccine alfredo, and her favorite animal is a cow. If she could choose a superpower, Kaylee would choose invisibility. If she could travel anywhere, Kaylee would choose to go somewhere nice in Mexico. In her free time, she enjoys baking and reading, and her favorite books are the "Hunger Games" series.
Her favorite memory from high school was the volleyball game versus Perry her senior year. She also said that she will never forget her times working in the lunchroom to help Mrs. Motter and Mrs. Shenk.
Kaylee's favorite Bible verse is Isaiah 41:10, "So do not fear, for I am with you; do not be dismayed, for I am your God. I will strengthen you and help you; I will uphold you with my righteous right hand."
Kaylee said someone who has heavily impacted her life has been her mother, because she has always been such a positive influence. When asked to give advice to the underclassmen, Kaylee said to focus more on your relationship with Christ rather than on trying to please those around you.
After graduation, Kaylee plans to attend the University of Findlay to study diagnostic medical sonography.