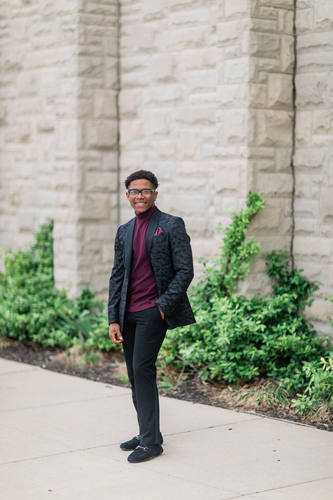 Malachi Samuel White was born on August 6, 2001, in Lima, Ohio. His parents are Hope and Samuel White. He has five brothers (three older and two younger) and one younger sister.

Malachi has been a part of Temple Christian for nine years and has participated in soccer, basketball, art, and yearbook. He received the four-year award for basketball and a scholar-athlete award. Furthermore, one person who has been influential to him is Coach Bowman. "He is always encouraging and pushing you to be the best version of yourself," Malachi said.

Malachi attends Greater Christ Temple. His favorite verse is "'I know the plans I have for you,' declares the Lord, 'Plans to prosper you and not to harm you, plans to give you hope and a future,'" (Jeremiah 29:11, New International Version).

His favorite hobbies outside of school include fishing, swimming, and working out. His favorite curricular class he takes is anatomy. If he could choose a superpower, he would want to be invincible. Malachi would like to travel to France someday. His favorite food is Chinese and his favorite book is "Sherlock Holmes."

Describing his senior year, Malachi said, "It has gone by fast." One of his favorite high school memories is the April Fool's prank that Mrs. Stoodt pulled. One main thing he will always remember is his senior year of soccer.

Malachi's advice to underclassmen is "Your grades follow you and play a major factor in your success in life, so make sure you do your best."

After graduation, Malachi plans to go to school for pre-med, although his college is undecided.

Good job on your high school success, Malachi, and best of luck in your future!