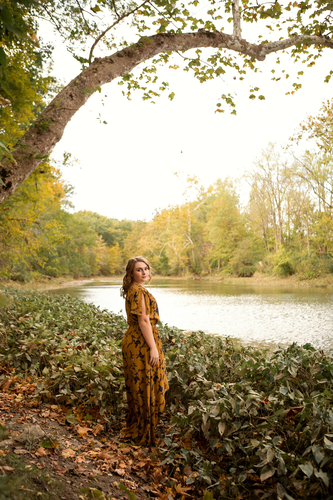 Sophie Grace Nicole White was born on September 6th, 2000. She is the daughter of Peter and Tami White. She has three siblings, Emma, Bryson, and Ryker, who also attend Temple.
Sophie has attended Temple since K4. She has helped with hair and makeup in drama productions and has also played volleyball for nine years, as well as basketball for six years. Sophie's favorite part of high school is playing volleyball, getting involved in events, building stronger relationships, and being able to spend her last year of high school with her sister.
Sophie White currently attends church at Shawnee Alliance. Her favorite verse is Psalm 55:22, "Cast your cares on the Lord and He will sustain you; He will never let the righteous be shaken."
After high school Sophie hopes to become a great volleyball coach. She wants to meet her soulmate, raise a great family, and own a pot belly pig. If given the option to spend the day with any celebrity she wanted to, Sophie said she would choose Chris Brown because she loves his music and thinks he would be very fun to hang out with.
Sophie's advice to the underclassmen is, "Don't be afraid to build relationships with upperclassmen. We really aren't that scary! Play sports and don't quit! Some of my greatest friendships came from playing sports." When asked what part of Temple has affected her life the most, Sophie said, "The friendships. Some of my longest friendships of 14 years have come from this school. Having a small class and being close with everyone has really been a blessing."
Congratulations on a great career at Temple, Sophie! We are excited to see what God has in store for your future.