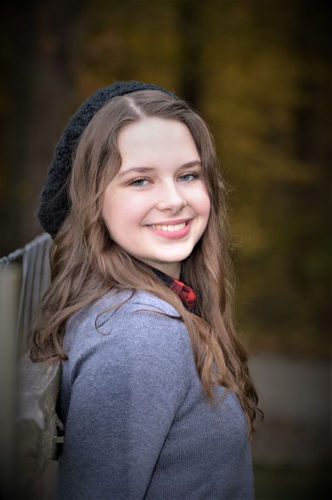 Allison Elizabeth Durst has been attending Temple Christian School (TCS) for nine years, and has been involved in leadership groups, drama productions, sports and art.
Allison is the daughter of Dennis and Amy Durst. She was born on February 21, 2002 in Willard, Ohio, and has an older sister, Abigail. 
Some of Allison's accomplishments include serving as both vice president and secretary in the National Honor Society (NHS), as well as secretary of student government. She also received second place in digital media in the Kewpee Art show.
In her free time, Allison enjoys creating art, writing stories, watching movies and TV shows, and spending time with family and friends. She has also been a member of the track and field team. Her favorite song is "You're the Voice" by John Farnham. Some of Allison's personal inspiration comes from Malala Yousafzai, who is an activist for female education as well as the youngest Nobel Prize laureate. 
Having been a part of five TCS drama productions, Allison said, "They were so much fun to be a part of and I learned so much from them. I will also always remember the great friends I've made over the years." 
Allison is currently employed part-time at Lima Community Church, where she also attends with her family, and volunteers with an art group. Her life verse is Philippians 4:6 "Do not be anxious about anything, but in every situation, by prayer and petition, with thanksgiving, present your requests to God." (Philippians 4:6, New International Version)
Allison described her senior year as "fun, relaxed and interesting." Her advice for the underclassmen at Temple is to "work hard but don't overcommit. Stay hopeful." 
After high school, Allison plans to attend Mount Vernon Nazarene University where she will major in graphic design with a communications concentration. 
May God bless your future, Allison!