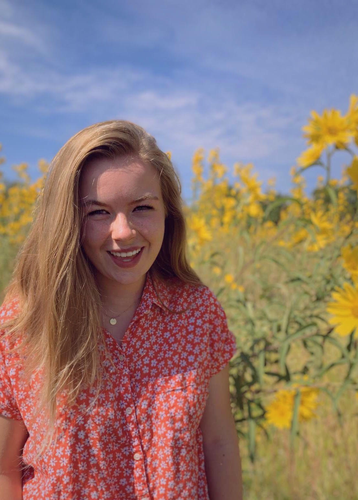 Lydia Grace Bassett was born on March 21, 2002 in Lima, Ohio. She is the daughter of Scott and Ruth Bassett. She has attended Temple for four years. During her high school career she has achieved success in many areas.
While attending Temple, she has been involved in track, National Honor Society (NHS), student government, band, art, choir and drama. Last spring, Lydia participated in the musical "Seven Brides for Seven Brothers." Lydia's favorite class at Temple was art with Mrs. Phillips. Lydia said her favorite school memory is "hanging out with friends after basketball games." 
Some of Lydia's achievements include receiving a superior rating in Class A pieces for three years, maintaining a 4.0 GPA, being on the honor roll for all four years of high school, becoming a part of the Quill and Scroll Society, and joining the NHS. 
Outside of school, Lydia plays the violin in the Ohio Northern University and Findlay University Orchestras, as well as the International Youth Orchestra. Lydia also enjoys spending time outdoors, traveling, making art, skiing, hanging out with friends, and longboarding with her friend, Grace. 
Her favorite food is brie cheese, and her favorite book is "Fahrenheit 451" by Ray Bradbury. If she could travel anywhere, Lydia said she would like to go to Iceland. If she could have one superpower, it would be the ability to talk to animals.  
Along with her family, Lydia attends church at Lima First Assembly of God. Her favorite Bible verse is "The Lord is my strength and my shield; my heart trusts in Him and He helps me. My heart leaps for joy, and with my song I praise Him" (Psalm 28:7, English Standard Version).
Lydia said someone who has inspired her has been her dad. "He has done many things in his life, from paramedic work to architecture to farming. I appreciate his willingness to pursue his dreams and having the courage to make them a reality," she said.
Lydia added that she will always cherish "the great memories I've created here at Temple  because of the nurturing environment provided by the teachers, and the family that my class has become to me."
She said that she wants underclassmen to "learn from the past, but don't cling to it. Life is a journey. Don't be afraid to be present and let God show you His will in your day-to-day life."
Next year Lydia plans to attend Miami University and major in architecture. 
Congratulations, Lydia! God bless you in your future!