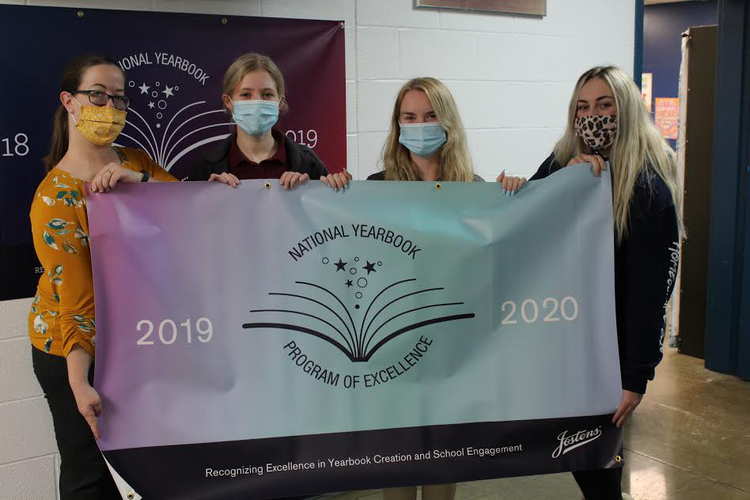 Temple Christian School (TCS) yearbook staff recently won a Jostens yearbook award for the third year in a row.
Susan Searcy, TCS yearbook advisor, and Jordyn Hayes, student editor in chief, worked with several other students to earn this coveted award for the 2019-20 yearbook.
The Jostens National Yearbook Program of Excellence Award is given for excellence in yearbook creation and student engagement. TCS is among a handful of high schools in Ohio that receive it each year.
Jostens representatives keep track of whether or not each school's staff meets its deadlines and goals. Annually, there are about 550 schools in Ohio that Jostens work with, but only about 20 schools receive this award.
TCS won by meeting three sets of criteria. It has to be a "meaningful book for all students," there must be "a book in every student's hands," and the team must show "effective project management," according to www.jostens.com.
Some of the difficult goals to meet for the award are that 50 percent of the student body must appear in the yearbook three times or more.
Searcy said, "We do 100 percent because we are a relatively small school so we can include everyone at least three times."
The yearbook staff must also have at least 70 percent of the students purchase a book or 2 percent in growth over the previous year.
"We have actually increased sales by 10 percent for the last three years," Searcy explained.
Like all schools, the staff had to make last-minute adjustments due to school closures and many events canceled last spring. They added many pages but also had to get rid of others.
"We added a selfie page, a Corona spread, when (staff) passed out senior gifts, teacher appreciation pages, students working from home, and a working with pets page," Searcy said.
Searcy and her students also had to get rid of pages that should have been filled with pictures from track and field, elementary field day, banquet/prom, senior trips, and kindergarten graduation. They also had to get creative with the senior superlatives and turn virtual graduation into a spread.
"It was difficult to get pictures because we weren't all together, but we were able to Google Chat and figure out how to put it all together," Hayes said.
There are currently eight student staff members for this school year. Hayes is the returning editor in chief. Emma White is the digital editor, and Elaina Helser is the technical editor, both of whom were also on staff last year.
The 2020-21 staff is working hard to achieve the award for the fourth year in a row for this year's upcoming book, which will be published and distributed this summer.