Hello TCS families. We trust that you are all staying safe and healthy.
Better is one day in your courts than a thousand elsewhere; I would rather be a doorkeeper in the house of my God than dwell in the tents of the wicked." It is a privilege to serve the Lord and to be one of His children. We miss all of you and we are continuing to pray for you. Here are a few news items that we wanted to share with you.
Have a great weekend!
Important Information
Even though our offices are currently closed to the public, we are continuing all of the school's important business. We are continuing to process re-enrollments, new admissions, EdChoice Scholarships, tuition payments, and a host of other items. Please know that you can reach us in a variety of ways. Please note the contacts below:
Phone: 
419 227-1644 - If we do not answer, please leave a message. We check them frequently and will respond promptly to your call.
Email:
Amy Link - linka@tcspioneers.org  (Re-enrollment, Admissions, Scholarships, and other elementary/business office needs)
Bruce Bowman -  bowmanb@tcspioneers.org   (Business Office, Elementary, and High School needs)
Marie Brite -   britem@tcspioneers.org (Tuition payments and other financial needs)
BJ McPheron -   mcpheronbj@tcspioneers.org   (H.S./M.S. academics, sports, activities, etc.)
Erin Marshall -   marshalle@tcspioneers.org   (Elementary academics, intervention, etc.)
Jodi Callahan -  callahanj@tcspioneers.org   (H.S./M.S. office needs)
Mail:
982 Brower Road, Lima, Ohio 45801.
Please feel free to mail re-enrollments, tuition payments, and anything else that you need to send to the school.
Finishing the year with Distance Learning
As you are already aware, TCS and all Ohio schools will be finishing the year with students continuing their distance education at home. Our goal is to continue to provide the very best education we can in these final four weeks. Our teachers are all working very hard to make this a quality educational experience. Thank you parents and students for working so hard at home during this unique time.
Early Re-enrollment deadline
The early re-enrollment deadline is next Thursday April 30th. Re-enrollment fees are $100 per child before April 30th and $150 per child after April 30th. We thank you in advance for taking care of this very important matter.  If the re-enrollment fee is difficult to pay due to job loss or other financial reasons, please send in your re-enrollment paperwork anyhow, and contact our school office about arranging a later time to pay the fee.  We are happy to work with our families during this difficult time. We look forward to serving your family in the 2020-21 school year.
EdChoice Scholarship Renewal
All EdChoice renewal forms and proof of address (utility bill or other option) must be sent to Amy Link by May 15, 2020 so we can meet ODE's May 30, 2020 deadline. ODE requires that re-enrollment forms and fees be turned in before we renew scholarships. If the re-enrollment fee is going to be difficult to pay at this time due to job loss or other financial reasons, please send in your forms anyhow and contact the school office to discuss a later time that your re-enrollment fee can be paid. We are happy to work with our TCS families during this difficult time.  Contact Amy Link at 419 227-1644,  ext. 1 or linka@tcspioneers.org.   Families should email or mail the required documents. You can also set up a phone appointment with Amy if you need assistance completing the forms. Thank you.
John Phillip Sousa Award
Each year, the TCS High School Band members select a classmate to receive the coveted John Philip Sousa Award. School music programs across the nation and even around the world present the Sousa Award to one exemplary band member each year, to recognize superior musicianship, leadership, and dedication. This year, the HS Band members reported their nominations online via Google Classroom, and, as in the past, the winner was determined by the number of votes received. Normally the recipient is announced at the Spring Concert, but we would like to announce this year's winner right here: CONGRATULATIONS to Senior Lydia Bassett! Although the traditional Sousa Award Luncheon cannot be held this year, Lydia will still be honored by the Lima Kiwanis Club at an online event on May 12. Along with other area recipients of the 2020 John Philip Sousa Award, she will also receive a trophy and certificate in honor of her accomplishments, courtesy of the Kiwanis Club. Again, congratulations, Lydia!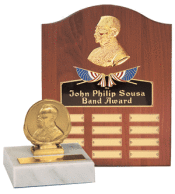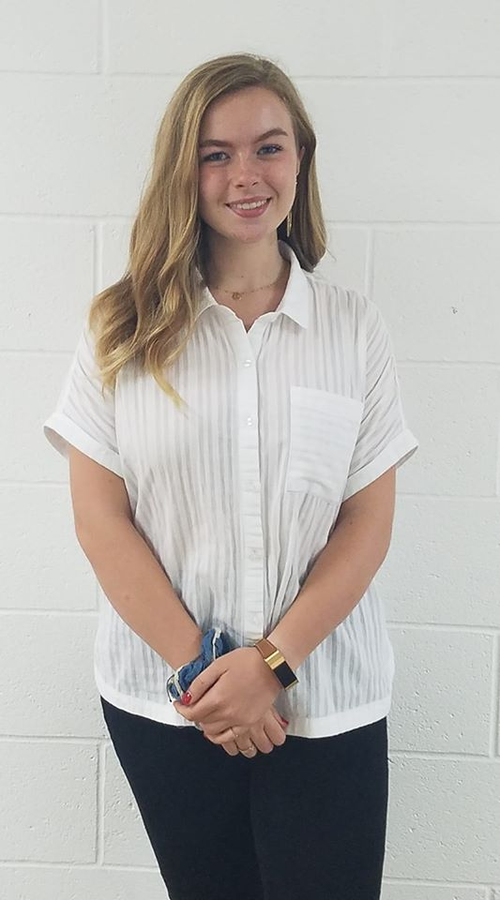 Family Friday
Friday May 1st is going to be a "Family Friday' at TCS.  This means that we are not going to be giving any assignments on this day.  It will be a break from the routine and an opportunity for families to enjoy time with each other.  We also encourage families to send "Family Day" pictures to Mrs. Susan Searcy at searcys@tcspioneers.org.  We would love to post some on social media and in the school newsletter.
End of Year Information
We are currently working on putting together how we will conduct a few end of year activities and events such as senior graduation, awards assemblies, book and computer drop off, etc. We hope to be able to share this information by the first week of May.
TCS Distance Learning Activities
We hope you enjoy the variety of activities our students are enjoying in the section below.
K4/K5 Art
The K4 and K5 art students participated in lessons that dealt with using colors to talk about their feelings and emotions.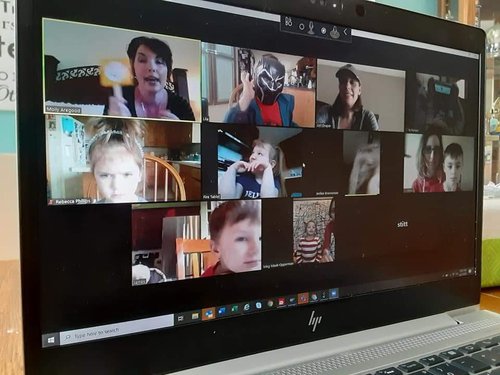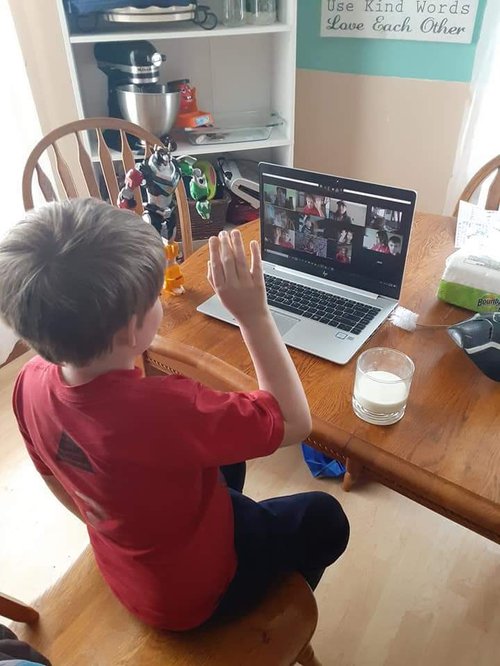 First Grade
The first grade students went on a virtual field trip to the Cincinnati Zoo. They learned all sorts of cool facts about river otters! Afterwards, they had the option to follow a directed drawing from Art for Kids Hub of an otter. Great job Karson, Alexis, and the rest of the first grade class!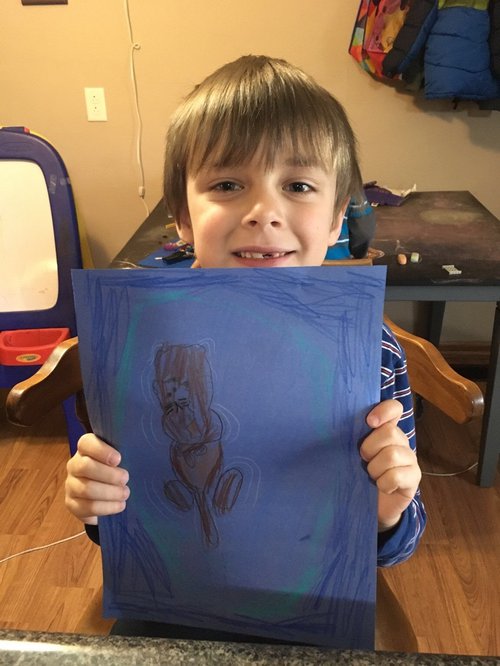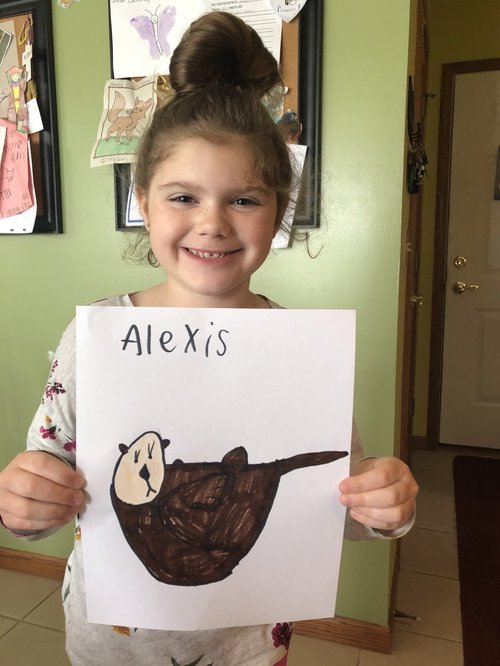 Third Grade
Our third graders have been talking about magnets in science! This is Jaxxon Walther working with magnets to complete an experiment.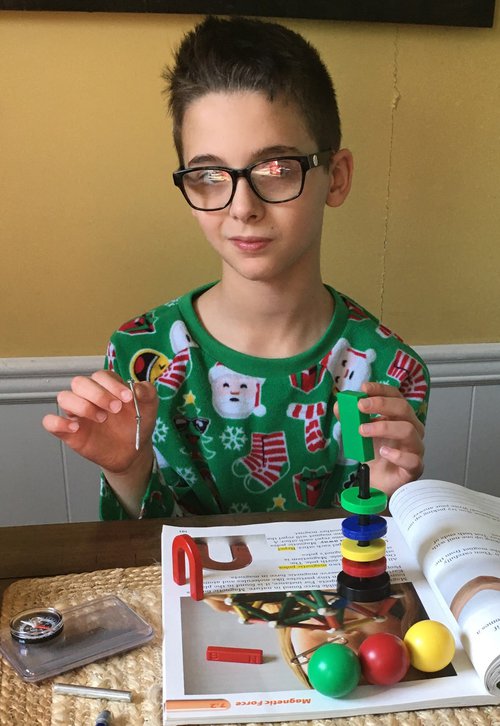 Fourth Grade
The fourth grade class has been encouraged to continue reading as much as possible at home! They were given the task of building a fort and reading in their fort! The students also worked very hard on making their own family trees! The week of Easter I had the students make Resurrection Rolls. These rolls represent Jesus' body leaving the tomb and the tomb being empty! Also, they are very yummy! The class has all worked so hard at home!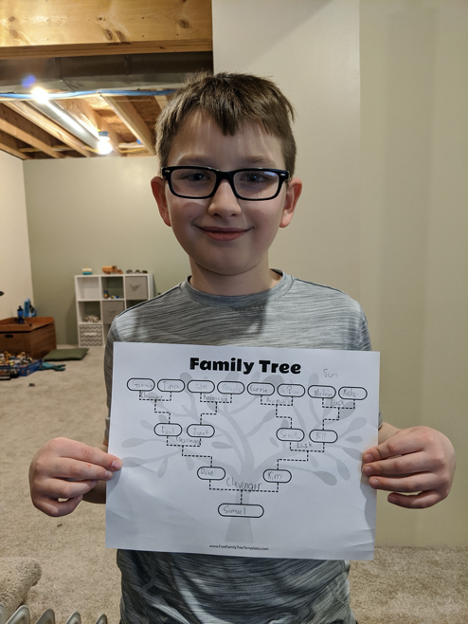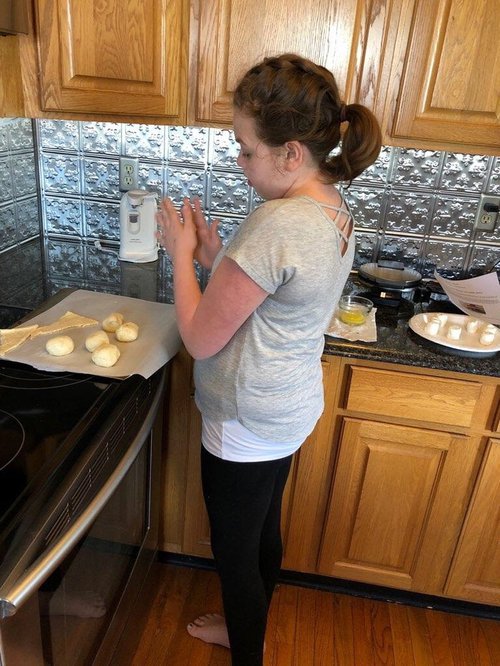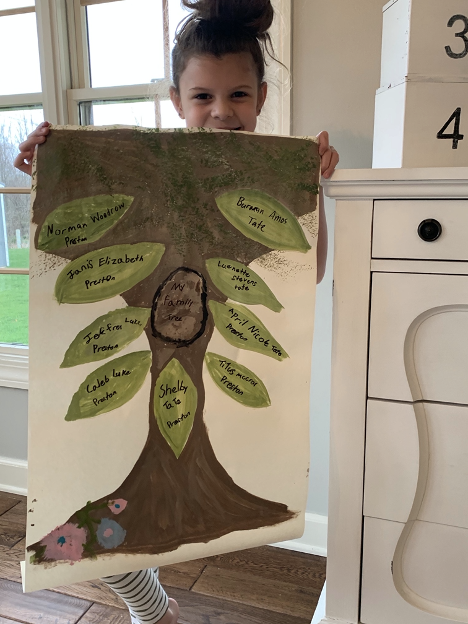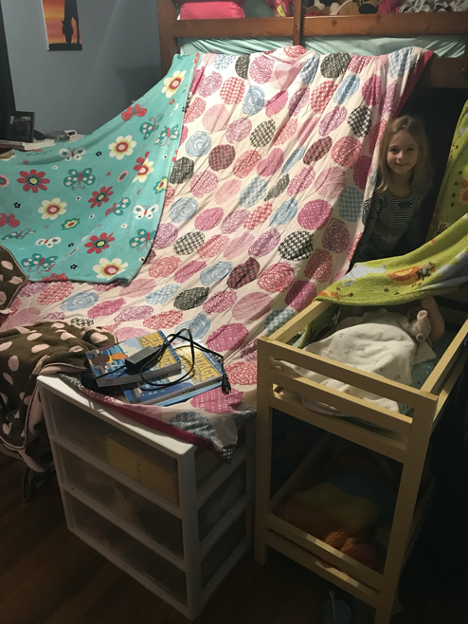 Fifth Grade
The fifth graders finished writing book reports this week.  At the conclusion of March and Reading Month, all of the students had read many different books as they worked their way towards reading 400 total minutes for the month.  Through writing these book reports they learned how to write a summary of their book, critically discuss the positives and negatives of the plot, and concluded their report with a recommendation for the book.  Several of the books read during Reading Month consisted of The Chronicles of Narnia, The Girl on Schindler's List, Old Yeller, and Shiloh.
Applied Mathematics
Students in Applied Mathematics have been studying budgets.  Last week we discussed if charitable giving should be a part of our financial planning/budget.  The students researched charities that they were interested in, considering, among other things, their accomplishments, track record, and reviews.  The insight, compassion and willingness to help others that these TCS upperclassmen showed is impressive and inspiring.
Yearbook
Check out the video below that our yearbook staff put together for our TCS 2020 Yearbook! Remember to order your yearbook by May 13th. You can order online at jostens.com or by emailing Mrs. Searcy at searcys@tcspioneers.org. Yearbooks are $40 and name personalization on the front cover is $5. Don't miss out on the memories!
Important Dates
May 1      Family Friday (No Assignments)
May 15    Last Academic Day for Seniors
May 22    Last Academic Day for K4-11th Grade