Hello TCS families.  Matthew 1:21 says, "And she shall bring forth a son, and thou shalt call His name Jesus: for He shall save His people from their sins". Enjoy the Christmas season with your family. Here are a few news items that we wanted to share with you. Have a great weekend and Merry Christmas!
Elementary Christmas Program:
Congratulations to Mrs. Smith and the elementary students for the excellent job they did presenting their virtual Christmas program. And thank you to Mr. McPheron and the many high school students that helped with the recording and editing. Thanks for helping us celebrate Jesus' birth. The program remains available on the TCS website until Christmas Day.
Middle School/High School Christmas Program: 
The Middle/High School Christmas program will be available to watch online on Saturday Dec. 19th at 2:00 P.M. The recording will remain available through Christmas Day. The recording can be found on the TCS website.
Staff Christmas Luncheon:  
The TCS staff enjoyed a nice Christmas luncheon today, Friday December 18th, thanks to our teacher appreciation committee comprised of several TCS parents.  Staff enjoyed a great meal along with some special gifts. Thanks to the committee for putting together this special luncheon.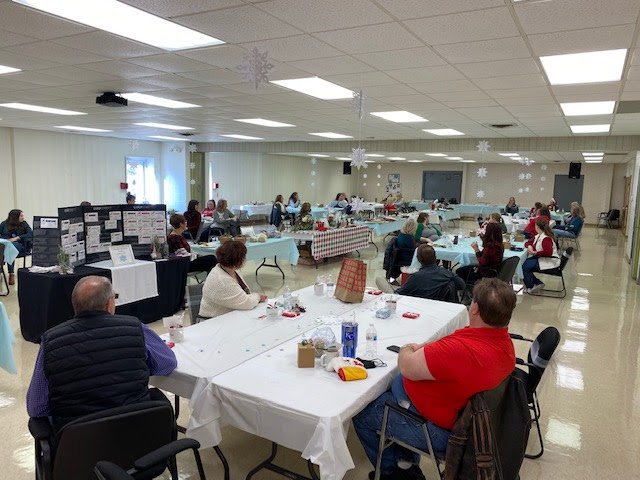 Christmas Dress Down Competition Winners: 
Temple enjoyed a Christmas Dress Down week as a countdown to Christmas Break!  TCS Student Government leaders chose the following winners: (Pictures of this week's winners can be found by going to our Facebook page!)
"Warm Day" Paisley Dye (1st) and Londyn Hutchison (2nd) as the elementary winners, and Aubrie Rentz (6th) and Rayna McCleese (9th) as the middle school and high school winners!
"Christmas Character Day" Layla Perkins (K5) and Gweneth Chambers (3rd) for elementary, and Reagan Hayes (6th) and Lindsey Stump (12th) for the middle school and high school winners!
"Ugly Christmas Sweater Day"  Caisen Waltermire (1st) and Maylin Orndoff (2nd) for elementary, Caynan Schick (6th) and Carter Johns (9th) for the middle school and high school winners, and Mrs. Searcy for honorable mention!
"Red and Green Day"  Jadah Green (K5) and Karsten Hayes (4th) for elementary, and Ava Hollinger (6th) and Leyton Chambers (9th) for the middle school and high school winners!
Junior Bible Class Service Project:
Mrs. Roede and her 11th grade Bible class have been working hard on a very special service project this Christmas season!  Mrs. Roede taught the kids how to crochet. They worked hard on this new skill to make hats to help keep people warm this winter. The students also designed special cards with personalized notes and a blessing for the recipients of these gifts. As they crocheted, they prayed over each hat. The hats will be donated to Lima's Samaritan House, as well as Crossroads Church of God for their upcoming Spread the Bread and Thread event. Thank you to Mrs. Roede for sharing your skill with our students, and thank you to our Juniors for providing a tangible blessing and sharing the love of Christ.
Service Project: 
Josh Rone, Campus Pastor, organized card-making for the Chapel small groups.  The middle school girls made cards for the elderly as well as military personnel.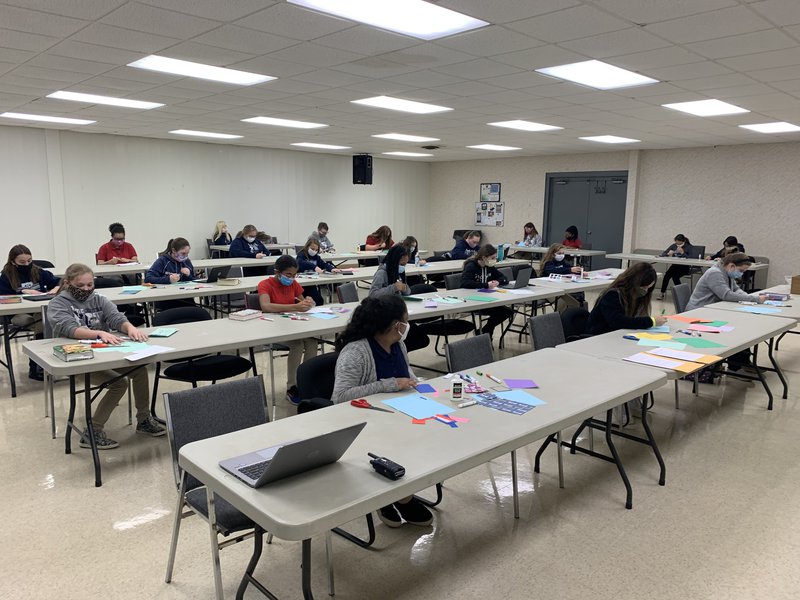 Elementary Art Project: 
Our 4th and 5th graders have been working on a special project entitled I AM. Students created a list of the many names of God, then created a sunburst using watercolors incorporating the names of God that meant the most to them personally. We really enjoyed learning about all the things that our God is for us.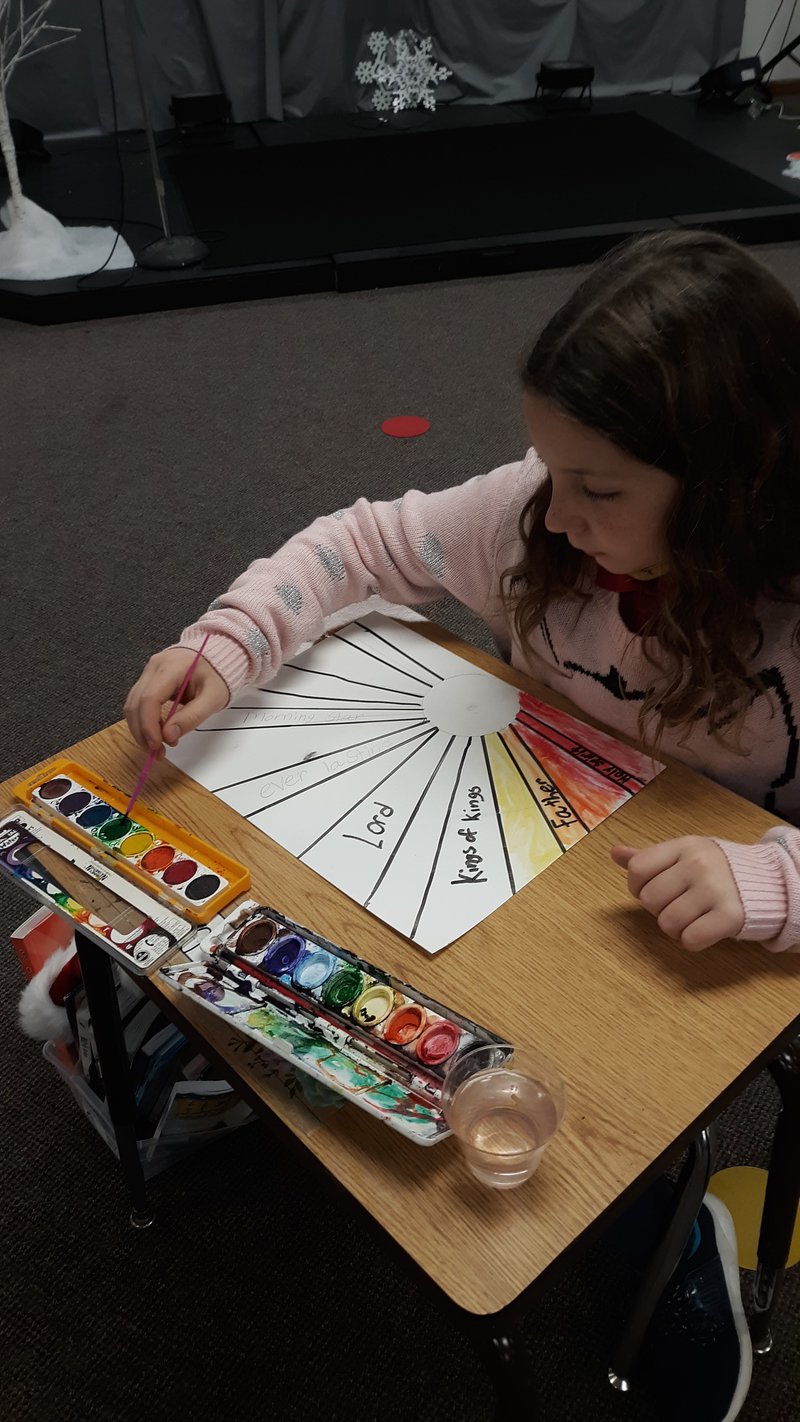 8th Grade History Activity: 
The 8th grade history class has started learning about the U.S. Constitution. In preparation for reading the Constitution, students memorized the Preamble in the form of a rap! The class enjoyed rapping while using the various hats from the classroom collection. If you see an eighth grader, ask him/her to share the rap version of the Preamble with you!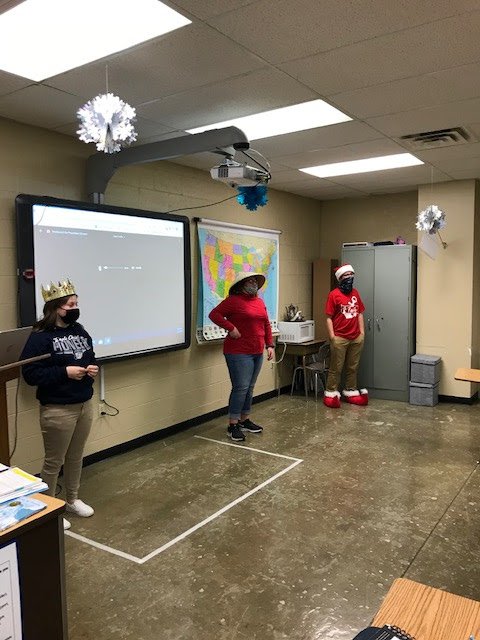 Athletic Events:
Fri. Dec. 18       HS Boys Basketball at Home vs. Elgin @  6:00 P.M.
Sat. Dec. 19     HS Bowling vs. Perry (20th Century Lanes) @  9:00 A.M.
Sat. Dec. 19     HS Girls Basketball at Home vs. Calvary @ 1:00 P.M.
Sat. Dec. 19     HS Boys Basketball at Home vs. New Knoxville @ 6:00 P.M. *Varsity ONLY*
Mon. Dec. 21   HS Girls Basketball at Home vs. Emmanuel @ 5:30 P.M.
Tues. Dec. 22   HS Boys Basketball at Ft. Jennings @ 6:00 P.M.
Sat. Jan. 2     HS Boys Basketball at Allen East @ 6:00 P.M.
Mon. Jan. 4    HS Boys at Waynesfield Goshen @ 6:00 P.M.
Mon. Jan. 4     HS Bowling at Riverside (TP Lanes in Bellefontaine) @ 4:30 P.M.
Tues. Jan. 5   HS Girls at Home vs. Mansfield Christian @ 6:00 P.M.
Tues. Jan. 5   HS Bowling at Minster (Community Lanes) at 5:00 P.M.  (Var. and J.V.)
Important Dates:
Dec. 19   Online Presentation of Middle/High School Christmas Program @ 2:00 P.M.
Jan. 4     School Resumes
Jan. 6     Witness Wear Day
Jan. 14   Early Release 1:00 P.M.  Faculty Development
Jan. 18   No School  MLK Jr. Day
Jan. 20   Witness Wear Day
Jan. 22   End of 2nd Quarter
Lunch Menu for the Week of Jan. 4th
Monday         Taco Bowl, Fruit
Tuesday         Pizza by the Slice $1.00
Wednesday   Grilled Cheese, Yogurt Cup, Frosted Sugar Cookie
Thursday       Breakfast Sandwich, Hash Brown, Fruit
Friday           Pizza by the Slice $1.00