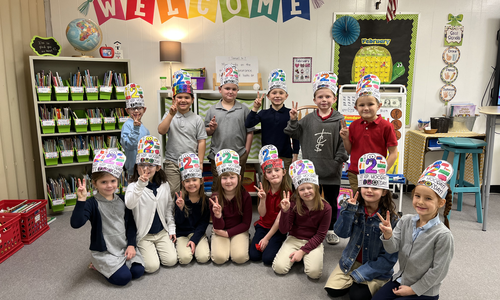 Hello TCS families. Here are a few news items that we wanted to share with you. Have a great weekend!
1 Thessalonians 5:11: "Therefore encourage one another and build one another up, just as you are doing."
First Grade Learning Activity
Mrs. Rager's class had a great "Twosday" celebrating 2.22.22 and President's Day! They made time capsules to open on 3.3.33 when they will be seniors in high school!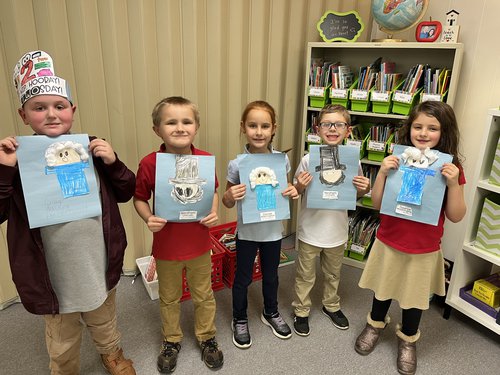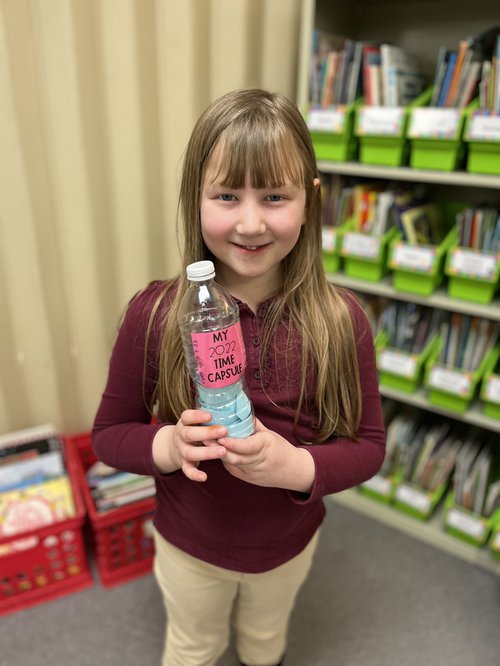 K4 Fun
Several weeks ago the K4 class decided that during their indoor recess time, they wanted to sit and color together.  The tables were moved, and they all grabbed their coloring books, colored pencils and crayons, and had a wonderful time talking and coloring together.  It's neat to think of these growing friendships that will continue on through their years here at Temple Christian!!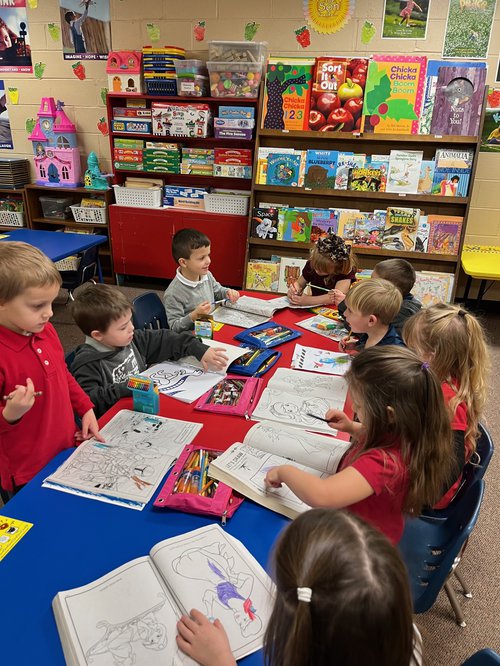 Third Grade Learning Project
During Heritage Studies in 3rd grade, our students had the opportunity to create their own petition. They came up with a change/idea that would benefit others, and then had to get signatures from other students in the classroom who agreed with their ideas. It was awesome to see some of the things that a 3rd grader wants to see happen in the world!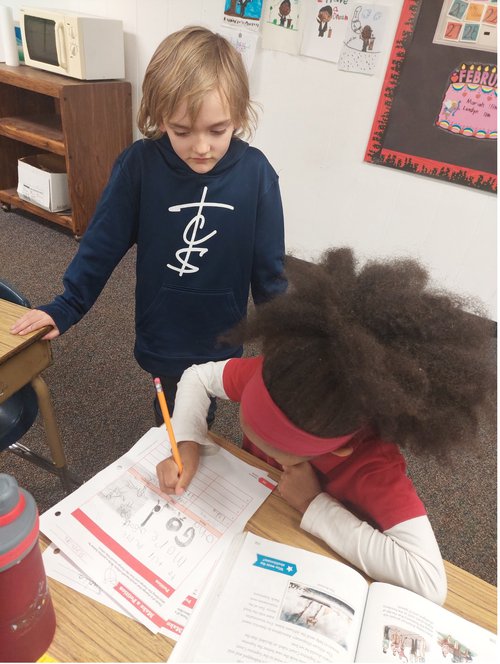 Early Yearbook Orders
Be an early bird! Order your 2022 TCS Yearbook by March 31st and you will be entered to win a free yearbook from any previous year! Order forms are available at both offices. You can also order online at jostens.com. Contact Mrs. Searcy at searcy@tcspioneers.org if you have questions.
Reading Month Book Fair
Kickoff Reading Month with us next week by visiting our book fair set up outside the Elementary office!  Usborne Books & More is an award-winning children's publisher.  You will have the opportunity to shop fiction and nonfiction titles for newborns through young adults.
Preview the catalog here:  https://d9707.myubam.com/2343115.
Every purchase made will be matched at 50% in FREE BOOKS for our classrooms.  Thank you for your continued support of TCS and our students!
Re-Enrollment
Re-enrollment for the 2022-23 school year has begun. We encourage you to take advantage of our new FACTS Online Enrollment option by completing your re-enrollment packet through your FACTS Family Portal.  All families received emails that included information regarding re-enrollment.  Please contact Amy Link in the elementary office with any questions. Thank you.

EdChoice Scholarship Renewal
It's time to renew your child's EdChoice scholarship. EdChoice forms were emailed to you on Wednesday, 2/9/22:  You must complete and submit your child's re-enrollment packet before the scholarship can be renewed. Online re-enrollment packets were emailed to everyone on Tuesday, 2/8/22.  Hard copies are available in the elementary office.    
All documents must be submitted to the elementary office by March 31, 2022.  This will greatly increase the likelihood that we have an award decision before school starts.  
If you have questions, please contact Amy Link at 419-227-1644, ext. 1 or linka@tcspioneers.org.  The office is open Monday - Friday, 7:30 - 3:30
Important Dates:
Feb. 28     OHSAA JH/HS Mandatory Spring Sports Meeting for 7th - 12th Grade Track and Field @ 6:00 P.M.
Feb. 28     Elementary Reading Month Kickoff
Mar. 2       Witness Wear
Mar. 1-4    Elementary Book Fair
Mar. 3       Grandparents Day - 1:30 P.M.  (LBT auditorium)
Mar. 8       High School Winter Sports Assembly 6:00 P.M.
Lunch Menu for the Week of February 28
Monday         Chicken Nuggets, Tater tots, Green Beans
Tuesday        Pizza  $1.00/Slice
Wednesday   Meatball Sub, Pudding, Veggies w/Ranch
Thursday       Taco Bowl, Rice, Fruit
Friday            Pizza  $1.00/Slice
Lunch Procedures
Just a reminder that we now offer an online opportunity for ordering and paying for lunches.  We would request that as many as possible go ahead and place your order online to assist us in being more efficient in preparing our student lunches.  Also, we would ask that you please keep your lunch accounts up to date so that there is enough money in the account for your child/children's lunch each day. Thank you.