Hello TCS families. Here are a few news items that we wanted to share with you. Have a great weekend!
Galatians 2:20: I have been crucified with Christ and I no longer live, but Christ lives in me. The life I live in the body, I live by faith in the Son of God, who loved me and gave Himself for me.
Teacher Appreciation Messages:
NHS member, Jessica Holloway, gathered some appreciation messages from the student body to the teachers in the high school building.  We are very thankful for the godly, caring staff that the Lord has blessed us with.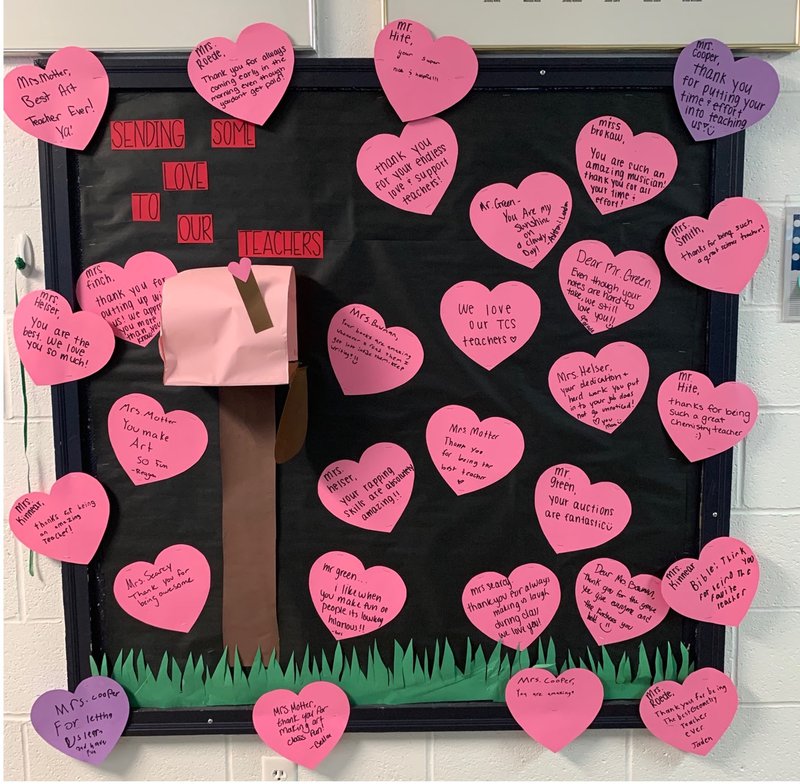 Spreading God's Love: 
The freshmen students have been creating Valentine's Day cards during Bible class to send to Lima Manor residents. Students included words of encouragement and Bible verses to spread God's message of love and hope! John 13:34-35 states, "A new command I give you: Love one another as I have loved you, so you must love one another. By this all men will know that you are my disciples, if you love one another."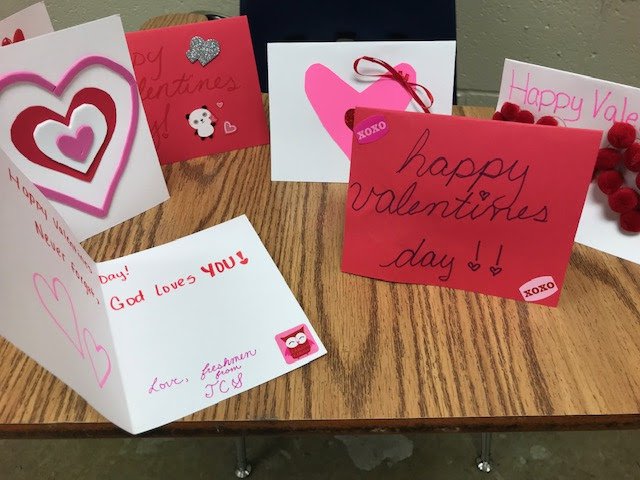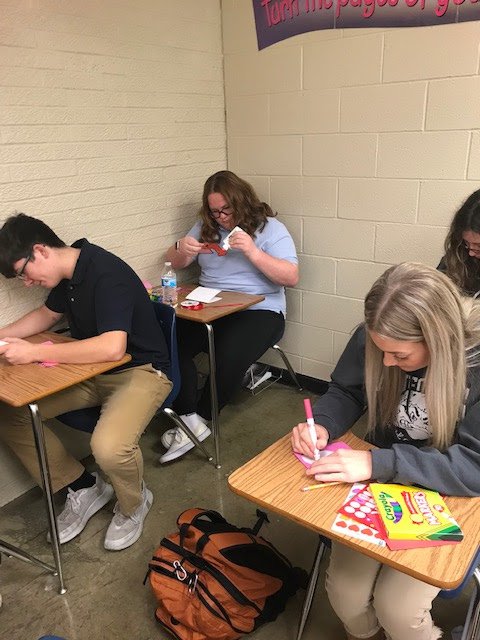 Student Recognition:
Congratulations to Emma White for being recognized by the Lima Noon Optimist Club on their Youth Appreciation Day.  Emma was honored for her efforts in the areas of leadership, good citizenship, volunteerism, and serving as a positive role model for other students.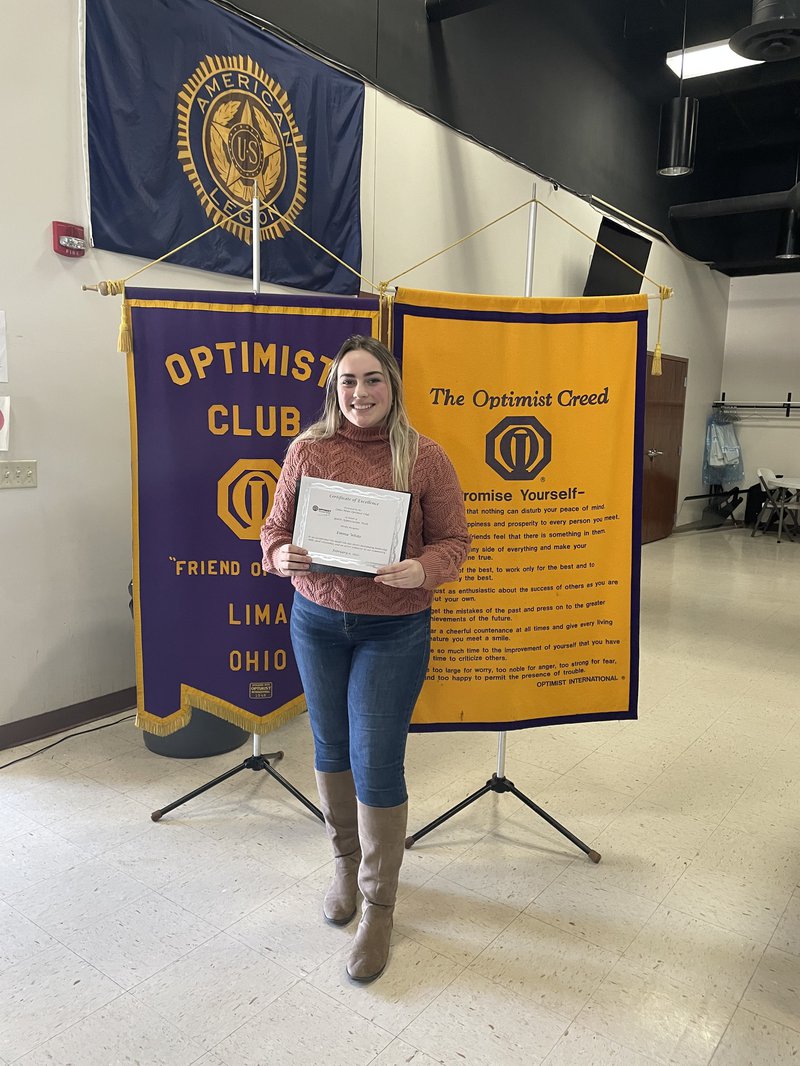 First Grade Health Lesson:
February is Dental Health Month. The first grade classes have been learning how to keep their teeth healthy and strong. Mrs. Rager's class did an experiment letting an egg (representing our teeth) sit in soda all night and compared it with an egg sitting in water. The students were shocked at how stained the egg in the soda became! We brushed the egg and found that most of the stain could be removed with good brushing. The students all agreed they won't miss a night of brushing their teeth!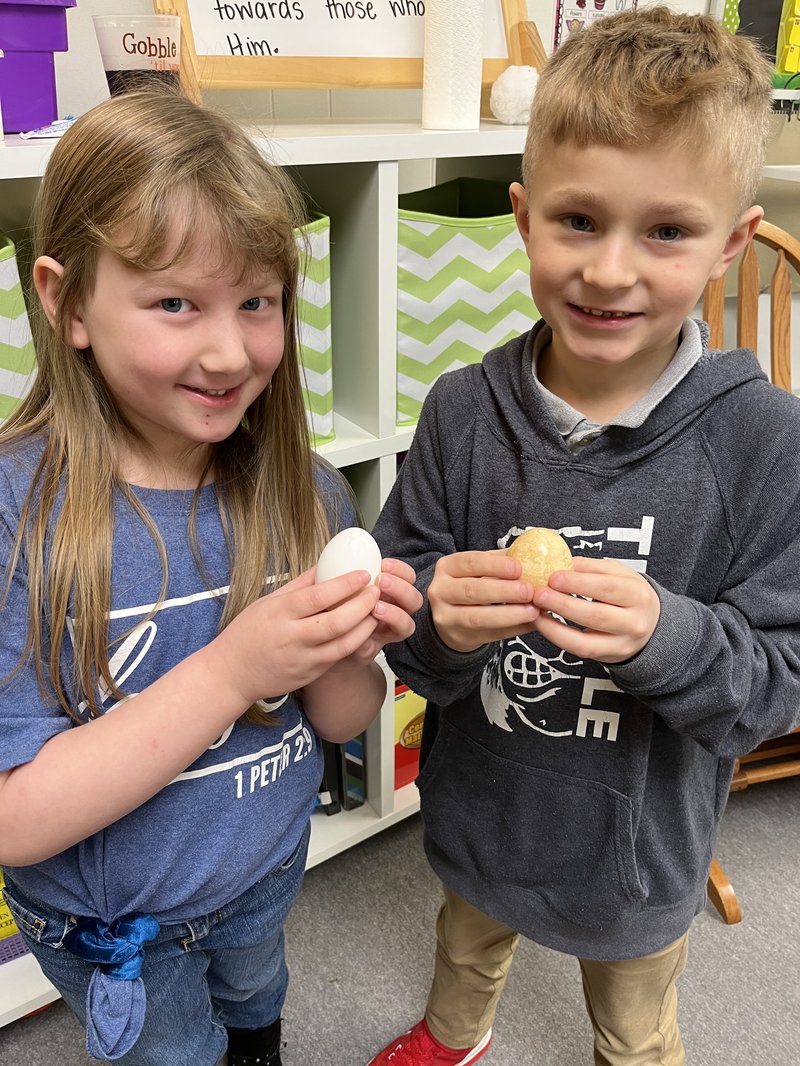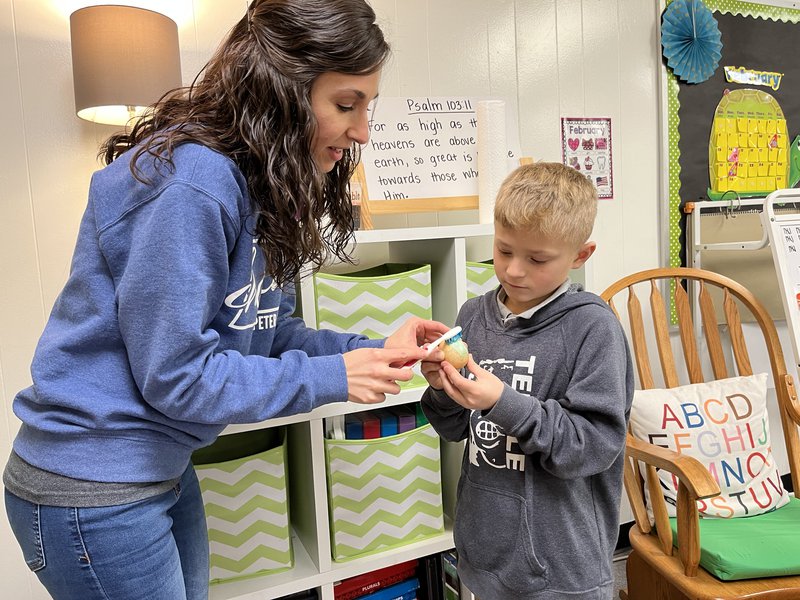 First Grade Book Writing:
Miss Kirkendall's class has had such a fun time becoming authors and writing their own books this week! They wrote about one of their favorite things to do, playing tag at recess! The students favorite part of this activity was getting to read their finished book to a friend.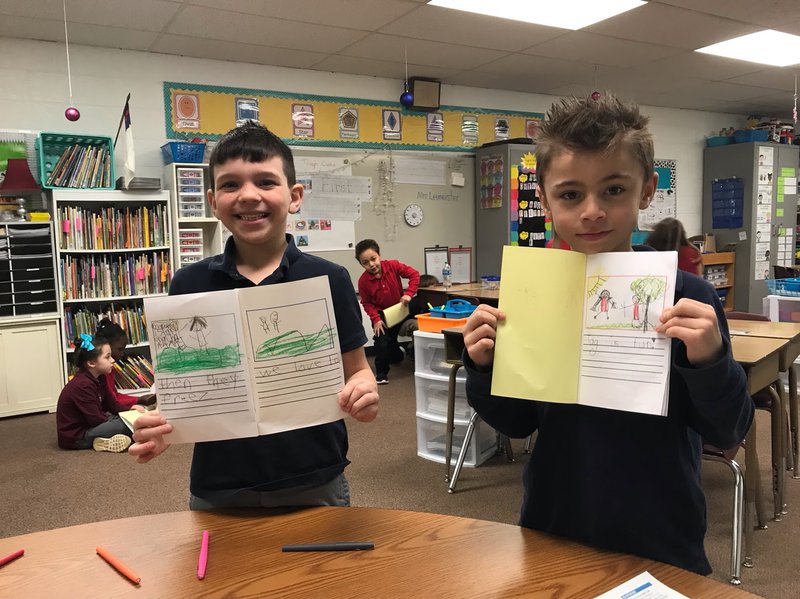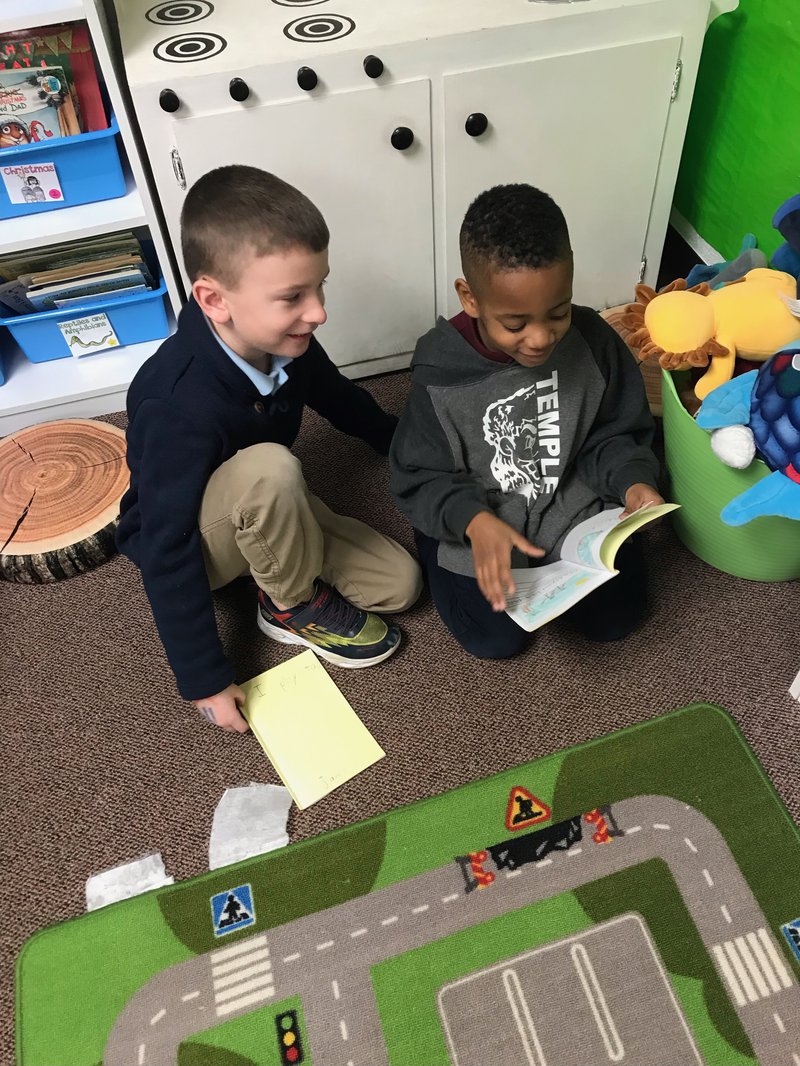 K4 Activity:
The K4 class enjoyed putting puzzles together, all while learning their beginning sounds.  Each student started with a letter, and had to find the four pieces that started with that letter in order to complete the puzzle.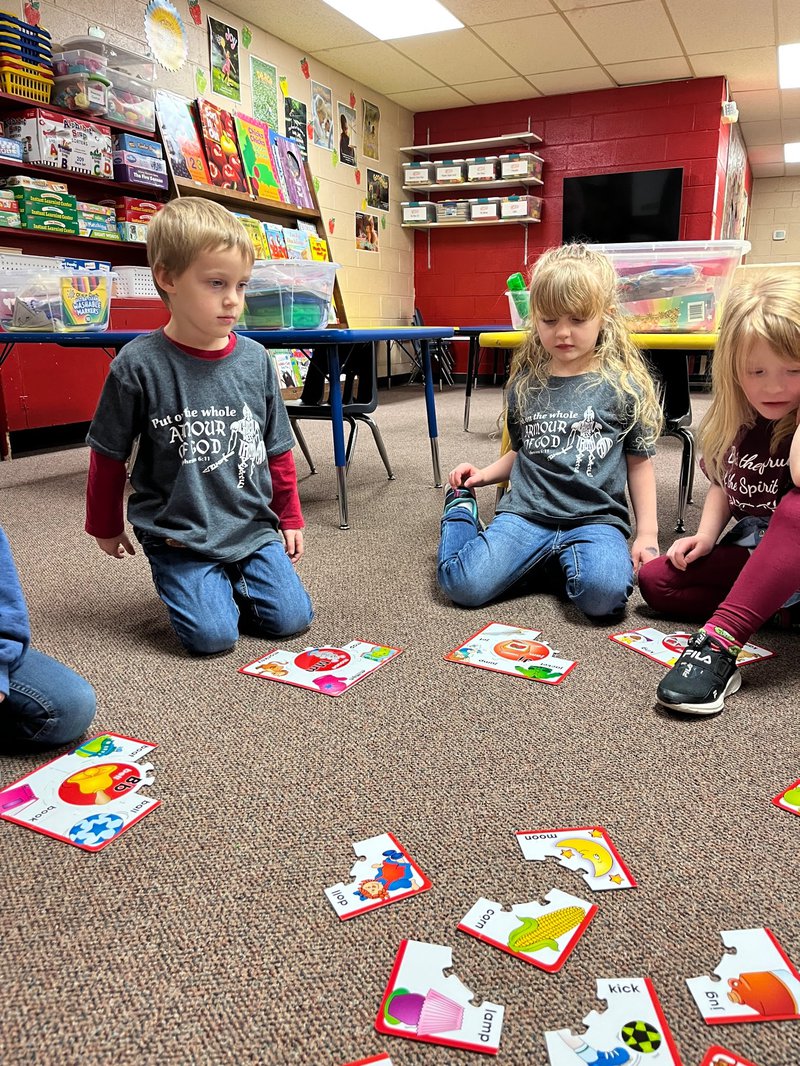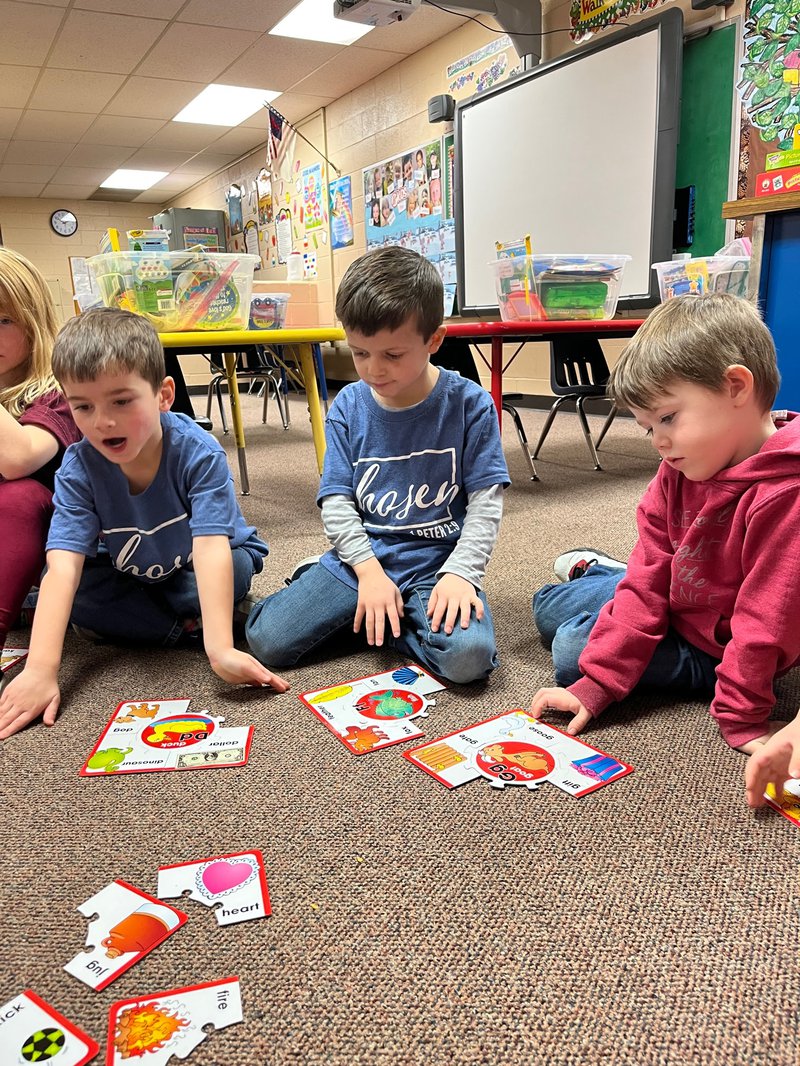 Reading Month Book Fair:
Reading Month is just around the corner!  We'll kick-off the month with our annual Usborne Books & More Book Fair!  We are excited to once again offer an in-person Book Fair event to our families.  Mark your calendar and stay tuned for more information!
Re-Enrollment:
Re-enrollment for the 2022-23 school year has begun. We encourage you to take advantage of our new FACTS Online Enrollment option by completing your re-enrollment packet through your FACTS Family Portal.  All families received emails that included information regarding re-enrollment.  Please contact Amy Link in the elementary office with any questions. Thank you.
EdChoice Scholarship Renewal: 
It's time to renew your child's EdChoice scholarship.  The following forms were emailed to you on Wednesday, 2/9/22:  EdChoice Fact Sheet, EdChoice Renewal Form, and Scholarship Income Verification Form.     
Due to ODE requirements, you must complete and submit your child's re-enrollment packet before the scholarship can be renewed.  Online re-enrollment packets were emailed to everyone on Tuesday, 2/8/22. Hard copies of the re-enrollment packet are available in both offices.  Scholarship renewal forms are available in the elementary office. All EdChoice families must fill out the renewal form and return it to the elementary office. 
If your child receives the Expansion (income-based) scholarship, income verification is also required.  ODE strongly recommends submitting this information online via your OH-ID account.  This speeds up the approval process immensely!  TCS CANNOT submit these documents for you.  
If your child receives the Traditional (designated school) scholarship, the income verification is optional but highly recommended.  It does not determine eligibility.  It will determine low income status which is used to assign priority levels and whether or not you are responsible for any tuition not covered by the scholarship.  
In addition to the renewal form, you must also submit a current utility bill (less than 3 months old) for proof of address.  All documents must be submitted to the elementary office by March 31, 2022.  This will greatly increase the likelihood that we have an award decision before school starts.  
--If you have questions, please contact Amy Link at 419-227-1644, ext. 1 or linka@tcspioneers.org.  The office is open Monday - Friday, 7:30 - 3:30.
Athletic Events:
Fri. Feb. 11         Varsity/JV Boys' Basketball at Elgin @ 6:00 P.M.
Sat. Feb. 12       Varsity/JV Boys' Basketball at HOME vs. Ada @ 5:00 P.M. (Senior Night!)
Sat. Feb. 12       Junior High Boys NWCC Championship game at USV @ 1:00 P.M.
Tues. Feb. 15     Varsity/JV Boys' Basketball at HOME vs. Ridgedale @ 5:30 P.M.
Tues. Feb. 15.   H.S. Bowling (HOME) vs. Shawnee 6:00 P.M. 
Thurs. Feb. 17   H.S. GIRLS Bowling at OHSAA Sectionals @ Community Lanes 10am
Fri. Feb. 18         H.S. BOYS Bowling at OHSAA Sectionals @ Community Lanes 10am
Fri. Feb. 18         Varsity/JV Boys' Basketball at North Baltimore @ 6:00 P.M.
Important Dates:
Feb. 16     Witness Wear Day
Feb. 18     3rd Quarter Midterm
Feb. 21     No School - Presidents Day
Feb. 22     3rd Quarter Midterms Sent Home
Feb. 28     OHSAA JH/HS Mandatory Spring Sports Meeting @ 6:00 P.M.
Feb. 28     Elementary Reading Month Kickoff
Lunch Menu for the Week of February 14
Monday          Cheeseburger, Fries, Fruit
Tuesday         Pizza  $1.00/Slice
Wednesday   Potato soup, Hot Ham & Cheese Sandwich, Fruit
Thursday        Breakfast Sandwich, Hash Brown, Fruit
Friday           Pizza  $1.00/Slice