Hello TCS families. John 16:33 says, "I have said these things to you, that in me you may have peace. In the world you will have tribulation. But take heart; I have overcome the world". Here are a few news items that we wanted to share with you. Have a great weekend!
High School/Middle School Chapel:
TCS middle school and high school students were blessed by getting to attend a large group chapel in the LBT main auditorium on Wednesday. A special thanks to Pastor Robin Zaruba (LBT Worship Pastor) and Pastor Michael Green (LBT Student Pastor/Tech-Media Coordinator) for leading the worship and presenting the devotional challenge for our students.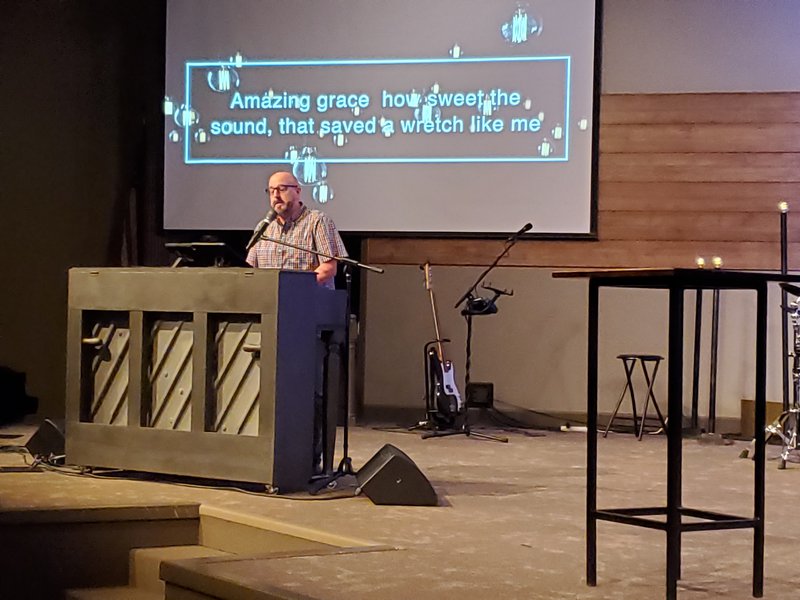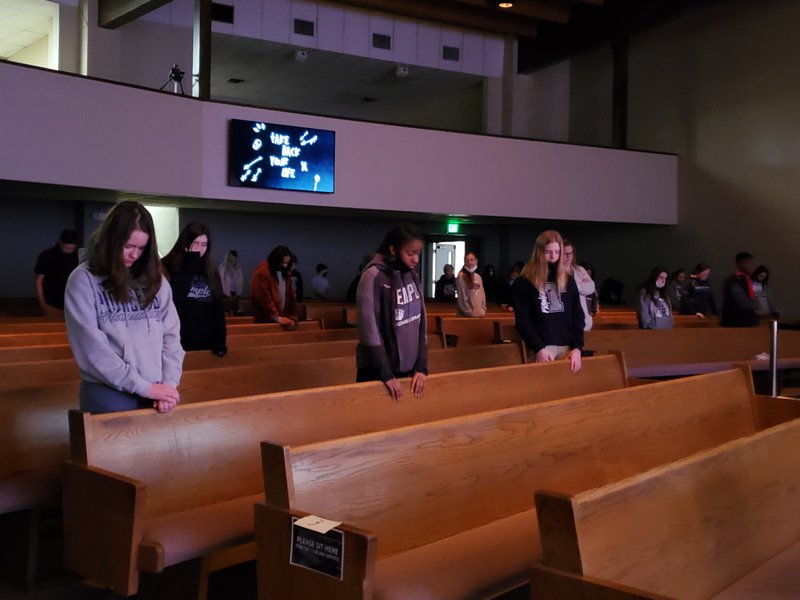 Pioneer Buck Store:
Elementary students shopped at the Pioneer Buck Store on Friday, February 5th. Students earned Pioneer Bucks throughout the 2nd quarter and were able to redeem them for fun prizes. Students picked from hot chocolate, slime, stress balls, candy, and other fun novelty items.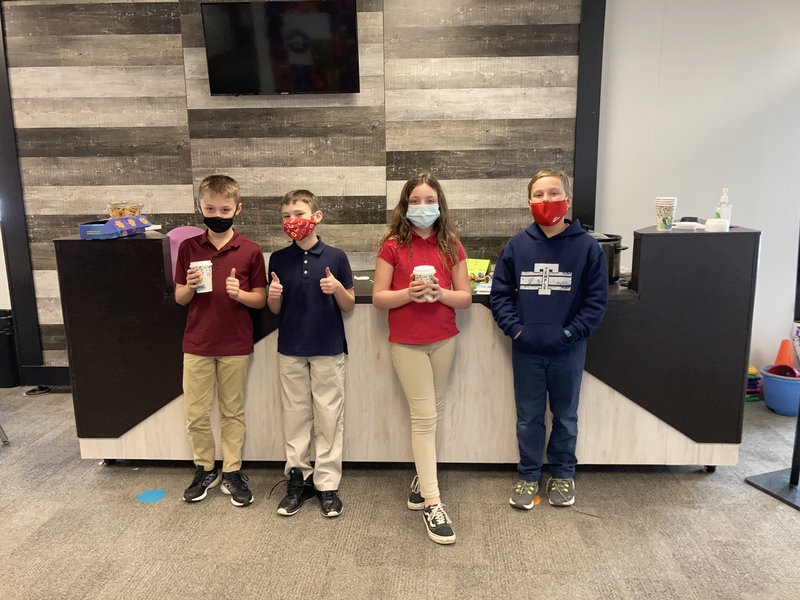 Jack Jones Trial: 
Seventh graders recently spent time studying the judicial system, which culminated in a mock trial for Jack Jones from the story "Jack and the Beanstalk."  After much preparation, students put their knowledge to use as prosecuting and defense attorneys, witnesses, judge, bailiff, court reporter, and court clerk.  The sixth graders were jurors and spectators for this trial. Jack Jones was found guilty on the charges of grand theft of a goose that laid golden eggs and a singing harp, second degree murder of the giant, and trespassing. He was found NOT guilty of breaking and entering. The students enjoyed their time in the "courtroom"!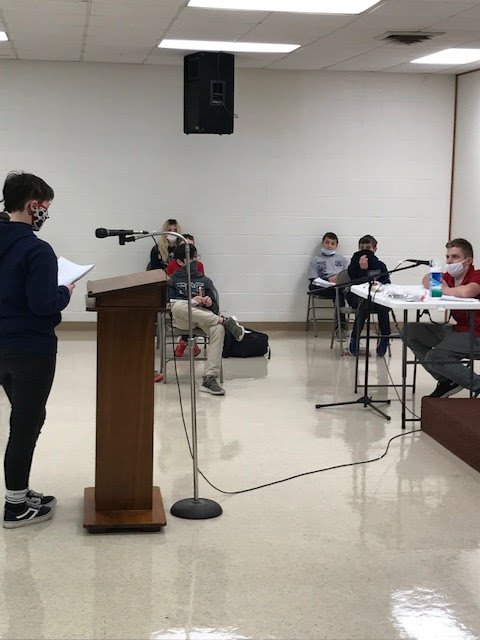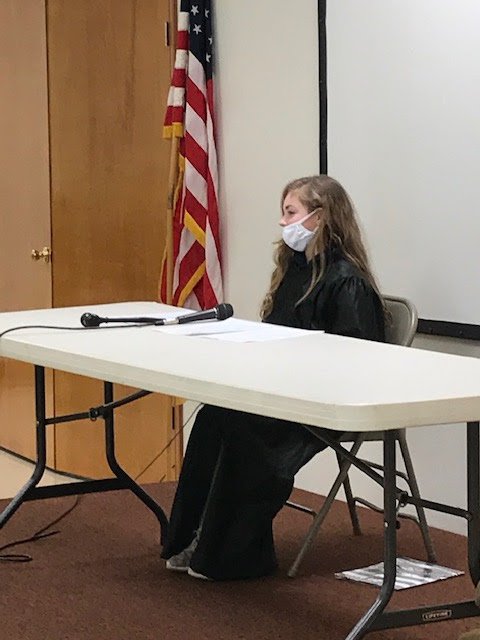 Greek Olympics:
The sixth grade recently completed a unit about ancient Greece.  They were divided into teams, designed their own flags, and competed in their version of the Olympics as city-states. The Olympics involved various competitions such as a hoop shoot, paper airplane design, jump rope, and a domino building competition, just to name a few! City-states were also awarded points based on scholastic achievements throughout the weeks that we learned about ancient Greece. In addition, the citizens enjoyed creating masks for the Greek dramas they performed.  Congratulations to the city-state of Sparta who won gold at this year's Olympics! The citizens of Sparta were J.D. Sweeney, Adam Kiser, Lily Brown, Noelle Rumschlag, Shaelynn Rager, and Ava Hollinger. Great job, class!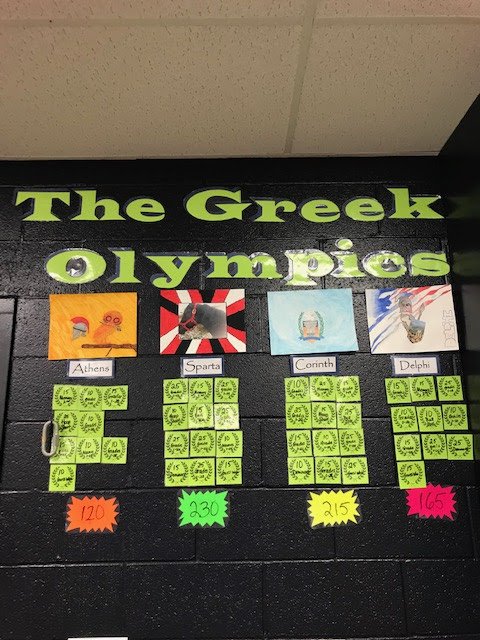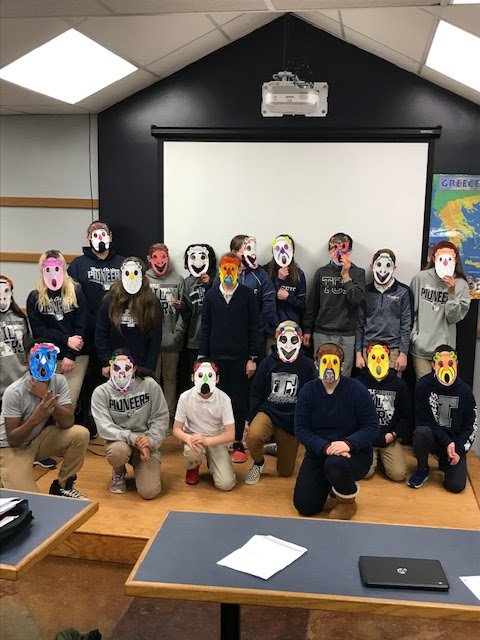 Service Activities:
During 8th period study lab, middle school students have been serving in both the elementary and MS/HS building by collecting trash and putting new trash bags into the trash cans.  A few have also done some sweeping and cleaning in the gym to prepare for basketball games. We really appreciate their hard work. Our students have been doing a fantastic job!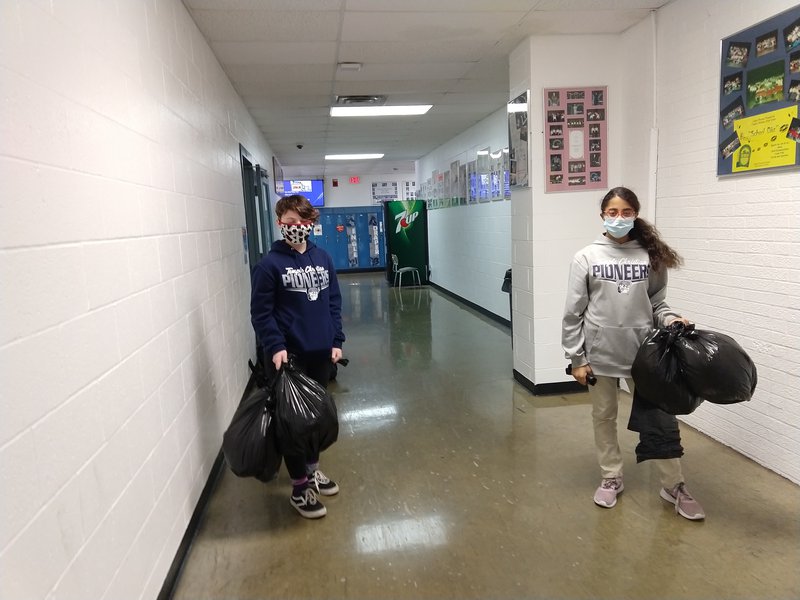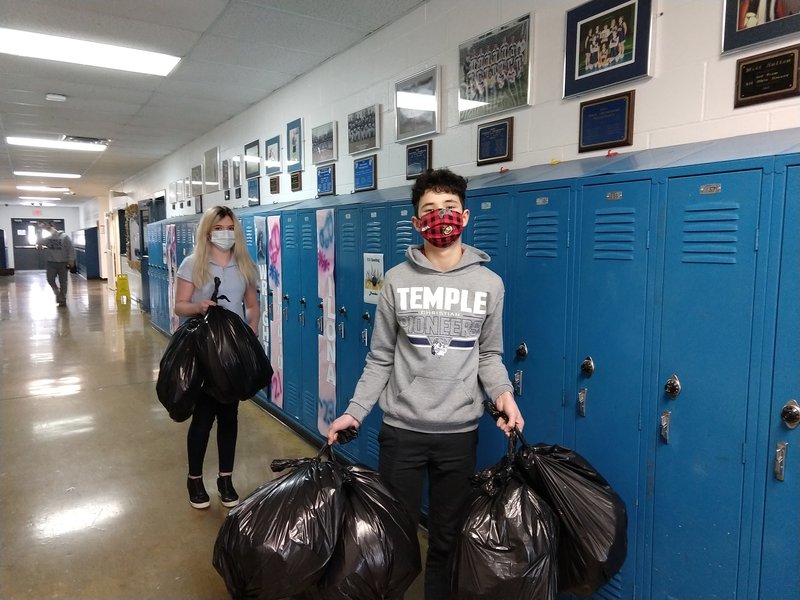 3rd Grade Activity: 
During math in third grade, students were given the opportunity to search the room looking for items that were a certain length. We have been discussing measurement, and students enjoyed using rulers to put their measuring skills to the test.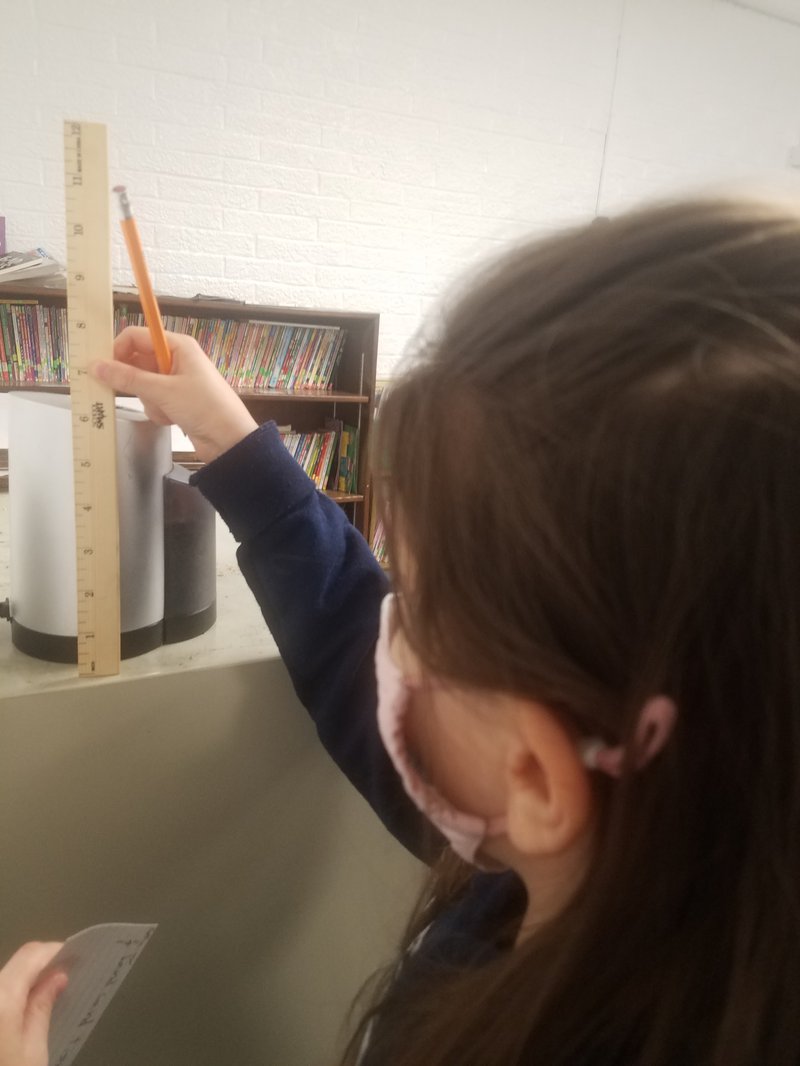 Elementary Art: 
Our lower level elementary had a great time in Art this week learning all about stencils! Students created their own stencil, then filled it with paint to make a lovely picture. Just as paint fills the stencil, Jesus' love, joy and peace also fills our hearts! It's so good to share His love with the world.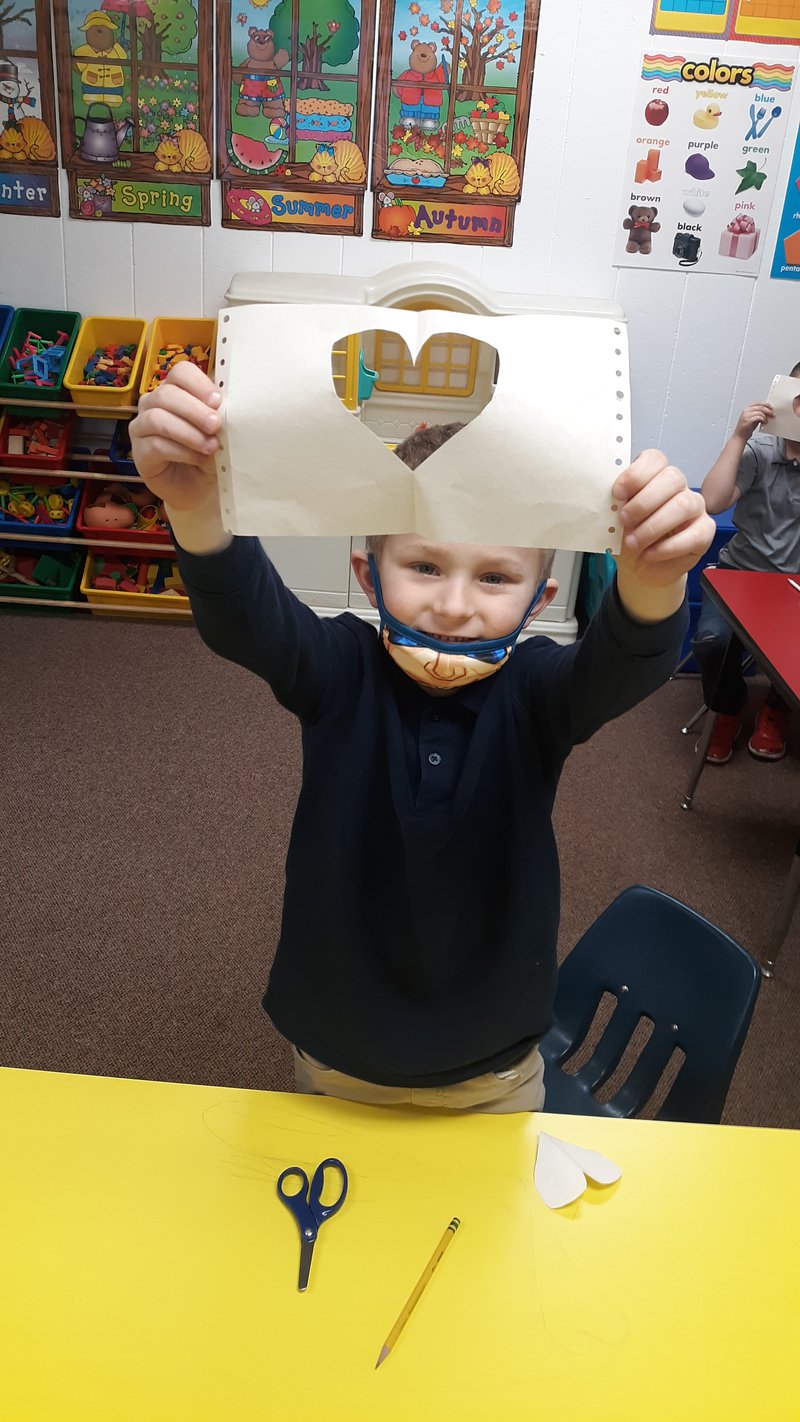 First Grade Learning Activity:
The first grade students had fun doing a Valentine science experiment using candy hearts! First, they made predictions about whether or not the candy hearts would sink or float in vinegar, water, and pop. Next, they recorded their results and illustrated their findings. Last, they enjoyed eating candy hearts! It was a "sweet" experiment!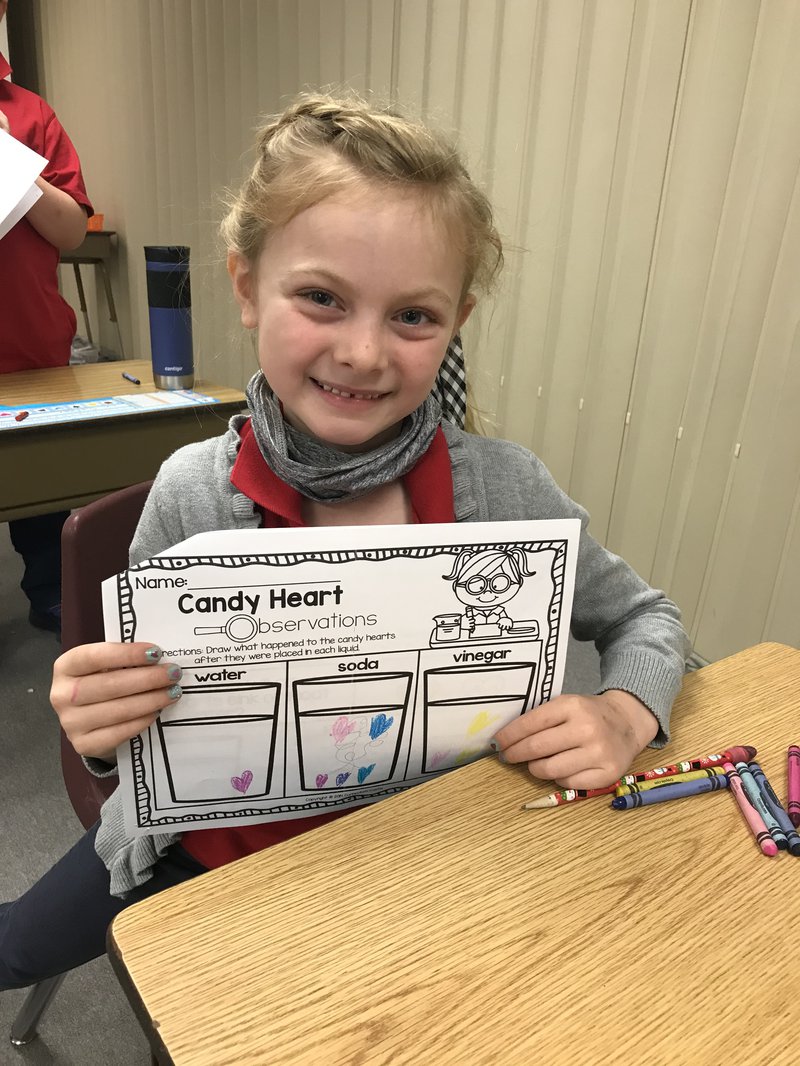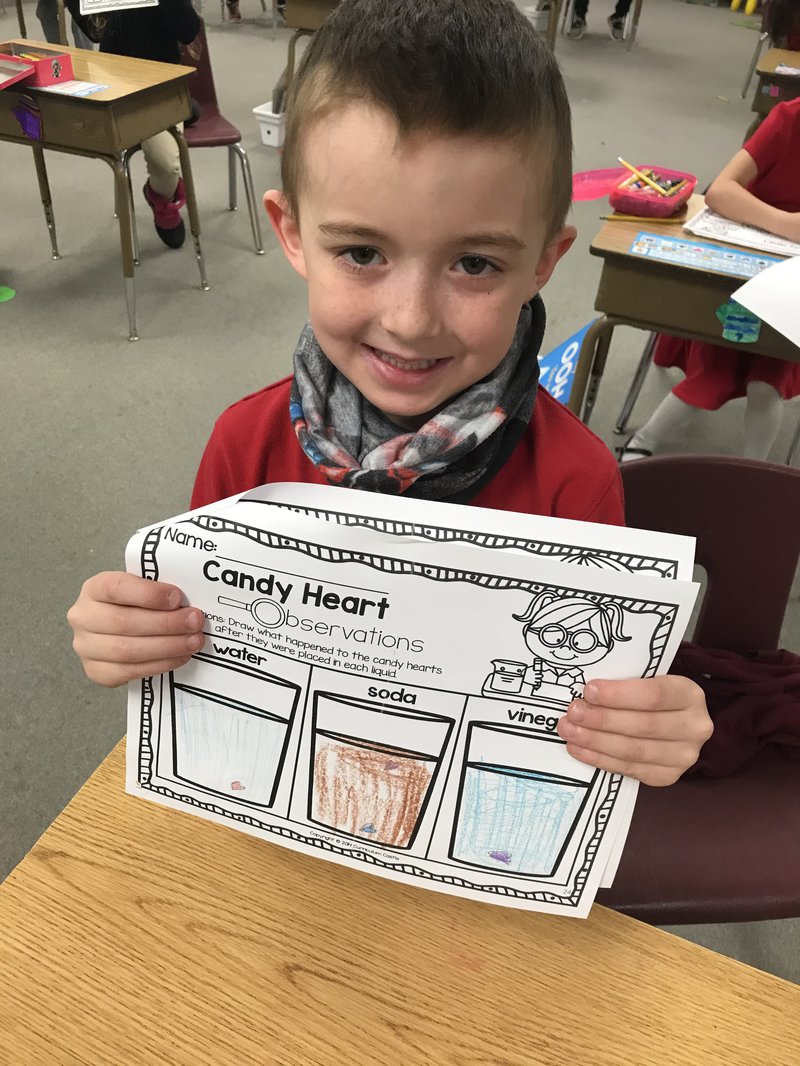 Seventh Grade Bible Lesson:
For the past couple of weeks, 7th Grade Bible has been studying the story of the Prodigal Son. The father, who loved both his sons equally, represents God's love for us, no matter whether we come to Him with a few flaws here and there or a life filled with innumerable sins. The sons represent us, and we can choose whether to remain prideful in our supposed "perfection" and look down on our neighbors who struggle more, or we can confess our sins to God (whether few or many) and make an effort to change our lives for the better.  To close our study of the Prodigal Son, the 7th Graders had the opportunity to draw it out in comic form. Here are their creative interpretations of the story!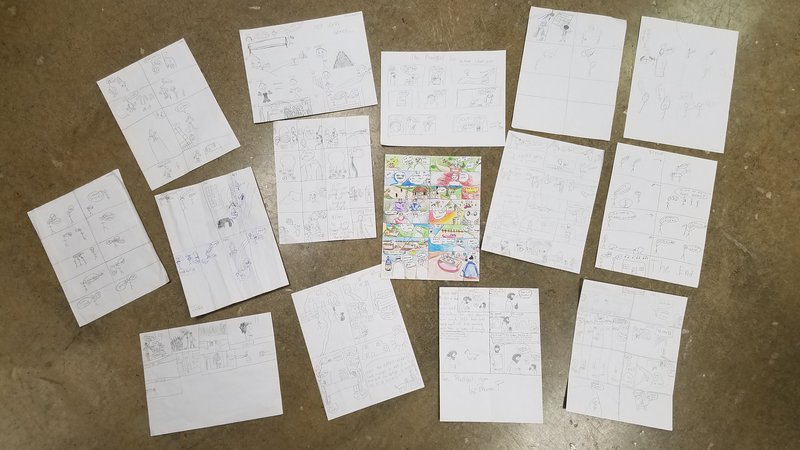 TCS Book Fair: 
TCS will be kicking off our exciting reading month with an Usborne Books & More Book Fair, March 1-5.  Elementary students will be able to view books here on campus.  Parents and grandparents may view the books online.  Purchases can be made online or by returning an order form and money to the classroom. More details will follow in the next few weeks.  The online catalog is available here:  TCS Book Fair Catalog.  Here is a video introduction to the upcoming Book Fair:
Please reach out to Lauren Roede, TCS high school math teacher and the Usborne Books consultant, at roedel@tcspioneers.org with any questions.  Let's READ!  
Yearbook Offer: 
Be an early bird! Order your 2021 TCS Yearbook by March 31st and be entered to win a free yearbook from any previous year! Order forms are available in both offices. Yearbooks can also be ordered at jostens.com. Contact Mrs. Searcy at searcys@tcspioneers.org if you have any questions.
Re-Enrollment:
All families should have received  an email with re-enrollment information. Please take note that completing your re-enrollment by March 31st will save you $50.00 per student on your re-enrollment fee. We look forward to ministering to your family in the 2021-22 school year.
EdChoice Scholarship Renewal:
Renewal for EdChoice Expansion (income-based) Scholarships begin on February 1st.  EdChoice Traditional (eligible schools) scholarship renewals will begin March 2.  Please see Amy Link in the elementary office for information about renewing your EdChoice Scholarship.
Athletic Events
Fri. Feb. 12         HS Boys Basketball at Home vs. Perry @ 6:00 P.M.
Fri. Feb. 12         HS Girls Bowling Sectional at Wapak Astro Lanes @ 5:00 P.M.
Sat. Feb. 13       HS Boys Bowling Sectional at Wapak Astro Lanes @ 10:00 A.M.
Sat. Feb. 13       HS Girls Basketball at Home vs. Marion Hawks @ 12:00 P.M.
Tues. Feb. 16   HS Girls Basketball Tournament Game at Mansfield Christian @ 6:00 P.M.
Sat. Feb. 20       HS Boys Basketball at Ada @ 2:00 P.M.
Tues. Feb. 23     HS Boys Basketball OHSAA Tournament game at St. Henry @ 7:00 P.M.
Important Dates:
Feb. 15   No School - Presidents Day
Feb. 17   Witness Wear Day
Feb. 19   Third Quarter Midterm
Feb. 23   Midterm Reports Sent Home
Lunch Menu for the Week of Feb. 15
Monday          No School - Presidents Day
Tuesday        Pizza by the Slice $1.00
Wednesday   Grilled Cheese Sandwich, Yogurt Cup, Frosted Sugar Cookie
Thursday       Mashed Potato Bowl, Fruit
Friday           Pizza by the Slice $1.00