Hello TCS families. Philippians 4:8-9 says, "Finally, brothers and sisters, whatever is true, whatever is noble, whatever is right, whatever is pure, whatever is lovely, whatever is admirable—if anything is excellent or praiseworthy—think about such things.  Whatever you have learned or received or heard from me, or seen in me—put it into practice. And the God of peace will be with you". Here are a few news items that we wanted to share with you. Have a great weekend!
Elementary Chapel: 
We had a special guest speaker at our Chapel on Friday, February 14th. Pastor and Deputy Damian Tibbs shared about God's great love for us. He shared about the importance of loving others the way He loves us. We appreciate Pastor Tibbs for taking time out of his busy schedule to minister to our elementary children.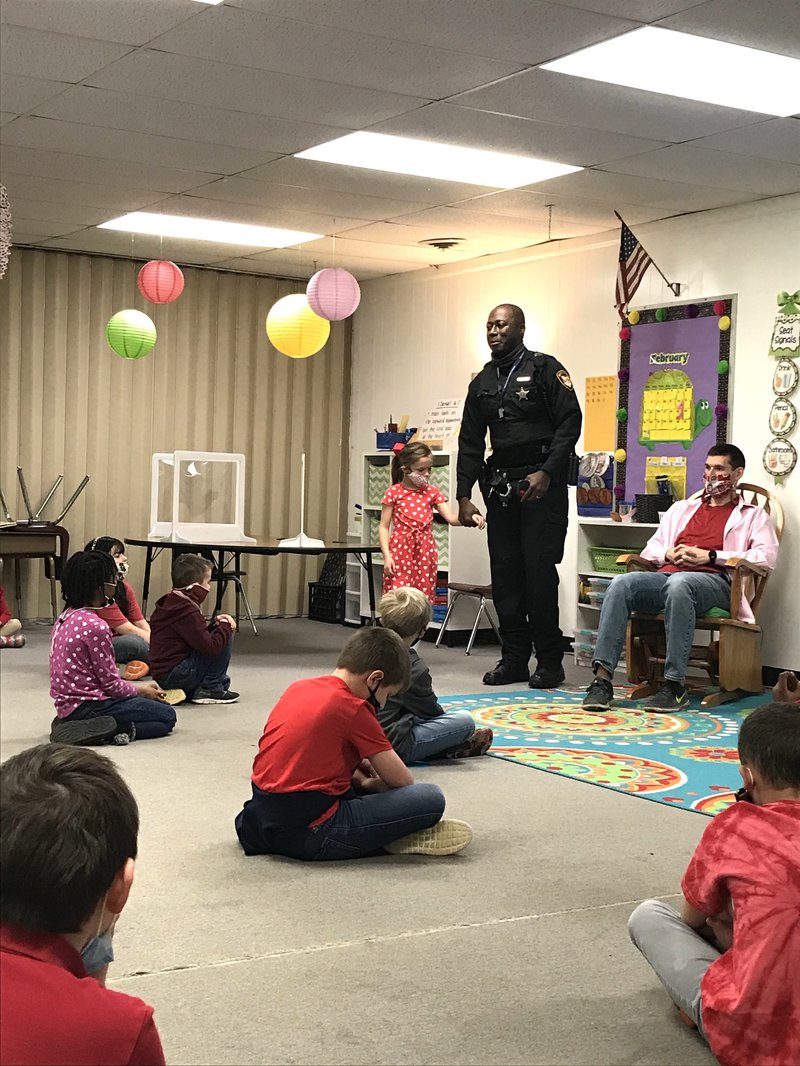 Fifth Grade Valentines Activity: 
The fifth grade had a great time celebrating Valentine's Day last Friday. Before we started our festivities, each student created and sent a virtual Valentine's Day card to a child at St. Jude's Research Hospital.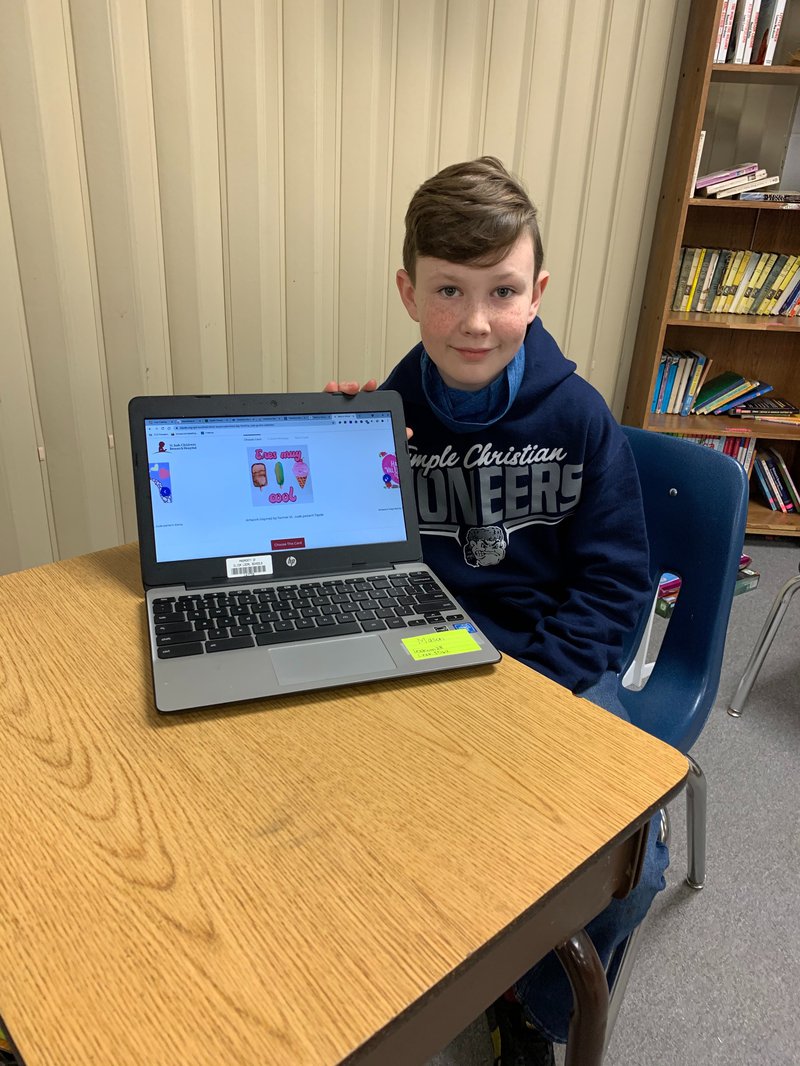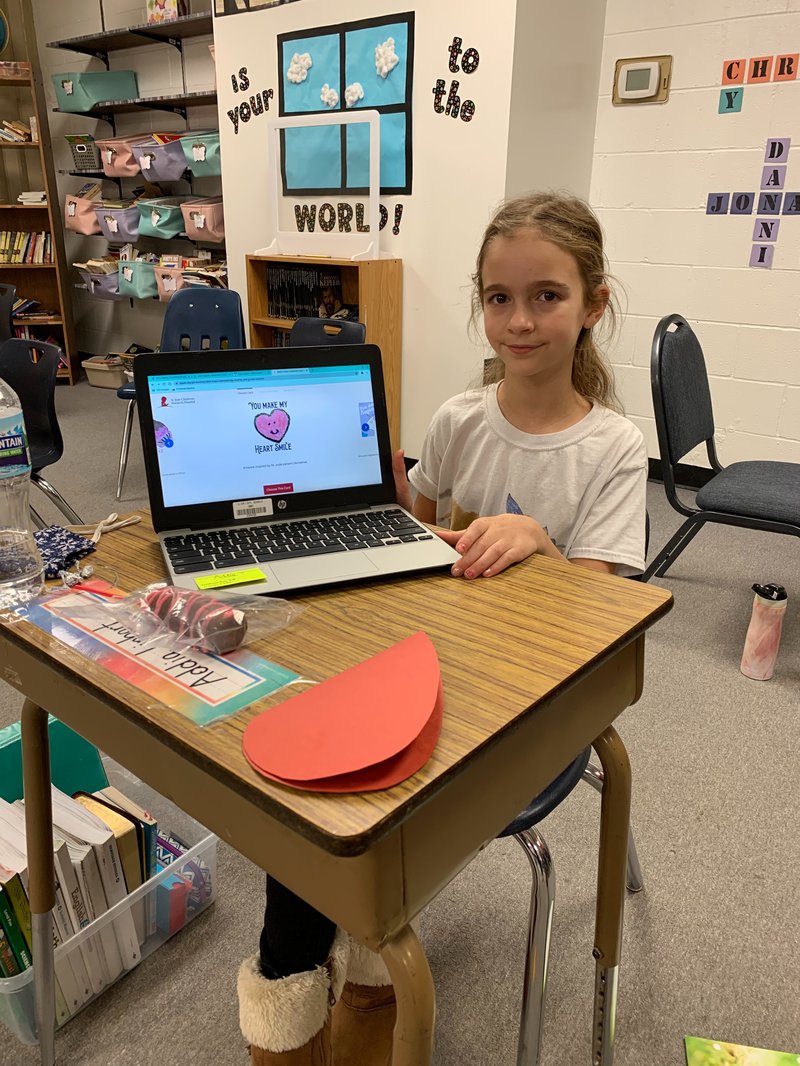 Fifth Grade Honor:
The fifth grade class has been selected as this week's "Class of the Week" winner through Hometown Stations in Lima. The students will receive a Fat Jacks pizza party for being selected!  Congratulations 5th Graders!!
Allen Lima Youth Leadership Program:
Temple Christian juniors Elizabeth Clevenger and Emma White have been participating in the Allen Lima Youth Leadership Program this year. Their picture appeared in the Lima News recently. They were participating in a diversity and leadership class.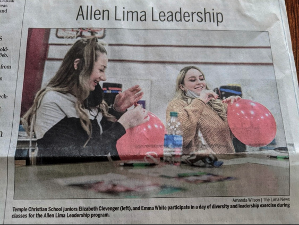 Reading Month Project Donations:
The elementary is seeking donations of toilet paper rolls and Gatorade/Powerade bottles for their reading month craft projects. Thank you.
7th - 12th Grade Track & Field Registration:
Registration is currently open for 7th - 12th grade students interested in Spring Track and Field. Forms are available in the HS office and are due back to the office by March 1st.
K5-6th Grade Spring Sports: 
Mr. McPheron emailed a spring sports interest survey to all parents last week. If your child has an interest in participating,  please complete the survey this weekend so we can begin planning our spring sports season. Email the Athletic Director, Mr. McPheron at mcpheronbj@tcspioneers.org if you have questions.
TCS Book Fair: 
TCS will be kicking off our exciting reading month with an Usborne Books & More Book Fair, March 1-5.   Elementary students will be able to view books here on campus.  Parents and grandparents may view the books online.   Purchases can be made online or by returning an order form and money to the classroom. More details will follow in the next few weeks. The online catalog is available here:  TCS Book Fair Catalog. Here is a video introduction to the upcoming Book Fair:  
Please reach out to Lauren Roede, a TCS high school math teacher and Usborne Books consultant (roedel@tcspioneers.org) with any questions.   Let's READ!
Yearbook Offer: 
Be an early bird! Order your 2021 TCS Yearbook by March 31st and be entered to win a free yearbook from any previous year! Order forms are available in both offices. Yearbooks can also be ordered at jostens.com. Contact Mrs. Searcy at searcys@tcspioneers.org if you have any questions.
Re-Enrollment:
All families should have received  an email with re-enrollment information. Please take note that completing your re-enrollment by March 31st will save you $50.00 per student on your re-enrollment fee.  We look forward to ministering to your family in the 2021-22 school year.
EdChoice Scholarship Renewal: 
Renewal for EdChoice Expansion (income-based) Scholarships began on February 1st.  EdChoice Traditional (eligible schools) scholarship renewals will begin March 2.  Please see Amy Link in the elementary office for information about renewing your EdChoice Scholarship.
Athletic Events
Sat. Feb. 20      HS Boys Basketball at Ada @ 2:00 P.M.  (2 Quarter J.V. Game)
Mon. Feb. 22    HS Girls Basketball Tournament Game at Mansfield Christian @ 6:00 P.M.
Tues. Feb. 23    HS Boys Basketball OHSAA Tournament game at St. Henry @ 7:00 P.M.
Important Dates:
Feb. 19   Third Quarter Midterm
Feb. 23   Midterm Reports Sent Home
Mar. 1     MS/HS Spring Track and Field Virtual OHSAA Meeting
Mar. 1     Elementary Reading Month Kick-Off
Mar. 3     Witness Wear
Mar. 1-5   Elementary Book Fair  (Students view books on campus; Parents view books online)
Lunch Menu for the Week of Feb. 22
Monday          French Toast Sticks, Sausage, Fruit
Tuesday         Pizza by the Slice $1.00
Wednesday    Chicken Strips, Hot Pretzel, Veggies w/Ranch
Thursday       Ham, Scalloped Potatoes, Fruit
 Friday           Pizza by the Slice $1.00