Hello TCS families. Here are a few news items that we wanted to share with you. Have a great weekend!
Hebrews 11:6   "And without faith it is impossible to please God, because anyone who comes to Him must believe that He exists and that He rewards those who earnestly seek Him."
Re-Enrollment:  
Re-enrollment for the 2022-23 school year is scheduled to begin next week.  We encourage you to take advantage of our new FACTS Online Enrollment option by completing your re-enrollment packet through your FACTS Family Portal.  Please watch your email for a re-enrollment invitation that is specific to your family.  You will be required to complete a separate packet for each returning student in your family.  However, household information will automatically populate to save you some time.  Re-enrollment fees for each student will need to be paid separately.  There will be a processing fee for all credit card and debit card transactions.  
Scholarships:
Students must submit re-enrollment forms and pay the re-enrollment fee before renewing a scholarship.  EdChoice Expansion scholarship (income based) and EdChoice Traditional scholarship (eligible schools) renewals and new applications for the 2022-2023 school year are now open. All required documents should be submitted to the TCS Elementary Office by March 31, 2022.  Renewal forms and income verification forms will be emailed to all EdChoice families next week.  Hard copies will be available in the elementary office.  If you have questions about your renewal, please contact Amy Link in the elementary office.  The office is open Monday - Friday, 7:30 - 3:30.  You can also call 419-227-1644, ext. 1 or send an email to linka@tcspioneers.org. 
Reading Month Book Fair:
Reading Month is just around the corner!  We'll kick-off the month with our annual Usborne Books & More Book Fair!  We are excited to once again offer an in-person Book Fair event to our families.  Mark your calendar and stay tuned for more information!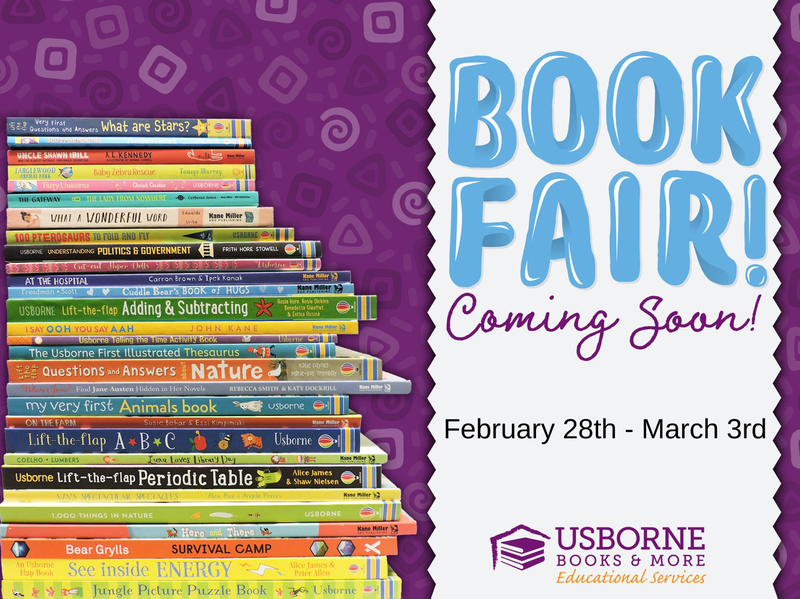 Jack Jones Trial:
Seventh graders recently spent time studying the judicial system, which culminated in a mock trial for Jack Jones from the story "Jack and the Beanstalk."  After much preparation, students put their knowledge to use as prosecuting and defense attorneys, witnesses, judge, bailiff, and court reporter. The sixth graders were jurors and spectators for this trial. Jack Jones was found guilty on the charges of grand theft of gold coins, a hen that lays golden eggs, and a singing harp; burglary; and kidnapping of a singing harp. Jack Jones was found NOT guilty of second degree murder and trespassing. The students enjoyed their time in the "courtroom," and it appears that we have some future attorneys among us at TCS. Great work, students!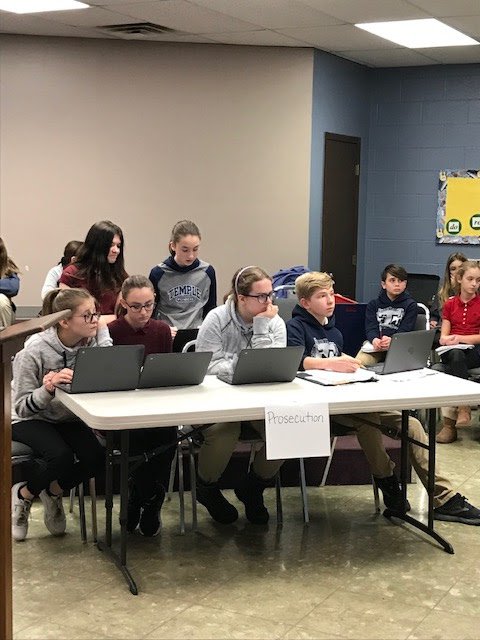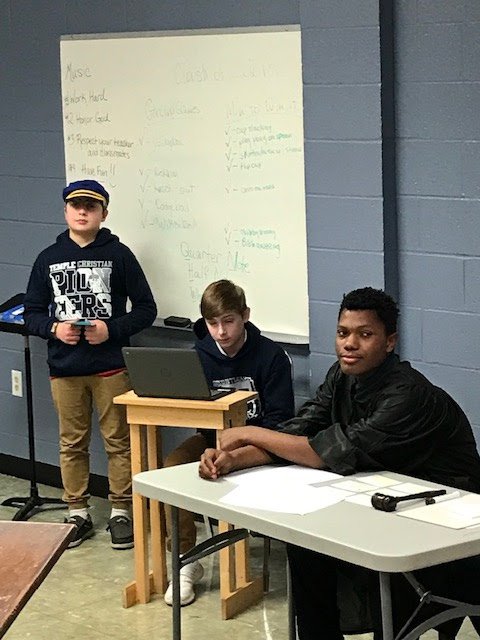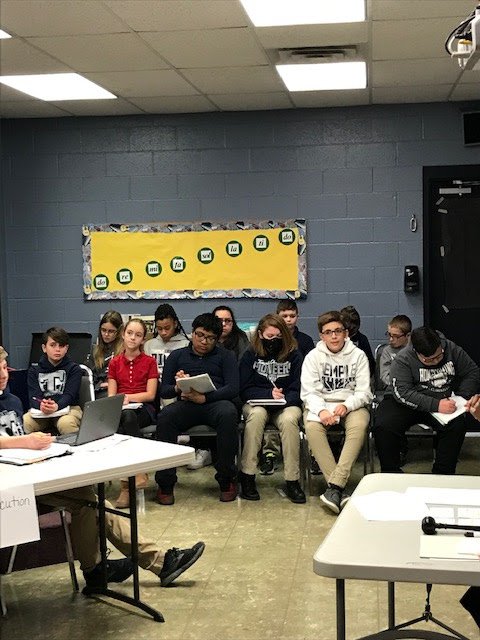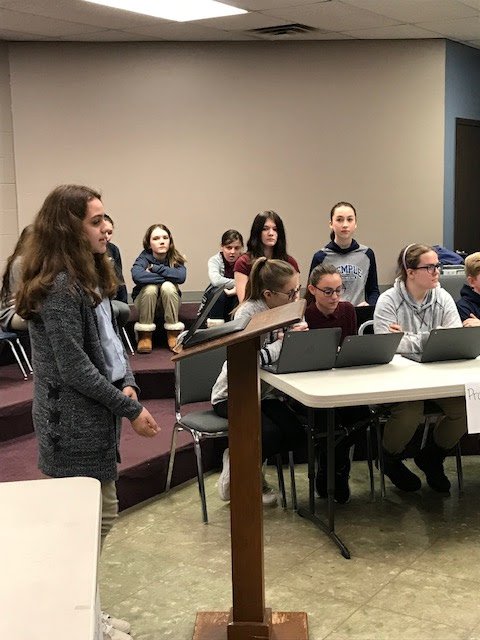 Elementary Art:
Our elementary students have had a fun time working with clay in Art class this week. We are being imaginative as we learn about kindness, God's great creativity and color mixing!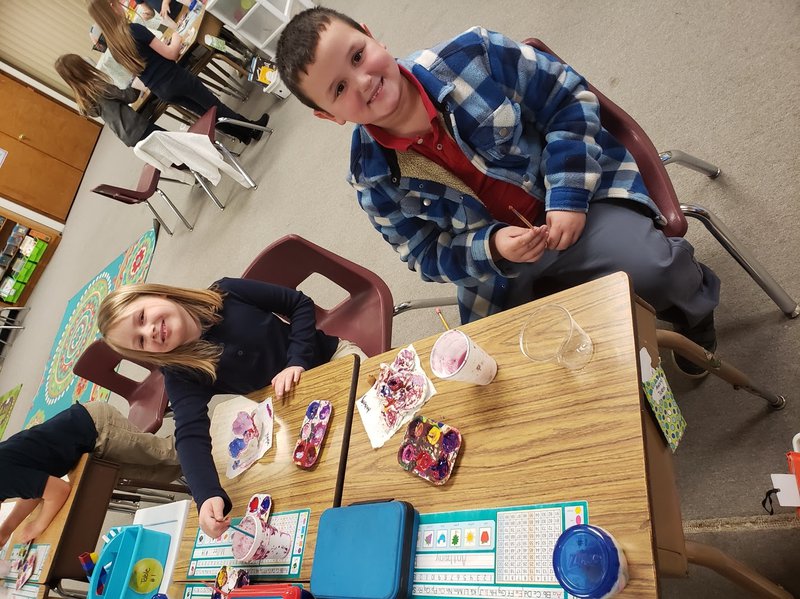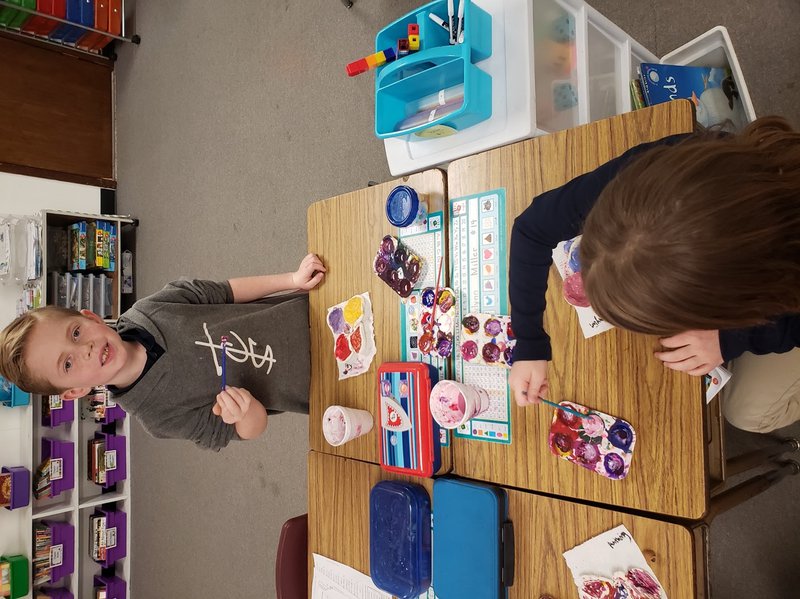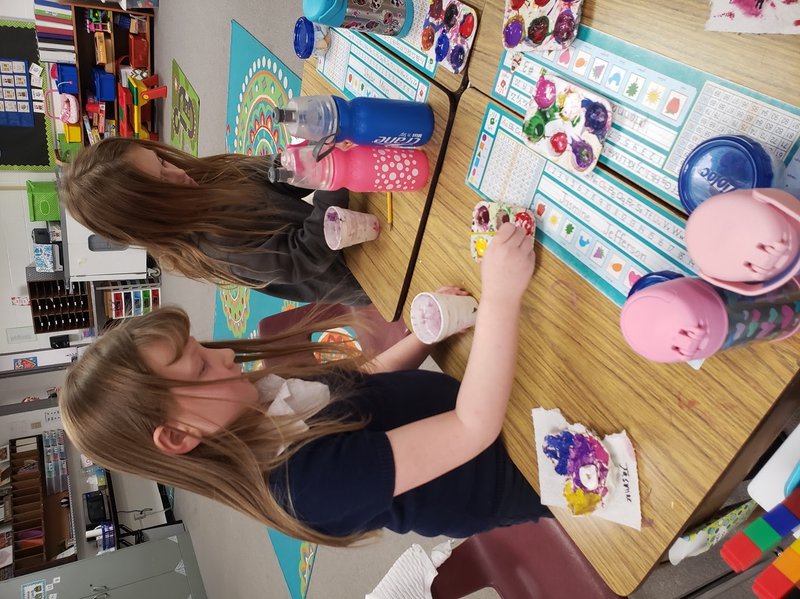 Athletic Events:
Sat. Feb. 5         H.S. Boys ONLY Bowling at Commodore Invite @ 20 Century Lanes @ 9:00 A.M.
Sat. Feb. 5         Varsity/J.V. Boys' Basketball at McComb @ 6:00 P.M.
Mon. Feb. 7       J.H. Girls Basketball *NWCC Quarterfinal* (HOME) vs. Ridgemont @ 5:30 P.M.
Tues. Feb. 8     H.S. Bowling vs. Fairbanks @ Marysville (Plain City Lanes) @ 4:00 P.M.
Thurs. Feb. 10   J.H. Boys Basketball *NWCC Semifinal* (HOME) vs. Ridgedale or Hardin Northern (Tournament) 5:30 P.M.
Fri. Feb. 11         Varsity/JV Boys' Basketball @ Elgin @ 6:00 P.M.
Sat. Feb. 12       Varsity/JV Boys' Basketball (HOME) vs. Ada @ 5:00 P.M.  *Senior Night*
Sat. Feb. 12       NWCC J.H. Tournament Finals @ USV - TBD
Important Dates:
Feb. 8-11 TCS Re-enrollment Begins
Feb. 9       Witness Wear Day
Feb. 10     Early Dismissal 1:00 P.M. -  Faculty Development
Feb. 11     Elementary Grandparents at Lunch (Rescheduled Date)
Feb. 16     Witness Wear Day
Feb. 18     3rd Quarter Midterm
Feb. 21     No School - Presidents Day
Feb. 22     3rd Quarter Midterms sent home
Lunch Menu for the Week of February 7
Monday          Sloppy Joe, Tater Tots, Fruit
Tuesday         Pizza  $1.00/Slice
Wednesday   Grilled Cheese, Tomato Soup, Yogurt Tubes
Thursday        Mashed potato bowl, Fruit
Friday           Pizza  $1.00/Slice