Hello TCS families. With Easter just a couple of weeks away, I thought it would be a good time to reflect on the Gospel message. I Corinthians 15:3-7 says, " For what I received I passed on to you as of first importance: that Christ died for our sins according to the Scriptures, that He was buried, that He was raised on the third day according to the Scriptures, and that He appeared to Cephas, and then to the Twelve. After that, He appeared to more than five hundred of the brothers and sisters at the same time, most of whom are still living, though some have fallen asleep. Then He appeared to James, then to all the apostles".  I am so thankful for the death and resurrection of the Lord Jesus Christ and His provision for our salvation.  Have a great weekend. Here are a few news items we wanted to share with you.
Re-Enrollment:
Please take the time to complete your re-enrollment forms that were emailed out in early February. Take note that completing your re-enrollment by March 31st will save you $50.00 per student on your re-enrollment fee.
Anatomy and Physiology Project: 
Anatomy and Physiology students completed a visual perception lab during their study of the senses. They worked through four hands-on stations experimenting with different aspects of the sense of vision: depth perception, peripheral vision, eye-hand coordination with a mirror, and afterimages.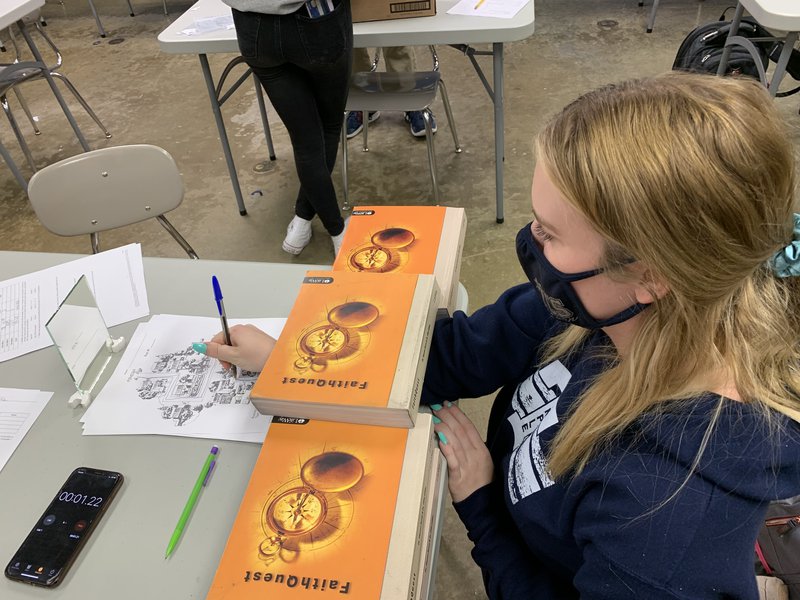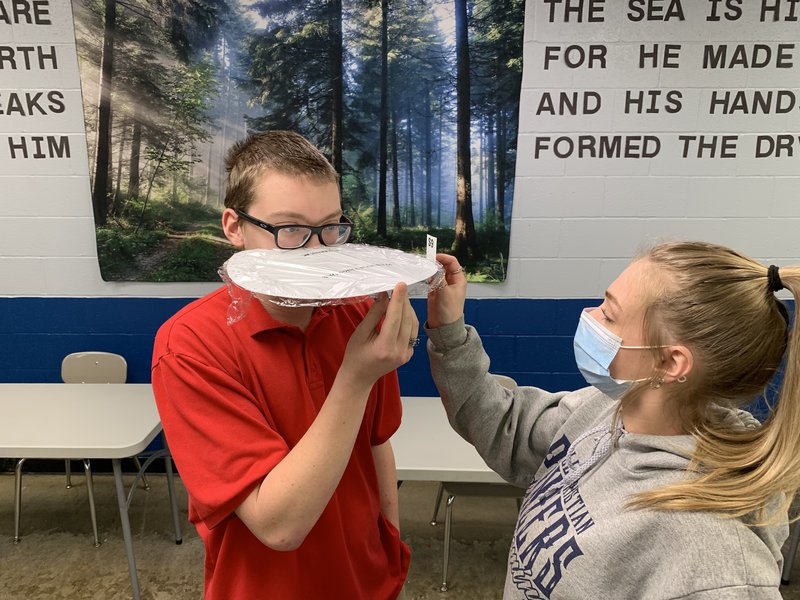 Adobe Illustrator Class Design Activity:
The Adobe Illustrator class put to practical use skills learned to design and cut negative space. Crosses were needed for a Sunday school art project and students took knowledge they had just learned to design the crosses. We then were able to cut the designs on a Cricut cutting machine. Darrick Clay was the first to accomplish this task. As a result, he earned a prize provided by the class teacher, Mrs. Finch.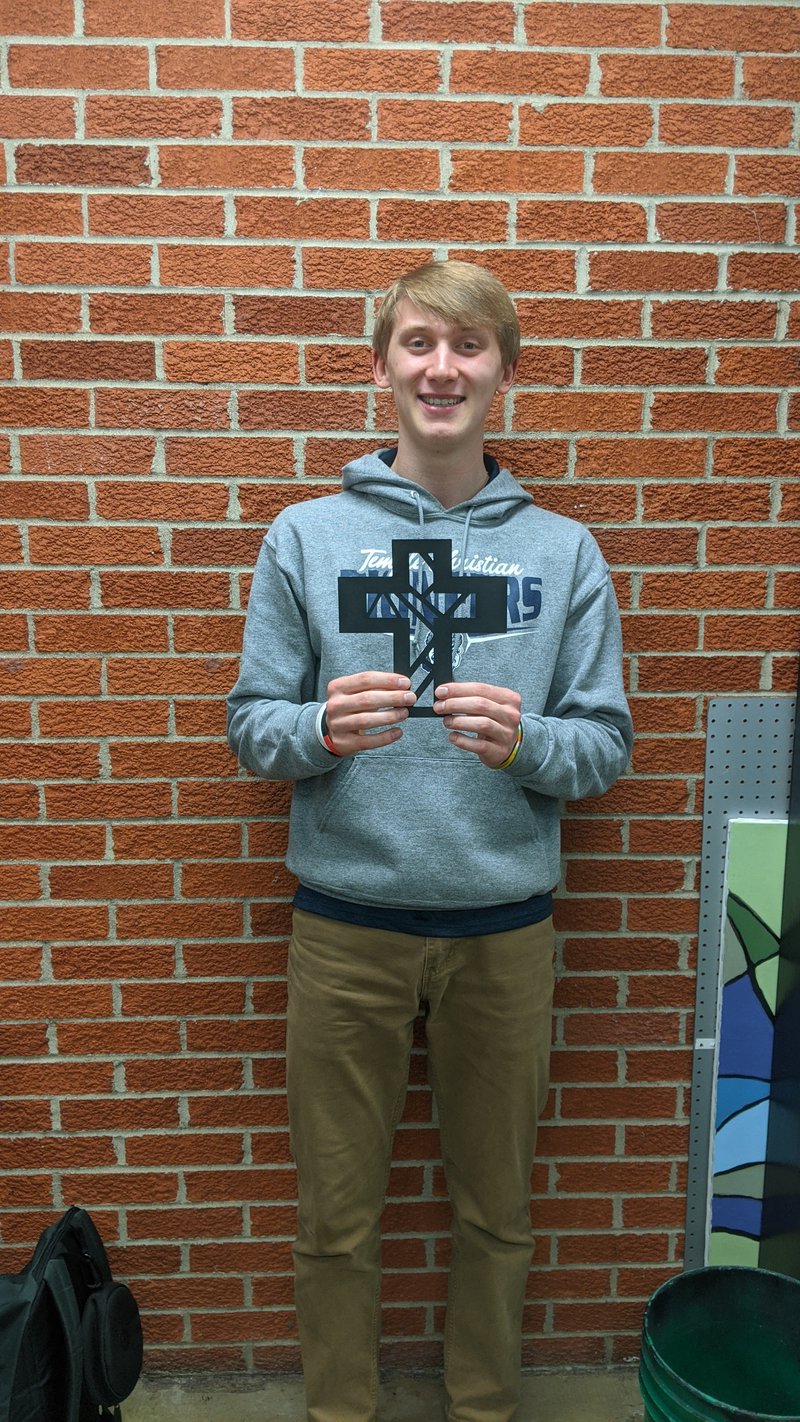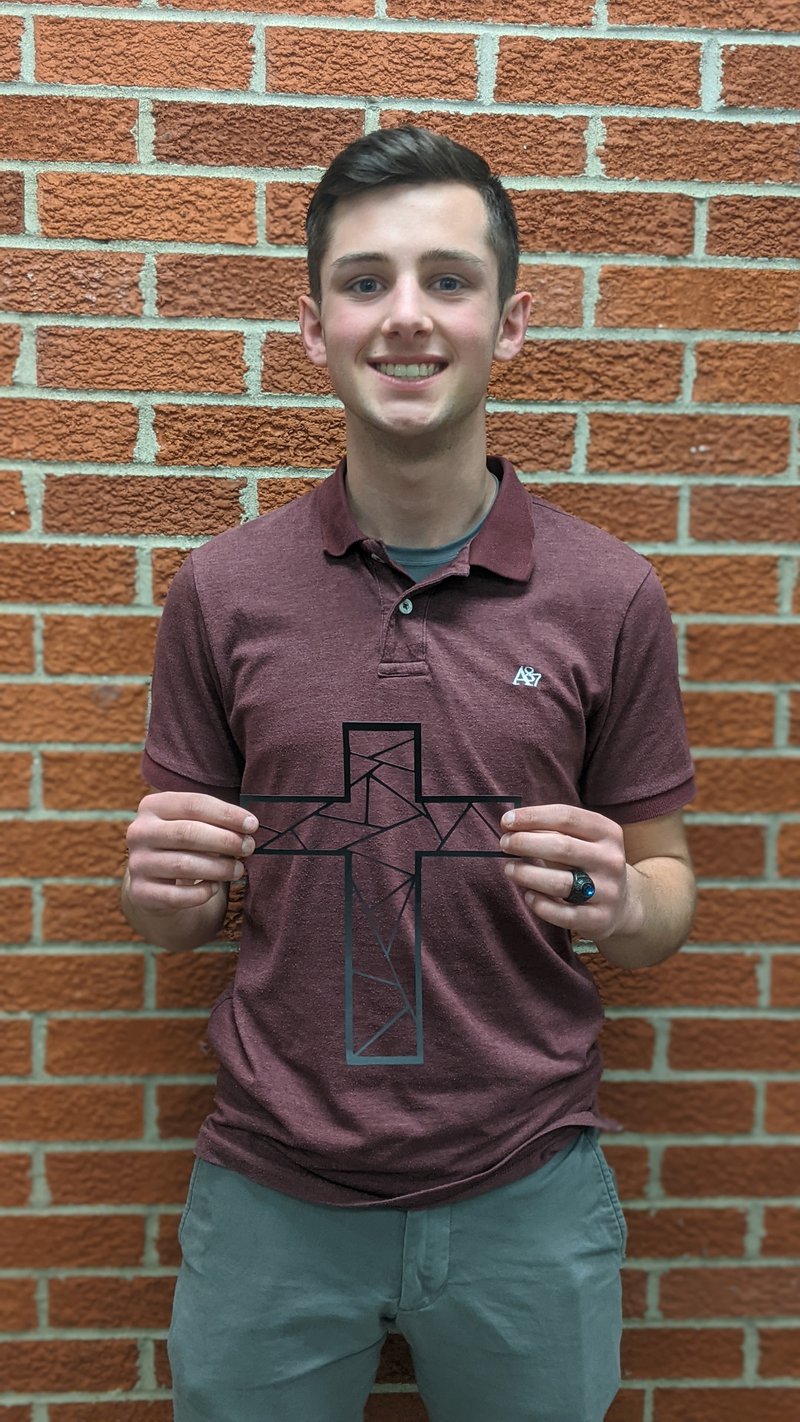 8th Grade Bible Class Service Project:
The 8th grade Bible Class has been working on a service project for the residents at Lima Manor by coloring Easter pictures for their personal bulletin boards. Just in time for Easter, the students hope to have 75 pictures colored so that each resident receives a picture.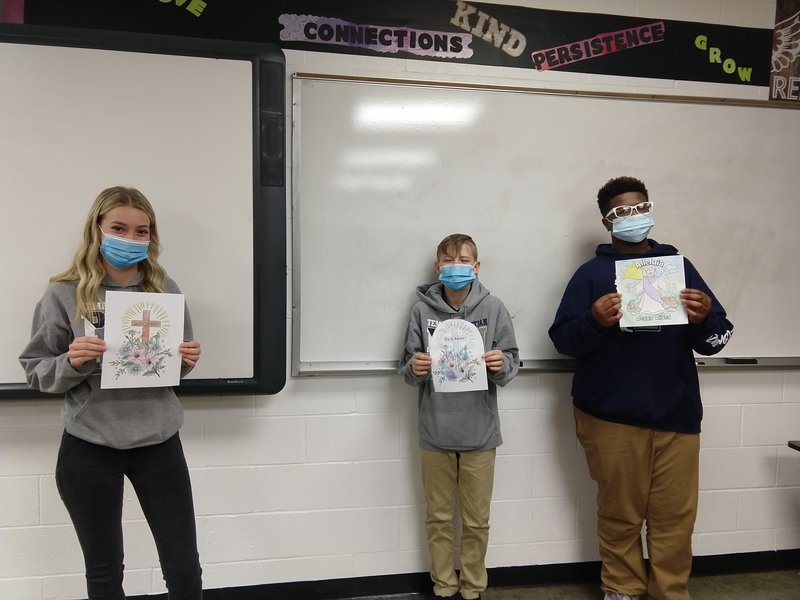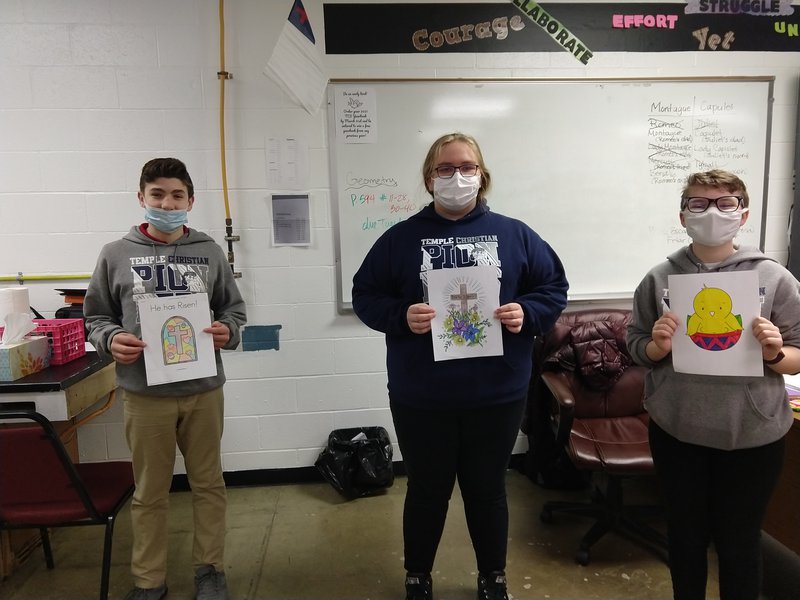 7th Grade Reading Drama: 
The 7th grade reading class recorded a radio drama this week titled "Charlie Coulson: Drummer Boy." The story details the true account of a drummer boy who served in the Battle of Gettysburg and had a lasting spiritual impact on the doctor who cared for his battle injuries. In addition to the actors, students had to find sound effects and music to add to this production. The students did a great job! You can access their radio drama: HERE
K5 Reading Buddies Activity: 
Mrs. Wierwille's K5 class participated in the reading buddy activity this week. The students took their books up to the fourth grade classroom, and the fourth graders read the books to the K5 students. The students loved it!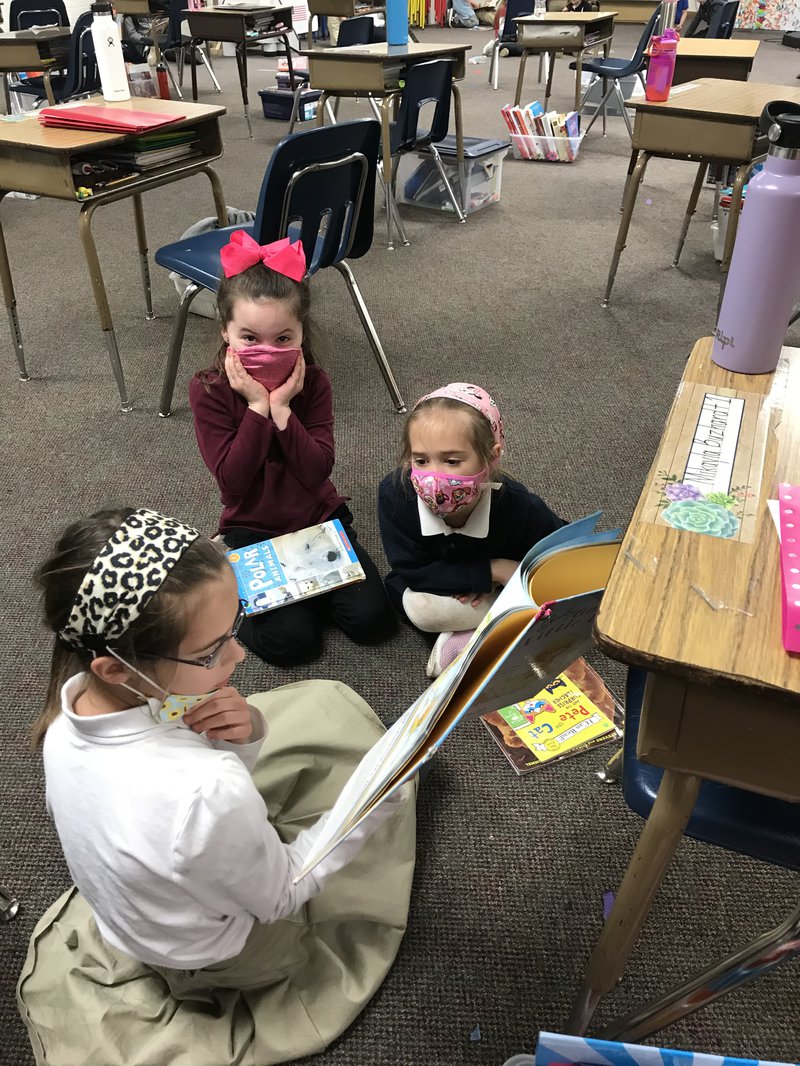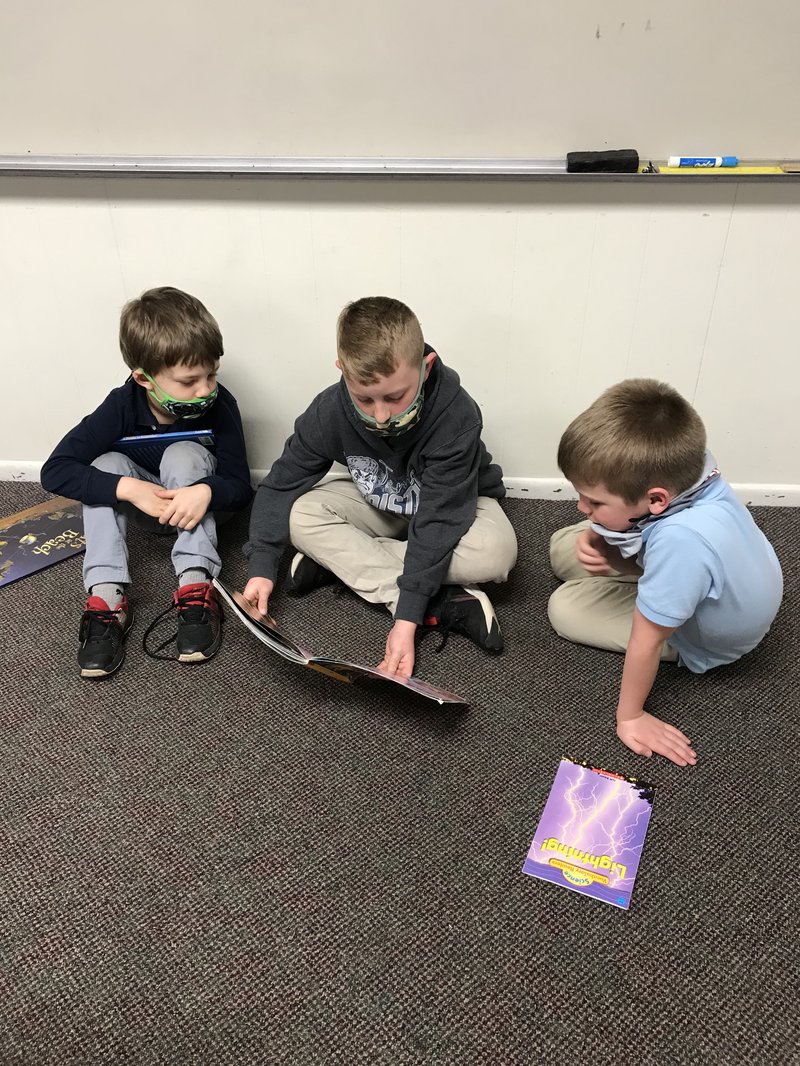 K5 Science Project: 
Miss Kirkendall's K5 class has been learning about dinosaurs and fossils this week. They read many dinosaur books, made their own dinosaur fossils, and built their own Tyrannosaurus Rex!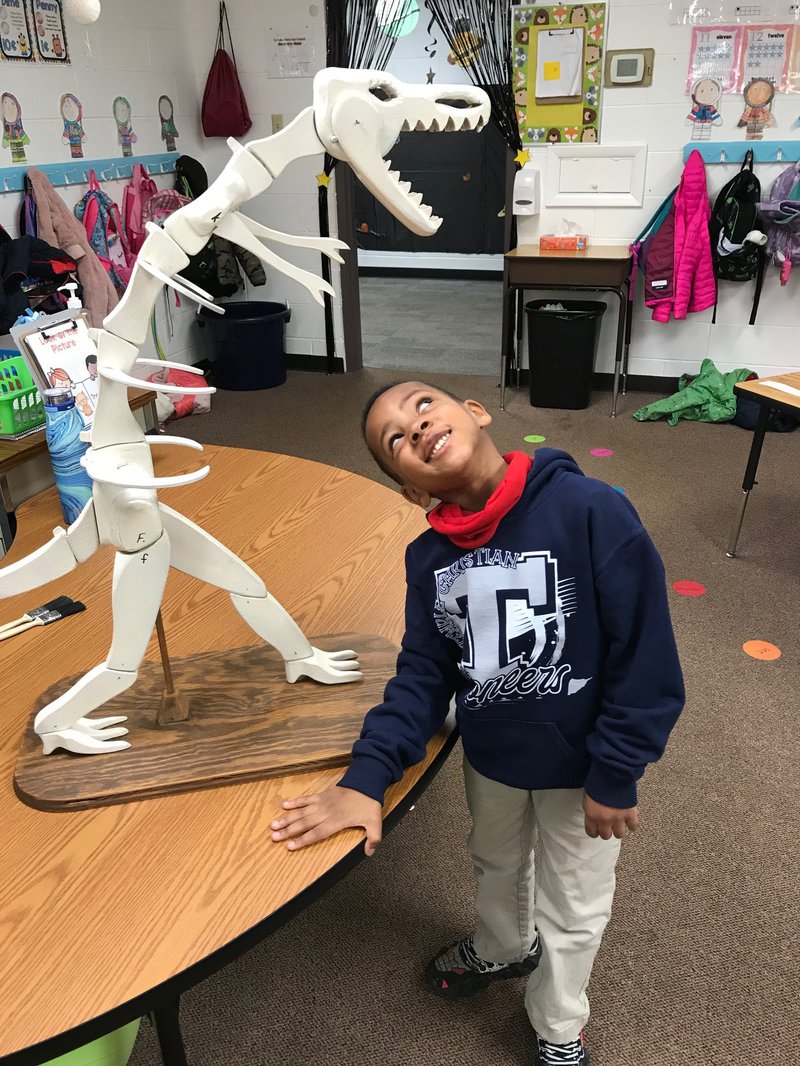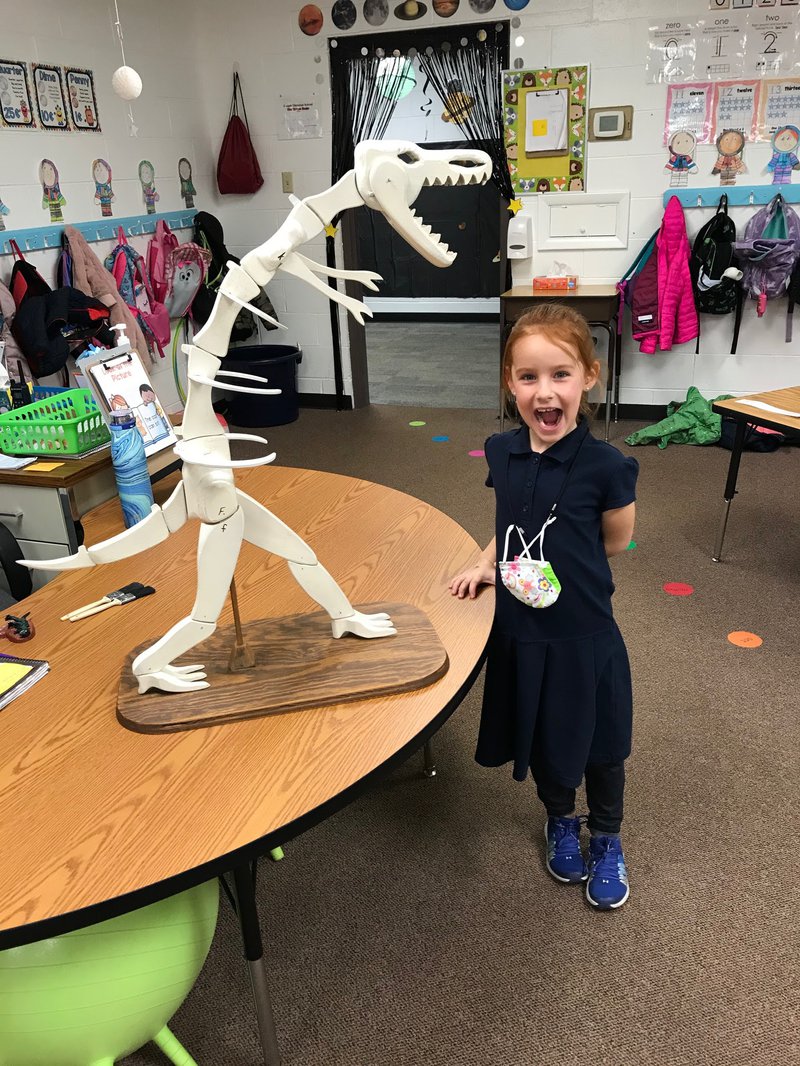 Reach for the Stars Reading Challenge:
Students are well on their way to completing the March Reach for the Stars Reading Challenge!  Congratulations to each of the students who are building a reading habit!  The Pledge/Sponsor program from Usborne Books & More is designed to motivate and reward our readers for their hard work.  Students are encouraged to find sponsors to pledge either a flat amount or rate per minutes read.  Students will then use 75% of those raised funds to order books from their wishlists.  The other 25% will be given to the teachers to pick books for their classrooms!  For those who choose to participate, order forms and pledges are due Friday, March 26th.  Please contact Lauren Roede with any questions at 616-427-0342 or email roedel@tcspioneers.org.  
EdChoice Expansion Scholarship Opportunities: 
The state of Ohio's  EdChoice Expansion Scholarship program is open to all K-12 students whose families meet the state income requirements. The scholarship allows any current TCS family to apply for an  EdChoice Expansion Scholarship if they meet current state income requirements.  To qualify, your total household income must be at or below 250% of the federal guidelines. The amount has been increased for 2021-22, making more families eligible for the scholarship.  For example, a family of four making less than $66,250 would qualify to apply. The state deadline for applications is April 30th. Families should have their applications to Amy Link in the elementary office by April 16th so that they can be processed before the state's April 30th deadline. Families must complete their re-enrollment paperwork before proceeding with the EdChoice Scholarship application.  Please contact Amy Link at linka@tcspioneers.org or at (419) 227-1644 (option 1) for more information about this opportunity. 
EdChoice Expansion Income Chart
EdChoice Scholarship Renewal: 
Renewals for EdChoice Expansion (income-based) Scholarships and EdChoice Traditional (eligible schools) Scholarships have begun. Please contact Amy Link about renewing your EdChoice Scholarship atlinka@tcspioneers.org or at (419) 227-1644 (option 1).
Yearbook Offer: 
Be an early bird! Order your 2021 TCS Yearbook by March 31st and be entered to win a free yearbook from any previous year! Order forms are available in both offices. Yearbooks can also be ordered at jostens.com. Contact Mrs. Searcy at searcys@tcspioneers.org if you have any questions.
Youth Sports (K5-6):
Sunday, March 21st is the final chance to register for K5-6th Grade Spring Sports - Register Online HERE
Important Dates:
Mar. 23-Apr. 9   Ohio Testing (Grades 3-12)
Mar. 26   End of 3rd Quarter
Mar. 30   Easter Break Begins - 1:30 Dismissal
Apr. 6     School resumes
Apr. 6     3rd Quarter Grades Sent Home
Apr. 7     Witness Wear Day
Lunch Menu for the Week of March 22
Monday          Chicken & Noodles, Mashed Potatoes, Fruit
Tuesday         Pizza by the Slice  $1.00
Wednesday    Cheeseburger, Fries, Fruit
Thursday        Chicken Strips, Hot Pretzel, Fruit
 Friday           Pizza by the Slice  $1.00