Hello TCS families. We trust that you are all staying safe and healthy. Isaiah 40:31 says, "But those who hope in the Lord will renew their strength. They will soar on wings like eagles; they will run and not grow weary, they will walk and not be faint". We have a great God that we can count on to give us strength when we need it.  We miss all of you and we are continuing to pray for you. Here are a few news items that we wanted to share with you.
Thank you:  
I would like to take the opportunity to thank everyone for working together to make the most of this challenging time.  Thank you parents for faithfully paying tuition, working with your children at home, and praying for our teachers and leadership team. Your faithfulness allows us to continue to pay all of our staff and to provide a Christ-centered education to your children.  Thank you students for working hard, cooperating with teachers and parents, and continuing your very important education. We miss you all very much!   Thank you teachers and building administrators for being faithful servants during this time. You have worked hard, learned new things, and been a blessing to our children and families. And thanks to our office staff for continuing the important business of the school during this time. You are greatly appreciated. Thanks again, everyone!
TCS Contact Information:
982 Brower Road, Lima, Ohio 45801
419 227-1644, ext. 1
Staff Email:  
Amy Link - linka@tcspioneers.org  (Assistant to the Superintendent)
Bruce Bowman -  bowmanb@tcspioneers.org   (Superintendent)
Marie Brite -   britem@tcspioneers.org  (Business Manager)
BJ McPheron -   mcpheronbj@tcspioneers.org  (High School Assist. Principal/Athletic Director)
Erin Marshall -   marshalle@tcspioneers.org   (Elementary Principal/Intervention Specialist)
Jodi Callahan -  callahanj@tcspioneers.org   (Admin. Professional/H.S. Office)
Re-enrollment:
Thanks to all those who have re-enrolled for the 2020-21 school year. If you have not yet re-enrolled, we would encourage you to do so soon.  Please let us know if the re-enrollment fee is a challenge for your family. We are happy to work with our families during this difficult time. We look forward to serving your family in the 2020-21 school year.
EdChoice Scholarship Renewal: 
All EdChoice renewal forms and proof of address (utility bill or other option) must be sent to Amy Link by May 15, 2020 so we can meet ODE's May 30, 2020 deadline. You can email or mail required documents.  Please contact Amy Link at 419 227-1644 or linka@tcspioneers.org for assistance. Thank you.  
End of Year Information: 
Next week's newsletter will have more information on end of year events such as graduation, awards assemblies, book/computer drop off, etc.  We will be communicating with seniors in the coming days regarding the type of graduation we will be conducting this year.  We are looking forward to honoring you and celebrating your exciting accomplishment.
Yearbook: 
Order your 2020 TCS Yearbook. Don't miss out! Order online at jostens.com or email Mrs. Searcy at searcys@tcspioneers.org. Yearbooks are $40, or $45 with name personalization. Orders are due by May 13th!
Athletics:
Students in grades 6th-11th (going into 7th-12th) received an email regarding sports physicals for the 2020-2021 school year. Please review the email regarding plans on playing sports for TCS for the upcoming school year.
Registration for Youth Fall Sports:
We are planning to move forward with registration for Fall sports. A registration email will arrive next week with details.
-Soccer K4 through 4th grade (Girls)
-Soccer K4 through 8th grade (Boys)
-Volleyball 5th through 8th grade (Girls)
Distance Learning Activities:  
1st Grade:
The first grade students have been learning about healthy foods and how they fuel our bodies in science class. The class had the option to create their own healthy plate of food using pictures from magazines. Great job Lillian and the rest of the first grade class!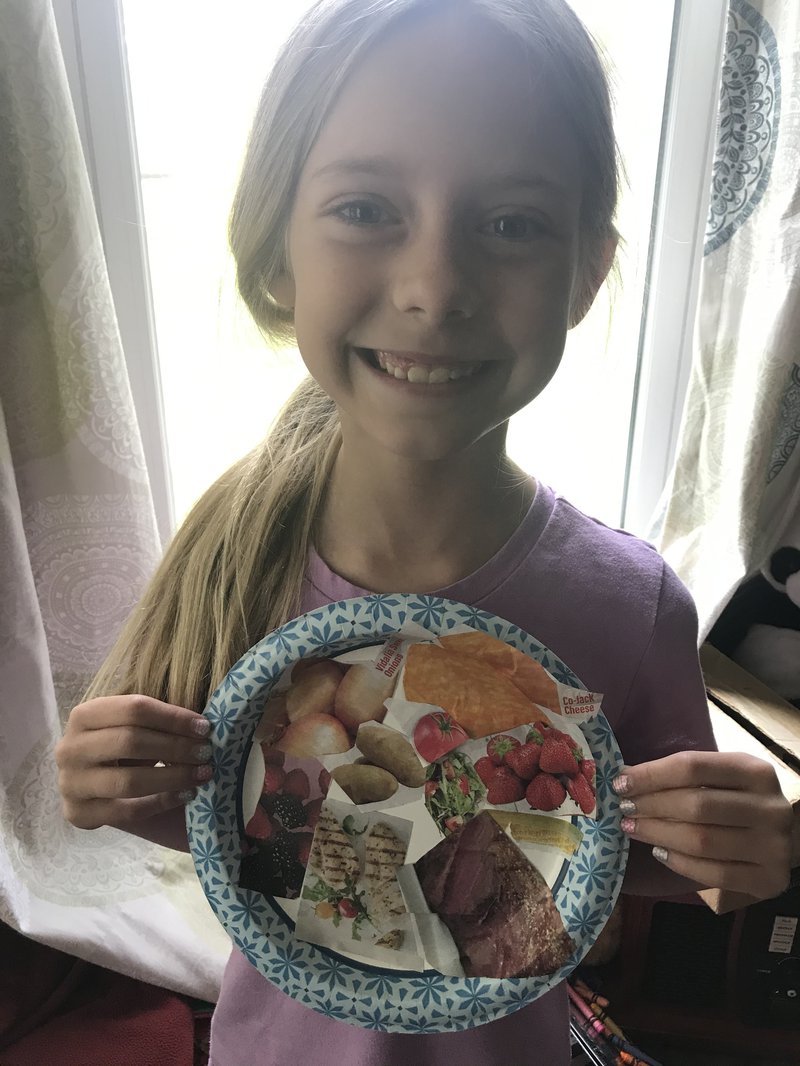 3rd Grade:
The third grade class has been writing biographies about a person of their choosing. Students have been doing their own research, and have been writing about the lives of important people from our past and present. They are writing about presidents, such as Abraham Lincoln and George Washington, singers like Jeremy Camp and Lauren Daigle, and other historical figures such as Christopher Columbus, Corrie ten Boom and Florence Nightingale. The third grade class has been working extremely hard! Keep up the great work everyone!
4th Grade:
The fourth graders did "State of Ohio" projects this week for history! They had to do research on the important facts about Ohio and then make a poster of all the facts they found! They had fun and did an excellent job!!!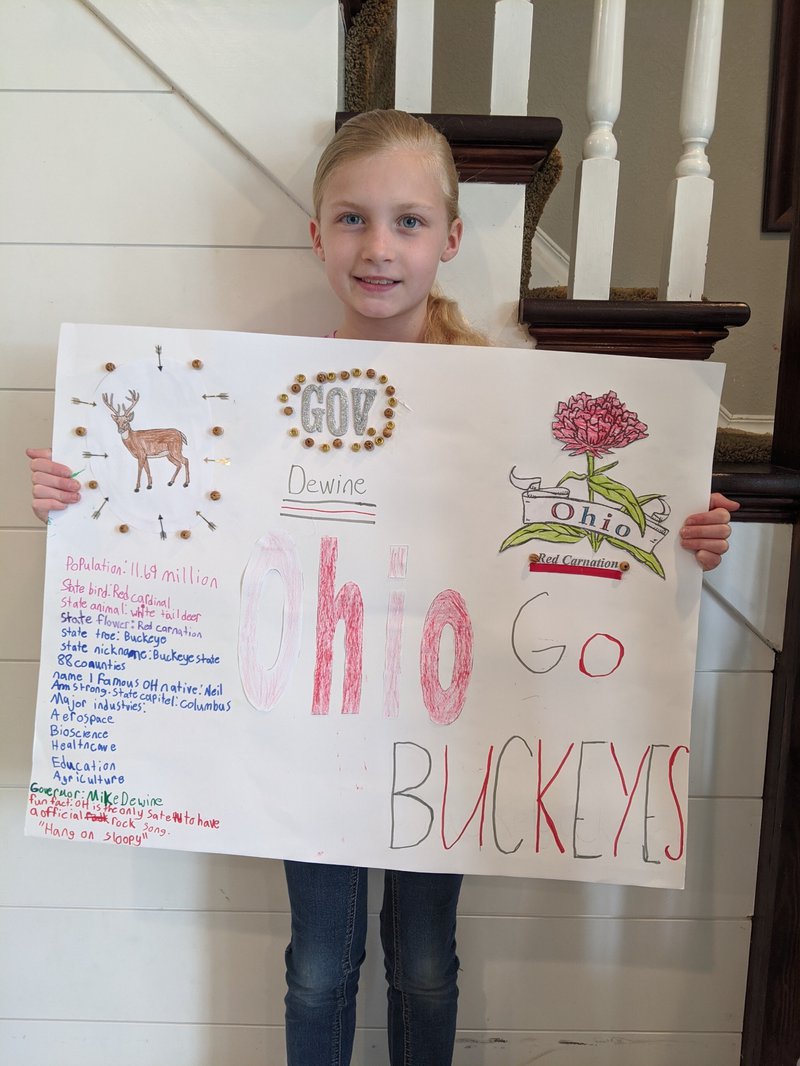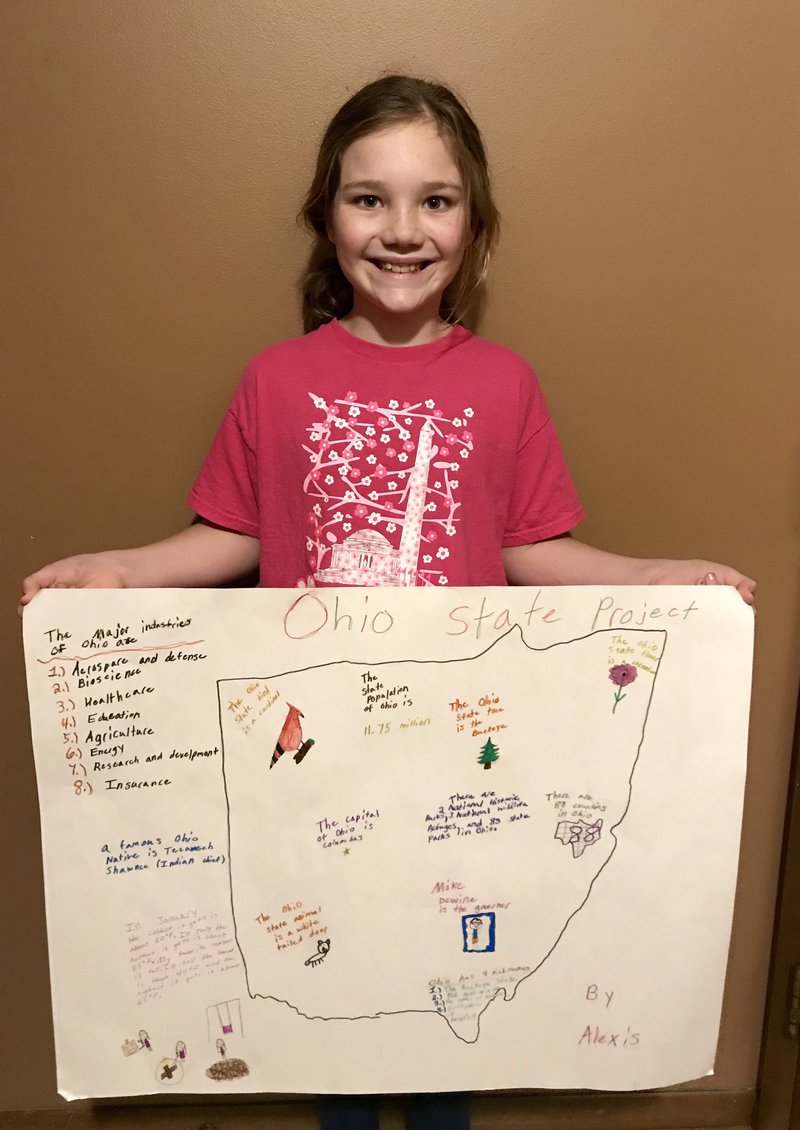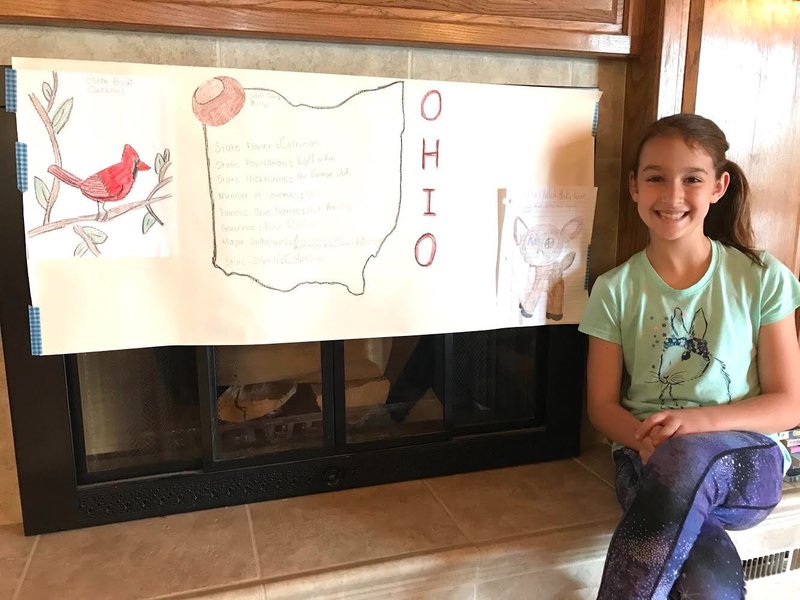 7th Math:  
Hewitt Wright participating in a facetime math lesson in Mrs. Cooper's class.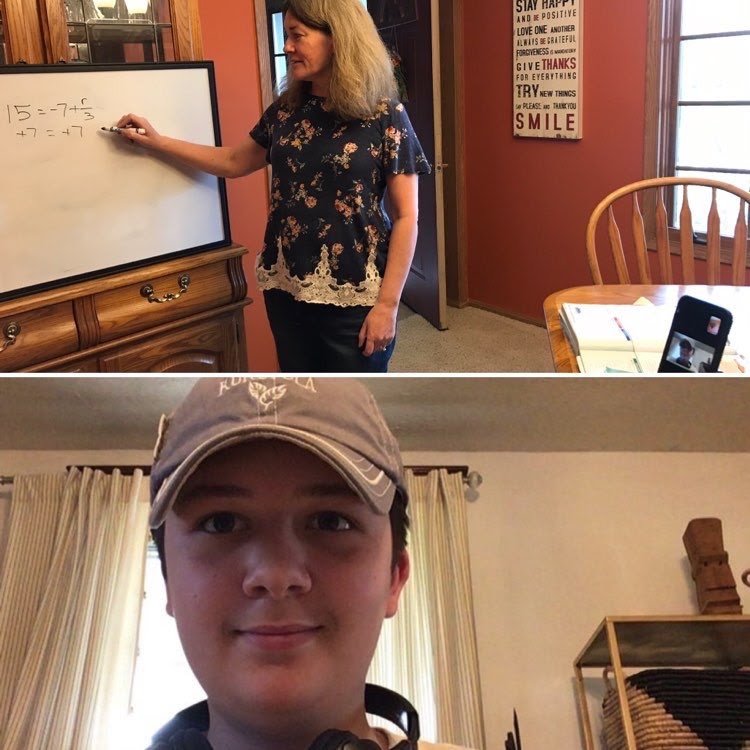 8th Grade Bible:
After studying the character trait Humility, the 8th grade Bible class wrote a 5 paragraph essay on this character trait.  The papers included an example of a person who exemplified humility, the definition of humility and its opposite pride, importance of humility and the dangers of pride, practical suggestions for growing in humility, and encouraging the reader to clothe themselves with humility, I Peter 5:5.
9th Grade Bible:
The freshman Bible class and family members gathered via Zoom on Tuesday evening to view the Elijah newscast reports that the students had created for the class. They were assigned different facets of Elijah's life and had to present a news segment, complete with reporters, eyewitnesses, costumes, and props. Students also earned bonus points for including a commercial. Usually, the students work together at school on this project, but given the circumstances, many students enlisted the help of family members or played several characters by themselves. The students were so creative that Mrs. Helser gave out "Academy Awards!" They received awards for things such as the best improvised microphone, beard, stuntman, pet actor, and cinematography, to name a few. It was an enjoyable evening, and there were many laughs shared by all! Thanks, TCS families for helping the freshman class with this project!
Important Dates:
May 15    Last Academic Day for Seniors
May 22    Last Academic Day for K4-11th Grade