Hello TCS families. I Thessalonians 5:16-18 says, "Rejoice always, pray without ceasing, give thanks in all circumstances; for this is the will of God in Christ Jesus for you." These are encouraging and positive words for each of us to remember as we go about our daily lives. Here are a few news items that we wanted to share with you.
Hearing and Vision Screenings:
Over the next three weeks: K5, 1st, 3rd, 5th, 7th, 9th, 11th, and all new students will have vision and hearing screenings.  Parents/guardians will be informed if there is a need for a follow-up. Any question can be directed to our nurse Shelley Zwiebel (zwiebels@tcspioneers.org). 
Art Class Ministry Project:
Our elementary had the opportunity to be a blessing to TCS student Jonah Aregood, who is currently very ill. Each class made a "Get Well" card. While making the cards, our classes had the opportunity to pray for Jonah, and discuss with one another how mighty of a Healer our God is! We pray believing in faith that God is able to heal every infirmity. 

Virtual Fall Band/Choir Concert: 
TCS students in grades 6-12 will be presenting their fall choir/band concert in a virtual format this year.  We will be taping the concert on Oct. 27th and posting a link to it on our website a few days later.  We will keep you posted on when the concert will be available to the public.
5th Grade Fall Fun Day Activities: 
The fifth grade had a great time last Friday during Fall Fun Day. We created candy corn launchers from popsicle sticks, tape, and a spoon. Congratulations to the winning team who launched their candy corn 71 inches!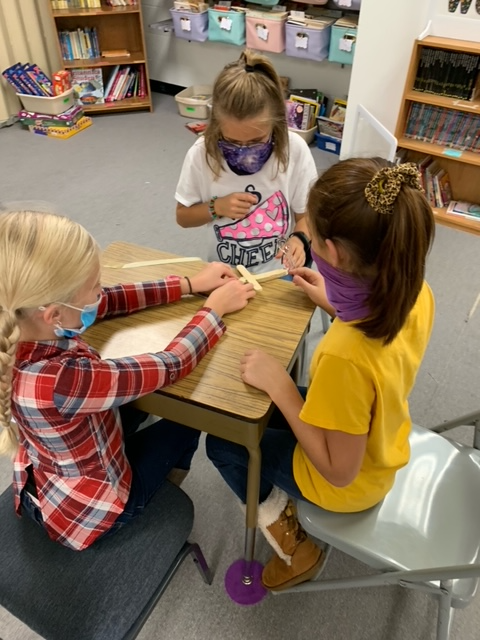 High School Tournaments:
The high school soccer and volleyball teams both begin tournament play next week.  
The soccer team opens Wednesday Oct. 21st at Spencerville at 5:00 P.M. (if they win, they will play Sat. Oct. 24th at Continental at 3:00 P.M.) 
The volleyball team opens Thursday Oct. 22nd at New Bremen vs. Ada at 7:30 P.M. (if they win, they would play New Bremen Tuesday Oct. 27th at New Bremen)
Mr. McPheron sent out an email to high school soccer & volleyball players, parents, and TCS high school students regarding tickets for tournaments. Tickets are being sold online and must be picked up in the high school office today or on Monday. There will be no tickets available at the gates. Please contact Mr. McPheron (mcpheronbj@tcspioneers.org) with any questions.
Elementary Special Treat:
Thanks to a very generous donation, our elementary students got to have a special treat today… The Kona Ice truck showed up! Students were rewarded for their great behavior and hard work so far this year!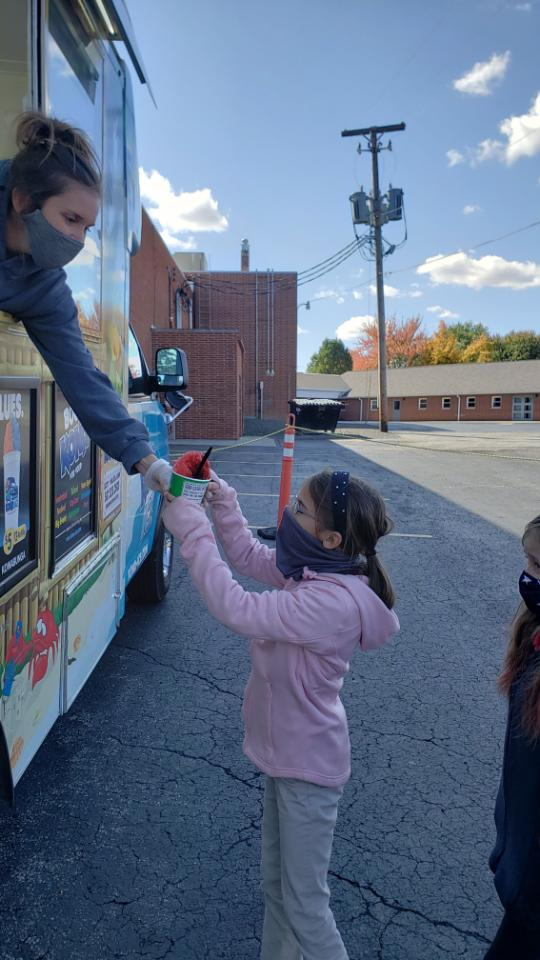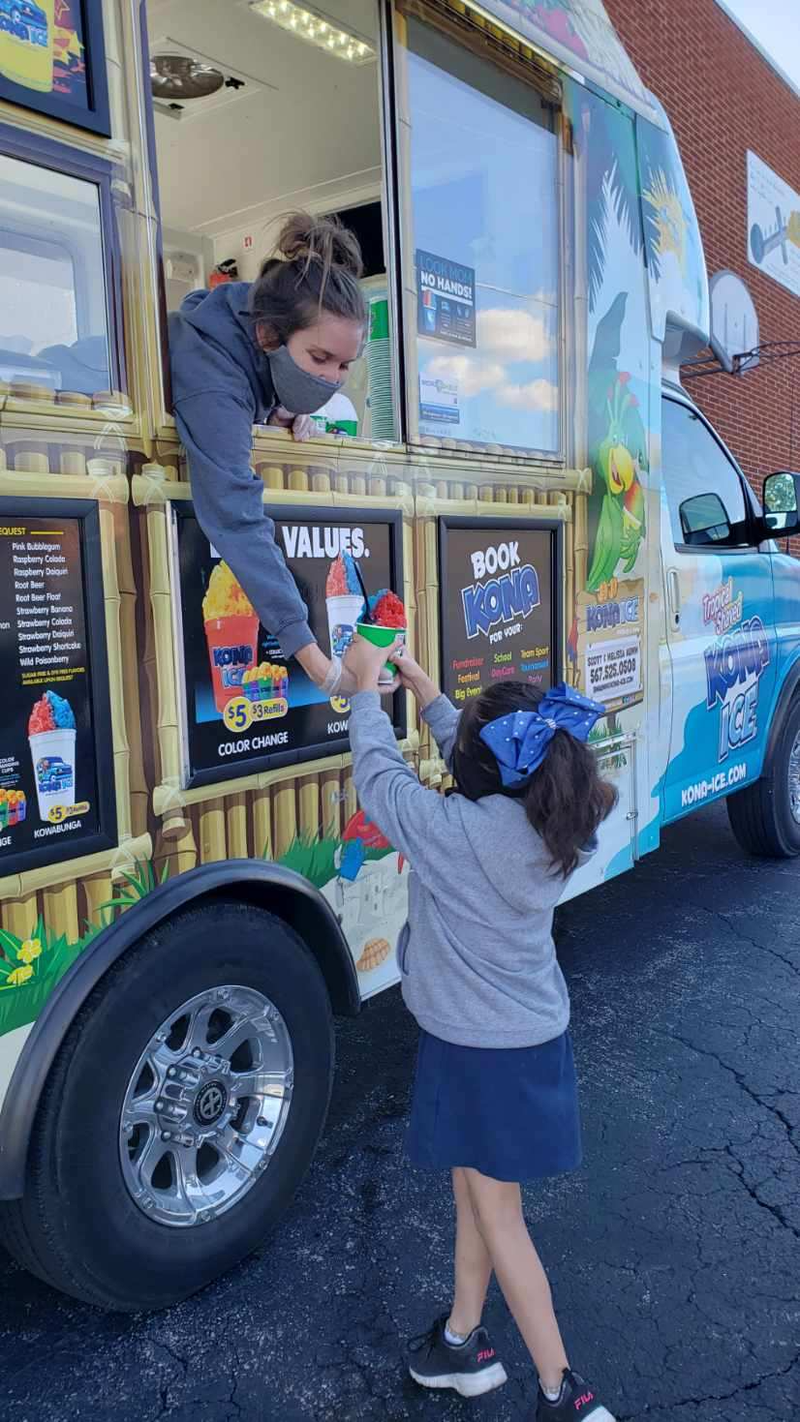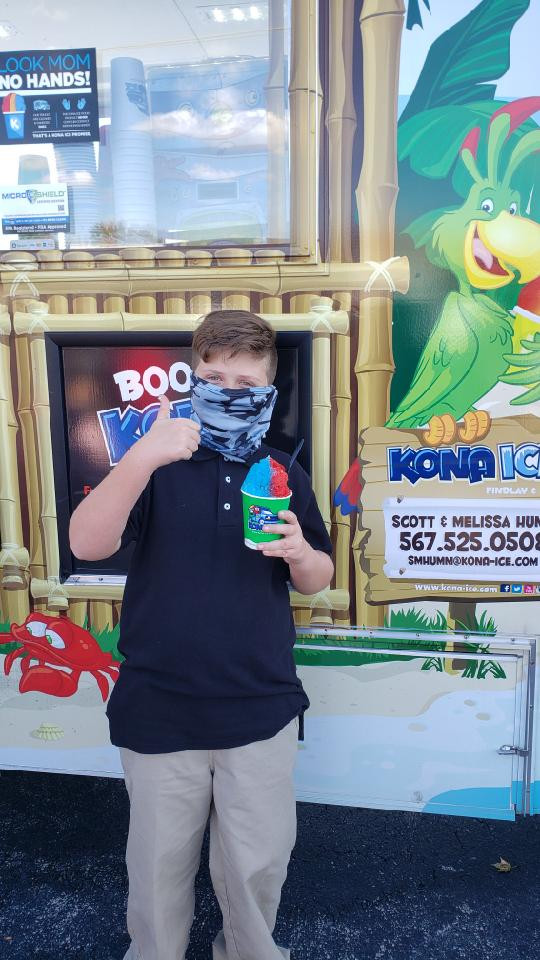 Winter Sports Registrations:
3rd - 8th Grade Boys & Girls Basketball - Register Online: HERE (deadline October 30th)
9th - 12th Grade Boys & Girls Bowling - Registration Forms available in HS Office (deadline October 23rd)
9th - 12th Grade Girls Basketball - Registration Forms available in the HS Office (deadline October 21st)
9th - 12th Grade Boys Basketball - Email Coach Bowman (bowmanb@tcspioneers.org) 
9th - 12th Grade Cheerleading - Email Coach Sutton (suttona@tcspioneers.org)
Harvest Market and Pulled Pork Fundraiser:
TCS will be hosting a Flea Market Craft Fair and Pulled Pork Dinner Fundraiser to benefit Temple Christian School's junior and senior classes on Sat. Nov. 14th from 10:00 A.M. - 3:00 P.M.  Tickets for the pulled pork will be sold by TCS juniors and seniors through November 6th.  Meals are $10.00 each. Meals can be picked up at TCS on Nov. 14th from 11:00 A.M. - 3:00 P.M.  No dine-in area will be available this year.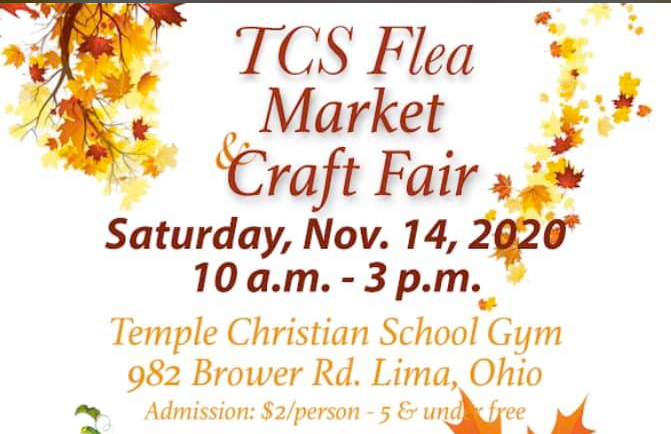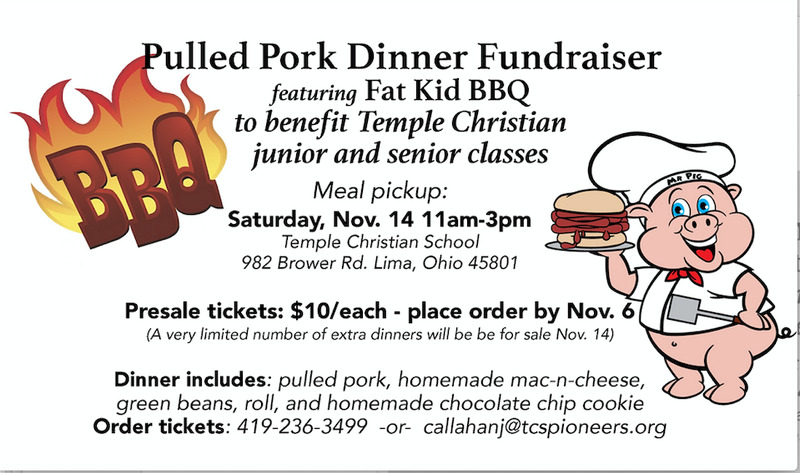 Update on Mrs. Smith:
Thanks for praying for Melinda Smith's ankle. She is walking with a boot and a walker. She is going to physical therapy and is seeing improvement. She asks that you continue to pray for her.
Next Week's Sports Events: 
Sat. Oct. 17       Varsity/JV Volleyball at Elida (Fieldhouse) @ 10:00 A.M.
Wed. Oct. 21     Varsity Soccer Sectional Tournament Game at Spencerville @ 5:00 P.M. 
(If soccer team wins, they will play Sat. 10/24 at Continental @ 3:00 P.M.)
Thurs. Oct. 22   Varsity VB Sectional Tournament Game at New Bremen vs. Ada @ 7:30 P.M.
  (If VB team wins, they will play Tues. 10/27 at New Bremen at 5:00 P.M.)
Important Dates:
Oct. 21      Witness Wear
Oct. 27      Virtual Fall Band/Choir Concert for 6th-12th grade will be taped on this day.  (Will be
available on TCS website; date to be announced)
Oct. 29       Early Dismissal  1:00 P.M.   Faculty Development
Oct. 29      National Honor Society Induction Ceremony  (LBT Fellowship Hall)
Oct. 30      End of 1st Quarter
Lunch Menu for the Week of October 19th
Monday         Taquitos, Pudding, Veggies
Tuesday         Pizza  $1.00/Slice
Wednesday   Grilled Ham and Cheese, Yogurt Cup, Rice Crispy Treat
Thursday       Chicken Quesadilla, Yogurt Fruit Parfait
Friday           Pizza  $1.00/Slice