Hello TCS families. We trust you have had a good week. Here are a few news items that we wanted to share with you.
1 Corinthian 13:4-7: Love is patient and kind; love does not envy or boast; it is not arrogant or rude. It does not insist on its own way; it is not irritable or resentful; it does not rejoice at wrongdoing, but rejoices with the truth. Love bears all things, believes all things, hopes all things, endures all things.
1st Grade Activity: 
Our first grade classes enjoyed learning about community helpers throughout the week. They learned about how everyone has an important job to do in our community. The classes finished the week with community helper themed center activities. Everyone's favorite center was the creative play center!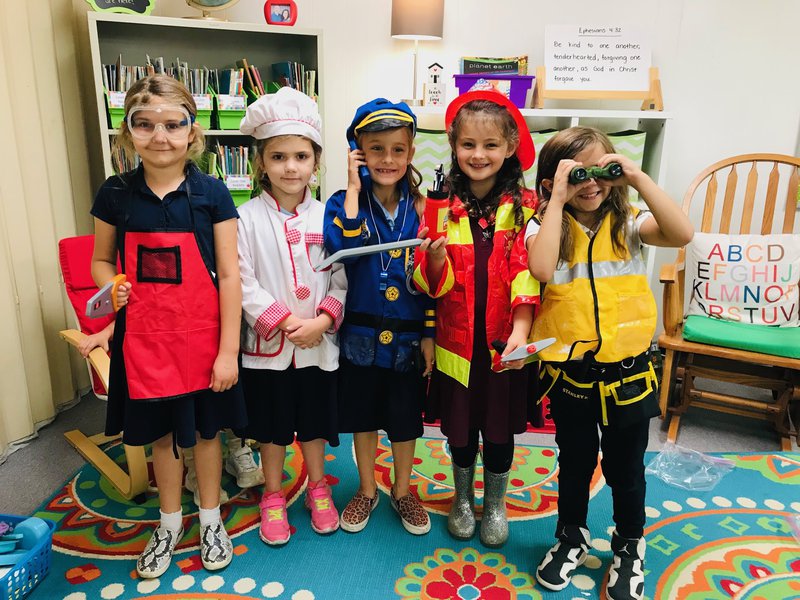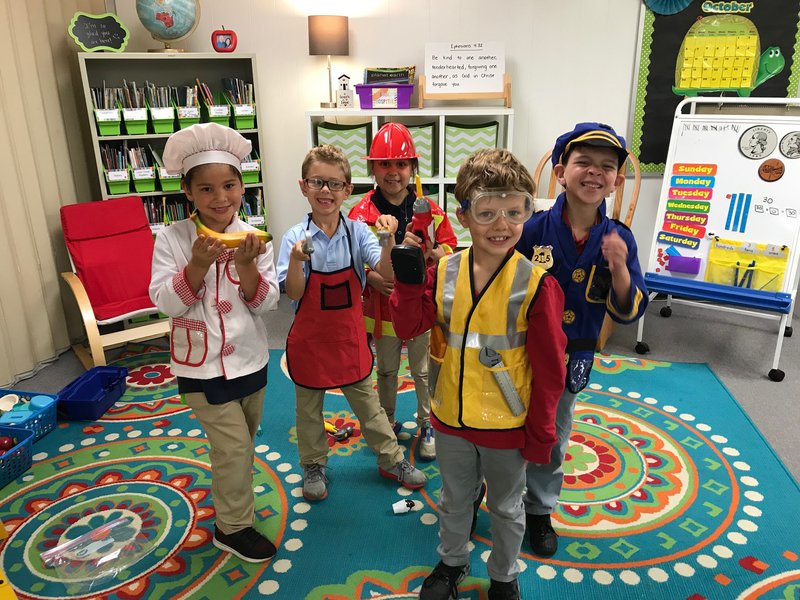 Elementary Chapel: 
Earlier in the school year, high school students volunteered to be a part of a team that regularly presents to the elementary students during chapel. This morning was their second presentation, and their theme was "When God says move, we need to move!". The team enjoyed singing, praying, and discussing key points from the lesson with elementary students in small groups.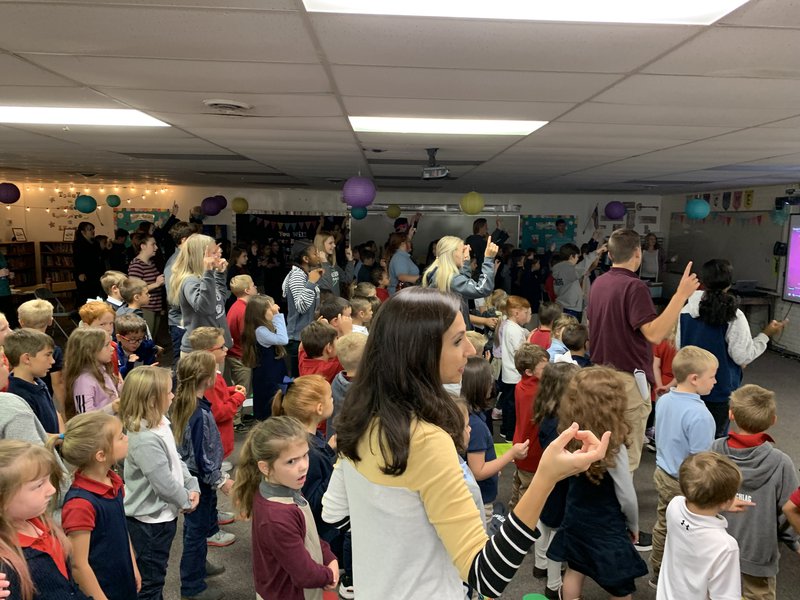 Spelling Bee:
The TCS Spelling Bee is open to all 4th-8th graders. Information was sent home with students this week (yellow paper). If your child is interested, please complete the information at the bottom of the form and return to either school office or to Mrs. Helser by Tuesday, October 26. Practice sessions will be held after school in preparation for the TCS Spelling Bee, which will be held Wednesday, December 8, at 9:00 a.m. 
Band/Choir Concert: 
We would like to invite you to the Fall Band/Choir Concert for grades 6-12 on Tuesday evening, October 26th at 7:00 P.M. in the Lima Baptist Temple Auditorium. (Grade 5 Band members will not perform this time but will have their debut at the Christmas Concert on December 16th)
Veterans' Day Program: 
On Nov. 11th, TCS will be hosting its annual Veterans' Day Program in the LBT auditorium 2:00 - 2:45 P.M.  We are looking to honor veterans who have served or are currently serving our country. If any TCS families have a family member that you would like to honor on that day, please send a picture with their name, branch of service, and where they are serving or served to Mrs. Linda Kiser at kiserl@tcspioneers.org  by November 5th.
TCS Harvest Market Craft Fair and Chicken Dinners: 
On Sat. Nov. 13th, TCS will host its annual TCS Craft Fair in the gymnasium from 10 A.M.- 3:00 P.M.  Chicken Dinners by Fat Kid BBQ are being sold for pick-up on that day from 11:00 A.M.-1:00 P.M. The proceeds from the chicken dinners will go to the TCS junior and senior classes. Chicken Dinners include one quarter chicken, green beans, homemade mac-and-cheese, roll, and desert. Tickets are $10.00.  Tickets must be purchased by Nov. 5th. You may purchase tickets from a TCS junior/senior or by calling 419 236-3499 or email callahanj@tcspioneers.org.
Yearbook Announcement:
Order your TCS 2021-2022 Yearbook! If you order by 10/29/2021 and purchase name personalization, you can get up to four FREE cover icons! Yearbooks are $40.00 and name personalization is $6.50. There are two easy ways to order: (1) Fill out the attached order form and return it with cash or check (payable to Temple Christian School) to the elementary or high school office or directly to Mrs. Searcy. (2) Order online at www.jostens.com to pay with a credit card. (Be sure to select Lima Temple Christian School.) Contact Mrs. Searcy at searcys@tcspioneers.org if you have questions.
Lost and Found: 
If your child is missing items, please check the Lost and Found basket outside the elementary office. Unclaimed items will be donated to the Neighborhood Relief Thrift Store on 10/22/21.  
Dress Code Note:
Per TCS Dress Code policy, the week of October 25th is the last week to wear school code shorts as school uniform. Shorts can return for the months of April & May in 2022!
Congratulations Athletes & Coaches!
Congratulations to the following Varsity Athletes who received All-Conference/League Honors for the Fall 2021 Season.
Volleyball (Northwest Central Conference)
  • CeCe Worsham (Junior) Player of the Year and 1st Team All-NWCC
  • Jessica Holloway (Junior) 1st Team All-NWCC
  • Emma White (Senior) 2nd Team All-NWCC
  • Kaylee Linhart (Junior) Honorable Mention All-NWCC
  • Emily Bontrager (Junior) Honorable Mention All-NWCC
  • Head Coach Tim Acklin Coach of the Year 
Soccer (Western Ohio Soccer League)
  • Darrick Clay (Senior) 1st Team All-WOSL
  • Caleb Kiser (Junior) 2nd Team All-WOSL
  • Quinten Waters (Junior) 2nd Team All-WOSL
  • Vanderlei Heffner (Senior) Honorable Mention All-WOSL
  • Ethan Wright (Junior) Honorable Mention All-WOSL
Important Dates:
Oct. 26    Fall Band/Choir Concert (Grades 6-12)
Oct. 27    Witness Wear
Oct. 28    Early Dismissal - Faculty Development 1:00 P.M.
Oct. 28    National Honor Society Induction Banquet 7:00 P.M.
Oct. 29    End of 1st Quarter     
Nov. 3     Witness Wear
Nov. 4     High School Fall Sports Awards 6:00 P.M.
Nov. 5     1st Quarter Grade Cards Sent Home
Lunch Menu for the Week of October 25, 2021
Monday          French Toast Sticks, Sausage Links, Fruit
Tuesday         Pizza  $1.00/Slice
Wednesday    Meatball Sub, Pudding, Veggies w/Ranch
Thursday        Taco Bowl, Fruit
Friday           Pizza  $1.00/Slice