Hello TCS families. Psalm 19:1 says, "the heavens declare the glory of God; the skies proclaim the work of His hands".  Praise the Lord for His wonderful creation.  Enjoy the beautiful weather this weekend! Here are a few news items that we wanted to share with you.
Elementary Fall Festivities: 
The Elementary students enjoyed a fall festival right here at Temple today.  They enjoyed hayrides, STEM activities, art projects, picking pumpkins, painting pumpkins, and a variety of other fun activities.  
The fourth grade class started out our Fall Fest with making our very own paper pumpkins! We went on a hayride, picked pumpkins from the pumpkin patch, had yummy pumpkin treats, made pumpkin and leaf crafts, colored pumpkin patterns, and read pumpkin stories! 
The K-5 class had a wonderful time at the Fall Festival. The students loved the hayride and played "I spy". They also enjoyed getting to "pick" their very own pumpkin!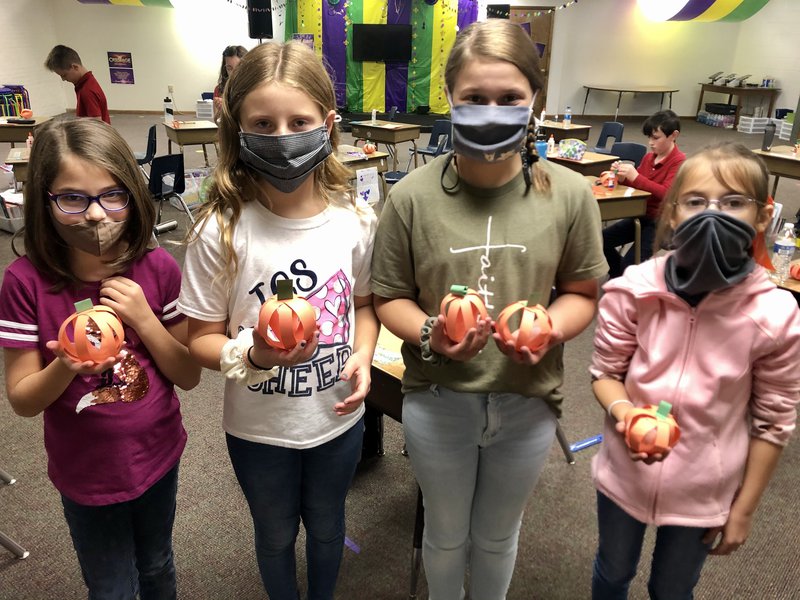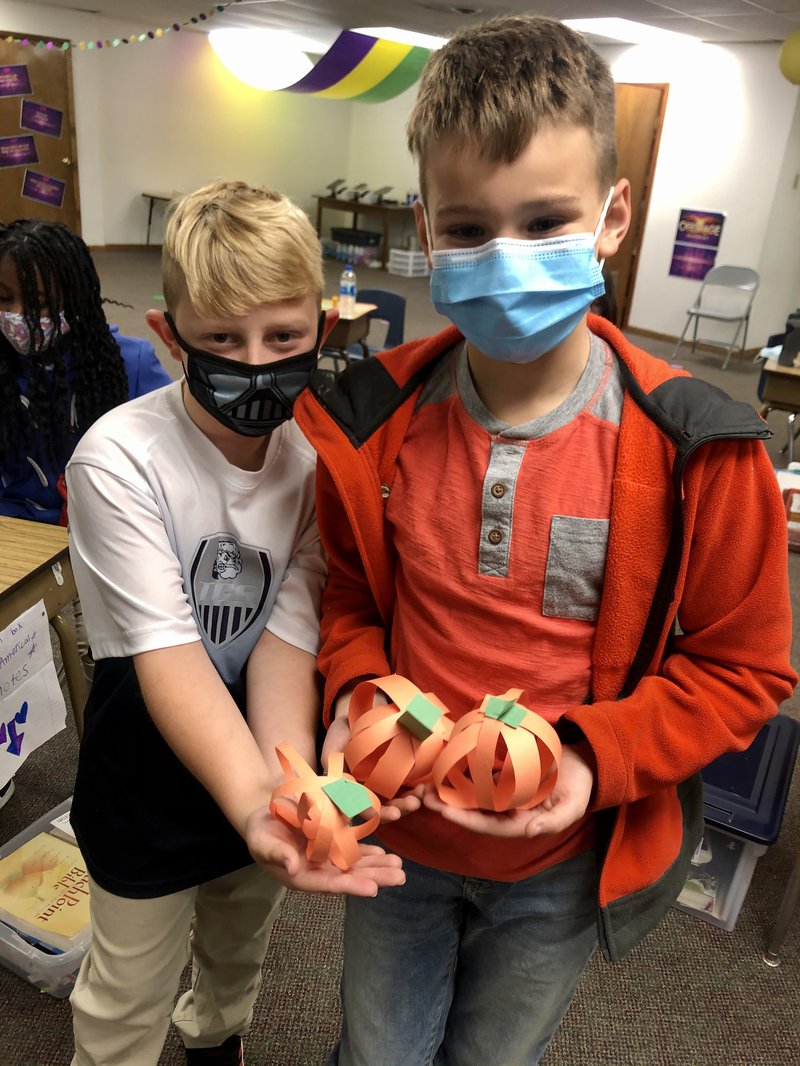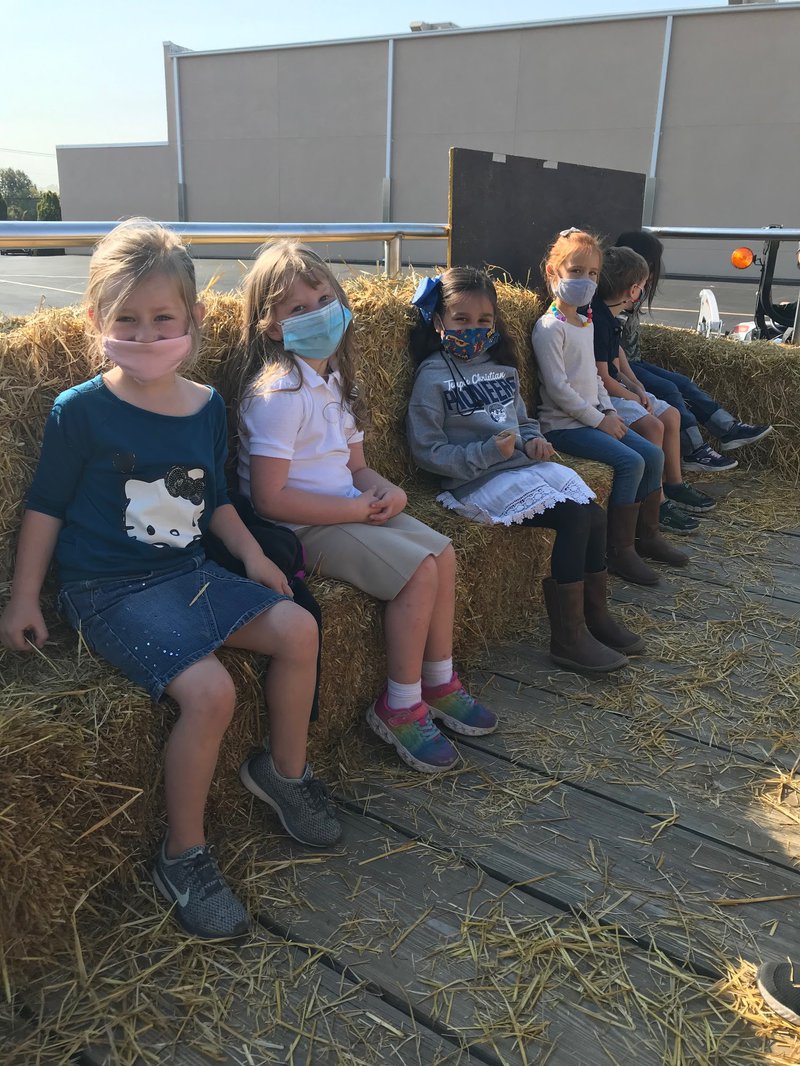 Elementary Chapel:
Today in one of our elementary chapel services, we learned that when we are afraid, we need to seek God's Presence! Psalm 34:4 says, "I sought the Lord and He heard me, and delivered me from all my fears". Just as the disciples sought Jesus while he was asleep in the boat during the storm, we can seek after Him when we are fearful. We know that in His presence is fullness of joy! Fear cannot remain in the presence of the Lord.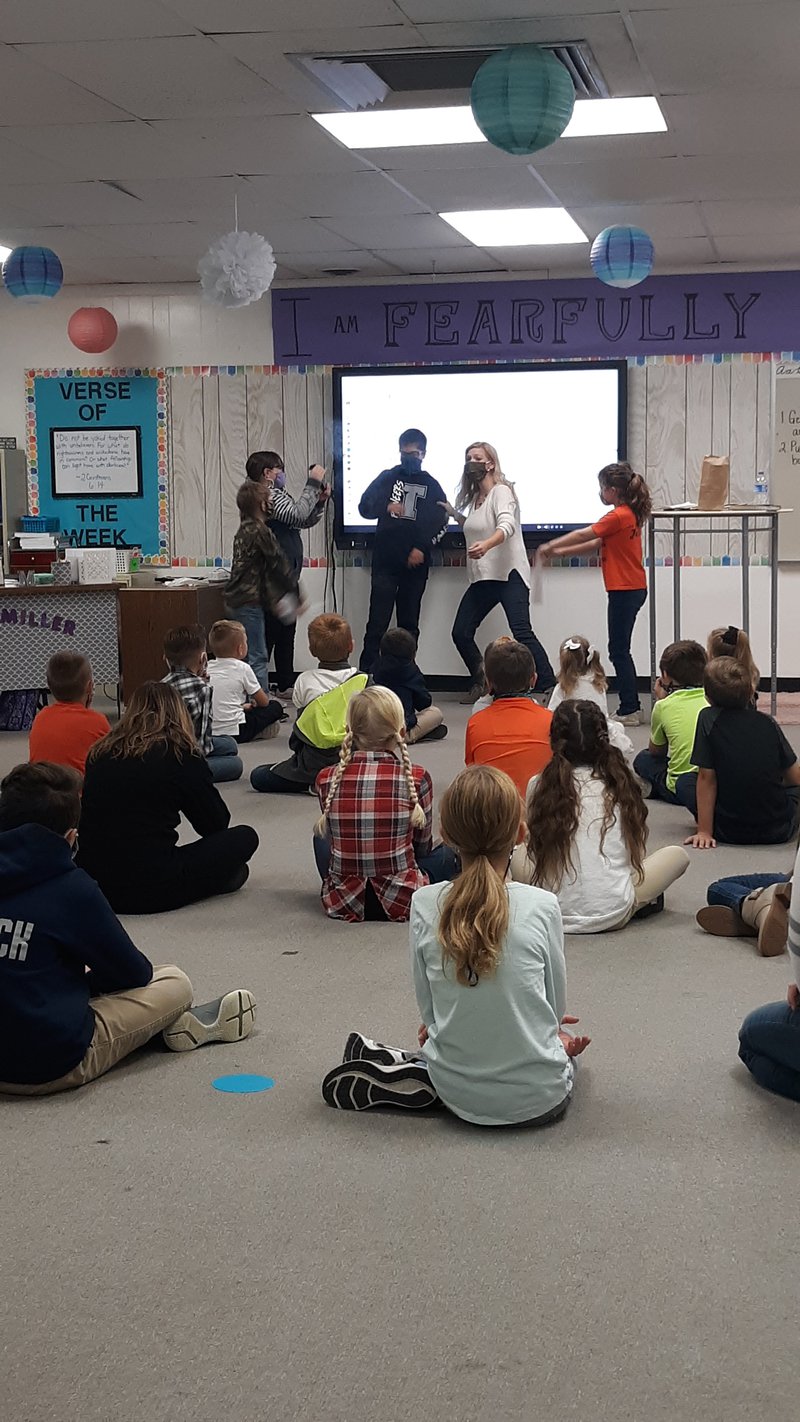 Algebra 2 Activity:
The Algebra 2 class recently played a review game - social distance style: Coordinate Plane Battleship! We are celebrating homecoming and embracing students' competitive spirits while reinforcing our chapter 2 topic.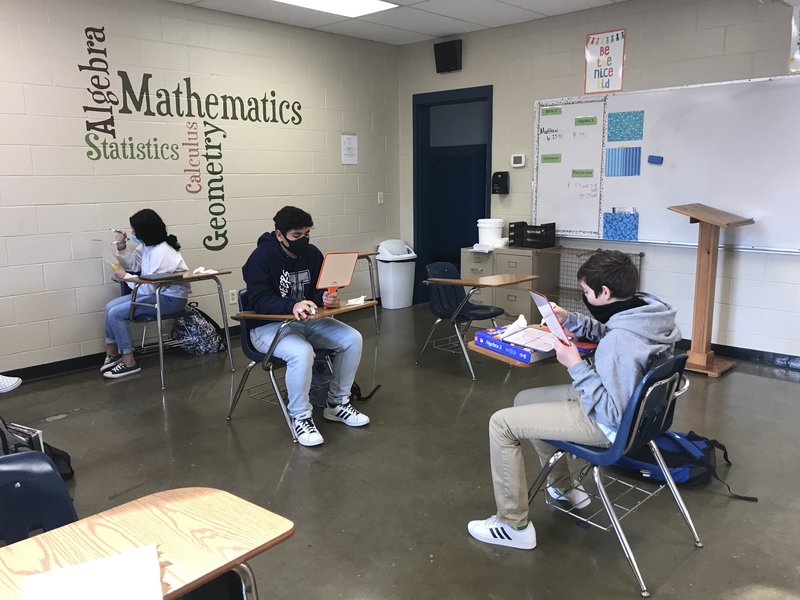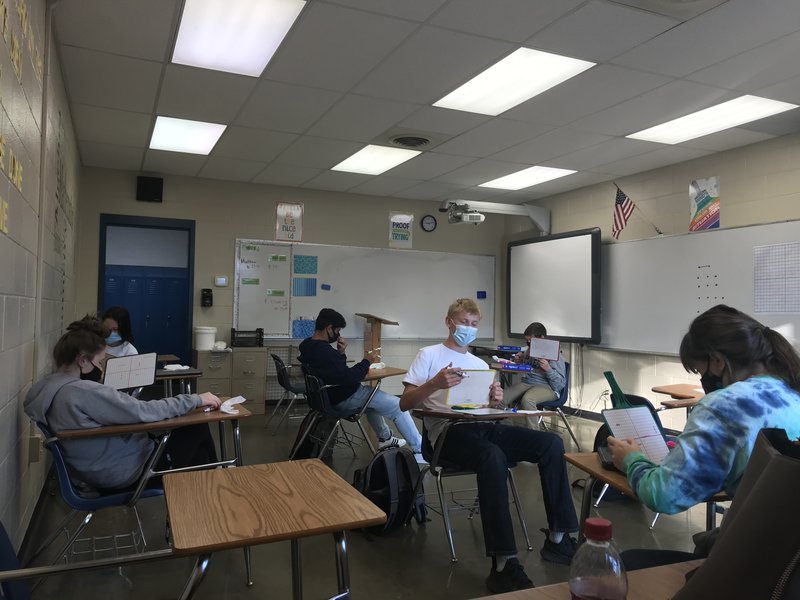 8th Grade Bible Service Project:
The 8th graders were able to go to Lima Manor and play some Tic Tac Toe with several of the residents.  It was a beautiful day to walk over and encourage the residents.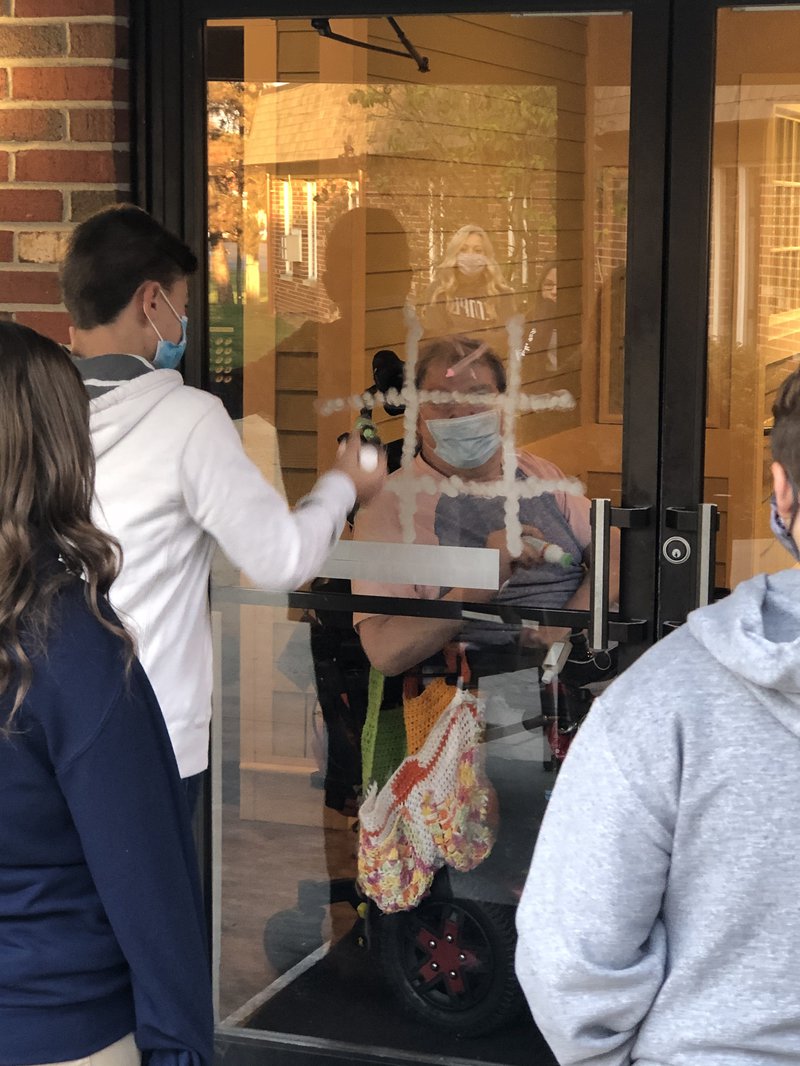 TCS Homecoming:
TCS is sponsoring a limited Homecoming Weekend this weekend.  All schools are having to limit their Homecoming activities this year due to Covid-19.  Unfortunately, that means that many of our families won't be able to participate in all of the activities. We hope to resume a full weekend of Homecoming activities next fall.  Below is the schedule for this weekend.
Friday October 9th 
Food Truck Friday!   3:00-7:00 P.M. *All are invited*
Food Trucks  will be available on the South Side of Brower Road for all of our families to enjoy! This will be more of a drive-up event where families order food to go.
Volleyball Match   5:00-6:00 P.M.
High School Volleyball Team vs. High School Soccer Team
(Attendance will be limited two persons per family of high school volleyball and soccer players)
Saturday October 10th 
Introduction of Homecoming Court   11:45 A.M.
Tickets are sold out for this event. No ticket sales at the gate. Attendance is limited.  
Varsity Boys' Soccer Game vs. Lincolnview   1:00 P.M.
Elementary Parents Lunch: 
Unfortunately, we have had to cancel the elementary parent lunch scheduled for October 16th.  We look forward to resuming these events next year. 
Accessing Renweb/FACTS Family Portal (ParentsWeb):
Just a reminder that TCS parents can access their students' grades through FACT's Family Portal (previously known as Renweb or ParentsWeb).  This is a private and secure parents' portal that allows parents to view academic information regarding their children. If you do not have an account, please refer to the link to help you set up an account.
Yearbook: 
Don't miss this deal for early orders on the 2021 TCS Yearbook! Order your yearbook by Friday, November 20th (before Thanksgiving break) for only $40.00 and name personalization for $5.00 and you will receive 4 FREE ICONS on your front cover. That's a $12 value for free. Forms can be given to Mrs. Searcy or either office. You can also pay with a credit card online at www.jostens.com. 
Prayers for TCS staff member:
Continue praying for a TCS teacher, Melinda Smith, who had surgery on her foot.
Next Week's Sports Events: 
Sat. Oct. 10      Varsity Soccer Home vs. Bath at 1:00 P.M.  (Homecoming Game - Attendance
                         limited to family via presale tickets only - No tickets at the gate)
Tues. Oct. 13    Varsity/JV Volleyball at North Baltimore @ 5:30 P.M.
Tues. Oct. 13    Varsity Soccer at Jackson Center @ 5:00 P.M. 
Thurs. Oct. 15   Varsity/JV Volleyball at Home vs. Perry @ 5:30 P.M.
Sat. Oct. 17       Varsity/JV Volleyball at Elida @ 10:00 A.M.
Important Dates:
Oct. 9,10    Homecoming Activities
Oct. 12       No School - Columbus Day
Oct. 21      Witness Wear
Oct. 27       Fall Band/Choir Concert for 6th-12th grade  (Virtual Concert -  Will be available 
                   on TCS website.)
Oct. 29       Early Dismissal  1:00 P.M. Faculty Development
Oct. 29      National Honor Society Induction Ceremony  (LBT Fellowship Hall)
Oct. 30      End of 1st Quarter
Lunch Menu for the Week of October 13th
Monday         No School
Tuesday         Pizza  $1.00/Slice
Wednesday   Shredded Chicken, Pudding, Veggies w/Ranch
Thursday       Mini Corn Dogs, Ice Cream Sandwich, Fruit
Friday           Pizza  $1.00/Slice