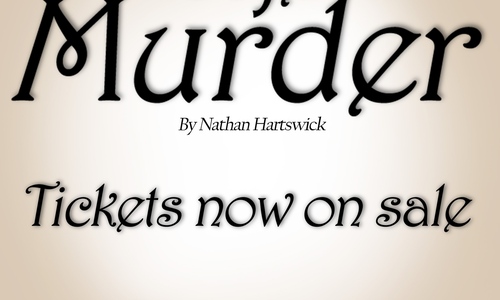 Hello TCS families.  Please continue to pray for the Bowman family as Mr. Bowman recovers from surgery.  We also ask that you pray for Pam Smith and her family.  Here are a few news items that we wanted to share with you.   Have a wonderful weekend!  
Phil. 4:4  "Rejoice in the Lord always; again, I say rejoice."
Parent/Staff Meeting
Please don't miss the Parent/Staff Meeting with School Board President Jason Szuch and our School Board Members on March 2, 2020 at 7:00.  They have several important updates to share with us.  We will meet in the Lima Baptist Temple auditorium.  See you all there!  
Allen County Spelling Bee
Congratulations to TCS 8th grader Lexie Greer for winning 1st runner-up at Saturday's Allen County Spelling Bee held at OSU-Lima! Dyani Heffner (8th grade) was also recognized as the TCS Spelling Bee runner-up and received a certificate! Lexie will represent TCS at the upcoming Lima News Regional Spelling Bee on Saturday, March 21, 2020.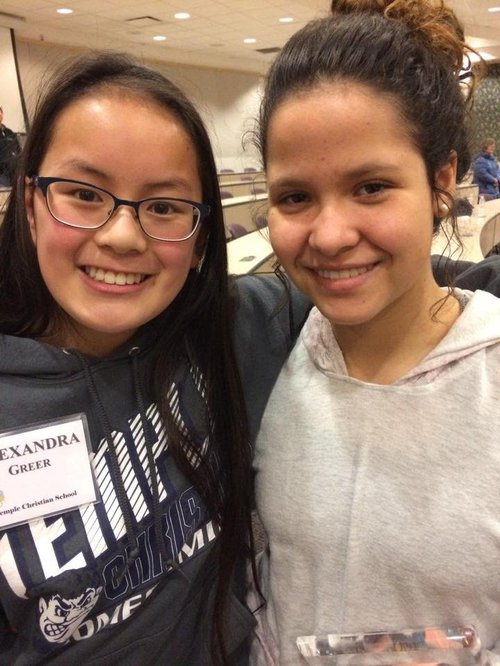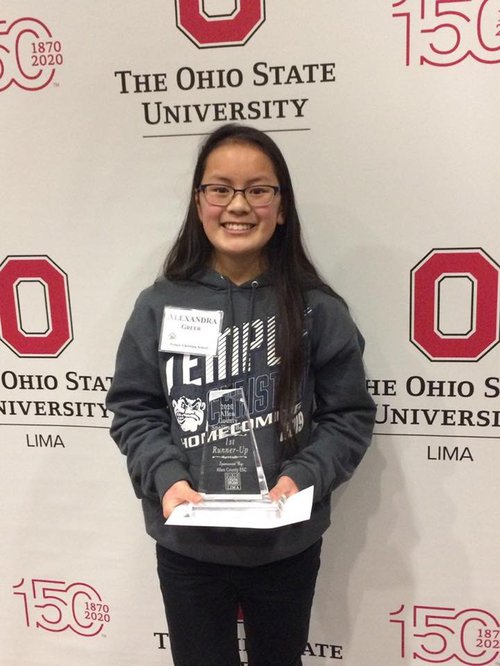 Jack Jones Trial
Seventh graders recently spent time studying the judicial system, which culminated in a mock trial for Jack Jones from the story "Jack and the Beanstalk."  After much preparation, students put their knowledge to use as prosecuting and defense attorneys, witnesses, judge, bailiff, and court reporter.  Jack Jones was found guilty on the charges of breaking and entering, burglary, and stealing a goose that laid golden eggs. He was found NOT guilty of kidnapping and assault of a singing harp and NOT guilty of second-degree murder. Thank you to the 6th graders who served as the jury!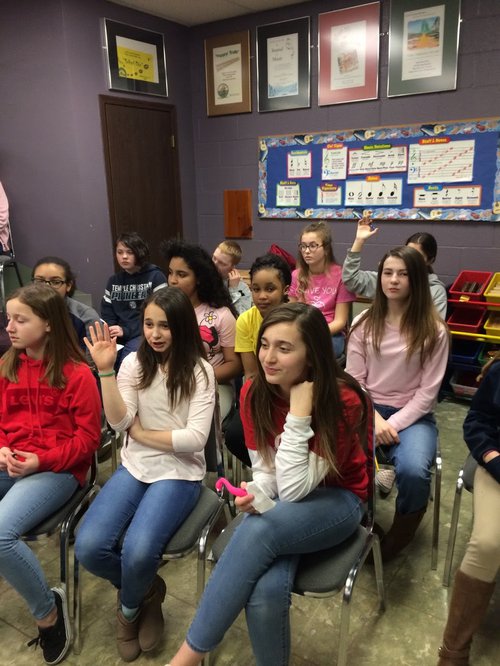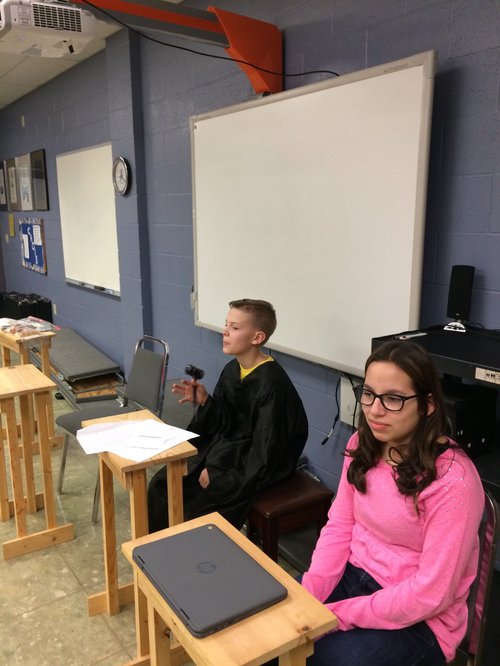 Scholastic Book Fair
Our annual Scholastic Book Fair will be open for business March 4-6. 
Wednesday     March 4            8:00 - 10:00 and 2:00 - 4:00
Thursday         March 5            8:00 - 4:00
Friday               March 6            8:00 - 12:00 
Our online book fair will be open 2/26/20 - 3/11/20.  The link to it is 
https://bookfairs.scholastic.com/bookfairs/cptoolkit/homepage.do?method=homepage&url=templechristianschool.  
We are adding eWallet this year.  You can set up an account and add money instead of sending cash to school.  Check it out!  There is also an app called Scholastic Book Fairs that you might want to explore. We still need a few volunteers.  Please contact Molly Aregood if you would like to help.  Her email address is aregoodm@tcspioneers.org.    
2020 Yearbook
Be an early bird! Order your 2020 TCS Yearbook by March 31st and you will be entered to win a free yearbook from any PREVIOUS year! Order forms are available at both offices. Contact Mrs. Searcy at searcy@tcspioneers.org if you have questions. 
A Note from the Nurse
Rhodes State nursing students will be coming on March 5th  (rescheduled date) to assist with postural screenings for the 6th, 7th, and 8th grade students. If we do not complete screenings on this day you will be informed of a follow-up date.  The nursing students will be under the direction of our nurse and their nursing instructor. Students will be screened individually from their peers and will be asked to remove their shirt. Girls will want to wear a snug tank or cami for the screening.
If there are any problems detected, we will send home a recommendation for follow up with your child's physician. Please note, this is just a screening and does not guarantee all problems will be detected. If you have any questions or prefer not to have your child screened please email me, zwiebels@tcspioneers.org. You may also call the school office at 419-227-1644.
Grandparents Day
Our elementary students will present a music program for Grandparents and other visitors next Thursday, March 5 at 12:00 in the LBT auditorium.  Come see the students singing music in different languages from around the world as well as playing bells, recorders, and ukuleles. All of our guests are welcome to visit the Scholastic Book Fair before and after the program.
Student Accomplishments in Music 
A number of students have had the opportunity to represent Temple at District 3 Ohio Music Education Association events this quarter:
Senior Lydia Bassett (violin) and Junior Lindsey Stump (alto voice) prepared and performed solos for judges at the District 3 OMEA HS Solo and Ensemble Contest at Lima Senior on Saturday, February 15. Both girls performed extremely well, and each received a coveted rating of "I" (Superior). Congratulations, Lydia and Lindsey!
Three TCS middle school students have been selected as members of the District 3 OMEA Junior High Honors Festival ensembles. Isaiah Kiser (percussion) and Brianna Smith (flute) have been named to the Festival Band, and Isabella LaPointe (alto) has been accepted to the Festival Choir. Both ensembles will rehearse and perform at Wapakoneta HS next Friday and Saturday, March 6-7, along with other outstanding student musicians from our 8-county district. The Festival Concert, featuring the JH Festival Band, Choir, and Jazz Band, will be held at 3:00 PM Saturday, March 7, in the WHS Performing Arts Center. Tickets are available at the door for $5 (children 5 and under are free). Congratulations Isaiah, Brianna, and Isabella!
Lincoln Waters Signs with Ohio Christian University
Congratulations to Temple Christian School senior, Lincoln Waters! Today Lincoln signed to attend and play golf at Ohio Christian University! This past fall Lincoln was the NW District Medalist and a state qualifier for the OHSAA Boys Golf State Tournament. We wish him all the best as he continues his academic and athletic endeavors as an Ohio Christian Trailblazer!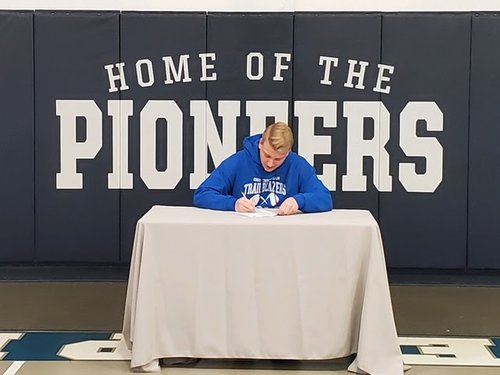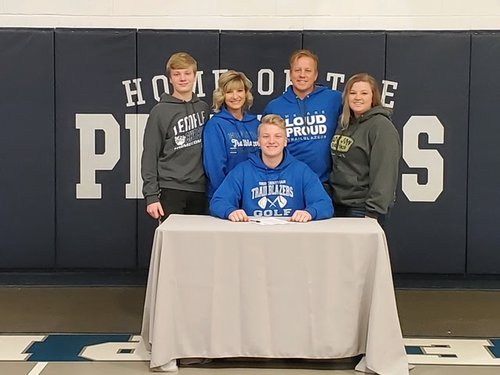 Spring Play/Dinner Theatre Tickets ON SALE NOW!
Tickets on Sale for the 2020 Spring Dinner Theatre 2020 "Cafe Murder"
"A hilarious murder mystery comedy"
Performance Dates are Friday March 13th and Saturday March 14th with two shows per night. Tickets are on sale in the high school office during normal school hours. Price includes the show and the meal for $15 (adult) and $12 (student).
Menu includes: Salad w/ Dinner Roll, Chicken w/ cream sauce. Cheesy Potatoes & Green Beans, and a Brownie Sundae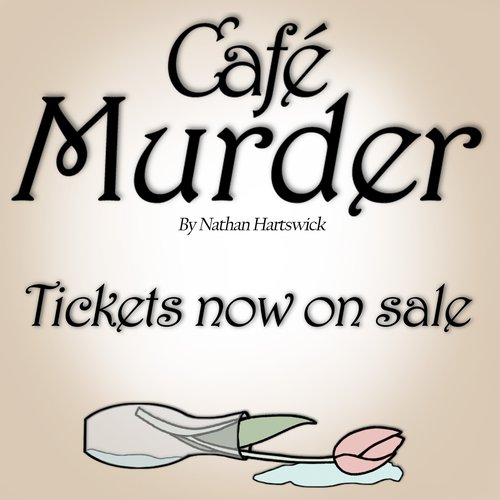 NHS partners with HCF for Canned Food Drive
The Canned Food drive starts today!  Temple Christian School is again in a competition with area schools to bring the most cans to support a need of their choice in the community.  TCS has been the #1 school for the past four years!   Please help us be #1 AGAIN!!
Remember last year when the losing teachers got a pie in the face…….this year the losing teachers have to kiss a pig!!!   J   
UPDATED TOTALS AS OF FRIDAY 2/28
Mrs. Williams (146) vs.  Mrs. Wierwille (204)
Mrs. Rager (408) vs Mrs. Linhart (474)
Mr. Hartman (485) vs. Mrs. Sutherland (332)
Mrs. Miller (404)vs. Mrs. Kinnear (171)
Mrs. Helser (129) vs. Mrs. Stoodt (32)
Mrs. Motter (87) vs. Mrs. Cooper (12)
Mrs. Searcy (25) vs. Mrs. Finch (31)
Help us support Family Promise by bringing in canned goods. 
Fundraiser runs for only ONE week  --  Friday, February 21 to Monday, March 2.   
Any questions, ask Grace Smith (senior, NHS) or Dianne Cooper.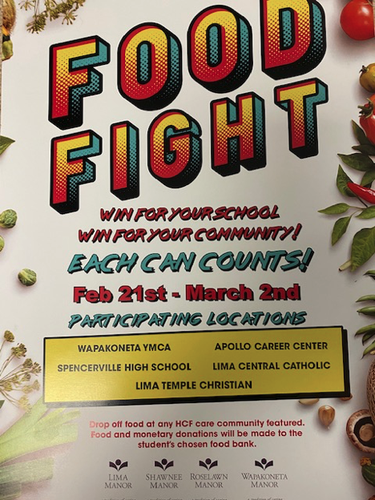 Spring Sports Information and Registration
Junior High & High School Track and Field (Grades 7-12); Registration is DUE Monday March 2nd. 
-All those planning to participate must attend the spring sports meeting on Monday, March 2nd at 5:30pm 
Elementary Track and Field (Grades K5-6th) registration will be ONLINE only and will be made available in the middle of March...be on the look out for this information at that time! 
FUTURE IMPORTANT DATES
March        2                 OHSAA/TCS Track and Field Meeting (Grades 7-12) 5:30pm
March        2                 TCS School Board update meeting 7:00pm
March        4                 Witness Wear
March        4                 Scholastic Book Fair Begins
March        5                Grandparents Program 12:00pm
March        10              High School Winter Sports Banquet 6:00pm
March        13-14        Spring Play Weekend
March        18              Witness Wear
March        19               1:00 Dismiss – Faculty Development
March         20              End of 3rd Quarter
LUNCH MENU
Monday    Chicken Strips, Hot Pretzel, Fruit
Tuesday    Pizza by the Slice
Wednesday    Chicken Quesadilla, Yogurt-Fruit Parfait
Thursday    Cheeseburger, Chips, Cookie
Friday        Pizza by the Slice