TCS Newsletter – Friday March 11, 2022
Hello TCS families. Here are a few news items that we wanted to share with you. Have a great weekend!
Romans 8:28  "And we know that in all things God works for the good of those who love Him, who have been called according to His purpose."
Re-enrollment:  Our re-enrollment is well underway. Thank you for your great response! Please remember that the deadline for early re-enrollment and a discounted fee is March 31st!  


NHS Canned Food Drive:  Monday, March 21st, is the start day for our annual NHS Canned Food Drive. The drive will last from March 21-28. Over the last couple of years, Temple Christian School has donated nearly ten thousand cans of food to our community.  This year we will be giving our donation to Family Promise of Lima.   Classes will compete against each other to earn a spot for their teacher to race a buggy and win them a pizza party!  The drive will only last one week, so please get your donations in right away.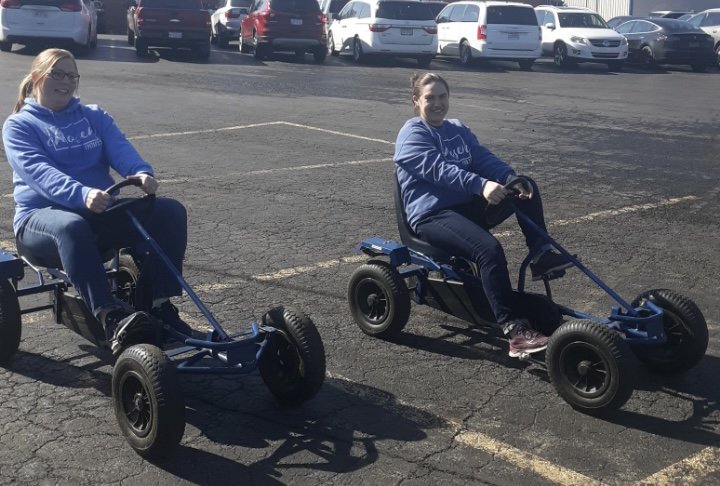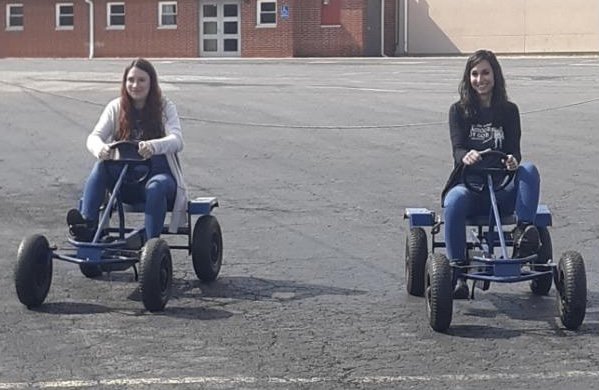 Junior Class Fundraiser: The junior class will be opening up the concession stand to sell iced coffee, homemade chocolate chip cookies, and other snacks and drinks after school. The sales will be on Fridays from 2:55-3:30 on March 11, March 18, March 25, April 1, and April 8. Please come support the junior class as they raise money to put on the junior/senior banquet.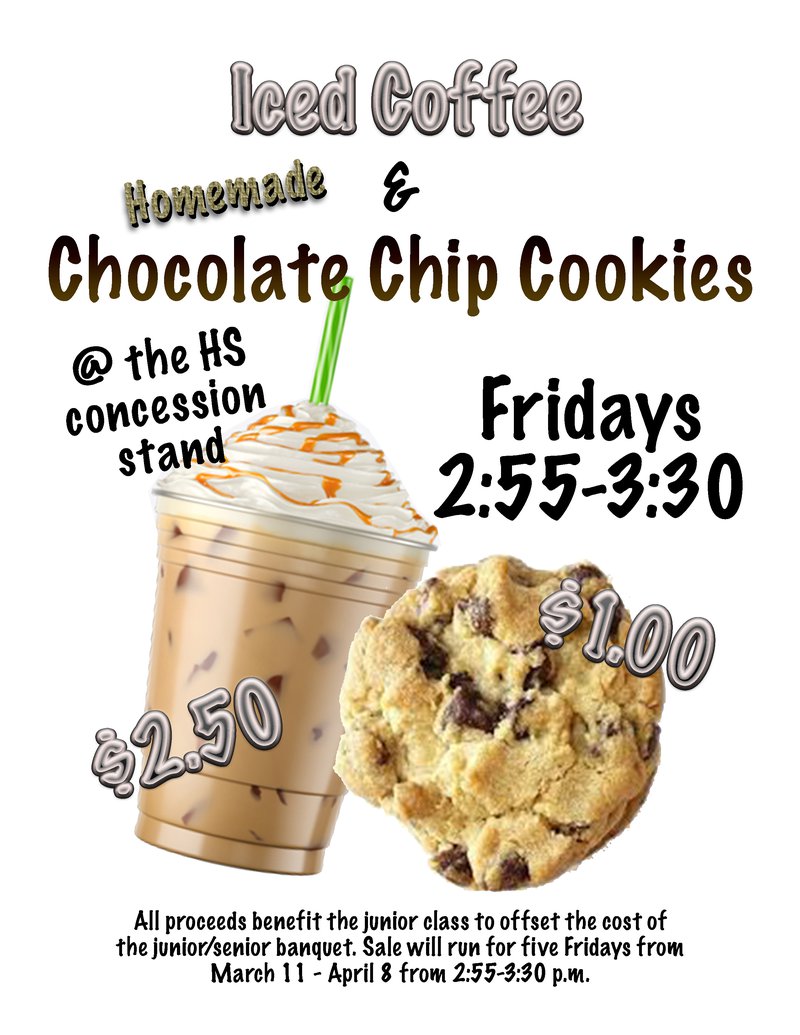 So You Want to Be a Teacher:  The seventh grade history students recently became teachers as the class learned about the early exploration and settling of the islands of Oceania and Australia. Working in groups, students created a lesson, quiz questions, resources, and various games and activities to teach their section of the chapter. It was a fun way to learn to collaborate, develop public speaking skills, and to use the smart board technology as students switched roles with Mrs. Helser!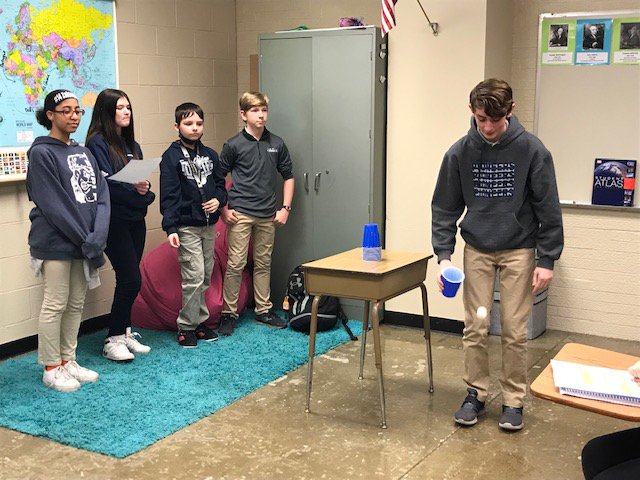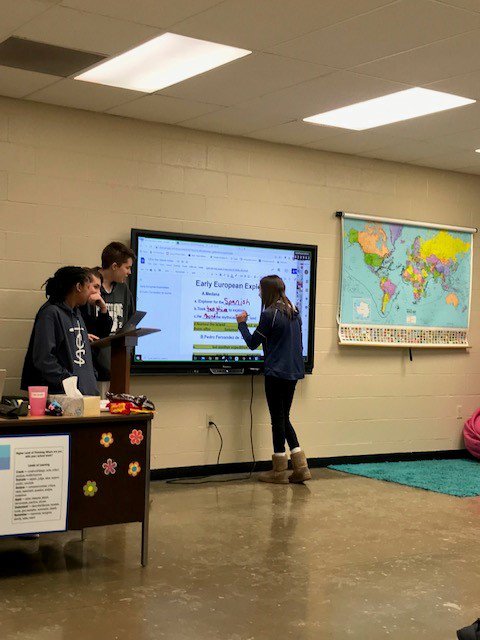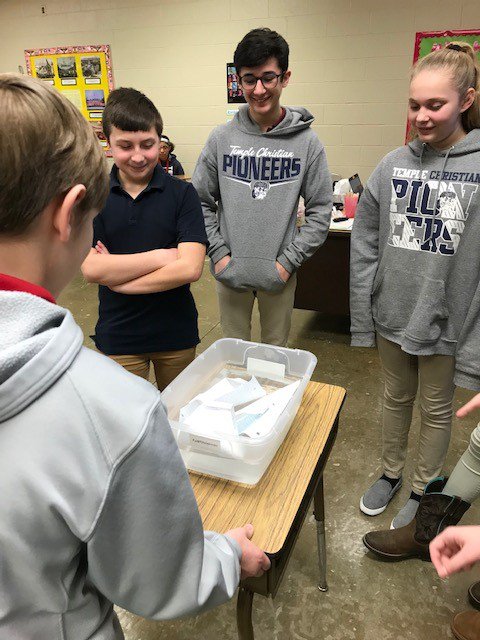 Economics Guest Speakers: TCS graduate Tyler Sutton (State Farm Insurance Agent), along with TCS graduate Lance Orndoff (State Farm Office Representative), came and spoke to the TCS junior Economics class about the various insurance needs they may have in life. It was a very practical presentation that brought to life what the students have been learning in the personal finance unit of their course.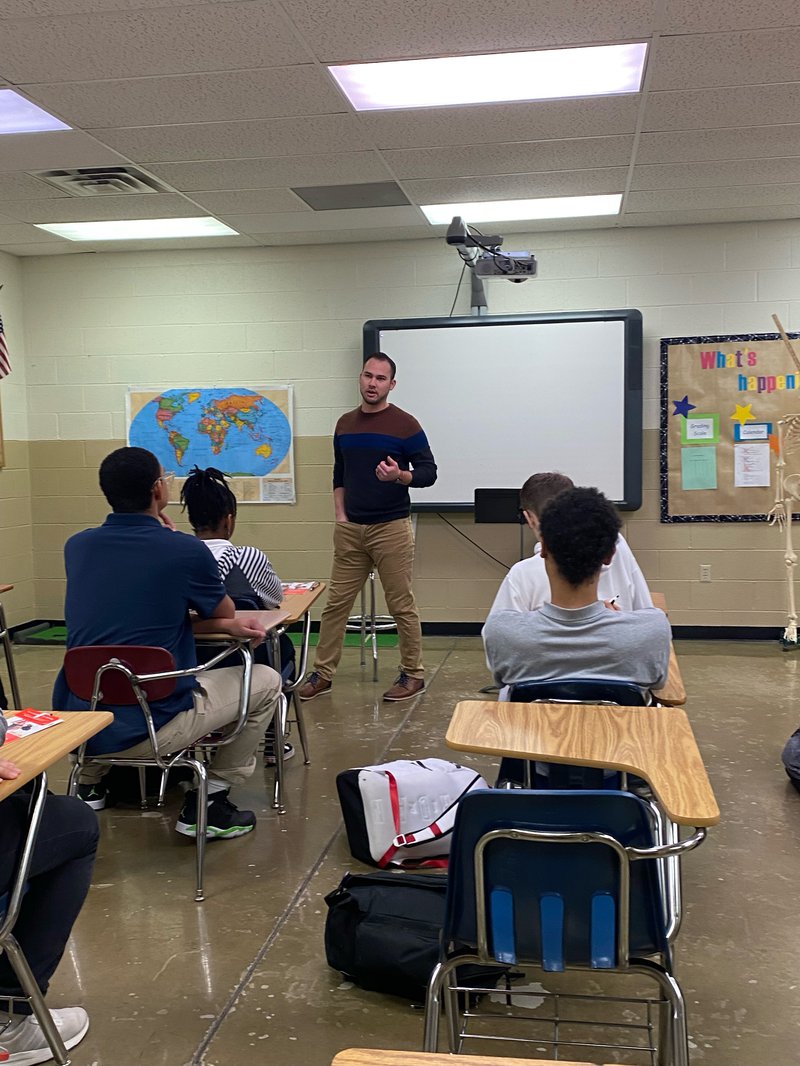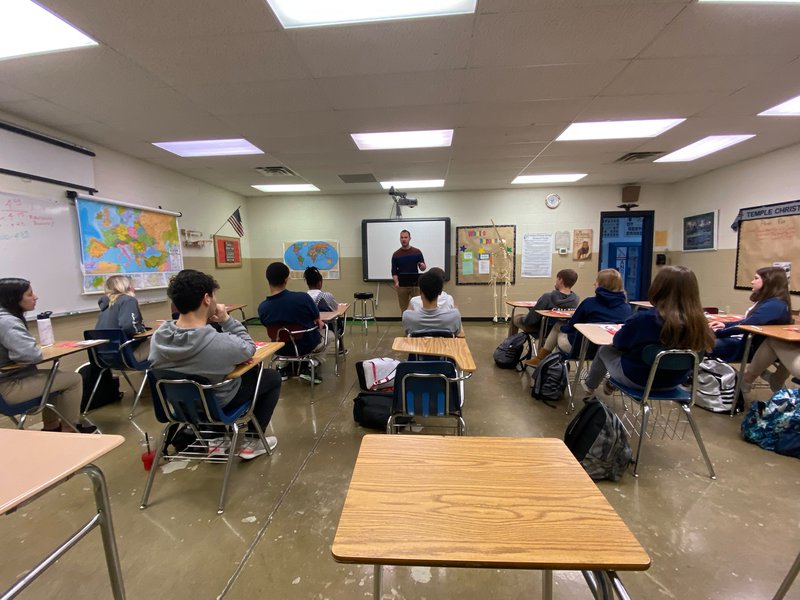 Environmental Science Class Activity: Look, no dirt!  Environmental Science students have been growing plants hydroponically. This system of growing plants uses less water than traditional soil-based systems. Hydroponic growing allows for faster growth and higher yields than traditional soil-based growing systems.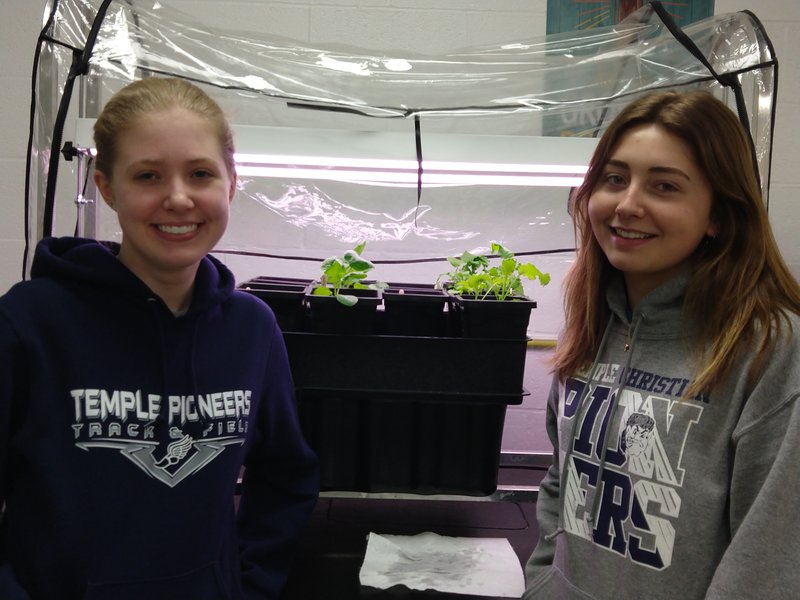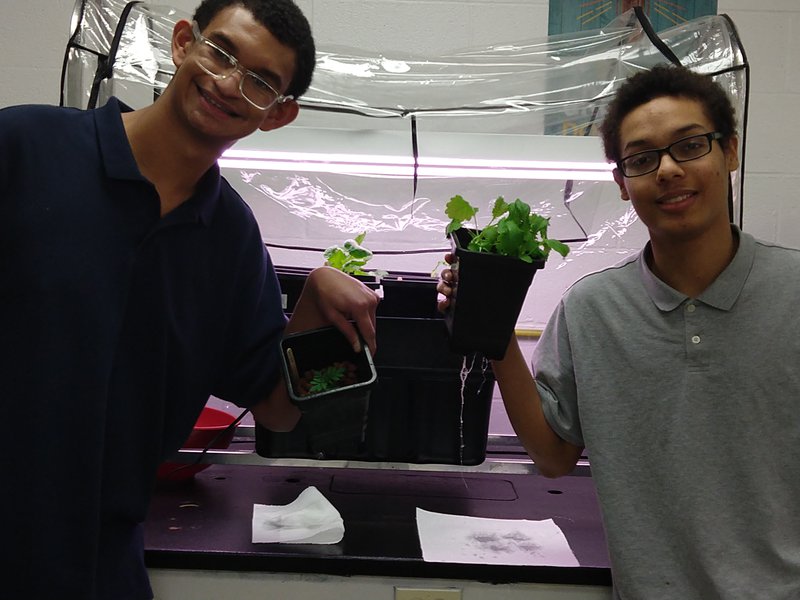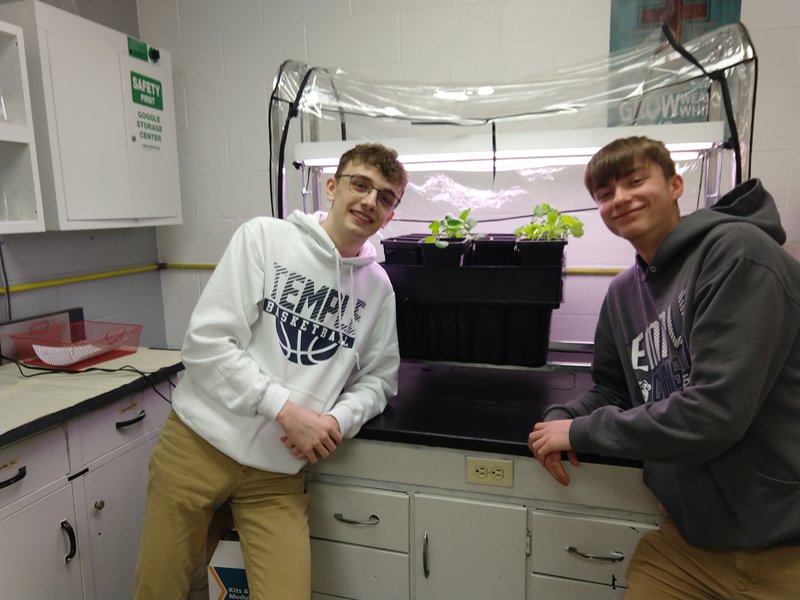 Junior Bible: Junior Bible students are working their way through Paul's missionary journeys.  This week they discovered some historical context and prepared presentations to share portions of his journeys with their classmates.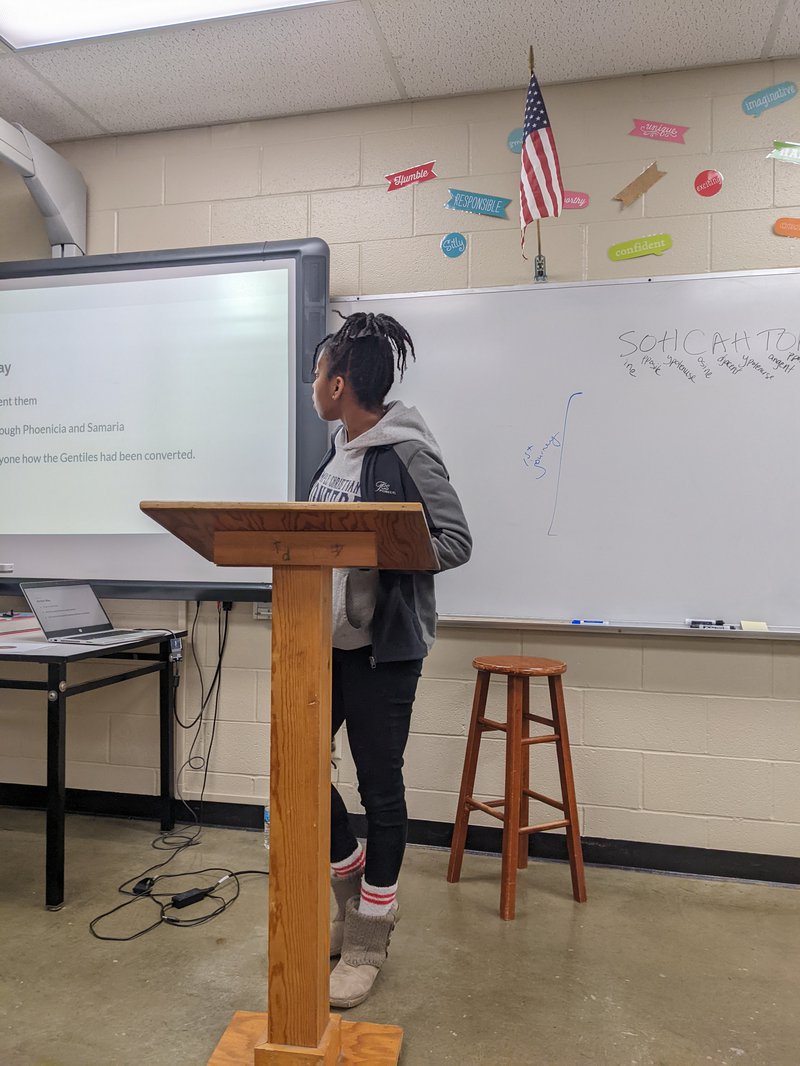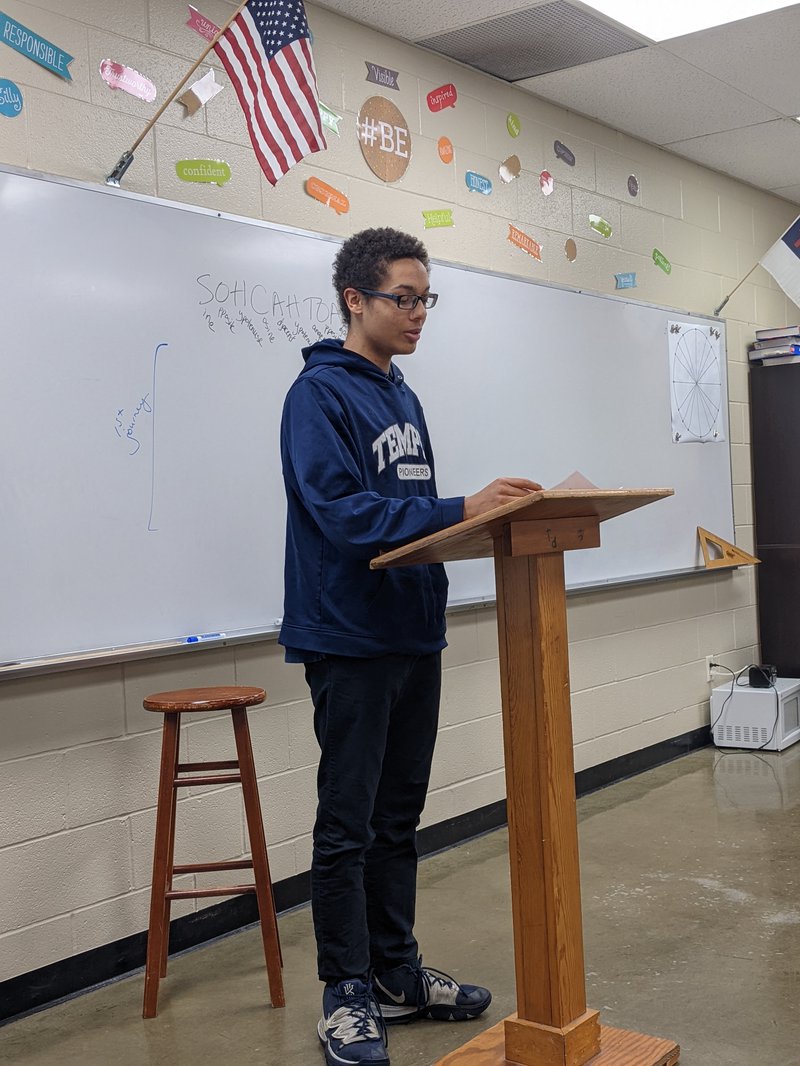 Algebra 2 Lesson: Algebra 2 students began studying trigonometric ratios this week. Students had an opportunity to practice leadership skills while solving for variables in right triangles.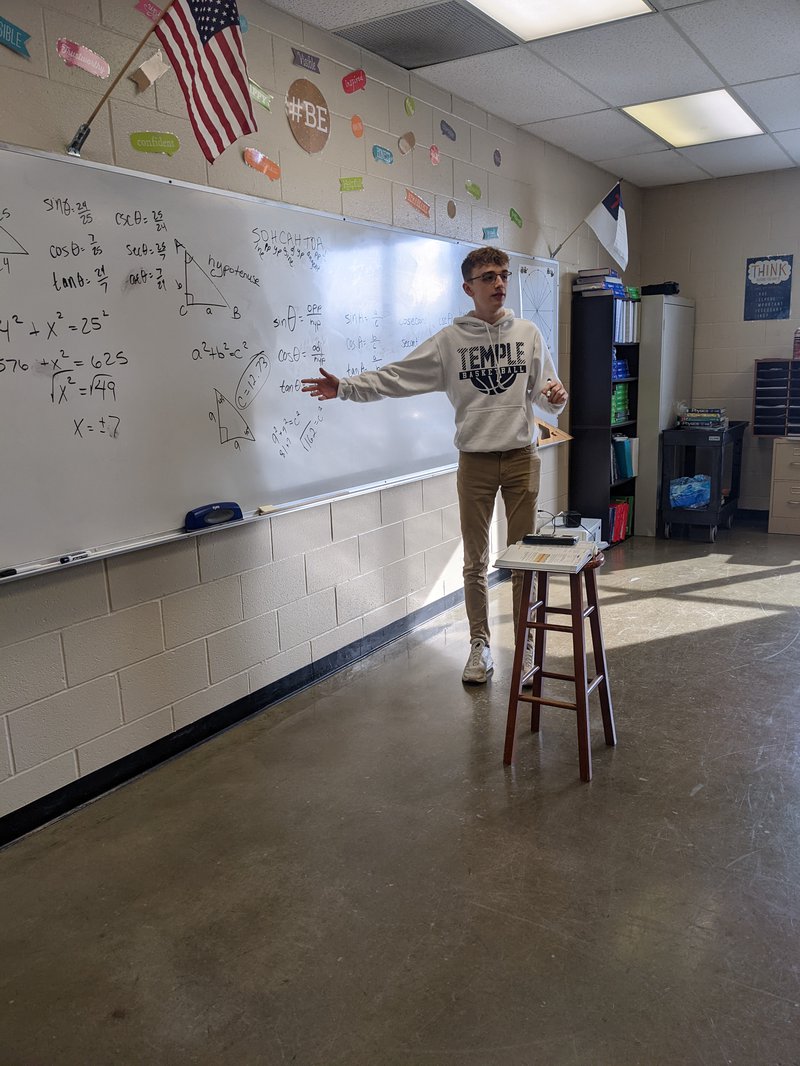 First Grade Math Activity: The first grade students have been learning to add and subtract double digit numbers in math. On Thursday, they enjoyed using pretzels to represent the tens place and mini marshmallows to represent the ones place. The best part was eating their snack after class!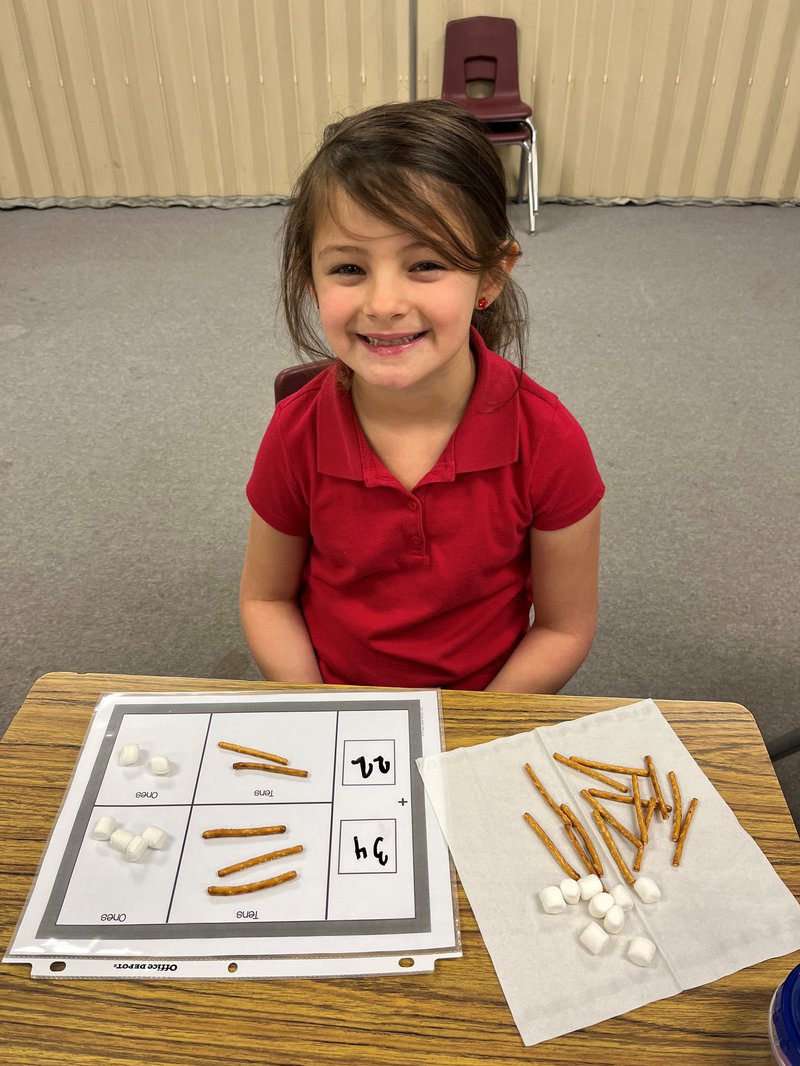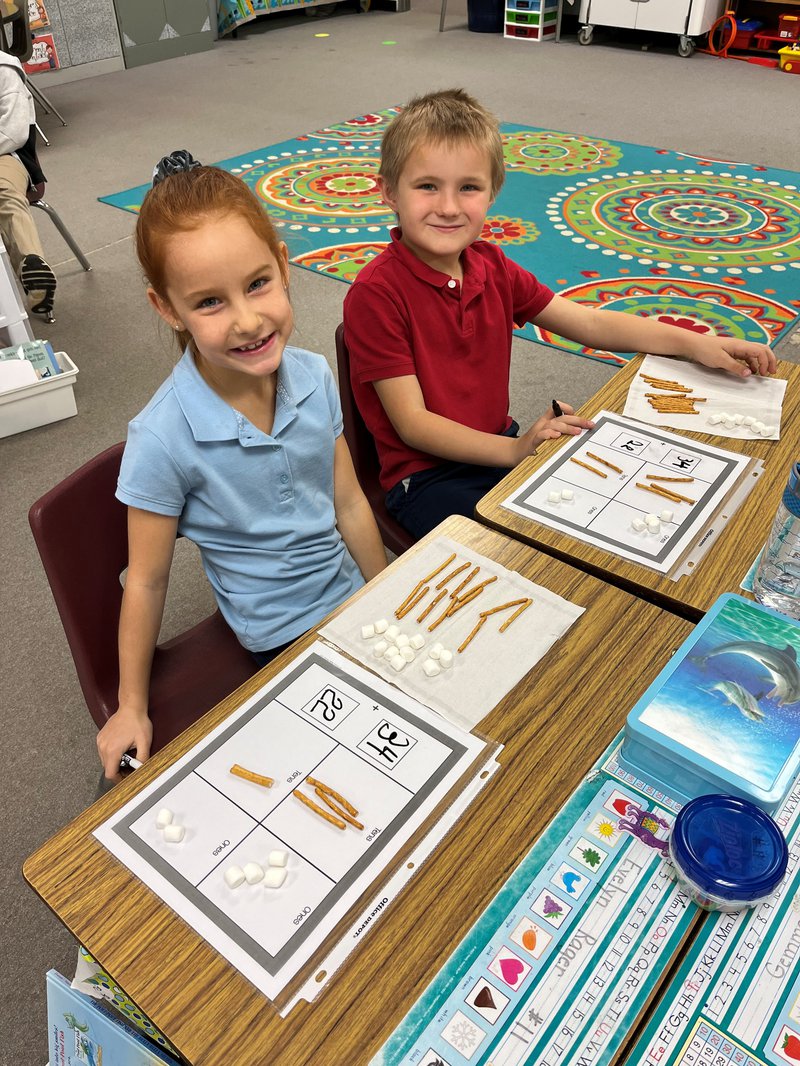 Elementary Art: In elementary art this week, we learned about Jehovah Jireh, the Lord our provider. We discussed how Simon Peter found a coin in the mouth of a fish just as Jesus said in order to pay their taxes. Our students enjoyed decorating their fish as we remembered that the Lord always takes good care of us!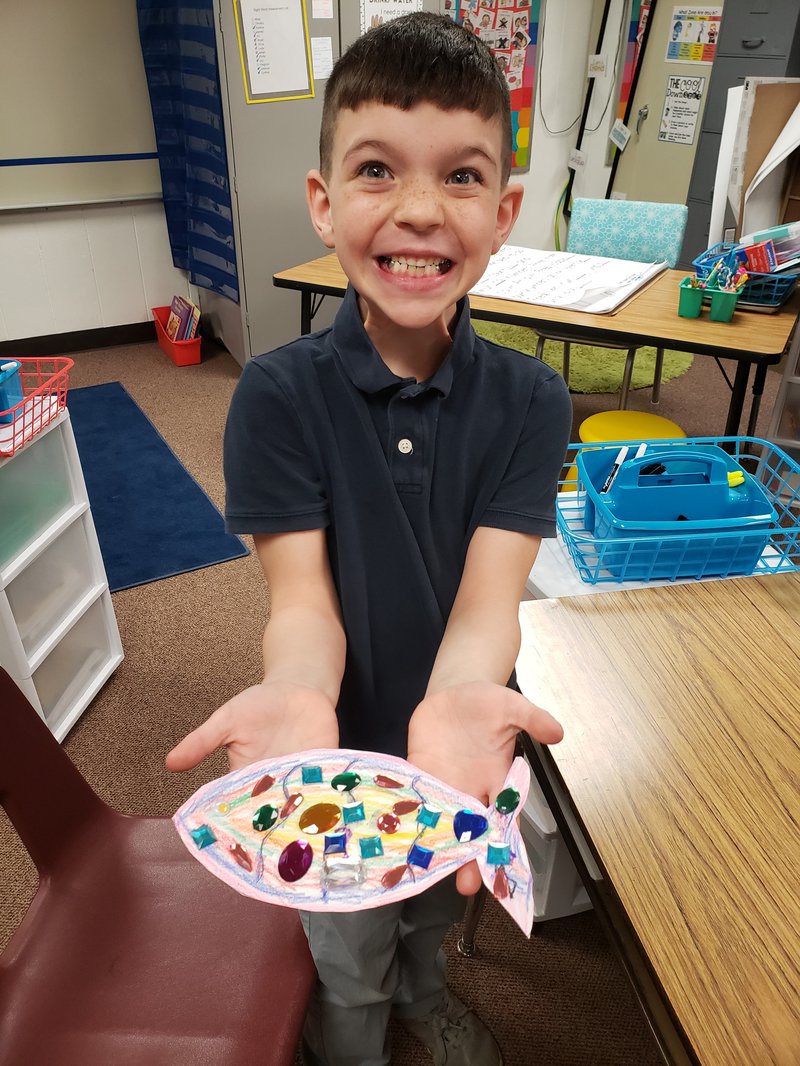 Yearbook Staff Visits Local Businesses: The 2022 Temple Christian Yearbook staff headed out into the community on Monday to sell ads to local businesses. The ads in the yearbook gain exposure for businesses who support Christian schools and also make the yearbook affordable for students and their families. Our students did a fantastic job representing TCS in a professional way! We are thankful for the businesses who support the TCS Yearbook program!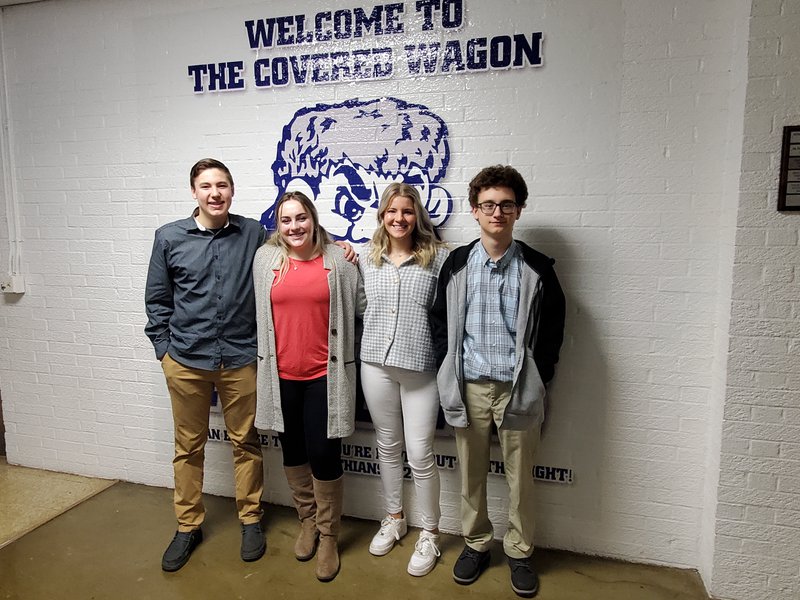 Early Yearbook Orders: Be an early bird! Order your 2022 TCS Yearbook by March 31st and you will be entered to win a free yearbook from any previous year! Order forms are available at both offices. You can also order online at jostens.com. Contact Mrs. Searcy at searcy@tcspioneers.org if you have questions.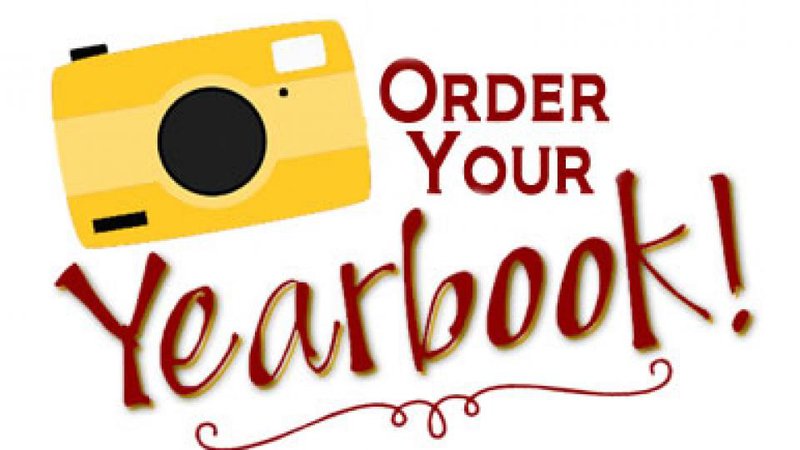 EdChoice Scholarship Renewal: It's time to renew your child's EdChoice scholarship.  The following forms were emailed to you on Wednesday, 2/9/22:  EdChoice Fact Sheet, EdChoice Renewal Form, and Scholarship Income Verification Form.     
Due to ODE requirements, you must complete and submit your child's re-enrollment packet before the scholarship can be renewed.  Online re-enrollment packets were emailed to everyone on Tuesday, 2/8/22. Hard copies of the re-enrollment packet are available in both offices.  Scholarship renewal forms are available in the elementary office. All EdChoice families must fill out the renewal form and return it to the elementary office. 
If your child receives the Expansion (income-based) scholarship, income verification is also required.  ODE strongly recommends submitting this information online via your OH-ID account.  This speeds up the approval process immensely!  TCS CANNOT submit these documents for you.  
If your child receives the Traditional (designated school) scholarship, the income verification is optional but highly recommended.  It does not determine eligibility.  It will determine low income status which is used to assign priority levels and whether or not you are responsible for any tuition not covered by the scholarship.  
In addition to the renewal form, you must also submit a current utility bill (less than 3 months old) for proof of address.  All documents must be submitted to the elementary office by March 31, 2022.  This will greatly increase the likelihood that we have an award decision before school starts.  
***If you have questions, please contact Amy Link at 419-227-1644, ext. 1 or linka@tcspioneers.org.  The office is open Monday - Friday, 7:30 - 3:30.
Important Dates:
Mar. 14     ODE Testing Window begins
Mar. 16     Witness Wear Day
Mar. 17     Early Release for Faculty Development  1:00 P.M.
Mar. 23     Witness Wear Day
Mar. 24     Spring Picture Day
Mar. 25     End of 3rd Quarter
Lunch Menu for the Week of March 14, 2022
Monday         Cheeseburger, Fries, Fruit
Tuesday        Pizza  $1.00/Slice
Wednesday   Potato Soup, Hot Ham & Cheese Sandwich, Fruit
Thursday       BBQ Riblet Sandwich, Cookie, Veggies w/Ranch
Friday            Pizza  $1.00/Slice