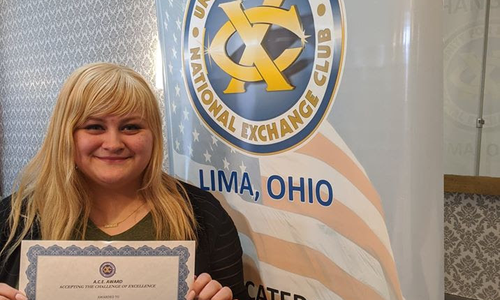 Hello TCS families.  Mr. Bowman is back to work!  Hallelujah!  Thank you for continuing to pray for TCS staff, students and families as we work through this week's challenges.  
For of Him and through Him and to Him are all things, to whom be glory forever.  Amen.
COVID-19 School Closure
As directed by the Governor in response to COVID-19, we will dismiss students at the end of the school day on Friday, March 13th for 3 weeks.  School will resume on April 6, 2020.  We currently still plan to observe our Easter Break April 8-13, 2020.  Please be sure to check your email for assignments and updates.  We will also post updates on our website (www.tcspioneers.org) and our Facebook page.  The elementary office will be open Monday-Friday, 9-3 next week. Tonight's High School Play & Dinner Theatre‬ is ON as scheduled.
Classroom instructions and expectations
A handout (K4-5th) and email (5th-12th) has been released detailing some of the academic expectations for the coming weeks. Please make sure to review that letter that is available on our social media platforms as well as our TCS Website. (www.tcspioneers.org) We have also attached these expectations in two documents to this newsletter.
Re-enroll today and save $50 per student!
Re-enrollment packets for the 2020-21 school year are available on our website and in the elementary office.  You will save $50 per student if you turn it in by 3:30 pm on March 31, 2020.  We look forward to the opportunity of continuing to minister to your family in the upcoming school year. Thank you for choosing Temple for your children! We consider it a blessing to partner with you in your child's education.  The elementary office will be open to assist you.
EdChoice Scholarship Renewal
Renewals for EdChoice Expansion (income based) Scholarships began on February 1st.  EdChoice Traditional (eligible schools) Scholarship renewals are scheduled to begin on April 1, 2020.  For both scholarships it is vital that we submit the renewals as early as possible.  ODE requires that re-enrollment forms and fees be turned in before we renew scholarships. Please contact Amy Link (419-227-1644, ext. 1 or linka@tcspioneers.org) in the elementary office with questions regarding your child's EdChoice Scholarship. All EdChoice renewal forms and proof of address (utility bill or other option) must be turned in to Amy Link in the elementary office by April 1, 2020 so we can meet ODE's April 15 deadline.  The elementary office will open to assist you.  Thanks for understanding!
Yearbook
Be an early bird! Order your 2020 TCS Yearbook by March 31st and you will be entered to win a free yearbook from any PREVIOUS year! Order forms are available at both offices.  You can email your order request to Mrs. Searcy or order online at jostens.com. Contact Mrs. Searcy at searcy@tcspioneers.org if you have questions. 
TCS Senior Student Recognized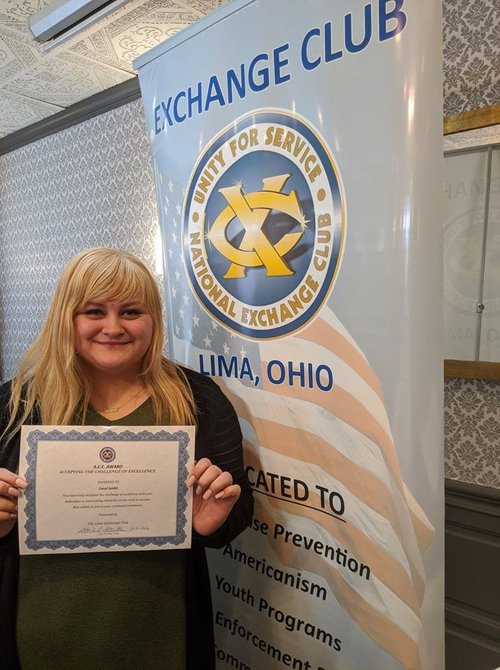 TCS senior Carol Smith had the opportunity on Monday to attend the Lima Exchange Club's A.C.E. (Accepting the Challenge of Excellence) Awards luncheon at the Milano Cafe. The A.C.E. award recognizes high school seniors who have overcome physical, emotional, or social obstacles, and are now eligible for high school graduation. Carol was awarded $200 and serves as a powerful example to all students that hard work and perseverance really do pay off. Thank you, Carol, for your great example! Temple Christian is proud of you!
Spring Play/Dinner Theatre - The show will go on!
Tickets on Sale for the 2020 Spring Dinner Theatre 2020 "Cafe Murder"
"A hilarious murder mystery comedy"
Friday, March 13th (5:00 p.m. & 7:15 p.m.)
Saturday, March 14th (11:30 a.m. & 1:45 p.m.)
Adult Ticket $15.00
Student/Senior Citizen Ticket $12.00
*Tickets still available at all shows @ the door*
Dinner Menu includes: Salad w/ Dinner Roll, Chicken w/ cream sauce. Cheesy Potatoes & Green Beans, and a Brownie Sundae.